Ash-Carleton Little League: Welcome
Wednesday, January 27
Click on CALENDAR for Important Dates. Please visit the SPONSORS Tab and consider utlizing their services. Thank you sponsors.
Parents you can Register On-Line for this years Photo's by Clicking on the Sportography Logo Above.
Thanks to all the Parents, Players, Coaches, and ACLL Board Members who participated in this years Players Clinic. Special Thanks to Lauren French, Josh Gannon, Bryce Colpaert, Joe Jones, Brendan Fitzpatrick, Tyler Blankenship, Jake Jones, & Jared Richardson of the Airport Baseball and Softball Program's for taking time to provide instruction during the clinic.
---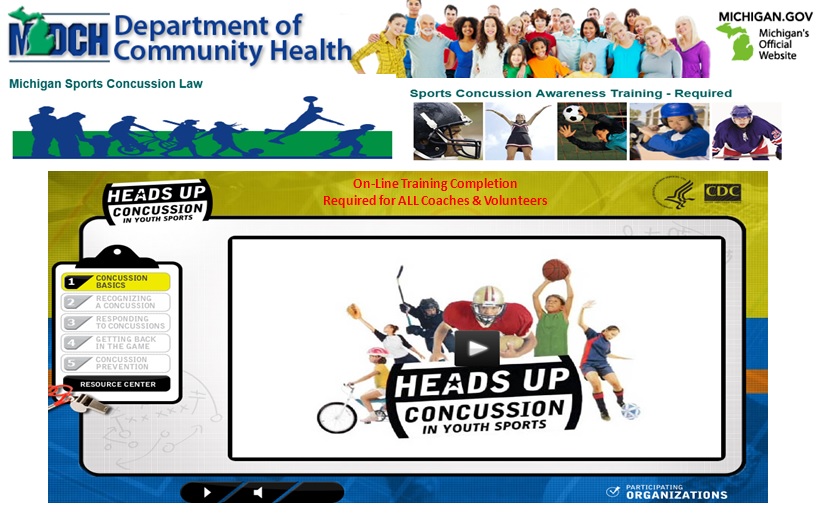 ATTENTION Parents, Coaches and Volunteers, Please click on the above image to view new Michigan Laws associated with Concussion Awareness and New Policies.
Coaches and Volunteers, please click on the "Links" button on the menu to find the link to begin the On-Line Heads Up Certification, be sure to print your Completion Certificate for League Submission.
---
THE PARENTS, PLAYERS, COACHES, SPONSORS AND EVERYONE INVOLVED WITH ACLL WOULD LIKE TO EXTEND APPRECIATION AND GRATITUDE TO THE FOLLOWING 2013 BOARD MEMBERS FOR VOLUNTEERING THEIR TIME CONTRIBUTING TO ANOTHER SUCCESSFUL SEASON SINCE THEY HAVE DECIDED TO RESIGN THEIR POSITIONS FOR THE 2014 SEASON.
Patti Finnerty (ACLL Founding Board Member and Former President & Treasurer)
Darrell Mossburg (ACLL Founding Member and Former Vice President)
Rick Grubke (ACLL Founding Member and Former Safety Officer)
Tom Boggs (Former Membership Chairman and Active Coach)
Thank You to you and your families for your support establishing ACLL, and allowing our area's youth to continue to enjoy Little League T-Ball, Baseball, and Softball.
You will be missed.
---
Introducing
Ash-Carleton Little League
2014 Board Members
Marcee Nye-President
Dave Mills-Vice President
Robyn Pitock-Secretary
Renee Moore-Treasurer
Pat Gannon-Player Agent
Chad Horner-Safety Officer
Dan Mieden-Coaches Coordinator
Matt Jones-Director of Player Developmentt
Tim & Pat Stokes-Concession Coordinator(s)
Jeff McGlaughlin-Membership Coordinator
Brian Colpaert-Board Member
Greg Fitzpatrick-Information Officer
Thank you for volunteering your time for the 2014 Little League Season. Parent, Volunteers and Sponsors are key to a successful Little League Organization and we look forward to planning for another successful Season in 2014.
If you would like to get involved and volunteer to a part of the 2014 Little League Season or a League Sponsor, please contact Marcie Nye (mnye@airport.k12.mi.us) or Matt Jones (matthewjonz@prodigy.net).
---
Congratulations District 16-Blissfield
2nd Consecutive
Michigan State Big League Championship.
Ash-Carleton/Airport Players & Coach
Jacob Jones and Jared Richardson
Assistant Coach Matt Jones
Assistant Coach Jim Kohn
Congratulations to Jacob Jones & Travis Peterson for their selection to the Central Region All Tournament Team.
---
Congratulations to Coach Miedens 13U Boys Intermediate (Division's first year in Little League)
2013 DISTRICT 16 CHAMPIONS
---
Coach Geiermann's & the 16U Boys Senior All-Stars
2013 DISTRICT 16 & Sectional CHAMPIONSHIP
Michigan State Semi-Finalists
Special Thanks to the All Star Coaches, Assistant Coaches, Parents, Board Members & Players for participating in the 2013 District & State Tournaments. They committed their time to extend their season and enjoy the Little League Experience and Competition throughout Michigan and the Central Region. WTG ACLL.
18U Boys Big League-Coach Matt Jones & Jim Kohn
16U Boys Senior League-Coach Jim Geiermann & Gary Patterson
13U Boys-Coach Dan Mieden & Pat Mumbower
12U Boys Majors-Coach Brian Colpaert, Aaron Jones,
Billy Bondy, & Jeff Goins
10U Boys Minors-Coach Tom Boggs
8U Boys Machine Pitch-Coach VanWasshenova & Justin Nye
Click on the "2013 Ash-Carleton Little League All-Star" Tab to view Ash-Carleton Little League's 2013 Accomplishments.
or Click on this link http://www.eteamz.com/ashcarletonlittleleague/news/index.cfm?cat=662105
---
Congratulations Ash-Carleton Little League's
2013 Division Champions
12U Girls Majors
Sizemore-Gail Meyer/Howard Hannah Realty
12U Boys Majors
Mieden-Mark of Excellence
10U Boys Minors
Raisanen-North Side Bar & Grill
8U Machine Pitch
Mills-Yorkshire Manor
T-Ball Participants
King-Lisa's Fuel Stoop
Stahr-Carleton Country Day
Pfeifer-S&S Hydroseeding
McGlaughlin-Carleton Subway
Lechy-KC Transportation
Busen-Busen Appliance
Pool-Early Learning Center
Branham-Faline Trailer Repairs
(Thanks to Mark of Excellence & Chris Walcyzbock for supplying the Trophies and Medals for all Divisions)
---
Congratulations to the ACLL 8U Machine Pitch All-Stars
2013 Onsted Tournament Championship
2013 Tecumseh Tournament Championship
---
Coach Sizemore's-Gail Meyer/Howard Hannah Realty 12U Girls player (Jacobs)
smothers a ground ball against Coach Hypio's-PC Accounting.
---
Coach Elliot's (Schafer Insurance Agency) 8U Machine Pitch team up to bat.
---
Coach Busen's-Busen Appliance Team getting their defense ready against Coach McGlaughlin's-Carleton Subway Team. Way to go "T-Baller's".
---
Coach Sizemore's Gail Meyer/Howard Hanna Realty 12U Girls at the Opening Day Parade.
Kylie takes the mound as Coach McGlaughlin & Coach Moczydlowsky's Carleton Subway team practices preparing for their 2013 Season.
T-Baller Landon ready for the 2013 Season Opener.
Coach Elliott's Schafer Agency Insurance 8U Machine Pitch Team enjoying the parade and fired up for their 2013 Season Opener.
---

Please be sure to click on the "Sponsors Tab" or click on any of the sponsors logo's to view more information about this years Little League National and ACLL's Local Sponsors information. Please consider visiting their place of business or utilizing their services. Our local sponsors and their continued support help keep league fees one of the lowest in SE Michigan. THANK YOU SPONSORS.


Coaches & Parents please consider either visiting or utilizing this years sponsors. Be sure to let them know your involvement with Ash-Carleton Little League and we all appreciate their sponsorship.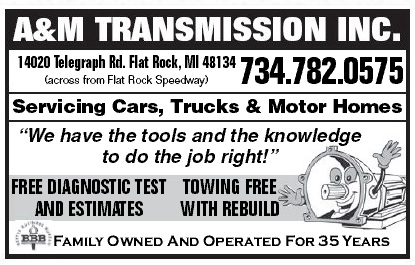 A&M Transmission is one of the 2013 District All-Star Team Sponsors. If you know of anyone who might interested in sponsoring one of ACLL's District or Travel All-Star Teams, please contact Patti Finnerty 734-777-3227. The sponsorships helps reduce the increased cost to the participating players parents.
---
Thanks to the Airport Baseball & Softball Players (Grades 8-12) for assisting in this years Players Clinic.
---
Thanks to Ash Township and also everyone who volunteered to help Marcie Nye keep the Concession Stand Operational.
---
Click on the facebook logo above to visit Ash-Carleton Little League's facebook page. "Like" to receive updates throughout the year.
---
For the latest Little League News Click on the Link Tab
or click on this link http://www.eteamz.com/ashcarletonlittleleague/links/
---
---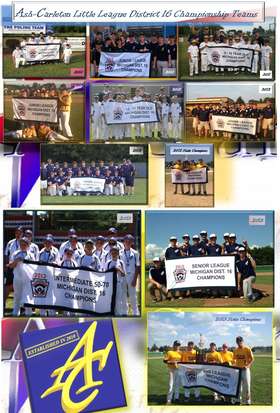 Click on Picture to view all 2013 All Star Teams
Swing by Trace Adkins
Monday, April 19
Please let us know your thoughts.
Monday, April 19
One more question. Your opinion is important to us.