Arrowhead Little League in Glendale Arizona: Welcome
Monday, March 17
* * * Official Little League offering baseball for ages 4 to 18 * * *
HOME OF THE ARIZONA STATE CHAMPIONS
2002 2008 2009 2013
---
Fall Baseball Basic Skills Camp
Thursday, September 26th
6:30 - 8:30
Foothills Park Field 3
Camp is for Fall players who are new to kid pitch and want to learn the basics.
2013 STATE CHAMPIONS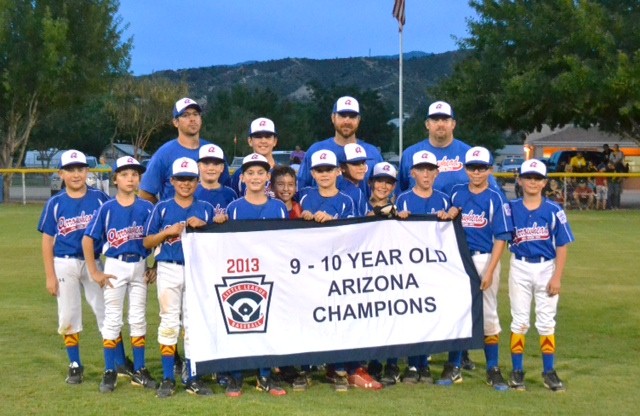 ---
ARROWHEAD 9/10s, 11s and MAJORs are your
2013 DISTRICT 2 CHAMPIONS!
State All Star Tournaments
9/10's TBA at D11 (Globe)
11's at D7 (Mesa)
12's at D14 (Gilbert)
JR's TBA
---
| | | | |
| --- | --- | --- | --- |
| Please feel free to e-mail one of the board members on the "board members" page. For general information not found on the site, please email leagueinfo@arrowheadll.com . | | | |
2013 Major and AAA Tournament Brackets
Friday, July 19
9/10s State Tournament Bracket
Click HERE for tournament bracket, schedule and results.
Next game: 7/20 5:00 vs. TBD
Thursday, July 25
Arrowhead vs. Desert Ridge Webcast
The Arrowhead All Stars can secure a spot in the championship game with a win tonight. Here is the webcast information if you'd like to follow along.
6:30 pm Thursday July 25
th
Arrowhead All Stars vs Desert Ridge All Stars Desktop:
http://bit.ly/AHLLvDRLL
Mobile:
http://bit.ly/AHLLvDRLLm
Thursday, July 25
Link to watch the 11's game tonight:
Link to watch the 11's game tonight:
http://data.iscorecentral.com/iscorecast/htmlplayer.php?c=6e20c3ebad
Wednesday, July 24
State Semi-Final Matchup: Arrowhead vs Chandler National
BIG GAME TONIGHT - THESE ARE THE LAST TWO TEAMS WITHOUT A LOSS!!!
Majors Semi-Final:
Arrowhead vs Chandler National tonight at 6:30 in Gilbert
webcast info:
DESKTOP: http://bit.ly/AHLLvCNLL
MOBILE: http://bit.ly/AHLLvCNLLm
Wednesday, July 24
11s Suffer Their First Loss
Our 11's team came out on the wrong end of a 2-1 score in the State tournament tonight in what would be best described as a pitchers duel. Both teams only managed 3 hits each during the game which saw a combined 20 strikeouts. One exception was Ryan Ellis who went 2-3 and hit a home run over the centerfield fence to put arrowhead on the board in the 5th. Adam Koski and Zach Rogers both pitched incredible tonight and kept us within striking distance the whole game.
The boys are back at it Thursday and will play for a chance to advance to the Championship.
Tuesday, April 30
2013 Major Tournament
Monday, May 6
2013 AAA Tournament
Thursday, June 20
Arrowhead A's Advance to the TOC Championship
Wednesday June 19th the Arrowhead A's met up with the Avondale Cardinals in a third round match-up of the Tournament Of Champions. The A's won handidly by the score of 18-1 in four innings. Everyone is hitting great for the A's with sound defense. Highlights Bryce Schattenberg hits his first Home Run ever with a blast to Center Field that went about 230ft. Chandler Murphy had a Three run HR and Oscar Mattox had a 2 run HR in the game. So many highlights to mention. Travis Warinner pitched two great innings giving up only one run. Eli Elliott pitched an inning with no runs allowed and Kai Tuita and Oscar Mattox split an inning giving up no runs. Please come support your Arrowhead A's in the TOC Championship Game vs a very good Sidewinders LL team 7pm Friday 21st June at 3151 N. Litchfield Rd. Goodyear AZ 85395.
Sunday, July 21
11 All Star State Bracket
Click HERE for the 11 Year Old State Tournament Bracket, results and schedule.
Next game: State Semi-Final 7/22 7:00 vs. Gilbert American Little League
Sunday, July 21
Saturday's Game was Rained Out
Saturday's game vs PVNLL was rained out. It will be played today at some point. The schedule will be released around noon. Please check the following link later today for game information:
http://www.eteamz.com/AZD07/news/index.cfm?cat=902308&subsite=4024188
Links for the gamecast remain the same from yesterday.
Saturday, July 20
Arrowhead 8 - Desert Ridge 6
The Arrowhead Major All Stars advance with a come from behind rally in the 6th inning to beat Desert Ridge LL 8-6. Trailing 6-4 in the last inning Mathew Cooper hit a triple to right field scoring two runs to tie the game. Then with two outs and two strikes on him, Chandler Murphy fought off curve ball after curve ball daring the DRLL pitcher to throw a fastball. The pitcher took the dare ... BAM! Hammered it DEEP over the center field fence and into the parking lot to give Arrowhead the lead 8-6. Three Arrowhead pitchers contributed in the victory: Chandler Murphy started, Eli Elliot came in and did a fantastic job in relief and Mathew Cooper came in to close it out in the bottom of the 6th. What a game!
Next game is tonight at 7:30 against the very tough Paradise Valley All Stars.
Wecast links for tonight's game:
Click HERE for tournament schedule and results.
Thursday, July 18
iscore scoreboard
Thursday, July 18
Arrowhead 11s Win Game Two
Arrowhead 11's All Star team faced a tough opponent in round 2 of the Az State tournament tonight. Paradise Valley North All Stars came in averaging nearly 20 runs per game while sweeping through the District 3 tournament, add to that a pair of hard throwing righties at their disposal. The first inning ended with no score. PVNLL was able to scratch across one run in the top of the second and later in the inning had bases loaded with two out when their pitcher smoked a line drive up the middle that second baseman Ryan Ellis caught in incredible diving fashion to end the threat. Arrowhead pitcher Zach Rogers was able to settle in after that catch and pitched a gem of a game scattering 7 hits while striking out 7 in 4 2/3's innings, Zach also went 2-2 at the plate with a double and 2 RBI's. Adam Koski had a breakout night at the plate going 3 for 3 with 2 doubles 2 RBI's and a hard single that went to the fence. Arrowhead totaled 10 runs with 12 hits and Travis Warinner closed the final 1 1/3 inning without giving up a run. Our boys all played very well in all phases of the game tonight.
Final Score AHLL 10 PVNLL 3
Next game Friday 8PM vs Ahwatukee LL All Stars
Friday, July 19
Majors State Tournament Updates and Links
The 2013 Major State Tournament in underway! Click HERE for tournament information.
Next game: 7/19 at 5:30 Arrowhead LL vs Mountain Ridge LL game
Follow game action live via webcast:
Wednesday, July 17
11s Start State Tourny with a Victory!
With a large monsoon storm looming in the distance our Arrowhead 11 year old All Stars got off to a sluggish start in the opening round of the State tournament, clinging to a narrow 2-1 lead after 3 innings, and with wind rain and lightning fast approaching the boys finally got the bats going scoring 13 runs in the top of 4 capped off by Kyle Dodson blasting a two run double to the right field fence. Adam Koski pitched 3 great innings, fanning 6 while giving up only 1 run. Brendt Morgan and Trevor MacKenzie closed out the game in the bottom of the 4th which fittingly ended with a 5-3-6 double play!
Final score AHLL-15 MGLL-3
Next game for the 11's Wednesday 6PM vs PV North LL @ Countryside Fields in Mesa
Thursday, March 14
Arrowhead Little League