Armstrong Nordic Ski Team: Welcome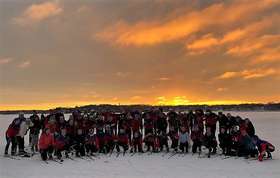 AHS Nordic Team, Winter 2018
2018/19 Nordic Season
Winter ski training camp: Spots may still be available for middle schoolers--please get your forms to Kim Rudd ASAP.

This year's Winter Break Nordic Ski Trip to Telemark Resort in Cable, WI will take place Dec. 27 - 29, 2018. It is a training clinic, and will involve working on technique, conditioning, ski games, and high school racing technique, as well as lots of easy distance skiing! Cost will be $250.00, and will include: two nights lodging at Telemark Lodge, three days of trail fees, transportation to and from cable on a coach bus, and two evening meals. To sign up, please check with Kim to see if spaces are still available.

Volunteers still needed for the 12/22 Crystal Cub Food Bagginng fundraiser: Each Cub Foods bagging event can raise over $1000 for the team. Many spots are still open for both shifts. Click here to sign up.

Carbo Load Host Sign Up -- 2 spots still open

: Carbo loads are held the night before a meet. Hosts are expected to provide plates and utensils plus 1-2 pasta dishes to start the evening off. Athletes are assigned by grade level a main dish, salad, dessert, or beverage to bring and share. Carbo loads begin at 6:00 unless otherwise indicated by the host family. The athletes really appreciate and enjoy them. Please sign up

here

.

Send all Booster Club Payments to Jason Pung, Booster Club Treasurer

, for ski camp, booster club donations, ski rental and Wirth ski pass. Address: 3850 Zenith Ave. N., Robbinsdale, MN 55422. Find the Booster Donation and Ski Pass form on the Booster handouts page

here

.

2018-19 Season Information Packet is available here

Local Ski Swaps and Team Ski Shop Events: click here

Nordic Ski Season List of Events

: Keep track of all the AHS Nordic Ski events. The 2018-19 AHS Nordic Ski calendar is available

here

. PLEASE NOTE that it is subject to change due to weather and other circumstances. It was last updated on 11/7/2018.
Communications:
Team Email Updates: To be added to team email updates please email armstrong.nordic@gmail.com and ask to be added to the eblast list.
GroupMe Text Notifications: Download the GroupMe app on your phone and receive quick team updates, pictures and more! Join here now