Armstrong High School Girls Soccer: Welcome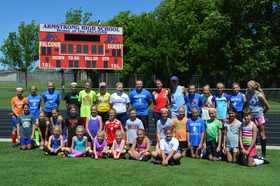 2013 Youth Girls Camp
Tuesday, August 20
ORDER YOU ARMSTRONG SPIRITWEAR!
Falcon Girls Soccer Coaches
Varsity: Chris Adams, falconsoccer@live.com , 612-418-1412
Asst. Varsity: Megan Almanzo
JV: Michaela Hegre
B-Squad: Todd Loose
Freshmen: Stephanie Gibbs
Volunteer Assistant: Alison Tsuchiva
Goalie: Andy Lerew
Click here to view 2012 Girls Soccer program information.
Click here to download coaches handouts.
Click here to download coaches bio information.
If there are any changes or additions to the website, please email to bsacwilcox@msn.com .
!!! GO FALCONS !!!