Arlington Spyponders: Welcome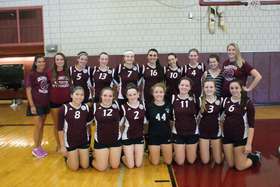 Varsity Spy Ponders 2015
Arlington Spyponders Girls Volleyball
Hello Student Athletes and Parents,
Welcome to the Arlington High School Girls Volleyball Website. On this site you will find our game schedule, biographies about the coaches, photos, rosters, game summaries and any information about the season that needs to be shared. We look forward to this season and sharing our love and knowledge of Volleyball with you all!
Congratulations on a great season! The Spy Ponders made it to the North DI Quarterfinals!!!
You can follow our games and updates on Twitter @spypondervball
To check game scores please click on Schedule and you can choose which team you want to check out and get the actual scores of each game.
Arlington Advocate
http://belmont.wickedlocal.com/article/20150904/SPORTS/150907940
Scoring Tutorial
www.psal.org/.../volleyball/2010_NCAA_SK_Clinic_09-Final.ppsx