Arlington Patriots: Welcome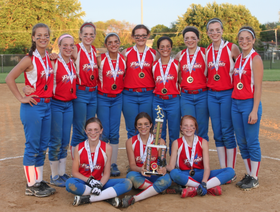 2014 DREAM BIG CHAMPIONS
2013-2014 Arlington Patriots 13u Fastpitch Softball Team Home Page
2014-2015 14u Tryouts
August 2nd and 3rd
9:00-10:30 and 10:30-noon
Please visit: http://www.dreambigathletics.com for further detailsand registration form.
OUR TRYOUTS HAVE NO FEE!
Arlington Patriots Fastpitch is dedicated to the improvement of player skills, accomplished through hard work and dedication.
Our 5 Core Values:
• Respect
• Discipline
• Team Work
• Fundamental Application
• Mental Toughness
Any questions or information about our team please contact:
Jim Taylor - jamesataylor@gmail.com or Wayne Kanter - wkanter@gmail.com
GO PATRIOTS!