Arlington Admirals Middle School Hockey Club: Welcome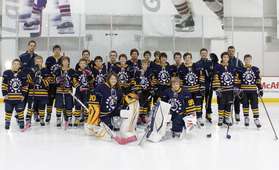 2013-14 Arlington Admirals
REVISED 4/2/2014
SPRING TRYOUTS FOR THE 2014-15 SEASON
WILL BE HELD FRIDAY, MAY 9th & SATURDAY, MAY 10th, 2014
AT THE KETTLER CAPITALS ICEPLEX
The Arlington Admirals will hold open tryouts for the upcoming 2014-15 season at the Kettler Capitals Iceplex on Friday, May 9th, 2014 (5:10pm - 6:30pm) and Saturday, May 10th, 2014 (7:40pm - 9:00pm).
PLAYERS MUST ATTEND BOTH SESSIONS and be dressed in full hockey equipment. The non-refundable tryout fee is $80. Registration is open to all students (boys and girls) entering the 6th, 7th or 8th grades this fall who are either residents of Arlington County OR attend school full-time in Arlington County. Current players must also attend tryouts to be eligible for the team.
Please arrive 45 minutes before the start of the Friday session to complete registration and receive your assigned pinnie jersey.
To register for the Arlington Admirals tryouts, please click on the "Register Now" button immediately below:
All players attending tryouts must also bring a clean, printed proof of registration with USA Hockey FOR THE 2014-15 YEAR. USA Hockey registration opens April 1, 2014. Visit www.usahockey.com for further details on registering with USA Hockey.
GENERAL INFORMATION
The Arlington Admirals Middle School Hockey Club is about having fun. We are members of the Northern Virginia Scholastic Hockey League ("NVSHL"). Our club prides itself on sportsmanship and teamwork, as well as being great competitors. Players who make the team will play on the team. No player who makes the squad will be "warming the bench." Many Admirals players participate with other teams, including Capitals Academy Travel, Nova Ice Dogs, Reston Raiders, as well as many kids from area House teams. The Admirals are a great tradition in Arlington, and the coaches and parents work hard to ensure that each kid has an enjoyable hockey experience playing for our team.
The NVSHL is a "no checking" league for all middle school teams. The season begins around November 1st and will comprise ten (10) league games, plus we typically schedule as many as three (3) additional exhibition games. Our NVSHL games have traditionally been scheduled on Friday evenings, usually in the 5:30pm - 9:30pm timeframe. We also plan to hold a two-day team "boot camp" in September, and we will hold approximately 12-14 practices this year on weekday evenings.
Fees for the season are $750 for current players, and $850 for new players. The additional cost for new players covers the cost of two (2) personalized game jerseys (home and away), as well as matching socks (home and away).
Our head coach, Steve Stryk, is a USA Hockey certified Level 5 coach, assisted by coaches Jeff Dinkelmeyer and Max Gruber.
LAST YEAR'S NVSHL GAME SCHEDULE
Friday Nov 01, 2013, 5:00 pm - 6:20 pm,

Arlington Admirals @ Lake Braddock, Prince William Ice Center
Friday Nov 08, 2013, 5:40 pm - 7:00 pm,

E. Loudoun County/Herndon @ Arlington Admirals,

Kettler Capitals Iceplex
Friday Nov 15, 2013, 9:00 pm - 10:15 pm

Arlington Admirals @ Battlefield / Patriot,

Haymarket IcePlex
Friday Dec 06, 2013, 4:00 pm - 5:20 pm

Mary Ellen Henderson @ Arlington Admirals,

Kettler Capitals Iceplex
Friday Jan 03, 2014, 8:20 pm - 9:40 pm

Sully / Hunters Mill @ Arlington Admirals,

Kettler Capitals Iceplex
Saturday Jan 11, 2014, 10:20 pm - 11:40 pm

Arlington Admirals @ Broad Run,

Ashburn Ice House
Sunday Jan 12, 2014, 6:40 pm - 8:00 pm

Arlington Admirals @ Freedom/Champe MS,

Haymarket IcePlex
Thursday, Jan 16, 2014, 3:30 - 4:40 pm Arlington Admirals @ Arlington Knights, Kettler Capitals Iceplex
Friday Jan 24, 2014, 8:20 pm - 9:40 pm

Woodbridge Gold @ Arlington Admirals,

Kettler Capitals Iceplex
Friday Feb 21, 2014, 5:40 pm - 7:00 pm

Stone Bridge @ Arlington Admirals,

Kettler Capitals Iceplex
ASHBURN ICE HOUSE TOURNAMENT, March 7-9 (all games at the Ashburn Ice House):
Friday, March 7, 6:20pm vs. Western Loudoun
Saturday, March 8, 9:50am vs. Woodbridge
Saturday, March 8, 4:30pm vs. Broadneck Bruins
CHAMPIONSHIP GAMES
Sunday, March 9, 8:40am or 10:00am (if we qualify)
LAST YEAR'S PRACTICE & EXHIBITION GAME SCHEDULE
(all held at Kettler Capitals Iceplex except for 11/27, 12/20 & 12/29):
Friday, September 6 (5:30-7:00pm)
Friday, September 20 (8:10-9:30pm)
Saturday, September 21 (7:10-8:30pm)

Sunday, September 22 (8:00-9:20pm)

Friday, October 11 (8:10-9:30pm)

Thursday, October 17 (6:30-8:00pm) -- team picture; dress in full blue uniforms

Friday, October 25 (8:20-9:40pm) -- exhibition vs. Mary Ellen Henderson MS

Thursday, November 14 (3:40-4:40pm)*

Tuesday, November 26 (5:00-6:10pm)

Wednesday, November 27, 2013 (8:30 pm - 9:50 pm)

@ Ashburn Ice House; exhibition vs. Arlington Knights

Thursday, December 5 (3:40-4:40pm)*

Thursday, December 12 (3:40-5:00pm)

Thursday, December 19 (3:40-4:40pm)*

Friday, December 20 (9:40-11:10pm) -- @ Reston Skatequest; exhibition vs. Robinson MS

Sunday, December 29 (10:40am-noon) -- @ Reston Skatequest; exhibition vs. Reston Raiders Bantam Selects

Tuesday, January 7 (3:30-4:50pm) -- half ice practice at Kettler with Bishop O'Connell HS (and parents info. session on O'Connell hockey program)

Thursday, January 30 (3:40-4:40pm)*

Tuesday, March 4 (4:10-5:30pm)
* indicates half ice practice with Washington-Lee HS
2013-14 ARLINGTON ADMIRALS TEAM ROSTER:
9 Bone, Camden (6th grade)
4
Henderson, Geoffrey (8th grade) *
20
Huffman, Ned (8th grade) *
17
Kelley, Victor (8th grade) *
5
Kent, George (8th grade *
67
Lackey, Frank (8th grade) *
27
Lewarne, Henry (7th grade)
88
Lustig, Max (7th grade)
22
McCormick, Conor (8th grade) *
16
McGolerick, Ricky (6th grade)
39
Neuman, Matthew (8th grade) *
74
Oliver, Braeton (7th grade)
15
Packard, Adam (7th grade)
76
Reynolds, Hunter (8th grade) *
25
Ramos, Josef (6th grade)
8
Rehill, John (7th grade)
12
Romm, Ethan (8th grade) *
87
Ruta, Phillip (7th grade)
3
Self, Primo (6th grade)
14
Simmons, Harrison (8th grade) *
00
Stropes, Sydney (7th grade)
7
Watson, Henry (6th grade)
1
Whittington, Noah (7th grade)
* indicates a departing player entering 9th grade this fall
Rick McGolerick
Director of Hockey
Arlington Admirals
Need more information? E-mail: arlingtonadmirals@gmail.com