Arkansas Dixie Youth Baseball: Welcome
WELCOME TO ARKANSAS DIXIE YOUTH BASEBALL
Welcome to the Arkansas Dixie Youth Baseball Website.

Click here for Facebook page
Thursday, January 31
STATE MEETING DATE
Our state meeting will be Feb. 16th at the Nashville Parks and Rec Office starting at 10AM. We will discuss adding a couple of tournaments, one in the earlier part of the season and a pre state to take place of district tournaments. We will also have some news for our smalltown group that will be referred for as Division II. Hope to see as many there as possible. Remember only leagues that have a representive present at the meeting, may vote.
Tuesday, July 3
AA STATE TOURNAMENT - NASHVILLE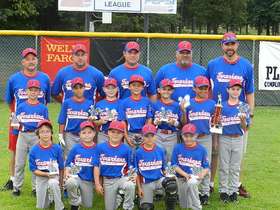 Texarkana West AA State Champions
The 2012 AA State Tournament begin in Nashville, Ar. and ended in Texarkana. 12 teams competed for the StateTitle. Click on the handout below for the bracket. Texarkana West won the title as State Champions after a final game victory over Texarkana East. The top four teams advanced to the AA Region III Tournament in Searcy. These teams were Texarkana East, Texarkana West, Ashdown, and host team Searcy American. Good luck to all teams.
For pictures click this link
http://www.eteamz.com/ardixieybb/albums/?subsite=3046846&albumId=EBE367862278486605E48AA468EF71E8
Handout:
2012 AA State Tournament Bracket
Wednesday, July 11
DYB REGION III BEGINS IN SEARCY
The Dixie Youth Baseball AA Region III Coach/Machine Pitch Tournament begins Friday July 20 with Opening Ceremony and a Home Run Derby. Click on handouts for more information. Good luck to all teams.
Handout:
AA REGIONAL TOURNAMENT
Tuesday, July 31
Texarkana opens play Saturday
Texarkana opens play Saturday against host team, Bartow at 7:30. Good luck Texarkana.
Tuesday, July 31
Nashville begins play Saturday
Nashville begins play Saturday at 3:30 against the champions from Georgia. Let's go Nashville
Saturday, July 14
2012 O.ZONE BRACKET
We will have two teams representing Arkansas thsi year in Cleveland, Mississippi . Searcy and Texarkana will represent our state in the tournament starting this weekend.
Saturday, July 14
Majors World Series Bartow, Florida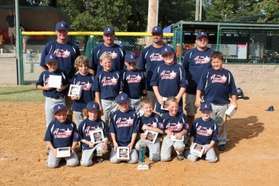 Caddo River American AA Small Town Champions
Thursday, July 5
SMALL TOWN CHAMPIONS
Small Town Champions weekend was held at Hope and DeQueen. The following teams were named champions after finishing their tournaments.
AA SMALL TOWN CHAMPIONS CADDO RIVER AMERICAN
AAA SMALL TOWN CHAMPIONS CADDO RIVER
MAJORS SMALL TOWN CHAMPIONS SEVIER COUNTY AMERICAN
Congradulation to these teams and good luck and the State Tournaments
Thursday, June 28
TOURNAMENT TIME
It's State Tournament again and it all begins this weekend, The Small Town AA begins in Hope on Friday, and the Small Town AAA and Majors begins in Dequeen on Friday. The brackets are available on the Arkansas Dixie Youth Facebook page, Good luck to all teams.