Apponaug East Coast Pride: Welcome
Saturday, August 27
Welcome to the Home of East Coast Pride!
If you're ready to play for a championship team we are looking for talented, hard-working ladies to join our team. We're currently recruiting for pitchers, catchers, infielders and outfielders. If interested call Coach Wayne at 401-640-9505.
2011 Results
Memorial Day Classic Pony Qualifier/ Plainville - 3rd Place.
X-treme Pony Qualifier/ Swansea 3rd Place .
X-Games A.S.A. National Qualifier / Stratford CT. 2nd Place.
A.S.A. State / R.I. 2nd Place
New England Regional / R.I. 2nd Place.
Richard Durning Pony Qualifier/ R.I. 2nd Place
Ocean State Invitational/ R.I. 3rd Place.
Nor'Easter Classic / N.H. undefeated tournament Champions !
* ( 2011 'A' Tournament Travel Season Record: W-36 L- 14 ) *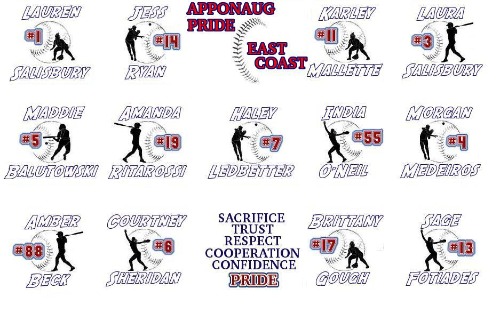 CHECK EAST COAST NEWS