APEX Volleyball: News: THE MAGIC CONTINUES
THE MAGIC CONTINUES
TWO DAYS - TWO EVENTS - A GOLD AND A SILVER.
APEX MAGIC KICKED OFF THE SEASON WITH TWO GREAT OUTINGS. MAGIC OPENED UP SATURDAY WITH A STRAIGHT SET GOLD MEDAL PERFORMANCE IN THE 17 OPEN DIVISION OF THE GEVA NEW YEAR CLASSIC. THE WIN WAS CONSTRUCTED OF 6 STRAIGHT SET VICTORIES, ALLOWING OPPONENTS AN AVERAGE OF LESS THAN 15 POINTS PER SET.
SUNDAY PROVED TO BE MORE OF AN ADVENTURE AS MAGIC ENTERED INTO THE CHALLENGE OF COMPETING IN THE 18 OPEN DIVISION OF GEVA NEW YEAR CLASSIC II. POOL PLAY OPENED WITH A TWO SET VICTORY OVER ALPHA GAMMA 18-1, A THREE SET WIN OVER CONNECTICUT JUNIORS 18-1, AND ABSOLTELY AMAZING, COME FROM BEHIND THREE SET WIN OVER PERENNIAL POWER HOUSE ACADEMY 18-1. !!!!!YAHOO!!!!! A 2-0 SET SEMI FINAL TRIUMPH OVER ALLSTAR 18-1(25-21, 25-15) RESULTED IN A TRIP TO THE FINAL AGAINST AVVC 18-1
A FIRST SET DEFEAT (23-25), A REBOUND SECOND SET VICTORY (25-18) SET UP THE THIRD SET BATTLE.
DOWN 10-13 APEX FOUGHT, FOUGHT, AND FOUGHT SOME MORE. TYING THE SCORE AT 13S. AFTER TYING AGAIN AT 14, AVVC SCORED 2 STRAIGHT TO WIN THE SET AND THE FINAL. ( OUTSCORED THEM 62-59, JUST PUT THE POINTS IN THE WRONG PLACES) MAGIC SECOND IN 18 OPEN, GREAT ACCOMPLISHMENT, REST WELL YOUNG ONES, WE DO IT AGAIN ON SATURDAY..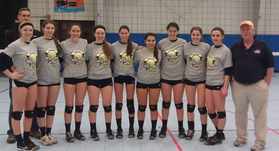 TWO DAYS = 1 GOLD AND 1 SILVER