Ann Arbor A's Travel Baseball: Welcome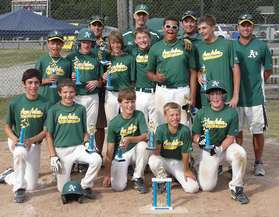 2012 CBC Champs: AA A's 12U Green
Friday, January 4
The Ann Arbor A's is a competitive youth travel baseball organization for ages 8-14. We participate in league games within the Kensington Valley Baseball Association, in addition to travelling to regional tournaments.
All Tryouts have been performed for the upcoming season. If you have any questions regarding a specific team, please contact the head coach of the specific age group:
U8 - Scott Schmunk: scott@catchtheadvantage.com
U11 - Jim Finn: jamesd@finnsins.com
For the protection of our players - you must be a registered user and approved by the league webmaster to visit many of the pages on this site, such as the "Team" page. You can request access by following the restricted access instructions. If you have any problems, please email us at tforce65@gmail.com.