American Solution FC: U18 Girls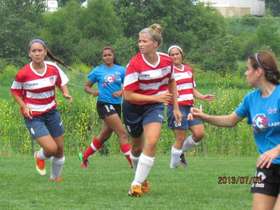 Adkins and Co. look to sure up the back line at State Cup.
Monday, June 2
U18 Girls. Spring 2014.
Spring OYSAN State Cup Schedule--2014.
Tue. 4/29. 6:30pm. vs. Toledo Impact (Norwalk) Loss 3-1.
Fri. 5/16. 6:30pm vs. Ambassadors (Victory Park)) Loss 3-0.
Tue. 5/27. 6:00pm. at Cleveland United (N. Ridgeville) Loss.
Thur. 5/29. 6:30pm vs. Cleveland FC (Victory Park) Loss 3-2..
Mon. 6/9. Final (Copley Rd.) 1st vs. 2nd.
Spring OYSAN State League Schedule--2014
Sat. 4/26. 1:00pm at Valentis Athletica (Bowling Green) Win 2-0.
Sun. 5/4. 4:30pm at AC Premier (Lake Catholic-Turf) Loss 4-1.
Fri. 5/9. 7:15pm at CVSA-18 (Brecksville Turf-Lights) Win 3-1.
Wed. 5/21. 6:30pm at Cleveland Inferno (Oberlin) #4302. --Postponed, makeup TBA.
Sun. 6/1. 10:00am vs. TSI Premier (Victory Park) Win 1-0.
Fri. 6/13. 7:15pm at CVSA-17 (Breckesville Turf-Lights) #4305
Friendly Matches
Sat. 4/19. 4:00pm. at Cleveland Kickers (Bradley-Barton)
"Indoor Practice times and Facilities"
Training Dates (Indoor-All Monday's from 5:00-6:00pm)
Soccer Sportsplex: 31515 Lorain Rd. North Olmsted, 44070
Spring player League Roster, 2014..
Ashlee Welch #24
Taylor Sasak #19
Hannah Kennedy #7
Jen Janosek #8
Katie Johnston #5
Sam Miller #14
Taylor Savarino #27
Kaitlyn Mazzola #20
Kaysy Heyde #13
Allie Schultz #12
Stacey Alderman #4
Molly McGuire #11
Allison Adkins #6
McKayla Miller #18
Hannah Buxton #28
Tianna Moody #33
Emily Yusko #25
Veronica Janosek #16
Sarah Skinner #2
Bailey Brogan #9
Katie Donovan #99
Angelica Rahe #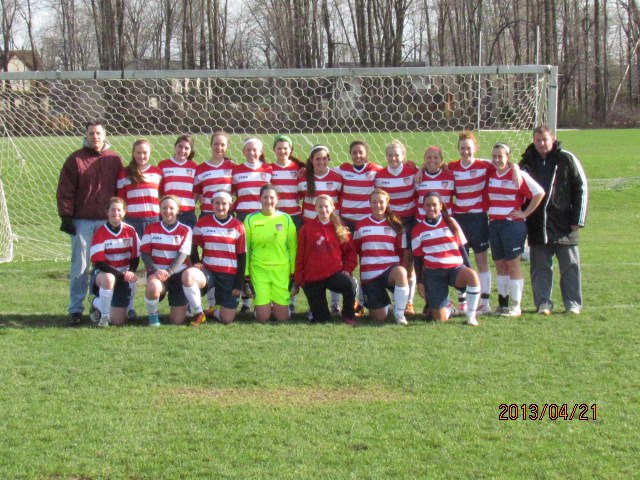 U18 Girls 2014