American Solution FC: Welcome
Saturday, August 29
The Yanks Are Coming!
Players, Parents, and Friends,
Welcome to the American Solution FC website. We are a Futball (soccer) Club located in the Western Suburbs of Cleveland, Ohio. We are currently based out of Victory Sports Park in North Ridgeville.
Our training focuses on player foot skills, in-game awareness, positional responsibility within the team, fitness levels for soccer players, and fun.
Fall Game Schedules are complete .
.Last Week of outdoor Practice at Victory Park (10/5-10/9)..
Fall 2015 Outdoor Training Days & Times: (September 2015--New Times)
Location: 7777 Victory Lane, North Ridgeville, OH, 44039--Victory Sports Park.
Tuesday/Thursday: U10-Boys, U11-Boys, U12-Boys (together): 6:00-7:00pm..
Tuesday/Thursday: U13-Boys, U14-Boys (together): 6:00-7:30pm..
Wednesday/Friday: U13-Girls: 6:00-7:30pm..
Location: 11000 Pleasant Valley Road, Parma, OH, 44130..Parking Lot D--Cuyahoga Community College Western Campus (Not using College fields this Fall)
Fall Season Games-(Full Schedules under team tabs)
U10-Boys: (Next)--Sat. 10/10. 11:30am at CAK Premier-White (Massillon)
Sat. 10/10. 1:00pm at CAK Premier-W2 (Massillon)
U11/12-Boys: (Next)- -Season complete (5-2-1)..
U13-Boys: (Next)--Fri. 10/9. 6:15pm at Ohio Rangers A (Garfield Middle)
Sat. 10/10. 2:30pm at CAK Premier (Massillon)
Sun. 10/11. 5:00pm vs. Akron Metro (Victory Park)
U14-Boys: (Next)--Fri. 10/9. 8:00pm at Ohio Rangers (Garfield Middle)
Sun. 10/11. 10:30am vs. Toledo FA (Victory Park)
U13-Girls: (Next)--Sat. 10/10. 11:00am at AAFC Patriots (Veterans Park-Rte. 51-Genoa)
INDOOR TRAINING: Soccer Sportsplex: 31515 Lorain Rd, North Olmsted, OH 44070
OBERLIN GAMEDAY: 46789 U.S. 20, Oberlin, OH 44074
Monday, July 6
U12 Girls Win NOSO Cup!!
Congrats to the American Solution U12-Girls for their NOSO Cup Championship over the 4th of July Holiday weekend. The Girls secured the place in the Final and held on to a 3-2 Victory from a gritty South Surburban Academy from Chicago area side. Well Done Ladies!!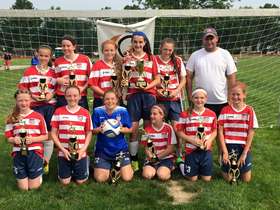 2015 U12-Girls NOSO Cup Champions!!