American Solution FC: Welcome
Tuesday, April 24
The Yanks Are Coming!
Players, Parents, and Friends,
Welcome to the American Solution FC website. We are a Futball (soccer) Club located in the Western Suburbs of Cleveland, Ohio. We are currently based out of Victory Sports Park in North Ridgeville.
Our training focuses on player foot skills, in-game awareness, positional responsibility within the team, fitness levels for soccer players, and fun.
.Practice Cancelled Tuesday 4/24 (weather)..
Spring Games Schedule..
U12/13-Boys : (Next)--Fri. 5/4. 8:00pm at Concordia (Lenau Park) --Red Uniform.
U14-Boys : (Next)--
U15/16-Boys : (Next):--
U17/18-Boys : (Next):--Sun. 4/29. 4:00pm vs. Upper 90 (Victory Park) --Navy Uniform.
OUTDOOR PRACTICES: Location: 7777 Victory Lane, North Ridgeville, OH, 44039--Victory Sports Park.
U15-U18: Monday & Wednesday's. 6:30-8:00pm starting April 2nd.
U12-U15: Tuesday & Thursday's. 6:30-8:00pm starting April 3rd.
INDOOR GAMES: Soccer Sportsplex: 31515 Lorain Rd, North Olmsted, OH 44070
INDOOR PRACTICES: Soccer Sportsplex: 31515 Lorain Rd, North Olmsted, OH 44070
OBERLIN GAMEDAY: 46789 U.S. 20, Oberlin, OH 44074
Location: 11000 Pleasant Valley Road, Parma, OH, 44130..Parking Lot D--Cuyahoga Community College Western Campus (Not using College fields this Fall)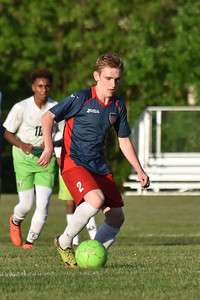 Dylan Keeling-Rocky River. All-Ohio Midfielder