American Pastime Gold: Welcome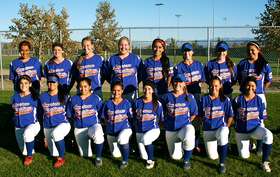 American Pastime Gold 2013
Top Row: Left to Right Alyssa Valinches, McKenzie Phillips, Grayson Harvey, Micaela Vierra, Katie Padilla, Krista Mann, Taylor Townsend Rachel Minogue
Bottom Row: Left to Right Brooke Mann, Alyssa Loyless, Krystall Padilla, Stephaine Garcia, Kristina Lagere, Jordan Townsend, Kristen Reitz, Madison Murphy
Welcome to the Home of American Pastime Gold
American Pastime Gold will train Athletes to achieve their greatest potential with emphasis on social, moral and personal development. The ability to compete in life can be developed during athletic competition. We hold athletes to high academic and moral standards. We always promote an environment of respect, responsibility and self worth.
You spoke I listened. You want the best of both worlds. You want to play 5 games minimum and you want them to matter.
Winning Matters
The facility is ideal for us. Easy access, great fields no movement except from field to field, plenty of parking and last but not least plenty of areas for warm up.
FREE SUBSTITUTION
IN POOL
ALL GAMES 1 HOUR AND 30 MINUTES NO NEW INNING
NO DROP DEAD
This year should prove to be the Best Mizuno Memorial Weekend Tournament ever. It is our 17th year. It is hard to believe but it is and this new format is going to be great. As you progress from pool you will play competitive teams to yourself always playing someone new. The way I have it designed you should not play a team more than once the entire weekend.
Pool play will be played on Saturday, all day. There will only be 7 rounds played on Saturday every team will play only 2 games on Saturday. Kind of a warm up of what is to come. Every team will play a minimum of 5 games. After pool play, depending on your finish will be placed in the bracket. The winner of the loser bracket will play a one game playoff with the winner of the winners bracket, winner take all. All Game scores will be recorded and sent to Colorado to be included in the evaluation process.
Veterans Park
Mango Avenue
Fontana, California 92335
Veterans Park is just below Merrill Avenue on Mango. Mango is east of Sierra. It has a 4 field complex each field has great access and they all back up to the middle. Parking should not be an issue for anyone. Each field is well lit and we have plenty of warm up areas.
Plenty of hotels. The Hilton is reasonable, I saw 89 per night on their web site, and they are on Sierra avenue. You could also select any hotel on Miliken or Haven Avenue. They would be no more than 15 minutes from the fields. Plenty of rooms, nice properties.
Katelynn Padilla (2013)SS/3B verballed College of Charleston
Krista Mann (2013) 2B/SS verballed University of Utah
Taylor Townsend (2013) C/SS/Util verballed University of Conn.
Alyssa Loyless (2013) OF/Utility verballed Dartmouth College
Loie Kesterson (2012) Pitcher signed University of Hawaii
Samanta Avila (2012) 3B/OF signed Cal Baptist University
Jessica Avila (2012) Pitcher signed Cal Baptist University
Sammy Judd (2012) 2B/OF signed RIder University
Allie Butterfield (2012) Outfielder signed Arizona State Univ.
Natalie Martinez (2012) C/3B/OF signed Ole Miss University
Jordan Mowatt (2012) Outfielder signed Cal Baptist Univ
Kayce Nieto (2012) Pitcher signed University of Utah
Alyson Ambler (2012) P/1B/OF signed University of Conn.
Yvon Minogue (2012) 1B/OF/Utility signed Univ South Dakota
Alyssa Gardea (2012) OF/Utility signed University of Conn.
May 26-28 - AP Memorial Day Tournament
June 2-3 - Surf City Summer Kick Off - Huntington Beach
June 9-10 - So Cal Finest June Zoom - Hemet
June 15-17 - Premier Fastpitch - Southern California Qualifier
June 22-24 - Premier Fastpitch - Northern California Qualifier
June 26-Jul 1 - Fireworks Tournament - Aurora, CO
July 7-8 - TBD
July 11-15 - Champion's Cup - Irvine
July 16-20 - TCS Nationals - New York City, NY
July 29-Aug 4 Premier Fastpitch Nationals - Huntington Beach
We play the above competitive schedule plus weekly training at EM as a group.

Each athlete will attend the scheduled group session plus an additional session per week.

These sessions include speed and agility training plus strengthen.

The session with the group includes cage batting.

EM also offers special visual training in addition to what we currently do.

An athlete can actually improve their performance by balancing/strengthen their vision.