American Pastime Gold: Welcome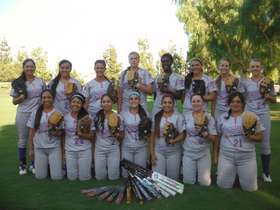 APG 25th Anniversary Uniforms
Top Row: Left to Right Melissa Garcia, Selina Sherlin, Rylee Reynolds, Ashley Coleman, Makayla August, Rachel Minogue, Amanda LaBeske, and Sydnie Trostle
Bottom Row: Left to Right Alexis Sullivan, Kiana Moreno, Alyssa Rasso, Brooke Mann, Krystal Padilla, Kaitlyn Jennings and Kristyana Boghossian
Welcome to the Home of American Pastime Gold
American Pastime Gold will train Athletes to achieve their greatest potential with emphasis on social, moral and personal development. The ability to compete in life can be developed during athletic competition. We hold athletes to high academic and moral standards. We always promote an environment of respect, responsibility and self worth.
Sydnie Trostle (2016) SS/2B Verbal Cal Baptist University
Rachel Minogue (2015) 1B Verbal Eastern Kentucky University
Amanda LaBeske (2015) Inf Verbal Sonoma State Univeristy
Rylee Reynolds (2015) Inf/P Verbal Liberty University
Ashley Coleman (2015) P Verbal Cal Baptist University
Brooke Mann (2015) C/Utility Verbal University Wisconsin
Melissa Garcia (2015) Inf Verbal University Massachusetts
Kaitlyn Jennings (2015) OF Verbal Fresno State University
Brittney Veler (2014) OF Signed Providence College
Kiana Moreno (2014) 2b/3b Signed Drexel University
Selina Sherlin (2014) Signed Biola University
Micaela Vierra (2014) Pitcher Signed Santa Clara University
Mikaela Francis (2013) 1st Base Signed Cal State Fullerton
Madison Murphy (2013) 1st/OF signed Cal State Dominguez Hills
Krista Mann (2013) 2B/SS Signed Cal Baptist University
Katelynn Padilla (2013)SS/3B Signed College of Charleston
Taylor Townsend (2013) C/SS/Util Signed University of Conn.
Alyssa Loyless (2013) OF/Utility Signed Dartmouth College
Loie Kesterson (2012) Pitcher signed University of Hawaii
Samanta Avila (2012) 3B/OF signed Cal Baptist University
Jessica Avila (2012) Pitcher signed Cal Baptist University
Sammy Judd (2012) 2B/OF signed RIder University
Allie Butterfield (2012) Outfielder signed Arizona State Univ.
Natalie Martinez (2012) C/3B/OF signed Ole Miss University
Jordan Mowatt (2012) Outfielder signed Cal Baptist Univ
Kayce Nieto (2012) Pitcher signed University of Utah
Alyson Ambler (2012) P/1B/OF signed University of Conn.
Yvon Minogue (2012) 1B/OF/Utility signed Univ South Dakota
Alyssa Gardea (2012) OF/Utility signed University of Conn.
Tuesday, June 10
Upcoming Schedule
June 13-15: So Cal PGF National Qualifier - Hemet, CA
June 20-22: So Cal ASA - Fontana, CA
June 27-29: NW PGF - Portland, OR
June 30 - July 5: Fireworks - Aurora, CO
July 6: American Pastime Gold vs. Chinese-Taipei - Irvine, CA
July 9-13: Champion's Cup - Irvine, CA
July 20-26: ASA Gold Nat'l Championship - Oklahoma City, OK
July 27- August 3rd: PGF Nationals - Huntington Beach, CA
We play the above competive schedule plus weekly training at EM as a group. Each athlete will attend the scheduled group session plus an additional session per week. These sessions include speed and agility training plus strengthen. The session with the group includes cage batting. EM also offers special visual training in addition to what we currently do. An athlete can actually improve their performance by balancing/strengthen their vision.