www.eteamz.com/althomasclub: My Site News
Friday, November 14
Joe Clancy to Enter HOF; ATBC named Co-Franchise of Year
After a fantastic seasin in which the A's fell just short of a championship, the team is looking forward to some well-earned recognition at the YBL Banquet on December 13 at the IBEW Hall in Dorchester.
Former all star outfielder Joe Clancy heads the list of honorees from the Al Thomas Club, as he will be inducted into the league Hall of Fame. A speedy, Gold Glove outfielder, "Clance" appeared in 5 all star games, including 2 at Fenway Park, to go along with his career .343 average.
The team will share Franchise of the Year honors with the Somerville Alibrandi Club, as well as earning a division and championship crown. First-year skipper John Kostas has been named Manager of the Year, while Willie Archibald has earned Pitcher of the Year accolades. Matt Lavasseur was named to the All-Rookie team, while James Katsiroubas won a Gold Glove for third base. Freddi Carrera will pick up a Silver Slugger Award for the outfield. President/GM Joe O'Hara will be given the Joan Tarpey Skinner Excellence in Service Award.
The A's are chomping at the bit to get back to action to finish the job in 2015. Anyone interested in trying out for the team can contact Joe O'Hara at joeohara64@hotmail.com.
Friday, January 10
O'Hara, Powers Inducted into YBL Hall of Fame
On November 16th, 2013, the Yawkey League celebrated its annual Hall of Fame Awards Banquet at the IBEW Hall in Dorchester, MA. Former Al Thomas pitcher/firstbasemen Aidan Powers was inducted into the YBL Hall of Fame for his outstanding career as a pitcher and firstbaseman, and for his leadership qualities on and off the field. Powers was named to 7 all star teams in his 11-year career, and was the league's Cy Young Award winner in 2002. Additional highlights of his career included starting two All Star games on the mound at Fenway Park, one with his Hall of Fame brother Brian playing third base next to him.
Friday, May 24
A's Add New Talent to Hungry Ball Club
The Al Thomas Club has added a few more pieces to the puzzle in 2013 in an effort to bolster the team's chances at unseating perennial champion Somerville. The pitching staff welcomed newcomers Steve Doyle of Quincy via Weymouth, and rookies Willie Archibald and John Arens, both of Milton. Recently joining the club was Henri Ferre of Jamaica Plain and D1 Junior College Harford of Maryland. There were also a few reports of southpaw Matt Bresnehan rejoining the team, so we will keep our fans posted.
Rightfielder Freddi Carrera of Brighton brings his all star resume to the A's after three stellar years with the Savin Hill Hornets, and all star veteran Dakota Happas of Braintree reduced his commute and commited to the AT Club for its championship run. Rookie catcher Kevin White of Quincy and Curry College adds infield depth to the squad, while a couple of familiar names round out the newcomers, as the roster takes on another DeMille and Lambert. Dan DeMille (if/of) joins his brother Mike as another Miltonian, while Kevin Lambert joins his cousin Steve as a corner infielder.
Monday, May 21
Pitching and D Propel A's to 3-0 Start in 2012
The 2012 season has finally gotten under way, and the Al Thomas Club has jumped out to a 3-0 record to begin the campaign. Under the direction of new pitching coach John Kostas and assistant coaches Mark Daly and Aidan Powers, and team captain Steve Lambert, the A's had their most comprehensive offseason in history, and things have carried into the season.
In game one, the A's took on arch-rival McKay Club in a rematch of last year's quarterfinals. Will Clang scattered 7 hits in 6 innings as the Al Thomas Club defeated the Beacons 6-3. Three players had two hits for the A's, while Tim Vogel picked up a save in his AT debut.

John Kostas, Chris McDonough and Mike Niland led the offense with two hits apiece. Clang walked none and struck out 9 in picking up his first win of the year. Vogel fanned two in his inning of work.
Game two pitted the A's against the up-and-coming East Boston Knights. Dan Gaughan tossed 6 innings of 3-hit shutout ball as the A's won 7-0. Nick Malatos threw a 1-2-3 7th inning in his Al Thomas debut. Bill Donahue and Zach Smith had 2 hits each to lead a balnced attack.
Game three followed the same blueprint as the first two as sharp pitching and a few timely hits set the tone. Matt McDougall threw 5 shutout innings, allowing 2 hits, as the A's snuck by Beacon Hill 3-0. Tim Vogel pitched a scoreless 6th and Brendan Busa struck out the side in recording the save in his Al Thomas debut.

Steve Lambert led the offense with a 2-2 day, while John Kostas, Bill Donahue and Aidan Powers drove in the runs. Donahue also made a nice catch in right field, while left fielder Zach Smith made a couple of great catches of his own.
Saturday, January 8
A's Name Lambert Captain and Appoint 3 Coaches
Al Thomas and Manager Joe O'Hara are proud to announce several administrative additions for the Al Thomas Baseball Club, Milton's entry in the Thomas A. Yawkey Amateur Baseball League.

Milton's Steve Lambert has been named team captain, the first one for the A's since Mike Hannon in the 1990's. Veterans John Kostas (Milton), Mark Daly (Milton) and Aidan Powers (Braintree) have been named assistant coaches and will serve as player-coaches for the team.

Lambert followed up his all star rookie and sophomore seasons with the A's with a phenomenal season that recently earned him the 2010 MVP award for the Yawkey League. He led the league in hitting at .453 and was among the top five in virtually every offensive category, finishing first or second in many, and won a gold glove for his outstanding defensive prowess in centerfield, including 13 outfield assists. He also played a bit at first and second base and was 1-0 on the mound.

Kostas and Powers have been perennial all stars in the YBL, and for a stretch were the team's ace pitchers, while Daly has made two all star appearances and played various infield positions for the A's.

The Al Thomas Club has won its division in four of the last five years and advanced one step further in the playoffs in each of the last two years. Manager Joe O'Hara looks forward to the increased roles of these four players. "I'm excited that these guys are stepping up to assume more responsibility in the advancement of the team," he quipped. "With a few key roster additions and a greater commitment to winning by the entire team, we feel confident that we can sustain a team capable of winning not just one, but a number of championships."

The year 2011 will mark the 30th anniversary of the Al Thomas Baseball Club. Anyone who has played for the team should send his contact information to Joe O'Hara at 45 Oval Rd. #27, Quincy, MA 02186 or joeohara64@hotmail.com to ensure proper involvement in any commemorative activities throughout the year.
Monday, October 18
The 2010 Season
In 2010, the Al Thomas Club overcame some early struggles to capture the Tarpey Division crown and earn a #3 seed in the playoffs. After a solid 3-games-to-one victory in the quarterfinals against South Boston, the A's saw their 2-games-to-one lead against the defending champions, West Roxbury, disappear as they fell in five games.
In winning its fourth division title in five years, the 2010 Al Thomas Club experienced the emergence of a number of young players poised to lead the team to greater things in the near future. Third-year centerfielder Steve Lambert proved that hard work does pay off as he picked his game up several levels to earn the Yawkey League MVP award. Lambo led the league in hitting, hits, triples, on base percentage and slugging, while finishing second in stolen bases and home runs and in the top five in runs, doubles and rbi. He also played a sensational center field and amassed 13 assists, earning himself a Gold Glove award.
James Katsiroubas was right up there with Lambert in many offensive categories, finishing second in batting with a .447 clip, first in stolen bases and second in doubles, runs and walks. "Katzy" also won a Gold Glove at third base. John Kostas batted a career-high .363, while throwing some mean leather at short, and Peder von Harten earned All-Rookie honors with a .333 freshman year. Chris McDonough boasted a .320 average while playing a solid outfield and first base. Mitch Monke was given a chance to swing the bat and responded with a .389 average in limited duty. Brendan Wheeler overcame a slow start (due to the need for glasses) and crushed the ball in the second have to wind up at .354 and in the top ten in doubles, triples and rbi. He, along with Lambert and Katsiroubas, won Silver Slugger awards at their respective positions.
Ryan Stoller followed up an all star 2009 season by leading the YBL in wins in 2010 with a perfect 8-0 mark and a sizzling 1.20 era and a second-place finish in the Cy Young voting. Mitch Monke jumped into the rotation and went 3-1 with a stingy 1.40 era. Veteran Will Clang joined the staff and was second in wins with 4 to go with a 2.86 era. Southpaw Chris McDonough was 2-0 with two shutouts before elbow trouble shut him down for the year.
The A's have missed the playoffs just twice in the last 21 years and have never recorded a season under .500 in the Yawkey League. The Thomas Club was fortunate enough to send 42 players to Fenway Park as All Star representatives over the years. This past year, Steve Lambert and Ryan Stoller were selected to the YBL all star team that played the U.S. Military all star team at Jim Rice Field in Boston's South End.
Sunday, September 5
A's Bow Out in 5 Games in Semifinals
The Al Thomas Club faced a grueling stretch of eight games in eleven days as the season wound down, and they needed to win at least six of those games to stay in the hunt for first place. The mission was accomplished and then some, as the A's won all eight games and overtook rivals South Boston and the McKay Club to seize the division title in the fierce Carl Yastrzemski division of the Dan Tarpey Conference of the Yawkey Baseball League.
The surge landed the A's a number-three seed in the 2010 playoffs, and they opened with the South Boston Saints in a best-of-five series. In game one, Ryan Stoller tossed a complete game 5-hitter as the Thomas Club won 4-1 behind contributions up and down the lineup. The A's dropped game two, but came back in style in the third contest, putting up seven runs in the top of the first on route to a 9-4 victory. League batting champion Steve Lambert led the offense with 3 hits, a walk and a stolen base, while James Katsiroubas and John Kostas each collected two hits.
Game four proved to be a classic, as the A's held a slim 1-0 lead going into the bottom of the 4th inning, when the wheels fell off the wagon. Five walks and a few base hits gave Southy what appeared to be a commanding 5-1 lead. The Saint's pitcher, Steve Hueston, was mowing down the Al Thomas Club on two days rest, having thrown a complete game to beat them in game two. But showing the same fierce resiliency it had all season long, the green & white scored a run in the 5th, then started a rally with two outs in the top of the 7th as Kostas (double) and Lambert (triple) drove in runs to get it closer and Katsiroubas singled in the tying run.
Katzy then took the mound in relief in the 7th after two solid innings of relief by Matt Quigg and proceeded to throw seven shutout innings as the A's came up with three runs in the 13th inning to take the game and the series!
As heavy underdogs against the two-time defending champion West Roxbury team, the Al Thomas Club marched into game one of the semifinals and used a 6-run 5th inning to earn a 6-3 win. After rbi singles by Will Clang, Lambert and Katsiroubas, Chris McDonough launched a 3-run bomb to right field to close out the scoring. Mitch Monke threw a complete game, scattering five hits. Once again, excellent defense led the way for the A's.
The Bluefish tied the series at one game apiece, but the Thomas Club came back in game three for a 7-2 win. Will Clang scattered 8 hits on route to a complete game 7-2 victory to put Al Thomas up 2-1 in the best-of-five series.

Steve Lambert had three hits, a stolen base and 2 rbi's while Chris McDonough (rbi double) and John Kostas (2-run triple) each had 2 hits to pace the offense.

West Roxbury went on to take games four and five and win the series to advance to the finals. It was a disappointing finish, but the Al Thomas Club had a great season and many bright spots on which to build for the future.
Tuesday, August 3
A's Win 8 in a Row to Capture First Place
The Al Thomas A's battled all season long in the Carl Yastrzemski Division, the toughest division in the Tarpey Conference. The club spent the majority of the season chasing South Boston, Beacon Hill and the McKay Club, but for the third time in four years, The Thomas Club strapped it on when the going got tough and pulled out yet another division title. This year, they won 8 games in a row, including a brutal five-games-in-five days stretch, with huge wins against the McKay Club and two-time defending champ, West Roxbury.
The 2010 Al Thomas Club is a very deep and talented one. Many key contributions were made up and down the roster during the recent surge, as the A's captured the third seed in the playoffs.
One of the team's most significant leaders was Steve Lambert, who in his third year decided to pick his game up a few notches, resulting in one of the best seasons in Yawkey League history. Lambo led the league in hitting for most of the year and ended up winning the batting title with a .453 mark, edging teammate James Katsiroubas, who finished with a 4-4 game that raised his average to a robust .447, arguably the best 1-2 combo in the storied history of the Al Thomas Club. Lambo led the league in hitting, hits, triples and OPS, while finishing top 5 in runs, rbi (from the leadoff spot), home runs, OBP (2nd to Katzy), Slugging and stolen bases (2nd to Katzy). Steve also played a gold glove centerfield, had 9 outfield assists, played flawlessly at second base and first base, and was 1-0 on the mound with a 2.00 era.
Ryan Stoller led the league with 8 wins (against no losses) and was third wth a 1.20 ERA, and the team was third in the league in ERA. As a team, the Al Thomas Club finished second in batting, first in hits, doubles, triples (crushing the league record), slugging, OBP and OPS, and second in rbi and stolen bases. Lambert and Stoller were both elected All Stars and played against the U.S. Military All Stars at Jum Rice Field in July.
A job well done for a talented group of players, but they know the real season will begin soon! The team wishes speedy recoveries for players Pat Kelleher and Mike Niland, who sustained major injuries that ended their seasons in July. Kelleher broke his leg, while Niland crushes his PCL while trying to turn a doubleplay in a game. You're still on the field in spirit, guys!

A's with Baseball Ireland team
Tuesday, July 27
Baseball Ireland
AL THOMAS CLUB MEETS BASEBALL IRELAND
On Sunday, July 25, the theme at Cunningham Park in Milton was obvious: green. The baseball field proudly displayed its plush grass, while two full teams dressed in their dark green uniform tops. And anyone who wasn't able to attend the exhibition game had to have been green with envy.
The Al Thomas Club, Milton's entry in Boston's Yawkey Amateur Baseball League, welcomed Baseball Ireland, the Irish National baseball team in an exhibition contest dubbed "The Clash for the Celtic Cup". The Irish team (the senior national team, along with an Irish little league team) travels to the U.S. every other year to compete in a number of states. This year, they had played games in Brockton and Connecticut, and took part in a multi-day tournament in Rhode Island prior to concluding their tour with the Al Thomas Club.
The settings were ideal as the sunny, 80-degree day attracted over 700 spectators at Cunningham Park. Irish and American flags of various sizes adorned the backstop, while red, white and blue bunting accentuated the perimeter fences, all courtesy of Milton's Ed Duffy. Fans were transported from the parking lot to the field by Cliff Flynn in an electric golf cart provided by the Milton Police Department. The stands were full and lawn chairs were lined up along the first-base fence, with waves of green flashing in tee shirts and hats throughout the day.
A sound system at the field was provided by DJ Jen Farrell, while Yawkey League president, Dave McKay, served admirably as the play-by-play announcer all day long, offering occasional accolades for his rival manager in the league, Joe O'Hara, who runs the Al Thomas Club, and who set this event up with the help of Baseball Ireland player Nat Anglin, a Milton resident with dual citizenship, and a former Al Thomas player. Nat and his brother, Doug have been members of the Irish team for several years.
Al Thomas welcomed the crowd and thanked manager Sean Mitchell and the Irish squad for joining the Al Thomas A's for such a special and exciting exhibition game. Then he introduced Jack Fairbarn, who led the Irish team in singing the Irish National Anthem, followed by Katelyn Hill, who performed a flawless rendition of the American National Anthem. Finally, Mr. Thomas was honored to present Steve Wilkie, longtime Milton resident and Al Thomas Club superfan, to throw out the first pitch. Sporting his Al Thomas A's tee shirt with "WILKIE" on the back, Stevie fired a fastball on the inside corner for a strike to catcher Brendan Wheeler. As Wilkie walked off the mound to a standing ovation, Al Thomas bellowed the famous words, "PLAY BALL!"
The nine-inning game itself was a clean, well-played pitchers' duel, with the Al Thomas Club defeating its guests 1-0 in a remarkable two hours and fourteen minutes. Will Clang singled in Milton's John Kostas for the only run of the game. Kostas had singled, stolen second and moved to third on a grounder, before scoring the only run of the game on an infield hit. Clang also threw two shutout innings and picked up the win in relief of the starter, Luke Regan, who tossed three scoreless frames.
Throughout the day, live music was provided by Brian Queally and Matt Glover, who delighted the crowd with many Irish favorites. Possibly the hardest-working people of the day were the batboys and batgirl, who chased foul balls, retrieved bats, lined up helmets and handout out the program booklets to spectators all around the park. The teams wish to thank Sean Feehily, Will and Brian Bennett, and the McDonnell clan: Patrick, Sarah, Andrew and Michael, for all of their great work!
Following the game, Mr. Thomas hosted a private reception for the teams and their fans at the Milton American Legion Post at Heritage Hall in Milton, where everyone was treated to the Irish melodies of Sean Cunningham and his band. Deb and John "JL"Lasis, along with Jimmy and Rich Sheehan and others, worked tirelessly to provide an outstanding buffet for the 250 people in attendance.
In accepting the first-ever Celtic Cup, Al Thomas manager Joe "Chief" O'Hara thanked the Irish team for taking part in such a great event and presented its players and coaches with commemorative tee shirts. Irish skipper Sean Mitchell presented O'Hara with a plaque from the team in gratitude for the "2010 Friendship Series". It is rumored that the Al Thomas Club senior management is looking at the budget for 2011 to see if a trip overseas might be possible, but if not, then Baseball Ireland would certainly be invited back in 2012.
Al Thomas wanted to send out a sincere thank you to all those people who contributed to the enormous success of this special event, especially Dave Wahlgren, Rene Gauthier and the Cunningham Foundation, who graciously hosted the event, and Joe O'Hara and Nat Anglin, who took the event from concept to reality.
Tuesday, April 20
Al Thomas Club to Play Exhibition Game vs. Irish National Baseball Team
The Al Thomas Baseball Club has added an exciting game to its 2010 schedule - a nine-inning exhibition game against the Irish National Baseball Team. The 2:00 game will take place on Sunday, July 25 at Cunningham Park in Milton with pregame player introductions and both the Irish and American national anthems.
The Irish team will wrap up its 2010 trip to the U.S. with the contest against the A's. Milton residents Nat and Doug Anglin have been members of the team for several years, while Nat also played two seasons for the Al Thomas Club.
[the following information is from the website of the Irish National Baseball Team]
Adult level Baseball in Ireland began to formally take shape in 1995. Visiting coaches from Major League Baseball International (MLBI) provided the much needed instruction to adult players, most of who had only played recreational softball but wished a greater competitive and athletic challenge. In 1996, with the assistance of MLBI coaches, Ireland played in its first international competition, the European Championships held in Hull, England. This international experience generated a great deal of interest in Baseball and has ultimately resulted in a ten team Adult League being formed with seven teams in Dublin, two in Belfast and one in Greystones, Co. Wicklow.
On the international scene in 1998, the Irish National Baseball Team made the quarterfinal stage in the 1998 European Championships held in Austria and finished eighth in the sixteen team tournament. The significance of this accomplishment is only fully appreciated when one considers that Ireland was the smallest of all the competing nations with many of the other federations claiming thousands of members.
Ireland's National team hosted the Connie Mack League state champions, the Slocum Baseball Club, from Rhode Island in the United States in 1999. The four game series was a great success for all involved and has now developed into a bi-annual event in which Ireland travelled to America in August of 2001. And just when you thought it was safe to go back on the diamond, the boys from Slocum came back to Dublin in July, 2003 for a week of serious baseball and craic. Ireland also competed at international level competition when they played in the 2000 European B-Pool Championships held in Croatia and finished in fourth place at the 2002 European B-Pool Championships held in Stockholm, Sweden.
Most recently, the Irish National Team won a Bronze medal in the European B-Pool Championships held in August, 2004 in Regensburg, Germany and a Silver Medal at the 2006 European B-Pool Championships held in Antwerp, Belgium.
Sunday, March 21
Rookies Help to Build Solid Core
The A's added a number of rookies to the team in '09, including all star catcher Brendan Wheeler of Braintree, who led the team in runs, hits, doubles, triples, homers, rbi and hbp. Ricky Salvucci of Quincy enjoyed his first "full" season with the A's and led the team with a .431 average and 16 stolen bases, despite missing 10 games while leading his Amercican Legion team to and in the playoffs. Weymouth's Chris McDonough (.356) hung up his Brockton Rox cleats to join the squad at midseason and performed at an all star level at first base and in the outfield, while Milton's James Katsiroubas came aboard midseason and hit over .300 while playing a nasty, gold-glove-caliber third base.
Pat "PK" Kelleher of South Boston also donned the green & gold around midseason and brought several years of minor league baseball experience with him as he patrolled the outfield. A broken hand cut short his season, but he hit at a .333 clip and provided invaluable advice to other members of the team. Walpole and Bowdoin's Billy Donahue also saw his season ended by an injury, but he hit over .300 and provided some quiet leadership. Nick Runyan of Hyde Park, Casey Cushing of Milton and Reading's Joe Harvey (Suffolk U) also filled in well as first-year players and helped the team whenever asked.
On the hill, there were yet more rookie contributions. Milton residents and Curry College teammates Ben Howrigan and Joe Carrig led the starters, while Fitchburg State's Ryan Dauley and North Quincy's Matt Edgerly also stepped in as spot starters and relievers. Suffolk's Mitch Monke (of Cambridge via Ohio) made his A's debut in June and never looked back, dominating as the team's closer with a 1-0 mark with 5 saves, yielding no runs, 1 hit and striking out 16 in 10.2 innings. The aforementioned McDonough also threw a 2-hit shutout in his only start of the season. Colin Walsh of Milton returned to the Thomas Club after several years away and contributed both on the mound and at the plate, including a game-winning double in a come-from-behind win early in the season. Jim Perry pitched very effectively in his only two appearances of the season, saving one game and suffering a tough-luck loss in the other.
Second-year veterans Dan Gaughan of Braintee and Ryan Stoller of Milton rounded out the pitching staff, while longtime staff leaders Aidan Powers (Braintree) and John Kostas (Milton)were limited in pitching duties due to injuries and job commitments.
Offensively, Milton's Steve Lambert (.364), Quincy's Chris Malloy (.333), Kostas (.307) and Milton's Matt Hallisey (.281) remained steady throughout the season, while Milton's Mark Daly hit a solid .280 while playing numerous positions in the infield. With a few new additions expected, the future looks bright for the team.

Al Thomas, Rich Hill and Joe O'Hara
Wednesday, February 17
Lovett, Schindler Enter Hall of Fame
On Saturday, January 30th, the Al Thomas Baseball Club held its annual Hall of Fame awards dinner. Held at the prestigious Neighborhood Club in Quincy, the evening featured over 100 people celebrating the team's 2009 season, the induction of two former players into the team's Hall of Fame, and a candid and enlightening question and answer session with former Al Thomas player and current major league pitcher Rich Hill.
In its 29 year history, the Al Thomas Club has amassed 5 league championships and 16 Division titles. We've sent 30 to 40 players to Fenway Park to play in our annual All Star game, and in recent years, have sent about 10 players to represent the Yawkey League against the US Military All star team.
Our fans share the same integrity, devotion and enthusiasm. Over the years, it is the fans who have inspired us to greater glory. It has always been the fans, our loyal followers who travel night in and night out to support us. When it comes to our fans, it could be a glance, a wave, a shout, a high-five or even just a smile. But their presence is always felt, and it is and always has been appreciated more than any one of us could ever communicate. The Al Thomas Club is not made up of simply 15-20 ballplayers, but it consists of every person who has ever been to one of our dinners, one of our cookouts, one of our games, every person who has ever checked the newspaper or gone online and smiled when they saw a victory from the night before.
The awards portion of the night began by honoring one of our dedicated fans. We honor Fans of the Year each year to say thank you. We don't always get the chance to say it during the season, or may not even think of it then, but we appreciate the effort it takes to journey to our games, and to sit in the stands, or in lawn chairs, or to walk back and forth in sheer agony waiting for that next pitch. You never know on a given night what might inspire someone to greatness, but your presence always increases those chances. One fan, whose optimism and enthusiasm was always appreciated, was always there to cheer us on, and provided her great talents as a photographer to take team and individual pictures at our games and the All Star game. Congratulations to our 2009 Fan of the Year, Judy Salvucci.
2009 saw the Al Thomas Baseball Club begin the season with many new faces, a trend that continued until about midseason. After a subpar first half, the A's posted a 13-3 mark in the second half to win the Tarpey Division. We outplayed a veteran Somerville team in the first round of the playoffs, but a bit of bad luck saw us lose the tight deciding game 5.
Our 10th Player Award generally goes to a player who does a lot of different things, basically whatever it takes to help the team win. Last year, there were a number of guys who fit that description, but one in particular played a critical role on the team. He bolstered the pitching staff, as both a starter and reliever, played some first base and all three outfield positions and filled in at DH. His answer was always, "Yup, whatever you need", and players like that are so important to have on any team. The 2009 10th Player Award winner is Dan Gaughan.
We had a bunch of rookies this year, with some relegated to part time due to job constraints and because they had to go home when the street lights came on. We also had a number of rookies who joined us around midseason and played very well. Chris McDonough and Brendan Wheeler were named to the YBL all rookie team. Team spirit and celebratory longevity are major components of our award, and this guy did it all on the field and did a nice job off the field upholding the true traditions of Al Thomas baseball. The Rookie of the Year for 2009 is Brendan Wheeler.
The team also acknowledged its league All Stars for last season, as voted by the league: Steve Lambert, Ryan Stoller, Ricky Salvucci and Brendan Wheeler. .
The final team award for the evening was the MVP, and this year we had co-winners. These guys tore through YBL pitching, finishing 3rd and 8th in the league in hitting. Ricky Salvucci hit a torrid .431 with a team leading 16 stolen bases, despite missing a number of games as he was leading his American Legion team in the playoffs. He played infield and outfield and I'm looking forward to even more heroics from him this season. He also was the only player cut from the Northeastern baseball team last year to try out again this year. He busted his tail working out and preparing himself for tryouts and made the team. He, along with Steve Lambert and Ryan Stoller played against the US Military all star team last summer in Nashua, NH. Brendan Wheeler led the team in runs, hits, doubles, triples, hr, rbi and being hit by the pitch, having one of the best rookies seasons anyone has ever had on this team. Congratulations to the co-MVPs for 2009, Ricky Salvucci and Brendan Wheeler.
The Al Thomas Club Hall of Fame began in 1996 with appropriately enough, a single induction of Al himself. Since the inaugural year, 17 players have been inducted into this prestigious group, some of whom were in attendance: Tom Degnan, Paul Ratti, Andy McDonnell, Todd Hohenleitner, Mike Hannon, Mike Toland, Larry Fennelly, Kyle Robertson, Lloyd Hill and Larry Hill.
Tom Degnan gave a nice speech to introduce our first Hall of Fame inductee, Danny Lovett, who played for eight years and did everything the team needed, and enjoyed playing in an all star game at Fenway Park, lacing a single in his only at bat. Playing on a championship-caliber team of all stars, Lovett often found it tough to crack the lineup, but prepared himself for every game and was always successful when called upon to produce.
Current player and eight-year veteran Chris Malloy inducted his friend and former teammate, Jimmy Schindler, noting that Jimmy played for 12 years, but his hamstrings only played for eight. Schindler also enjoyed an all star game at Fenway and always filled in admirably whenever needed to spell an outstanding outfield lineup.
Congratulations to both Danny and Jimmy, both well-deserving and the epitome of what being an Al Thomas player is all about.
After a brief team presentation thanking Al Thomas for his continued generosity and friendship, the evening concluded with a Q & A session with Milton's Rich Hill, who after four years with the Cubs and Orioles, is in the St; Louis Cardinals spring training camp vying for one of the last two rotation spots. Among other things, Rich stated that his elbow and shoulder feel great and that he's looking forward to making the Cardinals and helping them drive for a championship.

Ryan Stoller, Steve Lambert, Joe O'Hara, Ricky Salvucci
Sunday, August 9
Al Thomas Players Battle U.S. Military All Stars
The Yawkey Baseball League was invited to Nashua, New Hampshire in June to play an all star weekend series of baseball against the U.S. Military All Star team. The U.S. team travels around the world, seeking the best competition amongst baseball leagues and organization.
The Al Thomas Club had four representatives in the games: manager Joe O'Hara and players Ryan Stoller, Ricky Salvucci and Steve Lambert. Brendan Wheeler was also selected to play, but was unable to due to job commitments. All three players made sizeable contributions, but O'Hara and Salvucci continued championship play following the game by defeating all oncomers in fierce dart competition, ending the evening with victories against all nine challengers.
The all star games were played at historic Holman Stadium, former home of the Nashua Pride of the Independent Baseball League. 2009 marked the third year that the YBL has been invited to play the military team, which consists of all branches of the armed forces.
Wednesday, February 4
Rich Hill Traded to Orioles
Former Al Thomas A's and University of Michigan lefty Rich Hill was traded Monday to the Baltimore Orioles. The Miltonite found himself in a logjam of pitchers at the beginning of the 2008 season with the Cubs, and after a 1-0 start, he was sent to AAA Iowa to work on some mechanics. A bothersome back plagued Rich the entire season as he struggled to regain his command with the ailment.
Having spent a few months pitching in Venezuela this winter, Hill was hoping to pinpoint the cause of his back problems and put the affliction behind him. Now, although he enters a fiercely competitive American League East, Rich is looking forward to a fresh start in a new organization. He will be given every opportunity to make the rotation out of spring training.
Wednesday, February 4
Al Thomas Players Trade Bats for Drivers
On Monday, September 15, a number of A's players traded in their Louisville Sluggers in favor of golf clubs. Several groups from the team golfed in the annual Milton Kiwanis Club charity Golf Tournament at Presidents' Golf Course in Quincy.
The tournament featured almost 100 golfers from the South Shore and Boston, including a number of current and former Al Thomas players. The Milton Kiwanis Club serves the Milton community and surrounding areas as an organization of goodwill and support.
This event is Kiwanis' major fundraiser of the year, enabling them to carry out their many community services, such as scholarships to high school seniors, distribution of Thanksgiving dinners, financial help to the needy at Christmas, and financial support of the Kiwanis Pediatric Trauma Center, as well as many other charitable works.
A huge highlight of the day was a special raffle that featured a Grand Prize of two premium 50-yardline tickets to see the New England Patriots battle against the Miami Dolphins on Sunday September 21, 2008 (donted by Al Thomas)!
The great day of golf was followed by a catered luncheon with awards, prizes and many raffle items. Golfers are looking forward to the 2009 tournament on Monday, September 14th!
Tuesday, October 21
Al Thomas Club Holds First Chief Golf Open
On Saturday, September 20, 2008, 16 members of the Al Thomas Club traded in their bats for golf clubs at Riverbend Country Club in West Bridgewater. Veterans Brian Powers, Chris Malloy and George Grant planned the first annual Chief Joe Golf Open as an end-of-the-year gathering for the team. While a number of the players were off at school, four foursomes took to the links on a beautiful 70-degree day.
The winning foursome of John Foley, Aidan Powers, Liam Powers and Joe O'Hara defeated the squad of Brian Powers, Chris Malloy, Mark Daly and Chris Burke in a cardoff. The victors were awarded the Elf Moon Trophy in a subtle ceremony in the parking lot of the golf course.
Chuck Killens won the Most Shots Award, which had nothing to do with golf, and Matt Hallisey won the Cinnamon-Tabasco Award. The tournament directors wish to thank the event sponsors - Riverbend CC, Cagney's, Franks' Place and 'Swa's.
Monday, August 4
Lambert Toughs Out Complete Game Win Over South End to Keep A's in Playoff Hunt
With a tired and injured pitching staff having played 7 games in 9 days, the Al Thomas Club was in need of some help. On Sunday, it came in the form of yet another rookie, Steve Lambert, who had tossed 5 innings on Wednesday. "Lambo" took the hill and after an inauspicious start, settled down to earn a complete game victory, 4-3, yielding one earned run and striking out 10.
With the win, the A's still cling to the 8th and final playoff spot with 2 games remaining. The McKay Club sits at 4 points behind, with 3 games in hand...
Monday, August 4
Stoller Shuts Down West Roxbury 4-1
Rookie Ryan Stoller took the mound on Monday July 28 in a big divisional game against the West Roxbury Devils. The 19-year-old responded with a complete game 3-hitter with no walks and 11 strikeouts, dominating opposing hitters all night, as the A's won 4-1 to keep their playoff hopes alive.
Tuesday, May 13
A's Win First Two Games of '08 Season
The Al Thomas Club has opened the season with a pair of wins over the Brighton Sox and the Brighton Braves.
In game one, Aidan Powers struck out 9 in 5 innings and George Grant threw 2 perfect innings as the A's took the opener 10-3 over the Brighton Sox.
Liam Powers, Chris Bucci, John Kostas and rookie John Foley led the offense with 2 hits apiece, while Brian Powers, Chuck Killens and Foley drove in 2 apiece. Foley and rookie Mike DeBesse and sparkling plays in the field at 2nd and 3rd, respectively, and Peter Moores gunned down a runner at 3rd to protect a 1-0 lead.
Game two saw Chris Bucci walk in the 6th, steal second and third and score the eventual winning run in a 6-5 squeaker for the A's on a freezing night at Ronan Park.
Rookie John Foley pitched 1.2 scoreless innings for the win, making his YBL pitching debut with the bases loaded. Foley relieved John Kostas who fanned 13 in 5.1 innings.
Andy Doyle went 2 for 2 with 2 walks in his return to the Thomas Club, while rookie Steve Lambert made his YBL debut and stroked a 2-run single. Bucci and Chris Malloy each scored twice for the A's.
The Al Thomas Club is excited about the influx of young, local talent to blend in with the time-tested veterans. The A's have added nine rookies, including seven 19-year-olds from Milton!
Tuesday, April 22
Tryouts this Saturday April 26 at Milton High School
Tryouts (and practice for returning players) for the Al Thomas Baseball Club will be held this Saturday, April 26, 2008 at the Milton High School field on Gile Rd. in Milton from 5 to 7 pm.
Any player, aged 17 or older is welcome to attend tryouts. Players are asked to arrive early, dress, stretch and be ready to take the field at 5:00.
The team plays 32 games beginning in mid May, both on weeknights (starting times of 7:30 or 8:00) and weekends (varying starting times from 1:00 on). Players must attend a minimum of 17 games in uniform and play in a minimum of 5 games to be eligible for the playoffs. There is an exception for pitchers, as they must attend 8 games and accumulate 32 innings pitched to qualify for the playoffs.
Players attending the tryouts (and practice) should know up front that making the roster is no guarantee of playing time. We try to be fair and as accomodating as possible, but often times scores dictate flexibility in playing time. We are in this as a team, and everyone should be prepared to do what it takes to help the team be successful.
For further info, or to provide advanced information on yourself (baseball history, positions, availability, speed, lefty, etc.), please contact manager Joe O'Hara at joeohara64@hotmail.com.

Channel 5's Bob Halloran Speaks at the Hall of Fame Dinner
Thursday, April 17
Andrew Campbell and Larry Fennelly Enter ATBC Hall of Fame
On Friday, April 4, the Al Thomas Baseball Club held its annual Hall of Fame Awards Night at the Neighborhood Club in Quincy, MA. In addition to various team awards, the evening was highlighted by the inductions of Andrew Campbell (posthumously) and Larry Fennelly into the Club's Hall of Fame.
News Anchor Bob Halloran of Channel 5 served as the featured speaker for the event, treating the audience with his unique perspective of Boston sports and sharing several interesting stories. Halloran also talked about and signed copies of his latest book, "Irish Thunder, the Hard Life and Times of Micky Ward", the story of Lowell's highly touted boxer.
A crowd of 125 people graced the ballroom at the Neighborhood Club, with fans of all ages mingling with players past and present. Manager Joe O'Hara emceed the gala, recapping the season and honoring Fans of the Year Bill Barrett, Dave McCarthy and Jack McCarthy with the first awards of the night.
Outfielder Matt Hallisey earned a team Gold Glove Award, while pitcher/infielder John Kostas garnered Unsung Hero kudos. Rookie Bobby Barrett collected both Rookie of the Year and team MVP honors. Andrew Besegai shared Rookie of the Year status with Barrett.
Over fifteen members of the Al Thomas Club Hall of Fame were in attendance to pay tribute to the 2008 class, which consisted of two men who were not your prototypical all star-hall-of-famers types.
The family of Andrew Campbell was on hand to accept the induction in honor of him posthumously. Andrew served as coach with the team for two years, displaying a passion and love for the game that is unparalleled.
Andrew Campbell made our passion look like disinterest. He wasn't the most talented player around, and he wasn't going to win any races, but his determination to learn, improve and succeed was phenomenal. All he wanted to do was be involved with the game. When he started coaching, he just wanted to learn, to get better, and to win, not because he was obsessed with winning, but because it meant he had done well at coaching. He loved coming to games, talking about games, wearing the uniform. After the games, he wouldn't take his uniform shirt off for hours. He wanted to absorb every second he could.
We miss his smile, his energy, his determination, and his unyielding loyalty as a teammate and as a friend. He would do anything needed to help the team or any individual player. He loved getting to know some of the umpires. It was a whole new world for him. Talking with the umpires instead of yelling at them. He loved the concept, and enjoyed the respect he received back from the umpires. He was a great teammate whose enthusiasm and love for the game were very contagious. It is unfortunate that Andrew was taken from us prematurely, but he will always be in our hearts and thoughts, and he will always be a member of the Al Thomas A's.
Larry Fennelly is the epitome of Al Thomas Baseball. He wasn't the most gifted athlete in the world, but long ago, he studied up on what it meant to be an Al Thomas player, and he perfected the role and made it his own. His first few years, he struggled as a hitter. But then something happened gradually, and he kept working at it, and then he found his calling behind the plate. It was where he belonged. He became 'the guy' to warm up the pitcher before the inning, or on the side. He did this non stop, game after game, year after year. No hesitation, no questions asked, never complaining about playing time, in fact always volunteering before you'd have a chance to think about it. He loved catching. He became infamous for warming up pitchers without a mask, and he paid dearly for it many times. Broken noses, shattered teeth, and fat lips were common occurences.
Larry spent several years as our starting catcher, and he evolved into a tremendous game-caller, catching 2 no-hitters. During his last few years, Larry caught nearly every game, whether it was freezing cold early in the season, or scorching hot in July. And most games, he had already put in a brutal shift delivering for UPS, so he showed up exhausted. But on went the shin pads, and away we went. He had a responsibility, and he owed it to the team and Al to fulfill his duties, because that's what Al Ball was all about – strapping it on, sucking it up, playing in pain, playing in agony; just playing.
He kept working hard and turned himself into a .300 hitter, earning all star honors at one of the last YBL all star games played at Fenway Park. Of course he warmed up every pitcher, and just to make the story legendary, he singled in his only at bat for a 1000 batting average at Fenway Park.
Larry was very proud to wear the uniform, and he always tried to pass that pride on to younger players. A consummate teammate who never took one moment on the field for granted, Larry consistently showed what Al Thomas ball was all about. Unselfishness, commitment, respect for the game and anyone else playing it, determination, dedication, integrity and loyalty. We are proud to induct Larry Fennelly into the Al Thomas Club Hall of Fame.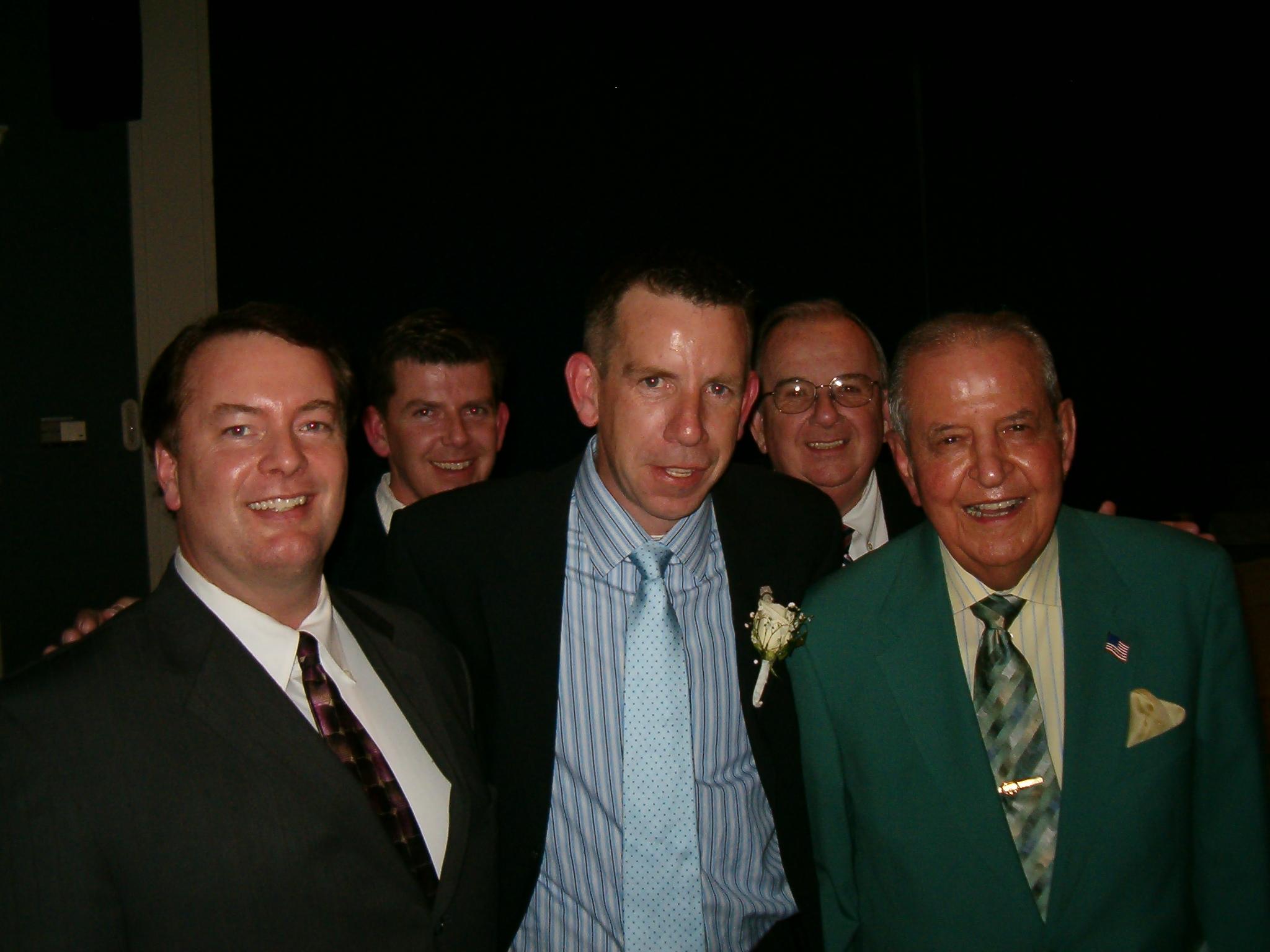 Joe O'Hara, Steve Fennelly, Larry Fennelly, Larry Fennelly Sr., Al Thomas
Tuesday, August 14
A's Win 4 of Last 5 to Clinch Tarpey Conference
The Al Thomas Athletics battled through a difficult season to win 4 out of 5 games in a 5-day stretch to win the Tarpey Conference in a fierce race against rivals West Roxbury, South Boston and McKay Club.
Finishing with a 20-14 mark, the A's captured their 14th division championship and the third seed for the 2007 playoffs. Although the defense was marginal at times, the Thomas Club led the Yawkey League in team earned run average for the second time in three years.

Barrett, Bucci, Daly, O'Hara
Thursday, July 26
Barrett, Bucci, Daly and Aidan Powers Named All Stars
The Al Thomas Club had four players named to the Yawkey League All Star team for 2007. Aidan Powers earned his 6th all star berth; Chris Bucci picked up his 5th such honor, while Mark Daly and rookie Bobby Barrett became all stars for the first time. Manager Joe O'Hara was named to the coaching staff for the 12th time.
Thursday, May 17
A's Win First Two Games in '07
The Al Thomas Club took the field on May 12 with a bunch of new faces against an old rival, the McKay Club. The 2007 season opener proved a fortuitous one as the A's squeaked out a 4-3 with the potential tying run stranded at third to end the game.
Aidan Powers went the distance, striking out 6 in yielding 2 earned runs. The defense turned 3 double plays, added a pickoff, and rightfielders Chris Malloy and Matt Hallisey threw out runners at home and third, respectively.
Mark Daly led the offense with 2 hits, a walk and an rbi. Malloy picked up the other rbi, while Brian Powers, John Kostas and Peter Moores rounded out the hit list.
On Monday, May 14, the Thomas Club defeated Malden 11-3. John Kostas battled through 6 innings of 5-hit ball with no earned runs and 7 K's. Rookie Andrew "Bean" Besegai tossed the final frame, picking up 2 whiffs of his own.
Sixteen-year-old seasoned veteran Dan McCarthy lined a 2-run single in the 2nd inning and added another single and a walk to lead 4 players with 2 hits, the others being Chris Malloy, Brian Powers, and Matt Hallisey. Liam Powers (3 rbi), Mark Daly (2 rbi), John Kenny and rookies Colin Sheedy, Andrew Besegai and Ryan Ciampa all contributed base hits.
Wednesday, January 10
YBL All Star Game to be at Fraser Field in Lynn on Sunday July 15, 2007
It is official - the North Shore Spirit announced the final plans
for the 2007 Thomas A. Yawkey League All Star game to be held at The Home of the
Spirit - Fraser Field in Lynn. The date is Sunday - July 15, 2007 at 1PM.
We are invited to use the entire facility at Fraser that day. The players will
be afforded the opportunity to use the Visitors Club House before and after the
event. Umpires have a separate facility to dress & shower. The game will be 9
innings and an opportunity for extra innings will be available. There will be no
rush to play the game - no time limit. Each of the 18 YBL Franchise Holders will
have an opportunity to place four of their talented players on the roster.
Nick Lopardo would like our teams constructed that day on a North & South basis
- Tarpey v Stewart Conference.
The score board, music, announcing facility, Spirit Mascot Slugger and
concession stands will be available. Each team is asked to sell 5 tickets per
player (20 total) to the game. The ticket will include free parking, game
entrance and a full buffet BBQ. Soda will be available with the price of
admission thru the game. The price of tickets has yet to be established. Beer
will be sold to those with proper ID. There is a Play Area for youngsters in the
ball park as well. This will be a great family day for our fans.
This is a bench-mark event for the Yawkey League! The Spirit will make a formal
announcment at a Press Conference after the Holidays. The YBL Board and player
reps are invited to the signing. The Herald & Globe have already stated they
will send a photographer.
Scouts from the CanAm League will also be in the stands covering the game. This
is the first step in making our players available to this growing organization.
Who knows - this might be that chance one or two of our guys have dreaming of
for a life time! no other amateur baseball program will have this tpy of
exposure.
Where else, but the Yawkey League can a player or fan experience this
opportunity. The Fenway Park All Star era was great while it lasted. Now we
begin a new and more profitable tradition with the Spirit & Fraser Field. The YBL is
very excited about this and request that you all get charged up. We need to sell
this event to our teams and make sure that a quality attendance views the game.
The newly appointed Field Manager of the Spirit - Vic Davilla and members of the
Spirit Administrative Staff will be in attendance at our January Meeting of
Members to discuss our new partnership.
Great news for the Thomas A. Yawkey League once again!!!!
Tuesday, January 2
A's Battle Through Injuries for .500 season
A's Battle Through Tough Season with a 16-16 Record

It had been a while since the Al Thomas Club last watched the playoffs from the sidelines. The 2006 season, once filled with hope and purpose, succumbed to a barrage of injuries and resulted in the A's serving as spectators come playoff time.

Season-ending injuries to catchers Andy Doyle and Andy Hambelton, 2b Matt Thayer, rf Chris Malloy, pitchers Leo Corcoran, George Grant and Paul Bonner, along with several additional injuries and job requirements forced the Thomas Club to fight through one of its toughest seasons in history.

Several bright spots evolved from the team's misfortune though, as several players to the occasion and blossomed with the increased playing time. Rookie Liam Powers finished second in the league in Rookie of the Year voting, hitting over .400 in his inaugural campaign, having been recruited at cousin Brian's wedding last January. Second-year player Jim Flavin took advantage of his opportunity to play more and showed a nice flair with the bat, hovering on or above the .300 mark for most of the season. Flavo also added a couple of solid pitching performances down the stretch.

Versatile Chuck Killens displayed some exciting pop in his bat and proved he could help the team in many areas. Veteran George Grant had made some enormous progress on the mound before his injury, and should prove a valuable weapon in the future. John Kenny served as a strong presence on the mound, at the plate, and in centerfield, and should help the team from the start in 2007. Mark Daly has always been a workhorse in any capacity for the team, but this year went above and beyond the call of duty, catching nearly every game for the last 5 weeks of the season, and doing a great job!

Many believe this team was still feeling the after effects of losing in Game 7 of the Finals the year before, and that, combined with horrible luck and brutal injuries, served as a recipe for mediocrity in 2006. Fueled by the drive to regain its championship caliber, the Al Thomas A's should be right back in the thick of things in 2007. Several free agents are already in the mix, and there are rumors of an influx of young Milton talent as well. Stay tuned.......Any players interested in playing for the Al Thomas Club can contact Joe O'Hara at joeohara64@hotmail.com







Wednesday, July 19
A's Win 5 of 6 to Climb Back into the Playoff Race
After falling under .500 for the first time in 4 years, the Al Thomas Club has overcome a barrage of injuries to win 5 of its last 6 and creep back into the playoff hunt.

On Tuesday, July 18, the A's trounced Savin Hill 11-3 behind the 3-hit complete game pitching of John Kostas. Greg Lovely led the offense with a 4-4 night as the A's scored double-digit runs for the 4th consecutive game. Chris Malloy scored 4 runs and Chris Bucci added 2 hits in the 12-hit attack.

The team welcomed back Scott Jamieson, recently back from his honeymoon.

On Sunday, July 16, the A's thumped South Boston 12-2 and celebrated with a cookout at the Milton American Legion Post 114 following the game. Over 100 people attended the gathering, including many of Al Thomas' Kiwanis brothers.

Aidan Powers threw 6 solid innings to pick up his 5th win of the year and added 3 hits, while Greg Lovely, Chuck Killens and Jim Flavin each ripped 3 hits to pace the offense.
Wednesday, March 22
Tommy Harper Highlights 2006 Al Thomas Banquet
March 22, 2006
Tommy Harper Highlights Al Thomas Baseball Club 2006 Dinner
Degnan, Feehily, Toland Enter Hall of Fame


Former Boston Red Sox player and coach Tommy Harper was the featured speaker at the annual Al Thomas Baseball Club Hall of Fame Dinner held on January13th at the Quincy Neighborhood Club. Harper, who was the Red Sox' MVP in 1973 and still holds the single season stolen base record for the Red Sox and the Seattle Pilots, received a standing ovation for his remarks and poignant answers to various questions from the audience.
Soft-spoken and articulate, Harper spoke of his early days in baseball, playing American Legion and high school ball, encouraging, "Never give up your dream if you really want it. Keep working hard and go for it. You never know what might happen!"
Now a Player Development Consultant for the Red Sox, Harper brought and autographed three dozen baseballs and presented each one to members of the 2005 Al Thomas Club and the American Legion Post 114 baseball team, which was also being honored at the dinner. At the program's conclusion, he graciously met and spoke with numerous fans and admirers who sought an autograph, a handshake or a particular nugget of baseball information. He was the last person to leave the building, further solidifying his reputation as a gentleman and a class act.Former Al Thomas manager, Paul Degnan, longtime pitcher, Mike Feehily, and retired catcher, Mike Toland were inducted into the team's prestigious Hall of Fame. Each inductee spoke of the kindness of Al Thomas, the quality of his teammates, the many friendships forged over the years, and the unabashed pride with which he wore the Al Thomas uniform. One-hundred-and-forty people gathered for this event to celebrate this wonderful family that has become Al Thomas Baseball. What started as a timid knock on a local businessman's door some 25 years ago has flourished into a collection of friends who share a passion for the game of baseball, as well as a respect and admiration for each other. And along the way there has been some pretty good baseball, with the A's capturing five league championships and14 Division titles. And the team has sent 30 to 40 players to Fenway Park to play in the Yawkey League's annual All Star game.
The Al Thomas fans share the same integrity, devotion and enthusiasm as the players. Over the years, it is the fans that have inspired the team to greater glory. It has always been the fans, the loyal followers who travel night in and night out to support the club. Whether it's a glance, a wave, a shout, a high-five or even just a smile, their presence is always felt, and it is and always has been appreciated more than any member of the team could ever communicate. Two 'Fan of the Year' honors were awarded to dedicated followers in 2005 - Bob Hannon and Brian & Gail Powers.
Al Thomas and his team were honored to give recognition to the Milton American Legion Post 114 Baseball team for its great run in the summer of 2005. Finishing at 18-1, the team won its district and made it to the final three teams in the state before bowing out of the tournament. The foundation of the Al Thomas Club was built on players from this Legion team. Legion coach and former Al Thomas player Pat Bryan spoke briefly of his team's accomplishments, and then the team assembled onstage to receive a commemorative baseball, autographed and presented to them by Tommy Harper.
2005 saw the Al Thomas Baseball Club post a league best 25-6 record which included a 10-game winning streak early in the season and a six-game winning streak to end the season. Newcomer Scott Jamieson blazed his way into the league with brilliant outings game after game, including a no-hitter at Cunningham Park on June 18th. He joined Aidan Powers, Leo Corcoran, John Kostas, Pat Dolbeare, Paul Bonner, Brian Kennedy & George Grant to form the best pitching staff in the YBL with a team 1.46 ERA, including 5 shutouts and 12 games allowing no earned runs. In the first round of the playoffs, Jamieson, Kostas and Aidan Powers picked up wins as the A's swept West Roxbury in three games. In the semifinals, Jamieson outdueled Medford's ace in game one for a 1-0 win, Kostas picked up a win in relief in extra innings in game two, and Leo Corcoran took a no-hitter into the sixth inning of game three before settling for six innings of one-hit shutout ball in the clinching game. Chris Bucci and Andy Doyle crushed the ball throughout the playoffs, with Doyle seemingly knocking in a run every time there was a man in scoring position.
After jumping out to a 2-0 game lead in the finals, the Thomas Club gave the six-time defending champion Somerville a little too much breathing room, and they took care of business in a thrilling seven-game series. Although the A's didn't achieve their ultimate goal, it was one of the greatest seasons in team history, and the team was more honorable in defeat than most teams would be in victory.
One thing that made this team stand out was that it was an incredibly unselfish team. From day one through the last out of the season, there were 18-19 guys virtually every single night. Some guys didn't get to play as much as they would have liked to, but they never complained and kept showing up night after night. It was such a great testament to the character of this team, individually, and as a whole.
The Yawkey League awards were announced recently, and several Al Thomas players received accolades. Andy Doyle (catcher), Greg Lovely (shortstop) and Chris Bucci (centerfield) won Gold Glove Awards; Chris Malloy won a Silver Slugger Award; Scott Jamieson cleaned up with the Cy Young Award and the Rookie of the Year Award; and Joe O'Hara was voted as Manager of the Year.
Honors given at the Banquet included Mark Daly with The Tenth Player Award; Paul Bonner as The Comeback Player of the Year; Tri-Rookies-of-the-Year Chris Burke, Andy Doyle and Matt Hallisey. Paul Bonner with the Riley Rocket Award (for the longest bomb allowed by a pitcher during the season); Matt Thayer and Chris Bucci winning team Gold Glove Awards; Jim Flavin collecting The Unsunk Hero Award; and Scott Jamieson capturing the team MVP with an 8-1 mark and a sizzling 0.23 earned run average. Longtime friend and Yawkey League Commissioner Dan Tarpey was ceremoniously presented a team jacket to fittingly close out the awards program.
With a gracious host, Al Thomas, an exciting guest speaker in Tommy Harper, the Al Thomas Club, the Legion Post 114 Baseball Team, three worthy Hall of Fame inductees, and a room of wonderful friends, the event was a special night of celebrating baseball in Milton. Congratulations to Al Thomas on a night to remember!

Manager Joe O'Hara, Mike Toland, Al Thomas, Mike Feehily, Paul Degnan
Degnan, Feehily, Toland Inducted into Hall of Fame
Former Al Thomas manager, Paul Degnan, longtime pitcher, Mike Feehily, and retired catcher, Mike Toland were inducted into the team's prestigious Hall of Fame. Each inductee spoke of the kindness of Al Thomas, the quality of his teammates, the many friendships forged over the years, and the unabashed pride with which he wore the Al Thomas uniform.


Paul Degnan managed the A's from 1990 through 1996, guiding the team to four straight championship appearances, including the thrilling 1993 come-back title against Savin Hill after being down 3 games to none. Not afraid to sacrifice himself for the good of the team, Paul developed a healthy relationship with the umpires around the league, defending his team in the face of judgmental injustices. Paul also served as Yawkey League Treasurer for 5 years, and attended league meetings at ungodly hours and inconvenient locations.
Paul guided the A's to 121 wins in his managerial career, 3rd on the all-time list. With his fierce decision making and his familiar jog down to coach 3rd base, Paul kept the team afloat for many years. Another one of those little things that often go unnoticed, Paul brought the Gatorade Jug, filled with ice and water to every game for about 5 or 6 years. On behalf of the organization, it is an honor to induct Paul Degnan into the Al Thomas Club Hall of Fame.


Mike Feehily, aka "Touchy" joined the A's right out of B.C. High and instantly made an impact, working himself into the starting rotation, where he remained for 13 years. Sporting a sneaky fastball, a nasty deuce, and occasionally sharp penny loafers, Mike amassed 68 career regular season wins, and an additional 11 playoff wins. One of his most memorable starts was Opening Day 1997 when no pitchers had thrown much in preseason, and Mike was asked to start the game and maybe go a couple of innings against the McKay Club. He responded with a complete game, 3 hit shutout with 11 k's and a 12-0 victory on route to a 10-0 season. Always willing to do whatever was needed for the team, start, long relief, short relief, sometimes no relief, Mike was a consummate teammate and a fierce competitor. On behalf of the organization, it is an honor to induct Mike Feehily into the Al Thomas Club Hall of Fame.


In the history of Al Thomas baseball, Mike "Slows" Toland was the fastest running catcher….who hit lefty…He was a quiet, respected leader on and off the field for 10 years. A disciplined hitter with a keen eye for the strike zone, he boasted a career average of .335, and a .385 average in clutch situations. Behind the plate, he was one of the best signal-callers the YBL has seen, with a strong accurate throwing arm that resulted in many pickoffs at all three bases. It is safe to say that Mike picked off more than 20 runners at first base throughout his career. With a high on base percentage and superior baserunning skills, he was always among the team leaders in runs scored, despite wearing a knee brace the last five years of his career.
Mike also helped mold the younger pitchers on the staff and once stole a base. With his patience and eye at the plate, Mike developed a strong reputation and earned the respect and admiration of umpires throughout the league. When he was upset at a pitcher for not hitting his spot or throwing a poor pitch, he would fire the ball back to the pitcher harder than it was pitched, often resulting in the pitcher having to walk around the mound until the throbbing stopped in his hand. His career on base percentage ranks among the leaders in team history, and his ability to turn it up a notch in the playoffs was uncanny. He was a 3-time all star and 2-time gold glove winner. On behalf of the organization, it is an honor to induct Mike Toland into the Al Thomas Club Hall of Fame.

The Yawkey League awards were announced recently, and several Al Thomas players received accolades. Andy Doyle (catcher), Greg Lovely (shortstop) and Chris Bucci (centerfield) won Gold Glove Awards; Chris Malloy won a Silver Slugger Award; Scott Jamieson cleaned up with the Cy Young Award and the Rookie of the Year Award; and Joe O'Hara was voted as Manager of the Year.


Honors given at the Banquet included Mark Daly with The Tenth Player Award; Paul Bonner as The Comeback Player of the Year; Tri-Rookies-of-the-Year Chris Burke, Andy Doyle and Matt Hallisey. Paul Bonner with the Riley Rocket Award (for the longest bomb allowed by a pitcher during the season); Matt Thayer and Chris Bucci winning team Gold Glove Awards; Jim Flavin collecting The Unsunk Hero Award; and Scott Jamieson capturing the team MVP with an 8-1 mark and a sizzling 0.23 earned run average. Longtime friend and Yawkey League Commissioner Dan Tarpey was ceremoniously presented a team jacket to fittingly close out the awards program.

Friday, August 19
A's Sweep into Finals!
AUGUST 19, 2005


Al Thomas Club Sweeps into the Yawkey League Finals!
The Al Thomas A's have swept their first two series of the 2005 playoffs to reach the Yawkey Baseball League Championship series for the first time since 1996.
After dispatching of West Roxbury three games to none, the A's defeated a tough, young Medford team in three straight by the scores of 1-0, 4-3 (8 innings) and 10-0. In the opening game, rookie sensation Scott Jamieson outdueled Medford's McDonough with a 4-hit shutout. Brian Powers drove in Chris Bucci with the only run of the game in the 6th inning.
In game 2, the A's were held hitless until the 6th inning and overcame late deficits of 1-0 and 3-2 to win in extra innings, 4-3 on a base hit by Matt Thayer. Andy Doyle led off the 8th with a triple, and after two intential walks and two outs, Thayer ended the game with a single to left. Aidan Powers allowed 1 earned run in 7 innings and John Kostas earned the win with a scoreless 8th inning, his second victory of the playoffs.
Game 3 featured the third lefty starter in a row for the A's, Leo Corcoran, who dominated Medford hitters with a biting fastball and a nasty curve. Corcoran retired the first 12 batters and carried a no hitter into the 6th inning before yielding a one-out base hit. John Kostas pitched a scoreless 7th inning to preserve the shutout.
Chris Bucci, Chris Malloy, Peter Moores, Aidan Powers and Jim Schindler each banged out 2 hits to lead the A's balanced offense.
**********************************************************************
AUGUST 9, 2005

A's Finish with Best Record in YBL in 2005!

The Al Thomas A's built on the success of 2004 to boast the best record in the Yawkey League in 2005. At 25-6, the Club also broke its single-season record for most victories in a season, eclipsing the previous high of 24 wins, accomplished several times.
The team had to win its last 6 games, including a doubleheader sweep on Saturday, August 6 to win the Tarpey Conference and finish with the top seed heading into the playoffs.
Rookie southpaw Scott Jamieson led the league with an 8-1 record and an astonishing 0.23 earned run average. Chris Malloy led the league in doubles (11) and on base percentage, while hitting .398, while Greg Lovely finished in the top 5 in doubles, triples, runs and slugging percentage. Matt Thayer was a perfect 20-20 in stolen bases.
The Al Thomas Club led the league in pitching E.R.A. with a stingy 1.43, and finished the season 3rd in the league with a .301 team batting average.
Congratulations to franchise holder Al Thomas of the Alfred D. Thomas Funeral Home in Milton, and the 2005 A's for a first-place finish. The team hopes to carry that success into the playoffs and capture its first league title since 1993.
**********************************************************************
SPRING 2005
Welcome to the website of the Al Thomas Club of Boston's Yawkey Baseball League. The A's enjoyed a successful 2003 campaign, which included a nine-game winning streak and a late-season drive for first place in the Tarpey Conference. Injuries once again proved to be the kiss of death for this team, as many key players were lost throughout the season and especially down the stretch. In the 2004 season, the A's captured the 5th seed, making the playoffs for the 14th time in 15 years. Aidan Powers led the Yawkey League with a sizzling 0.68 ERA, while Chris Malloy led the league in homeruns (7) and rbi (37). Leo Corcoran was among league leaders for rookies with a 6-1 record and 1.74 ERA. There is an air of excitement growing about this team, and we look for bigger and better things as the summer moves along.
Anyone interested in helping coach the team should contact Manager Joe O'Hara at joeohara64@hotmail.com or 617-376-7191.
Rookie Moy Night 2005
Continuing a 20-year-old tradition, the Al Thomas A's held their annual Rookie Moy Night on July 22, 2005. Twenty-three members of the team boarded a lavish Limousine Bus to discuss baseball strategies and theorems throughout the evening.
As the team visited several sports establishments across the city of Boston, some of the more heated debates included 'bringing the infield in', 'bunting with 2 strikes', and of course, the old baseball gem, 'tequila vs. grape crush', which required many rounds of research and exploration.
Displaying proudly their "Rookie Moy Night" tee shirts, the A's left no stone unturned in their scrutinization of the various sports and recreation edifices in Boston. The evening culminated in a visit to the Golden Gate Restaurant, during which time no rookie was allowed to use silverware or utensils of any kind.
Retired for several years now, former waiter Moy was rumored to have said, "I looked forward all summer to those guys coming in to eat with their hands. They were funny, and sometimes they sang songs. What a great bunch of guys!"
Jamieson Throws No Hitter!
Rookie Southpaw Scott Jamieson tossed a no hitter for the A's on Saturday June 18. The Bowdoin alum allowed an unearned run, while fanning 6 in the 5-1 victory over West Roxbury. In improving his record to 4-0, Jamieson became the second Al Thomas hurler to spin a no hitter in the last 2 years, joining fellow lefty Aidan Powers, who blanked the Brighton Sox in 2004.

Milton's Sean Wilshere handled duties behind the plate in catching the 2nd no-no of his Al Thomas career. Jamieson was aided by solid defense, including a diving catch in center by Chris Bucci in the 3rd inning. Bucci also caught the last out of the game, a fly ball to right center to preserve the no hitter.
A's Come Back to Beat McKay Club in First Round of Playoffs!
The A's roared back from a 2 games-to-none deficit against a strong McKay Club to take the quarterfinal round of the 2004 YBL playoffs. Rob Celata shut down the Bulldogs on 4 hits in Game 3 as Greg Lovely's double scored Peter Moores with the winning run in the bottom of the 8th inning for a 3-2 win. Chris Malloy gunned down the potential tying run in the top of the 8th on a base hit to right, as Sean Wilshere withstood the collision and held on to the ball.
Leo Corcoran handcuffed McKay on 5 hits in Game 4 to even the series with a 6-2 victory, walking 1 and whiffing 7. Sean Wilshere, Steve Sherman and Aidan Powers banged out 2 hits apiece to lead the offense. Mike Niland's single in the 1st plated 2 runs to set the tone of the game.
In the rubber game, Aidan Powers fired a 5-hitter with 7 k's to earn the vicory 3-2. Run-scoring singles by Wilshere, Jimmy Schindler and Brian Powers in the 2nd inning provided the only runs needed. Chris Malloy again threw out the potential tying run in the bottom of the 6th inning on a fly to right.
Al Thomas All Stars at Fenway
Al Thomas All Stars Win at Fenway Park
On Wednesday, June 30, 2004, six members of the Al Thomas baseball Club participated in the Yawkey League All Star Game at Fenway Park. Greg Lovely, Brian Powers, Chris Malloy, Joe O'Hara (manager), Aidan Powers and George Grant (coach) helped secure a victory for the Tarpey Conference. Aidan Powers started the game and struck out 5 guys out of 6 in his 2 innings of work.
Hannon, McDonnell & Ryan Inducted into Hall of Fame
Andy McDonnell, Joe O'Hara, Al Thomas, Steve Ryan, Mike Hannon
The Al Thomas Club recently held its Annual Awards and Hall of Fame Banquet at the Neighborhood Club in Quincy. Over 100 people attended the event, which included awards for the 2003 season and the induction of three players into the team's Hall of Fame.
Mike Hannon, Andy McDonnell and Steve Ryan were the honored inductees, and each was welcomed into the Hall by Master of Ceremonies Joe O'Hara, who also serves as team manager, equipment manager, General Manager, Player personnel director, scouting manager, overseas scouting director, recruiting manager, team scribe, event planner, database manager, Public Relations director, labor negotiator, team spokesman, payroll clerk, quality control manager, tour guide and babysitter.
Mike Niland won the highly contested Rookie of the Year race, closely followed by runners up Pat McGann and Peter Moores. John "Peak" Russell took home the Unsung Hero Award. Retired pitcher Mike Feehily captured the Riley Rocket Nostalgic Award, while Julio Sanchez was honored with the Triple Threat Award. Outfielder Steve Sherman earned the "Baseball is Timing" award, and grizzly veteran Larry Fennelly won the Miscellaneous award for the way he buckles down and gets the job done.
Three fans were presented Fan of the Year awards: Mike & Lee Aylward, Jen Loonie and Gerry Anglin. We are always grateful for the undying devotion and support of our fans and friends.
Al Thomas Club Runs Winning Streak to 6
The Al Thomas A's have vaulted back into playoff contention in the Tarpey Division of the Yawkey Amateur Baseball League. The Milton entry in the league, the Athletics have won 6 games in a row and have finally begun to show signs of fulfilling preseason potential.
In sharp contrast to previous years, the A's entered the 2003 season with only one player on the roster above the age of 30. This youth movement has caused many opposing squads to take the team lightly, thinking that it would take a few years to rebuild such a powerful baseball machine. "The rest of the league saw so many guys retiring that it figured we wouldn't be good again for a while," confessed newly elected team captain Ed Barrow. "But we have a great bunch of guys and a young, but solid nucleus. We've started to surprise some opponents already."
Barrow emphasized the grittiness and desire of some of the younger players, combined with the savvy and experience of the veterans. "I think a lot of this team's makeup involves commitment. When these guys see Mr. Al Thomas taking time out of his insanely busy schedule to attend nearly every game, then they realize that the dedication and passion starts at the top, and it just trickles down from there."
The unbeaten streak began with a 5-4 victory over the McKay Club on June 26. Larry Fennelly, freshly recruited out of retirement (due to a season-ending injury to Sean Wilshere) drove in Peter Moores with the eventual winning run in the bottom of the 6th inning. John Wilson allowed 4 unearned runs, while mowing down the last 15 batters of the game, 8 via the strikeout. Moores and Greg Fitzgerald led the offense with 2 hits apiece, while Steve Sherman blasted a 2-run homer in the first inning.
On June 30, the team cruised to a 7-0 win over South End. Peter Hoy tossed a 4-hit shutout with 7 k's, while Andrew Doyle led the attack with a double and two singles. The highlight of the game was the triumphant return to action of manager Joe O'Hara, who was pressed into duty for the first time in 5 years. "Chief" promptly laced run-scoring singles in two of his three at bats, calling for oxygen each time he reached first base. Mark Daly turned in several sparkling plays at second base to hold down the "D".
On July 1st, Comcast brought their crews to Healy Field to tape televise the game against 12-1 West Roxbury. The game was as advertised, as the teams battled to a scoreless tie through the regulation 7 innings. West Roxbury loaded the bases with 1 out in the 7th, but a botched squeeze play and a strikeout ended the threat. Aidan Powers was masterful for the A's, pitching 8 innings of 5-hit shutout ball, with 13 strikeouts. In the bottom of the 8th, Mike Niland's bases-loaded single drove in Brian Powers with the winning run. Niland led the quiet offense with 3 hits.
Wednesday, December 31
A's Looking to Recruit on South Shore
The Al Thomas Club of Milton is looking to touch up its roster by recruiting players from the South Shore. Sponsored by the Alfred D. Thomas Funeral Home in Milton, the club is looking to add young players from the Milton/Quincy area and beyond. While the team is focusing on this area, recruiting is not strictly limited to these boundaries. The A's are willing to look at anyone who shares the team's passion for the game, as well as a commitment to the team and its tradition. Anyone interested in trying out for the team can email manager Joe O'Hara at joeohara64@hotmail.com or call 617-376-7191.
Al Thomas Club Golf Tourney Another Success
The annual Over-The-Hill Golf Tournament was held on Sunday, September 7, 2003 at President's Golf Course in Quincy. Over sixty golfers, consisting of current and former players, as well as friends and relatives, enjoyed the beautiful 70-degree day of sunshine and slices.
After the day of golf, all participants enjoyed a steak dinner and a plethora of adult beverages in the clubhouse, as well as the customary array of friendly insults and jeering.
Pictures and award winners for the day will be added to this page shortly.
To be placed on the Golf mailing list, please email joeohara64@hotmail.com