Almaden Little League: Welcome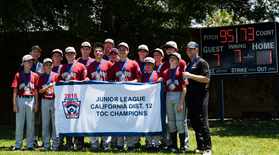 Junior's Iron Pigs win TOC!
Photos for the Almaden Little League 2016 Yearbook
To all of you great photographers out there, we need your action and candid shots from your team and others from this exciting 2016 season. Your efforts make the A.L.L. annual yearbook possible!
Please limit your pictures to 20 of your best shots and put them on a CD or flash drive that you do not necessarily want back. But if you do, please let us know. We prefer this method to email because the quality is so much better. Some download sites (Dropbox, etc.) are ok too as long as they don't required too much effort and information to be exchanged!
They can be dropped off, like in years past, to Kevin Jones at 1190 Old Oak Drive here in Almaden. Drop them off anytime starting now with a deadline of April 27th. The league greatly appreciates all of you who take the time to submit these really great photos. It makes a big job in the production of the yearbook so much easier when we get your participation. Quite frankly, it makes the yearbook possible!
Thursday, May 12
TOC and All-Star Tournament Schedule Documents:
TOC/All-Stars Schedule OVERVIEW
TOC/All-Stars Schedules DETAILED
Friday, April 22
Tips from the Coach - Quality At-Bats
Baseball is a game of failure. It is how well you handle the failures not the successes that will be the determining factor in how well and how long a player plays the game. Stats are an integral part of the game but if used as a measure of how well one is performing can be a heavy burden and not a valid indicator of how well one is performing. A more valid and helpful measurement is Quality At Bats.

A Quality At Bat is defined as:


1. The batter goes to the plate with a plan. He should know what pitch he can hit with expectation of having the highest degree of success. Ted Williams knew that he hit .135 on back door sliders down and away but over .500 on fast balls belt high, down the middle. We would never have heard of Ted Williams if he swung at many down and away sliders!

2. The batter swings only at high success expectation pitches early in the count. For most young hitters that means not swinging at breaking balls early in the count. With no strikes he will swing at fast balls "zoned" say middle- in and thigh to waist high. The batter's hitting zone as opposed to strike zone is not static but changes with each count. Great "hitter's counts" are 2-0 and 3-1. The pitcher must challenge the batter and the odds of him getting a pitch that he can expect to hit with a high degree of success are much higher. Undisciplined hitters often never get to 3-1 because they won't lay off that pitch that is in the strike zone but not a quality hitter's pitch. They already made an out not because they aren't a good hitter but because they weren't disciplined enough to wait for a good pitch.

3. Several other good things occur because a hitter is disciplined. The pitcher must throw more pitches. The batter "sees" more of the pitcher's stuff. The pitcher will tire sooner and when he tires he will make more mistakes and then he is more hittable.

4. The batter must take pitches to ever draw a walk. All walks are "quality at bats".

5. A strike out can be a quality at bat! If the batter makes the pitcher throw an inordinate number of pitches, he has helped his team much more than the hitter that swung at the first pitch and made an out.

It is vital that a hitter learn that the only thing he has control of at the plate is at which particular pitch he chooses to swing.!!! If he swings at a quality pitch, hits the ball sharply, and it is caught by a fielder, he has had a quality at bat!

If he can at the end of a game know he had 3 of 4 quality AB's, even if he was 0 fer, he must realize he had a good game at the plate. A byproduct of this emphasis on quality AB's will be that he will find not only his BA rising but his slugging pct. as he gets more balls that he can drive. His mental well being will improve and if the whole team adopts this approach, they will WIN more games.