Allan Adams' Keeper Club and Teams: My Site News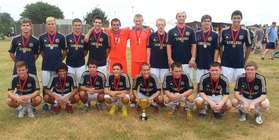 Champions -- Austin Elite Invitational 2012
Sunday, September 9
Solar Blue '95 Wins Austin Elite Invitational 2012
Undefeated in four games, the Solar Blue '95 boys won Austin Elite Invitational 2012. The boys scored 23 goals and conceeded ONLY 2 goals in the four games. Congratulations Solar Blue '95!!! Best of luck in your upcoming Dallas Classic League Season.
Sunday, June 17
Solar Blue '95 wins Flamefest Soccer Tournament 2012
Undefeated in four games, the Solar Blue '95 boys won Flamefest 2012. This gives the boys their second Flamefest Championship in the last two years.

2012 - Solar Blue '95
Tuesday, December 20
2012 Solar Blue '95 moving forward in hopes of meeting their goals!!!
Sunday, June 26
In Memory of our dear friend, Delia "D.D." Stringer
In memory of a personal friend, and very long time supporter, Delia "D.D." Stringer.
D.D. passed away on Saturday, June 25, 2011. She was a wonderful wife to Marty Stringer, an inspirational mom to Morgan and Mason (Solar Blue '95 Boys), and a supporter of all soccer happening in North Texas and beyond.
A viewing for D.D. will be held on Tuesday, June 28, 2011, from 6:30 to 8:30 PM at Laurel Land Funeral Home and Cemetary.
Another viewing will be held for D.D. on Wednesday, June 29, 2011, from 9 to 10 AM at Laurel Land.
The grave side service will be held at 10:30 AM directly after the viewing on June 29, 2011, at Laurel Land Cemetary.
Address:
Laurel Land Funeral Home and Cemetary
7100 Crowley Road
Fort Worth, Texas 76134
D.D. is survived by her husband, Marty, and her two children, Morgan and Mason.
We will all miss D.D. and the impact she has had on each of our lives personally and through the soccer world over the past years.
D.D. - we all love you and will miss you.
Sunday, June 5
COACH ADAMS' FAVORITE SAYING OF THE WEEK - JUNE 2011
06.13.11
"In order to excel, YOU must be completely dedicated to your chosen sport. YOU must also be prepared to work hard and be willing to accept destructive criticism. Without 100% dedication, YOU will NEVER be able to do this."
-- Wilson Mizner
06.06.11
"When you are not practicing, remember, someone somewhere is practicing; and, when you meet him, he will win."
-- Ed Macauley
Wednesday, May 4
COACH ADAMS' FAVORITE SAYING OF THE WEEK - MAY 2011
05.30.11
"Practice as if you are the worst; perform as if you are the best."
-- unknown
05.23.11
"I am a member of a team, and I rely on the team, I defer to it and sacrifice for it, because the team, not the individual, is the ultimate champion. "
05.16.11
"It is lack of FAITH that makes people afraid of meeting challenges, and I believed in MYSELF."
-- Muhammad Ali
05.09.11
"YOU are never really playing an opponent. You are playing yourself, your own highest standards, and when you reach your limits...........that is real joy."
-- Arthur Ashe
05.02.11
"The way a team plays, as a WHOLE, determines its' success. You may have the greatest bunch of STARS in the world, but IF they don't play together, the TEAM won't be worth a dime!!!"
-- Babe Ruth
Wednesday, April 6
COACH ADAMS' FAVORITE SAYING OF THE WEEK - APRIL 2011
04.25.11
"The only place SUCCESS comes before WORK is in the dictionary!!!"
-- Vincent Lombardi --
04.18.11
"Champions aren't made in gyms. Champions are made from something they have deep inside them -- a desire, a dream, a vision.
-- Muhammad Ali --
04.11.11
"The common denominator of success --- the secret of success of every man who has ever been successful --- lies in the fact that he formed the habit of doing things that failures don't like to do."
-- Albert E.N. Gray --
04.04.11
YOU need to find your own purpose.........I cannot build DESIRE!!
Allan Adams Keeper Club continues to grow............
Wednesday, June 20
Allan Adams joins Solar Soccer Club
Coach Adams returns to Mexico to play in "Idols of Santos" game!!!!
Coach Adams was invited to return to the site where he started his professional career to play in an "Idols of ...