: My Site News
!NEW ACADEMY HOTLINE NUMBER!
All American Baseball Academy Has a New telephone Hotline Number. This system provides updates regarding Academy activities.
Call 1-866-279-1666
to hear the latest message.
Each message will state its date
and will be revised as conditions warrant.
Check the Hotline frequently. Evening cancellations will usually be posted between 3:30-4:00 pm. Daytime cancellations will be recorded as early in the day as possible.

Saturday, December 1
Chaz Witherspoon Visits All American
Chaz Witherspoon, undefeated heavyweight boxer, visited the Academy on Saturday December 1, 2007. In front of about 60 members and parents, Chaz stressed the importance of maturity, relationships with parents and not cheating yourself. Chaz, who has a degree from Saint Joe's University, in Pharmacuetical Marketing, discussed his college career, athletics and his experience on the US Olympic team. Chaz, praised Jeff Goldstein, the Academy's strength and conditioning coach, for doing an excellent job in training him. Chaz described boxing as "pain management." He went on to say there are no timeouts in boxing. When you're hit you have to respond. After seeing how different boxers train he realized that Jeff incorporated the best of the best in his training programs and in fact had him doing things no one else had ever seen. Chaz described maturity as "taking responsibility for yourself." At 26 years of age he said when asked he tells people he is 52. This is because he functions at twice the level of of person his age. Alcohol, drugs and bad influences are everywhere. Chaz was emphatic about choosing friends wisely and always listening to your parents because they are the people who love you unconditionally. This was a great opportunity for our members to meet and speak with a world class athlete and appreciate the opportunities they have training with our talented staff.
Sunday, November 25
Have You Registered With The NCAA Clearinghouse?
It's that time again! Every year our members are encouraged to register as early as possible with the NCAA Clearinghouse. The NCAA has a website dedicated to educating and informing student athletes of requirements needed to play sports at the Division I, II, III and JUCO levels. We strongly urge all members to register at the following link: https://web1.ncaa.org/eligibilitycenter/common/. You may also click on the headline of this article to be redirected to the NCAA site. Your high school must be informed as well so they can update your course credits for the NCAA to clear you for eligibility purposes.

Tom Filer
Wednesday, October 10
Tom Filer, MLB Pitching Coach, to Run Academy Clinics
Tom Filer will be running three special Pitching Clinics at the Academy during the upcoming off-season and pre-season for pitchers and catchers ages 13 to 18. This is a very special opportunity for local pitchers and catchers to work with one of the best pitching instructors in the region. Tom is a former major league pitcher and current pitching coach for the AA Altoona Curve. This session will be followed by a Pre-Season Pitching and Catching Clinic in January during the same time slot. (Mondays and Wednesdays from 7:00 p.m. to 8:30 p.m. for six weeks).
Tom will also run an Elite Pre-Season Pitching Clinic for six pitchers "by invitation only." Candidates for this clinic will be identified from participants in the Off-Season Pitching and Catching Clinic as well as other sources. The Elite Pitching Clinic will meet Mondays and Wednesdays from 6:00 to 7:00 p.m.
Registration is on a first come, first served basis. For an invitation to the "Elite Pre-Season Pitching Clinic" please call Coach Vivian at 215-674-0904
Friday, October 4
Exciting New Technology Comes to Academy
The Academy has installed an all new and revolutionizing teaching tool. The training technology is from Dartfish whose corporate office is locate in Atlanta, GA. Chances are you have already seen some of their broadcast technology used in the Winter Olympics. What was once invisible becomes visible with Dartfish. If you have Windows Media Player Version 7.0 or higher installed on your computer, you may "Click For Demo" directly below.
Dartfish is nominated for it's breakthrough
StroMotion™
technology, following the widespread success of the
StroMotion™
effects, broadcast on NBC during the Summer Olympic Games in Athens, Greece.
StroMotion™
has been featured on ABC, during the numerous Figure Skating Championships, and on FOX and FOX Sports Net during Major League Baseball games.
About Dartfish
Dartfish was created in 1998 and specializes in producing digital images that are educational, interactive, and entertaining to create a new dimension in the sport experience. Dartfish technologies and know-how are widely recognized in the sports world for break-through sport training applications, exclusive televised broadcast footage, and interactive Internet content. To view a demo of this amazing software, click the demo button below. It works best if you have Windows Media Player installed on your computer. Version 10 will allow you to control the speed of the video.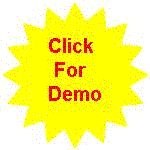 12 to 6 Curve Ball