Alamo gets 1st Sand Volleyball bid to Nationals
Congratulations to Makenzi Brown and Katie Chambers, both from 12 Kaepa Premier, for receiving a bid to Milwaukee for Nationals, July 26-27!
---
2013 Sand Volleyball League
Check out this video
"Creation of a Program - Sand Volleyball"
From the University of San Francisco
Sand Volleyball
A player making the crossover from indoor to outdoor will have to make many adjustments. She will have to be able to play in and with the elements. The sand is obviously much different than the surface of an indoor court. The player will have to make shorter quicker moves in order to make the adjustment. The sand sticks to the skin - she will have to learn to play with the sand on her hands, platform and even in her mouth J. The sun is much brighter than lights and it is much warmer to play under than in a convention center. The wind might be the toughest element to adjust to for the player. It is constantly blowing and changing directions and it does affect the flight of the ball. The sand volleyball game will force a player to increase their anticipation, court awareness, decision-making and their mental toughness. Despite all these changes needed to understand and play sand volleyball it will be the most exciting and rewarding training a player can do to enhance their volleyball skills. I have never met a solid outdoor player that did not excel indoors. In contrast I know many talented indoor players that are average at best in the sand. Sand volleyball training is the greatest complement an indoor player can do for their skill advancement on the hard court.
First Practice
Objective:
To learn moving in the sand. To learn playing a ball in the wind and sun. To learn to play the ball while looking at opponents court and make strategic good decisions, To learn to bump set as the primary form of setting. To learn to approach, jump and swing in the sand
Some Major Rules differences Indoor vs Sand
· Coaches and Players can not address officials
· Coaches Can warm up team prior to official warm up
· Coaches must leave court at start of warm up
· If a coach is in the team area they must be seated and "only" instruct briefly between rallies
· Coach may give instructions during timeouts and between sets (NOT during a rally)
· Coach must remain in seat during entire "match"
· A match can consist of 1 set to 21 (a tournament must give each player 84 points)
· Double first contact "only" on hard driven ball
· Net violation = interferes with play
· No open handed contacts – ie no tips
· Setting the ball over the net shoulder must be perpendicular to net
· Any Touch by the blocker it counts as a contact BUT it can be played again by blocker

Due to the number of teams, and that players can sign up for tournaments that meet their schedule and the Sand League rules it will be impossible for our coaches to be with just one team 100% of the time during tournaments
Court Dimensions
Indoor – 30' x 30'
Outdoor – 26'3" x 26'3"
Net Height
Indoor
12 & Younger – 7'
13 & older - 7'4 1/8"
Outdoor
15 & older – 7'4 1/8"
14 & younger – 6'11 ½"
12 & younger – 6'6 ¾"
Format
1 set to 21 up to 2 out of 3 played to 21 with deciding set played to 15
Side changes every 7 points – 1st two sets
Side change every 5 points – 3rd set
1 timeout per set
Equipment for Practice& Tournaments
BALL, Sunscreen, Lots of water, Shorts, T-shirts, Hats, Visors, Sunglasses, Towels, Change of Clothes, Small Snacks for during and after
REGISTERING FOR A TOURNAMENT: To register for a tournament, look at the schedule, pick a partner that is free that day and then contact Phil Jackson alamophil@gmail.com and request to be entered. Alamo will pay 3 entry fee's per player. You may play in more but you will need to pay your registration fee.
USAV Schedule
June 1 – 2 Houston Open
June 2 AJV Sand # 1 – Austin, TX
June 8 – 9 Mid - South Grandslam – McKinney, TX
June 8 Junior Sand Tour of Texas – Austin, TX
June 22 – 23 Lone Star Beach Classic – Austin, TX
July 6 Junior Sand Tour of Texas – Dallas, TX
July 13 AJV Sand # 2 – Austin, TX
July 13 Texas Summer Grand Slam – Galveston, TX
Texas Volleyball Tour Schedule
May 25 – 26 Austin, TX
June 1-2 Dallas, TX
June 8 – 9 San Antonio, TX
June 15 – 16 Austin, TX
June 29 – 30 San Antonio, TX
July 6 – 7 Austin, TX
July 13 – 14 San Antonio, TX
July 19 – 21 Austin, TX
August 3 – 4 Austin, TX
August 10 – 11 San Antonio, TX
---
Athlete Contact List
---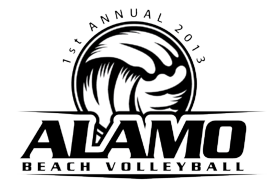 ALAMO SAND VOLLEYBALL CLUB

The 2013 Sand Volleyball league is now under way
Use the Sand Volleyball Central link above for more information
Purpose: Alamo is excited to join the other major clubs across Texas with its commitment to participate in the Sand Volleyball Club system. Sand Volleyball is a growing NCAA sport with scholarship opportunities. Most DI programs now play indoor as well as outdoor in the spring. The cross training benefits will greatly enhance the indoor players game, give them the opportunity to expand their game and play competitively throughout the summer, while providing a great break from the indoor game.

Training Director: Phil Jackson will lead the training for our sand club for both Players and Coaches, Phil a native of San Diego grew up playing in South Mission Beach, He played in leagues and tournament up and down the California Coast before earning his way onto the AVP Circuit. Phil played in AVP events from 1993-98 playing against some of the games legends like Sinjin Smith, Randy Stoklos, Karch Kiraly. His training and experience will be a great resource for the athletes an Alamo

Playing Divisions: 12 and under, 14 and under, 16 and under 18 and under
Our 1st year we are limiting ourselves to 8 teams in each division.

Teams and Matches: Teams consist of 2 players (you can join with a teammate or as an individual and pick up a partner. Matches typically consist of a single set to 21. Each team is guaranteed 84 points in a tournament. (4 sets) plus bracket play.

Practices: Teams (2 players per team) will practice 1 time per week (Tuesday evening until school is out then may switch to day time) for 90 min and have open play (optional) 1 time per week.

Tournaments: Tournaments are offered weekly all across the state (San Antonio, Austin, Galveston…) see our web page for a list. Alamo will pay the entry fee for 3 tournaments but you may participate in more. We will have Coaches at San Antonio Tournaments and designated area tournaments. We will also set up some league play matches here in SA.

Dates: May 14th- July 16th We will have a group kick off clinic on Tuesday May 14th, we will go over rules, strategy, playing tips, skills, and have our 1st group practice.

Fee's and What's included: $379. includes: Tournament Tank Top, Club T-Shirt, Tournament Towel, draw string back pack, Training sessions, 3 tournament entry fees, USA Sand registration fee's and an official Sand Tournament game ball. For program questions contact Mike Carter gmikec@gvtc.com or call 210-573-4827

Click here to register
---