Alamo Little League: Welcome
Late Registration still OPEN*

*see below for the divisions that still have room on existing teams and the divisions that have a waiting list.

WANT TO SEE THE CALENDAR OF EVENTS?

Scroll to the bottom of this page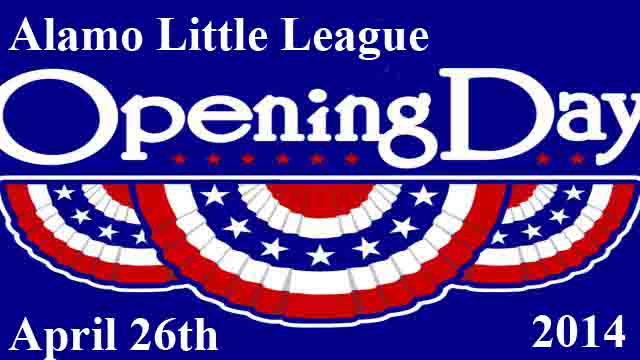 Season runs from April 26th to 3rd week of June.
Current Registration Status:

ONSITE REGISTRATION FOR 2014 SEASON IS CLOSED

Onsite Registration Dates:

Dix Street Elementary

February 8 9:00 am to 1:00 pm

Otsego Middle School:

February 15 9:00 am to 1:00 pm

February 22 11:00 am to 3:00 pm

Alamo Township Hall:

February 1 10:00 am to 2:00 pm

March 1 10:00 am to 2:00 pm
**If you want to get a player in a closed division, you may go on a waiting list, if we recieve enough player we will create another team. If you would like to do so contact president@alamolittleleague.com.
Notes About Registration:

1. You can also register on line here at Alamolittleleague.com by clicking "Register Online GO!" at the top of the page

2. You can also register by snail mail – there are forms on this site under "Handouts" and there are forms in your school office.


Note: Registration is open until . Thereafter you can register if there is space on existing teams.

Scholarships are available.

Don't wait until it's too late!
**There are no evaluations for softball players or baseball players from age 4 – 8 and age 13 – 18.
---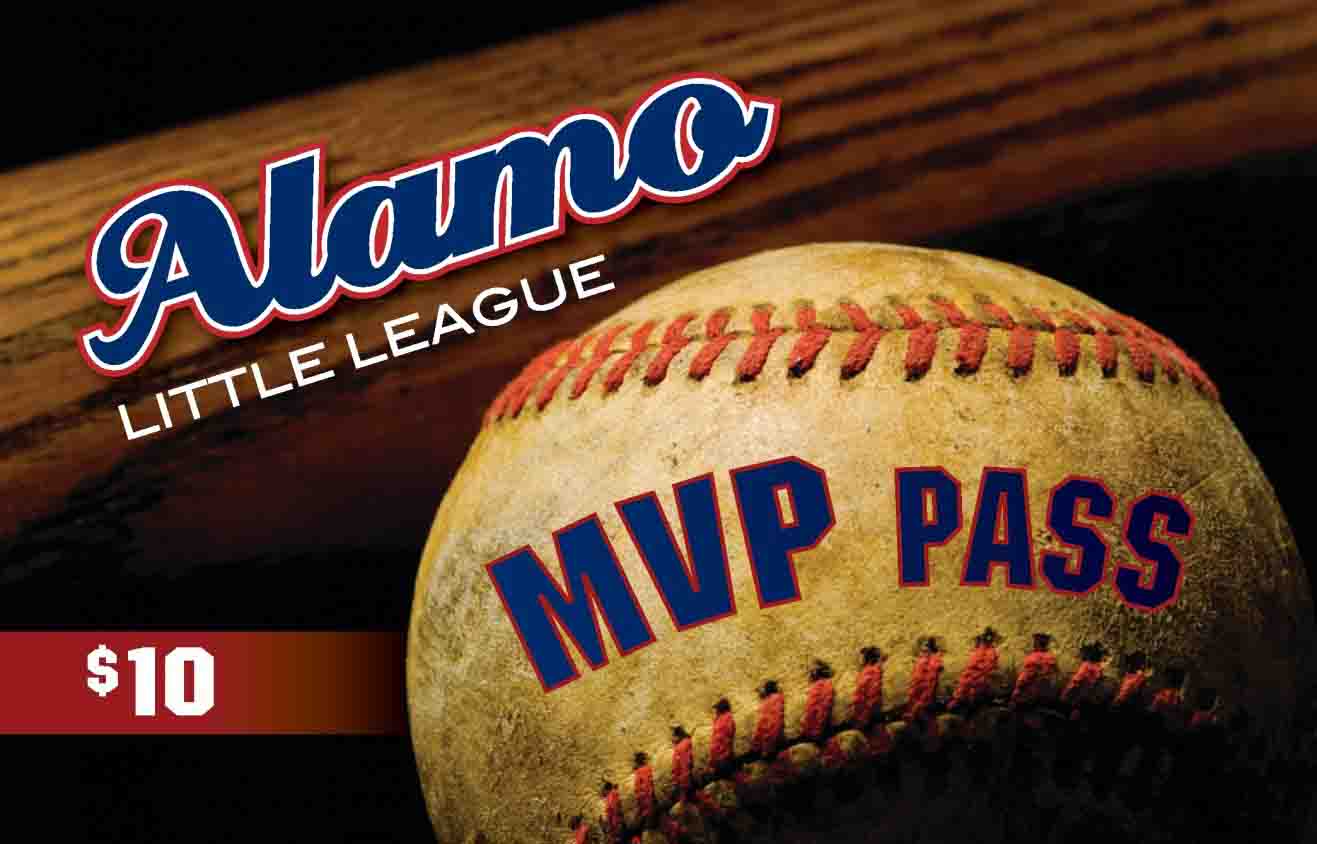 Be a M.V.P
By purchasing Alamo MVP discount cards, a big savings to you and a great way to help out Alamo Little League!!
---
ALAMO LITTLE LEAGUE
SCHEDULE DAYS
(SUBJECT TO CHANGE)
DIVISION


AGE


GAMES DAYS
MAIN FIELD




SECONDARY FIELDS
TEE BALL
4-5
MON-WED-FRI
TEE BALL #1 AND #2
PRESTON, CRAMER
COACH PITCH (T2)
5-6
MON-WED-FRI
TEE BALL #1 AND #2
PRESTON, CRAMER
MINOR BB
7-8
MON-THU
BOOTH, TEE BALL #2
PRESTON, MCNEES, MILLER
LITTLE MAJOR BB
9-10
TUE-FRI
MILLER AND MCNEES
BOOTH
MAJOR BB
11-12
MON-THU
MILLER AND MCNEES
BOOTH
INTERMEDIATE BB
12-13
TUE-FRI (WED)
HUSTED
N/A
JUNIOR BB
13-15
MON-THU (WED)
HUSTED
N/A
MINOR SB
7-8
MON-WED
PRESTON
CRAMER
LITTLE MAJOR SB
9-10
TUE-THU
PRESTON
CRAMER
MAJOR SB
11-12
MON-WED
CRAMER
N/A
JUNIOR SB
13-15
TUE-THU
CRAMER
N/A
---
Alamo and Disctrict 2 WEATHER POLICY
---
**SPONSORS NEEDED FOR 2014 SEASON**
contact Mike Lampen if interested (269) 744-2668
--------
-------

SPECIAL THANKS TO OUR 2013 SPONSORS!!
--------