Alamogordo Youth Football League: Welcome
WELCOME TO ALAMOGORDO YOUTH FOOTBALL LEAGUE 2017
SAD NEWS!! WE ARE CLOSING!
This is the harest thing we ever had to do. We are going to have to shut down the league due to personal issues. It wouldn't be fair to the players, coaches, parents, and commissioners because we just can't be around to make sure everything runs smooth. We would like to thank EVERYONE who has supported this league from day one and believed in what we were trying to give this community, which is an up to date youth football that got the ready for school ball and to be competitive!! We tried to get someone else to run it but no luck. Whoever turned in registration and money you will be getting a call this week to get everything back. THANK YOU THANK YOU.... it has been fun and we LOVE all the kids and families.
UPDATED 8/22/2017
ALAMOGORDO YOUTH FOOTBALL LEAGUE IS VERY EXCITE ABOUT THIS COMING SEASON. WE WOULD LIKE TO TELL YOU A LITTLE ABOUT US!
HOPE OLDEN AND VENUS GARCIA STARTED THIS LEAGUE 3 YEARS AGO SO THAT ALL KIDS COULD HAVE AN OPPORTUNITY TO PLAY HEADS UP FOOTBALL AS WELL AS BE APART OF THE BIGGEST ORGANIZAION USA FOOTBALL. THIS IS THE VERY 1ST LEAGUE THAT IS OWNED BY MINORITY WOMEN!! EVERY YEAR WE HOST THE PPK THAT WE WERE THE 1ST TO DO FOR OUR COMMUNITY! THEY WANTED TO BRING A DIFFERENT TYPE OF FOOTBALL TO ALAMOGORDO THAT OTHER ORGANIZATIONS AROUND THE UNITED STATES ARE PLAYING. THEY WANTED TO GIVE ALL THE PLAYERS SIGNED UP OPPORTUNITIES THAT THEY WOULD HAVE NEVER HAD IF AYFL WASNT STARTED. ALAMOGORDO IS BEHIND WHEN IT COMES TO YOUTH FOOTBALL AND THEY ARE NOW BRINGING ALAMOGORDO WHERE IT NEEDS TO BE. THEY WERE THE VERY FIRST TO BRING HEADS UP/USA FOOTBALL (AND NOW AYF NEW MEXICO) TO ALAMOGORDO IN A BIG WAY! THEY ALSO BROUGHT TOURNAMENTS TO ALAMOGORDO SO THESE PLAYERS CAN GET THE EXPERIENCE OF PLAYING OTHER AROUND THE USA AND SEE THAT KIDS IN OTHER STATES COME TO PLAY AND OUR PLAYERS GET THE BEST OPPORTUNTY TO LEARN FROM THESE OTHER TEAMS! DOING TOURNAMENTS MAKES PLAYERS BETTER IN THE END! WE ARE THE 1ST YOUTH FOOTBALL ORGANIZATION IN ALAMOGORDO THAT HAS 3 DIFFERENT TACKLE AGE GROUPS. MITY MITE, PEEWEE, AND YOUTH!
REGISTRATION/COACHES AND COMMISSONER FORMS
(Forms will be available under the handouts tab)
FLAG REGISTRATION IS NOW UNTIL JUNE...WE WERE THE 1ST IN ALAMOGORDO TO RAISE THE AGE FOR FLAG. WE WILL HAVE AGES 4-15. SUPER SUPER EXCITED!!!
STARTING REGISTRATION FOR TACKLE 2017 APR. 17, 2017-SEPT 1, 2017
COACHES FORMS APRIL 17,2017 – SEPT 1, 2017
FLAG $35.00 STARTS JUNE AGES 4-15 ENDS JUNE
WE NEED COACHES FOR FLAG AND TACKLE.
TACKLE $65.00 STARTS AUGUST AGES 4-12 AUGUST 1ST IS CUT OFF FOR 13YR OLDS..IF THEY ARE 13 BEFORE AUG 1 THEY CAN NOT PLAY. REGISTRATION ENDS SEPT 2016
MITY MITES 4-6
PEEWEE 7-9
YOUTH 10-12
REGISTRATION BOOTH
TO BE ANNOUNCED
THE PPK WILL BE JULY 15, 2017! AT AHS! TIMES WILL BE ANNOUNCED CLOSER TO THE EVENT.
YOU CAN PICK UP REGISTRATION AT HIBBETT SPORTS, ONLINE, OR EMAIL alamogordoyouthfootballleague@msn.com FOR MORE INFORMATION.
YOU CAN ALSO CONTACT HOPE @ 575-491-5271 OR KASEY @ 575-551-4543 (WE LOVE TO TEXT) IF YOU DO NOT REACH ONE US LEAVE A MESSAGE AND WE WILL GET BACK WITH YOU AS SOON AS WE CAN.
AYFL IS ONE BIG FAMILY! WE WILL SUPPORT AND BE THERE FOR ALL OUR PLAYERS AND FAMILIES! WE ARE HERE TO TEACH A DIFFERENT TYPE OF FOOTBALL THAT OTHERS PLAY AROUND THE USA. WE ARE THE 1ST ONES TO DO TOURNAMENTS AS WELL AS BE A PART OF HEADS UP/USA FOOTBALL (AND NOW AYF NEW MEXICO), AND BRING THE NFL PPK TO ALAMOGORDO. AYFL GETS NEW EQUIPMENT EVERY 2-3 YEARS SO THAT WE KNOW ALL KIDS HAVE GOOD WORKING EQUIPMENT BECAUSE SAFETY IS FIRST. FOR THE PAST 2 YEARS WE HAVE BOUGHT NEW EQUIPMENT BECAUSE OUR LEAGUE IS GROWING. THE HIGH SCHOOL HAD BEEN VERY SUPPORTIVE WITH EVERYTHING THAT WE DO AND WE THANK THEM FOR BELIEVEING IN US!!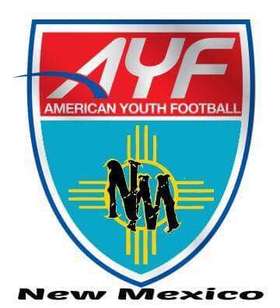 HAPPY