Alameda Little League, Albuquerque New Mexico: Welcome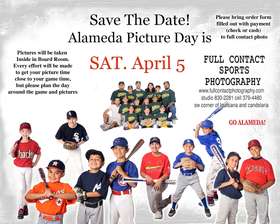 TEAM AND INDIVIDUAL PHOTOS WILL BE TAKEN APRIL 5
Please see link below for photo order form.
We are still working with the City and Managers to assign practice fields and schedules. All players should have been contacted this week by their managers to let you know when and where their practices will be held. Please let us know if you have not heard from your manager yet.
We still have space to add players for Tee-Ball (4-6), Minor (9-10) baseball, Minor (9-10) Softball, and Major (11-12) Softball. It's not too late to sign up.
c by jf
Handout:
PHOTO ORDER FORMS 2014
We are Pleased to Have Dick's Sporting Goods as a Sponsor
We are once again pleased to have Dick's Sporting Goods as a sponsor for 2014.  Dick's will once again be providing a number of discounts and specials for Alameda Little League members who will receive packets this spring.  Additionally, Dick's will be having special shopping days with savings for Alameda Little League on March 8 and March 15, 2014 at the Cottonwood location. 
Tuesday, January 14
District Umpire Training Sessions
There will be a few District Umpire Training Sessions this coming spring.
Baseball: March 8, 8:30 AM at Keller Williams on Academy
Softball: February 16, 2:00 PM at North Valley LL
Softball: March 22, 2:00 PM at Petroglyph LL
In addition to umpires, we'd like all managers and coaches to try to attend these sessions.
Little League Umpire Resource Center Link
Important and helpful information for umpires.
http://www.littleleague.org/umpires/urc.htm