Alameda Little League, Albuquerque New Mexico: Welcome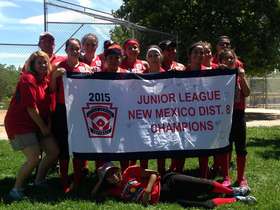 District Champs!
Congrats to our Junior Softball team for winning the District title - Great Job!
Thanks to all of our All-Star coaches and players for representing Alameda!
Final Fall Ball Registration will be held Saturday July 18th from 10-2. Entry fee is $50 first child, $25 each subsequent child in the same family. Players will all receive a team jersey and baseball cap. See the handout for more information. For questions, contact: Keith Reinhardt 250-7406.
Board Elections are this Saturday, July 18th.
We need new Board members for next season. If you are interested in being on the ballot, please let us know by emailing littleleaguealameda@gmail.com. We are a volunteer orgnaization and need all the help we can get. Let us know if you have any questions about what is involved in being a Board member.
c by jf
Handout:
2015 Fall Ball Flyer
Friday, December 5
Grant Money for Alameda LIttle League Being Held Back
See our President, Keith Reinhardt, on KOAT news regarding the money that we had hoped to use for walkways and site improvements.
http://m.koat.com/news/little-league-says-state-is-holding-back-215k-grant/30078530
Little League Umpire Resource Center Link
Important and helpful information for umpires.
http://www.littleleague.org/umpires/urc.htm