Alameda Little League: Challenger Division
Monday, March 5
Challenger Field
This year is our 4th year that Alameda Little League will have a Challenger division for special need kids in our community. The Challenger games will be played on Sundays @ 2pm on our new Challenger Field at Alameda Estuary Park (200 Mosley Ave. Corner of Mosley and Singleton). The new Estuary Park is located near the Alameda Point Ferry. Challenger Field features a synthetic surface.
People have been experiencing mixed results using a navigation app in getting to Estuary Park.
Directions to Estuary Park:
Assuming you are in Central Alameda
Take Central or Atlantic to Main St.
Turn right onto Main
Turn right onto Singleton (last light before ferry terminal)
Turn left onto Mosely.
Monday, March 5
Challenger Division Schedule
Hi Families,
Below is the 2018 Challenger Home Schedule. Alameda Little League Majors teams will be "buddies" to the Challenger games in Alameda.
| | | | | | |
| --- | --- | --- | --- | --- | --- |
| Date | Time | Team | Field | Home/Away | Majors Buddy Team in Alameda |
| 3/11/2018 | 2:00pm | Open | Estuary | Home | Potential for game |
| 3/25/2018 | 2:00pm | OAK Athletics (B) | Estuary | Home | Pirates - Slez, Astros - Hester |
| 4/08/2018 | 2:00pm | Lafayette | Estuary | Home | White Sox - Hilsabeck, Rockies - Willett |
| 4/15/2018 | 2:00pm | Albany (Mike) | Estuary | Home | Giants - Skuta |
| 4/22/2018 | 2:00pm | Albany (Amber) | Estuary | Home | Red Sox - Brotze |
| 5/20/2018 | 2:00pm | OAK Athletics (A) | Estuary | Home | Nationals - Fournier, A's - Flores |
| 6/03/2018 | 2:00pm | Walnut Creek | Estuary | Home | Marlins - Batchelor |
Alameda Challenger is proudly sponsored by the Vietnam Veterans of America, Chapter 400.
Thank you Veterans for your service.
There are also two scholarship team sponsors, McGuiness & Northridge, and REMAX Realtors.
Sunday, April 29
Help Needed For A Good Cause - Sunday, April 29th
On Sunday, April 29th, District 4 will be holding its annual Challenger Baseball Jamboree. This year, the Jamboree will feature 24 Challenger-division teams, including players who have mental, emotional, or physical challenges. This year once again, the Jamboree will include games for "Senior Division Challenger" for older players, Majors Play in a competitive "real baseball" experience, and regular Challenger games.
This is one of the largest Challenger Baseball Jamborees in all of Little League Baseball, most certainly in the Western Region. Games will be held at Heather Farm Park in Walnut Creek starting at 9:00 am in the morning with the final games beginning at 1:30 pm. The district is asking for our support in recruiting umpires. An umpire's participation on the field in these fun and emotional games is a big addition to the event, and one the players will recognize and support.
All you have to do is show up in your umpire uniform, go on the field, and be an active participant. The key to Challenger Baseball is to HAVE FUN and that is what you will have. No one will be questioning your calls and you will enjoy the day. A typical Challenger game lasts only a few innings, and all players bat and play in the field. The umpires in these games will take their normal positions, and will not be making the usual calls but will be part of the on-field support for the players. Our Challenger teams really appreciate having fully uniformed umpires in their games, and it helps to "make it real" and adds to the fun.
Umpires who work the Majors Challenger Games will be expected to actually umpire the game, applying most of the regular rules making out and safe calls, etc.
Umpires who plan to come for the first games at 9:00 am should arrive no later than 8:30 am. There will be a "California District 4 Umpire Association" table where they should check in for assignment to their field. Everyone is welcome - Junior Umpires, Adult Umpires, experienced umpires, new umpires, others who just want to help out with the day. They usually also have game booths at the park that need someone to attend to them, for example. All that is asked is that you come in uniform; we have plenty of blue umpire shirts in the back of the shed by the major and minor fields.
This is also a good way for younger umpires to earn school volunteer service hours that we know they need. Come for part of the day or the whole day.
If interested, please RSVP to Jim Quilici (jim.quilici@gmail.com), Alameda LL Director of Umpires.
Thanks!
Wednesday, March 8
Challenger Program Announcement
It is with great pride that I announce the scholarship donations of $500 each from Remax Real Estate and Judges Northridge & McGuiness that will enable our Challenger participants to play for FREE! Remax Real Estate is owned by Joe Loparo who was on our Board from 1995 to 2000 and helped us become the League we are today. Likewise, Alameda Superior Court Judge Robert McGuiness, who was on our Board during the same period, and his wife Alameda Superior Court Judge Yolanda Northridge have helped Alameda Little League become what it is today.
Vietnam Veterans of America Chapter 400 remains as the Challenger team sponsor, and on Saturday at Opening Day Ceremonies we will be recognizing the imminent opening of the City of Alameda Challenger Field at Estuary Park. Alameda Little League has contributed $50,000 toward the building of that field, an investment that will be a great benefit to our program and the community. We will be honoring Amy Woolridge of Alameda Recreation and Parks Department who fought the very difficult fundraising battle to build that wonderful facility for our youth.
I look forward to honoring these donors, sponsors, and true leaders of our community!
Ron Matthews
President, Alameda Little League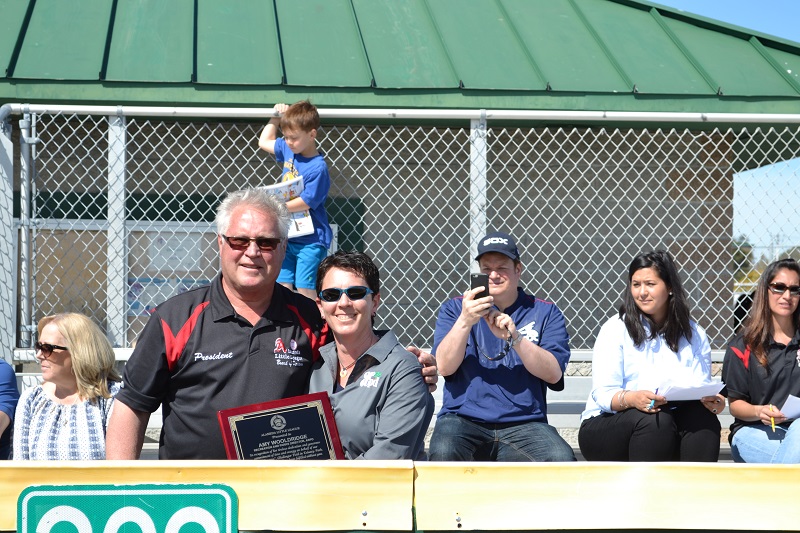 Challenger Field Dedication
Saturday, March 11
2017 Challenger Division
Saturday, March 12
Announcing Challenger Division for 2016 - Proudly Sponsored by Vietnam Veterans of America!
Alameda Little Leauge is proud to announce that we are fielding a team in the Challenger Division for 2016. Little League International established the Challenger Division in 1989. The Challenger Division is for boys and girls with mental and physical challenges and more than 300,000 players participate in the Challenger Division worldwide. In the Bay Area, more than 35,000 youth with disabilities have difficulty accessing parks, fields, and team sports. This, coupled with the ever-growing community of those with disabilities commensurate with population growth, and the current rise in autism, led Alameda Little League to establish the Challenger Division for the 2015 season.
Little League International's California District 4 (Alameda Little League is a member) currently has 15 Challenger Division leagues with whom we may have inter-district games. The Alameda site will be Estuary Park once the synthetic field there is completed. In the meantime, games will be played at Kees (AA field).
Sunday, September 18
Challenger Field Ground Breaking Ceremony
This past week city officials broke ground for Challenger Field, the first phase in the development of Estuary Park. Challenger Field will be a synthetically surfaced field which will become the home of Alameda Little League's Challenger program. The Challenger program originated in 1989 and enables boys and girls to enjoy the game of baseball. Alameda's Challenger completed its second season this year. Follow the below links to learn more about Challenger and read Alameda's press release.
Little League Baseball's Challenger program
Alameda Recreation and Parks Estuary Park Project Page
Sunday, March 19
Alameda Hosts Albany in Today's Challenger Game
Alameda hosted the Albany Mets in today's Challenger game held here in Alameda. The Major's A's acted as buddies to the players on both teams. The Challenger players had a great time playing baseball. The day started with the Majors A's leading the Challenger players through warm-ups followed by the game. The Albany parents thanked the Majors A's and complimented them on being the most supportive and involved team their Challenger players have encountered. Do try and make it to a Challenger game. The schedule is posted on the Challenger page on our website.
The Alameda Challenger team is proudly sponsored by the Vietnam Veterans Chapter 400, and scholarship donations by Remax Real Estate and Judges Northridge & McGuines.