Alameda Little League: Attack Fall Ball
Wednesday, July 1
Sunday, November 8
Alameda Attack 10U Red Conclude Season in Fremont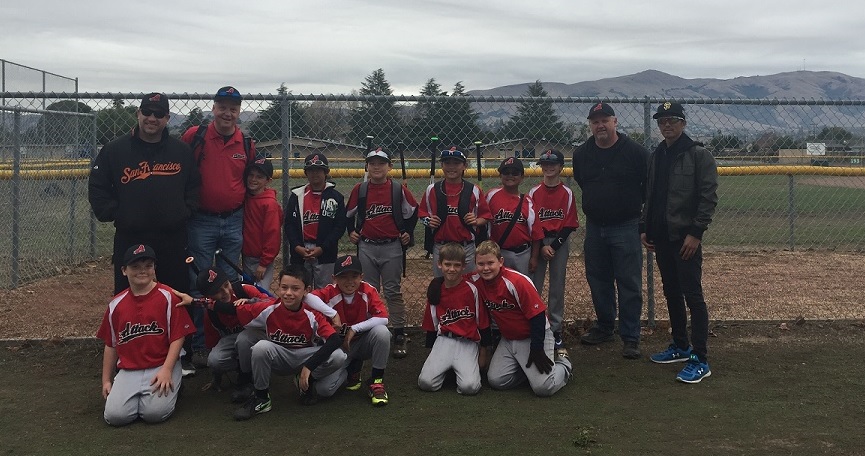 2015 Attack 10U Red
The Alameda Attack 10U Red concluded their 2015 season at the Allworld "King of Swing" tournment Nov. 7-8 in Fremont. After a day of pool play on Saturday they entered the single elimination tournament Sunday in the "Silver" division. They won their first game Sunday 6-5 against the Meno Park Legends which took them to the semi-final. During the semi-final the Attack lost to the L4 Raptors from Brentwood 8-4. All in all it was an exciting day of baseball and a nice ending to the 2015 season!
Wednesday, September 16
Alameda Attack 10U Blue Show Well in Fremont Tournament
The Alameda Attack Blue 10U team competed in their first tournament of the Fall last weekend, September 12-13 in Fremont. Playing in their first tournament together, the team earned a spot in the Championship Game, finishing as Runner-up to eventual champion, Norcal Rockets from San Mateo. The team finished with a 3-1 win/loss record for the tournament, beating teams from Santa Clara and San Mateo.
Future Tournaments:
1) All World Fall Brawl - Oct 10-11 at Fremont Sports Complex
2) USSSA Halloween Bash - Oct 31-Nov 1 at Twin Creeks Sports Complex
3) All World Strike Out - Nov 14-15 at Fremont Sports Complex
Sunday, August 26
Alameda Attack Facebook Page (press here)
please Like us on Facebook...
Sunday, July 12
Alameda Attack Returns for 2015 Fall Ball
The Alameda Attack Fall Ball program will return for 2015. Tryouts are Sunday, June 28. Make-ups on Sunday, July 12.
July 12 Schedule:
10:00 AM - Registration Opens
11:00 AM - Tryouts - All Ages
June 28 Schedule:
11:00AM - Registration Opens
12:00PM - 9U/10U
1:30PM - 11U/12U
3:00PM - 13U
4:30PM - 14U
Click here to download a copy of the flyer.
Sunday, June 28
Attack Tryouts Reminder - July 12
Reminder that the makeup date for tryouts for Alameda Attack Fall Ball is Sunday, July 12.
Register Now!!! Press HERE
For more information please see the news item further down on this page or download the Attack Flyer.