Alameda Little League: Attack Fall Ball
Sunday, August 26
Welcome to the Alameda Attack Page
Hi Families and Players,
Welcome to the Alameda Attack page of the Alameda Little League website. Check here frequently for news about the Attack. The Attack was formed by Dave Graybeal by request of his son to play baseball during the fall. Last year, the Attack became affiliated with Alameda Little League. The Attack gives players the opportunity to hone their baseball skills while playing at some pretty neat venues in Northern California. Older players get the opportunity to play on larger diamonds in order to get ready for high school ball. We are also inviting other teams to Alameda to play in "friendly" games outside of tournaments.
Sunday, August 26
Alameda Attack Facebook Page (press here)
please Like us on Facebook...
Monday, September 2
Attack 14U Red Schedule
Here's the 14U Red tournament schedule:

September 7-8: Super Patriot Weekend Classic at Twin Creeks
September 21-22: Triple Threat at Fremont Sports Complex
October 12-13: Nor Cal Select Oktoberfest at Fremont Sports Complex
October 26-27: Halloween Bash at Billy Hebert Field in Stockton
November 2-3 The Rodeo at Twin Creeks
Tuesday, September 24
Attack 14U Black Schedule
9/14 and 9/15: Pine Tar Classic at Fremont Pine Tar Classic
results:
Game 1 Win 8-0 Bay Area Bombers
Game 2 Win 6-5 Salinas Vortex
Game 3 Win 7-6 Synergy (Livermore)
Game 4 Loss 0-12 TKB (Milpitas)
10/5 and 10/6: Baseball Freaks at Vacaville
10/19 and 10/20: Scarecrow Classic at Twin Creeks
11/2 and 11/3: Chill at Martinez Waterfront Park
11/16 and 11/17 Fathead Classic at Twin Creeks
Thursday, October 10
Attack 13U Red Schedule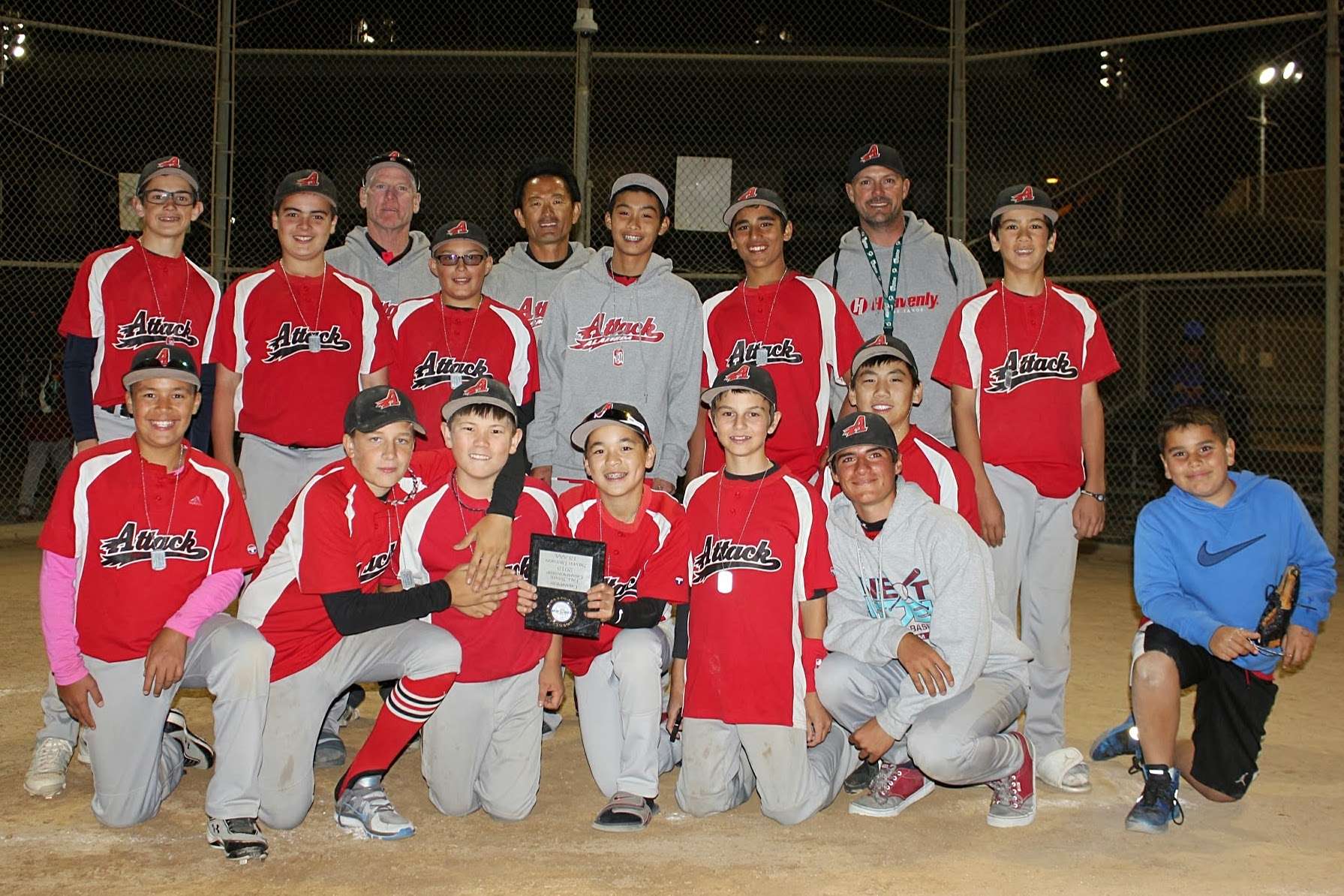 Attack 13U Silver Division Champions
August 31-Sept 2
- NCTB Ultimate Labor Day, Manteca - Runners Up
September 14-15
-
NCTB Black Tie, Twin Creeks - Runners Up
September 21-22
- Triple Threat, Fremont/Los Cerritos Community Park - RAINED OUT
October 5-6
- NCTB Fall Brawl, Twin Creeks
October 12-13
- NCTB Fall State Champions, Twin Creeks
October 26-27
- Halloween Havoc, Martinez/Waterfront Park
October 26-27 - Halloween Havoc, Martinez/Waterfront Park
GAME #1: 10/26 Alameda Attack 13U (10) vs. Solano Blast Red (3)

GAME #2: 10/26 Alameda Attack 13U (11) vs. Cardinal Baseball (2)

GAME#3: 10/27 (SEMI-FINAL) Alameda Attack 13U (1) vs. Solano Thunder (2)
Starting pitcher Nate Low kept the Thunder scoreless thru the 2nd inning. Alameda left two runners stranded in the 1st inning after the Thunder walked 2 batters. In the top of the 2nd, a pop fly caught by Jordan Kim at LF who threw to Max Turner at 3rd base resulted in a nice double play. In the bottom of the 2nd inning, Adam Chan singled and stole 3rd. Chris Regan was walked. Sandeep Mahl hit a nice sacrifice bunt which allowed Adam to score. 1:0 Alameda. Another nice bunt by Dean Sarmiento that allowed Chris to move to 3rd before the end of the 2nd inning. In the top of the 3rd, the Thunder got runners on 2nd and 3rd from a walk and single. An RBI single by the Thunder tied the score 1:1. Thunder held Alameda scoreless in the bottom of the 3rd inning. Sandeep Mahl took over as pitching in the 4th inning and got 3 K's. In the bottom of the 4th, Zach Crvarich hit a double (Nick Saikley steps in as courtesy runner). Nick gets to 3rd, but the Thunder retire the side. 1:1 still tied. Sandeep adds 3 more K's in the 5th. In the bottom of the 5th, Sandeep singled. Alameda held scoreless in the 5th. Sandeep adds 3 more K's in the 6th. In the bottom of the 6th, Jordan Kim singled, Josh Anders walked, Zach is hit by pitch (Nick courtesy runner) to load the bases, but leave runners stranded after a pop fly out, K, and ground out. Sandeep would add 2 more K's in the top of the 7th. The Thunder would bring in a new pitcher in the bottom of the 7th effectively retiring Alameda batters. Extra innings are played as a result of the 1:1 tie. The extra inning rules have a Thunder runner starting on 2nd base in the top of the 8th inning. Thunder manage two consecutive sacrifice bunts to take the lead 2:1. In the bottom of the 8th, Nick starts off at 2nd base. Andrew Taira hit a solid shot towards 2nd base which looked to be able to drive Nick home, but the Thunder shortstop was oddly playing close to 2nd. The short stop caught the ball for out 1 and stepped on 2nd base for the double play. Jordan is hit by pitch and Josh is then walked. Alameda runners at 1st and 2nd and 2 outs. Alameda would hit a pop up caught by the Thunder 3rd baseman.

It's been a great 2013 Attack season! Thank you coaches, players, and parents for making this a very positive and memorable chapter in youth baseball for the boys!

Tuesday, September 3
Attack 12U Red Schedule
12U Red Tournament Schedule:
September 7 & 8 - Twin Creeks
September 21 & 22 - Manteca
October 5 & 6 - Concord
October 26 & 27 - Tracy
November 9 & 10 - Fremont
November 16 & 17 - Fremont
A GREAT SEASON CLOSES IN FREMONT - 11/16 & 11/17
In Saturday's first game at Walters Junior High, the South Bay Crushers trotted out a much harder thrower than 12U Red had seen when the teams met in September. After a scoreless first, Dallas Rider opened the second with a walk and was doubled to third by Tristan Good. Joe Depinna bounced a single into right for two runs, then was driven in by Joe Gibbons's line-drive double to center. Gibbons later scored on a passed ball to take a 4-0 lead. In the fourth, Gibbons singled in another run, as did Darren Taira behind him. Jackson Saulovich completed the 8-0 win by doubling in Ari Chertock. Gibbons and Depinna combined to allow only three hits and no walks, striking out six in shutting out the Crushers.
The beat continued into the second game of the day vs. the Bandits. The Bandits stranded a runner on third when first baseman Bubba Seelenbacher made the play of the year, rumblin', stumblin' and bumblin' into foul territory to snare a foul pop-up on his knees. In the home half, it was Good again doubling to left, followed by a walk for KW Quilici. With two out, Saulovich, Depinna, and Gibbons all stroked RBI hits, making the score 5-0. In the second, Joe Boyden singled to lead off and with two out, the floodgates opened. Chertock hammered a double to center, Good walked, Quilici singled in a run, Rider belted a two-run double, and Saulovich singled home one more to make it 10-1. Quilici and Chertock combined to hold the Bandits offense in check, while the defense made only one error the entire day.
Sunday's contest vs. the Blaze was one of the more bizarre games you'll ever see. Facing perhaps the softest thrower they had seen all season, Red neither walked nor struck out once the entire game, but collected only six hits and was victimized by arguably the stingiest infield defense they had seen in 25 games. In the first, Good singled and was forced at second by Quilici, who took second on a wild pickoff attempt. Rider then singled him in to take a 1-0 lead. In the second, the Blaze took advantage of an error, two singles, and a balk to cash in three runs and slither out to a two-run lead. And puzzlingly, that is how it ended, a 3-1 loss. Depinna, Chertock, and the defense were brilliant, retiring the final 14 Blaze batters in a row and walking none. The Blaze pitcher breezed through five innings on only 55 pitches, getting countless first-pitch outs. The only batter to see more than four pitches was Seelenbacher, who lined a single to right center in the sixth, but was stranded as the curtain fell on Red's 2013 fall campaign.
SO CLOSE...AGAIN...TO A TITLE IN FREMONT - 11/9 & 11/10
Saturday's first game pitted 12U Red vs. Alameda's 12U Black team at Walters Junior Hgh in Fremont. Some nice plays in the field and sturdy pitching by Eli Ottaviano, Seamus McGuinness, Joe Gibbons and Tristan Good kept the game scoreless after three innings. In the fourth, however, Red would finally dent the scoreboard when KW Quilici walked, stole, and scored on Gibbons' RBI single. Gibbons and Good would eventually score as Red built a 3-0 lead. Red put the game away in the fifth as Ari Chertock walked, Jack Saulovich and Quilici rapped RBI doubles, Good and Joe Depinna both singled, and Darren Taira bunted to load the bases. Joe Boyden cleared the bags with a drive to deep left, Tomas Dumont singled to put runners on the corners, Chertock singled in another, and Quilici closed out the scoring with a 2-run double. Joe Depinna retired the side on only six pitches in the final inning as Red won it 12-0. Shout out to Sean Cook and teammate Patrick, who each banged out two hits for Black.
A lunch break only helped fuel Red's rampage at the plate in the afternoon contest vs. Bay Area Bombers. In the first, Saulovich walked and took third on a deep double to left by Quilici. Gibbons drove in one, then Good worked a walk to load 'em up. Depinna and Dallas Rider each singled in a run, followed by RBI walks to Boyden and Dumont. When the dust had settled, Red led 7-0. Alert Red defense and poor baserunning by the Bombers minimized their lone rally in the third, after which Red 7-3. In the bottom of the third, Quilici got all of a changeup, sending it up and out to right center to make it 8-3. Good later singled and scored to make it 10-3. In the fourth inning, Depinna collected his third hit of the game and scored the clinching run on Rider's laser double to left for a 11-3 time-shortened win.
Red can beat you in many ways and Sunday's semifinal against the San Carlos Lightning was a prime example of how excellent pitching and defense can smother an opponent. In the full six innings, Gibbons, Depinna, and Chertock combined to strike out eight, walk NONE, allow only one hit, and see only one harmless error made behind them in a sparkling 7-0 shutout. Offensively, the boys scratched for runs here and there, with Good, Depinna, Taira, and Dumont (who continued his resurgence with two RBI) reaching base twice apiece. The fireworks were provided by Rider, however, who rifled a double in the second and led off the fourth with a laser roundtripper into the schoolyard in dead right field.
The championship game vs. Santa Clara Rage was a tight, tense battle of which team would cash in their opportunities. In the first, Red garnered three walks but only pushed across one run, leaving the bases loaded. Rage would return the favor by coming up empty and leaving the sacks jammed in the second. In the third, Rage strung together four straight singles and plated all four with the help of a couple of misplays in the outfield to take a 4-1 lead. For Red, Taira was left stranded at second and Quilici left on third in subsequent innings, but in the fourth, Depinna singled, Taira bunted for a hit, and Boyden walked to load the bases. Brimming with confidence, Dumont then smacked the first pitch he saw for a 2-run single up the middle to cut the lead to 4-3, but that's all Red would get out of the rally. Depinna was excellent in relief, allowing only an unearned run in the final three innings and being aided by the arm of catcher Boyden, who cut down a would-be thief at third. In the fifth, Red cut the deficit to 5-4 on consecutive singles by Good, Depinna, and Rider, but again left two runners on. Credit the Rage closer, who saved his hardest stuff for a 1-2-3 sixth inning that sent Red to a tough 5-4 loss. T-shirts and necklaces were still a nice haul as the sun set on a mild, blue-skied weekend in this reporter's hometown.
ANOTHER HARD-EARNED SECOND PLACE FINISH FOR 12U RED IN TRACY - 10/26 & 10/27
A nasty pre-Halloween brew of enemy baserunners put Red in a 10-1 hole after an inning and a half in Saturday's first game vs. the Tracy Bulldogs, but Red would make a game of it. While Joe Gibbons and Ari Chertock combined to shut out the 'Dogs on 39 pitches in the final four innings, the bats got going in the bottom of the second on a leadoff double by KW Quilici. The pressuring speed of Chertock and Darren Taira turned grounders into Tracy miscues; all three runners would score to cut the deficit to 10-4. Taira and Joe Boyden strung together hits to cut the lead to 10-5 in the fifth. In the 6th, Dallas Rider's walk forced in a run with none out, but Red would go down to defeat 10-6 when Joe Depinna's smash to second turned into a double play and Quilici's deep drive to left was tracked down.
Another slow start to Saturday's nightcap put Red in a 4-0 hole to San Joaquin Valley, but again they would recover, this time in more dramatic fashion. Zack Karch led off the third with a sharp double to left; Chertock doubled him home, then scored on a wild pitch. Jackson Saulovich then ran for the "cycle" by reaching on a dropped third strike, moving up on a wild pitch and a steal, then scoring on a passed ball. Depinna was stellar in relief, keeping the score at 5-3 heading to the bottom of the sixth. Taira's speed killed again as he bunted his way all the way to third on a poor throw to first. Boyden drove him in; after a couple of walks, the bases were loaded with two out for Saulovich, who lashed the first pitch he saw into left field for two clutch RBI and the walk-off win 6-5.
Red is at their best at 8am and Sunday's contest vs. Atwater was no exception. Gibbons and Depinna were again very efficient, needing only 61 pitches to hold Atwater to a single run in five innings. The bats went crazy; Chertock walked, singled, and tripled in the leadoff spot while Tristan Good began a monster day by homering well beyond the left fielder. Depinna, Rider, Taira, Karch and Bubba Seelenbacher all reached and scored in the second. Tomas Dumont began a perfect 1.000 on-base average for the day by walking and doubling. And again, it was Saulovich with the walk-off, only this time he cranked a three-run inside-the park home-run to right center as Red won in five, 10-1.
Sunday's semifinal bore a rematch with the Bulldogs and super lefty Ari Chertock on the bump for Red. The tables turned swiftly for Red, who exacted revenge with four runs in the first. Good bombed a triple to drive in Saulovich, Gibbons walked, and Quilici singled in another. RBI hits by Depinna and Rider rounded out the scoring. The Bulldogs got two unearned runs back, but in the second, Dumont continued his winning ways with a leadoff walk, Seelenbacher singled him over, and Chertock drove him in. Saulovich netted another on a groundout, then Good slammed a RBI double to center to take a 7-2 lead. In the fifth, Good and Gibbons spanked consecutive doubles and Quilici singled to make it 9-2. Dumont laced a RBI single to left in the sixth to complete the scoring. The real hero, though, was Chertock, who dominated on the mound, retiring 17 of the last 20 batters and throwing 57 of 74 pitches for strikes. He struck out only four, scattered three more hits, and benefited from errorless defensive play in the final five frames as he went the distance in arguably Red's most complete game of the year, a 10-3 win over Tracy. Working fast and throwing strikes keeps a defense on its toes.
Alas, an unforgiving gale-force wind blew away not only half of the infield dirt but Red's chances at a championship, as they fell 11-0 in four innings to a talented, but excessively intense Danville Baseball Club team. Trophies and dignity were still a nice haul for the runner-ups' drive home.
12U RED BREAKS EVEN IN CONCORD - 10/5 & 10/6
An 8-run second inning propelled 12U Red to a 12-3 win over the Sonoma Valley Stack in the first game of the day on Saturday at Willow Pass Park in Concord. Tristan Good scored three times out of the leadoff spot, Bubba Seelenbacher roped a pair of singles and scored twice, and Joe Gibbons had 4 RBI. Gibbons and Ari Chertock walked none, throwing a mere 17 balls in the entire game.
In the afternoon game versus the Napa Nationals, Dallas Rider launched a mammoth triple to right field and Good had three more hits. The rest of the 9-2 defeat, however, is probably best left to the imagination. :(
A frigid Sunday morning matchup versus the Tribe (Winters, CA) kept everyone entertained as the teams stayed close throughout. With two down in the first, Joe Depinna blooped a double off the right field line, Gibbons smashed a RBI single, and KW Quilici beat out an infield hit to plate another run. Leading 2-1 in the second, Gibbons struck out two to wiggle out of a bases-loaded jam unscathed. In the third, Quilici blasted a triple to deep left and was driven in by Jackson Saulovich's rope to right center for a 5-1 lead. The Tribe struck for three runs on a clutch double in the bottom half, but Red would make it 6-4 in the fourth as speed bandit Darren Taira raced home all the way from second on a grounder to the pitcher(!). Down to their last strike in the 6th, the Tribe would tie the game at 6-6, but could have gone ahead had it not been for a nice catch in deep right by Zack Karch. In the bottom of the sixth, Joe Boyden worked his patented late-inning magic to draw a leadoff walk. Taira then laid down a short bunt, but the Tribe catcher overthrew first by a good ten feet, sending the ball into the corner and Boyden home from first with the 7-6 victory.
The afternoon finale pitted Red versus the Vacaville Bulldogs. After three hard hit balls netted two runs for the Bulldogs in the first, Red answered with a run on base hits by Chertock and Depinna, and yet another RBI by Gibbons. In the third, Vacaville widened their lead to 5-1, but solid defense kept it right there. Saulovich rapped a single through the middle in the fourth to close the gap to 5-2. In came Chertock, who mixed speeds brilliantly to shut out the Bulldogs in the final three innings on only 25 pitches. In the fifth, hard-luck Karch was left stranded after his second lead-off hit of the game, but in the bottom of the sixth, with props to the boys for hanging in there, Red mounted one final rally. With one out, Gibbons fought off several off-speed pitches before lacing a triple to left. Quilici waited out a walk. Saulovich came through yet again with an RBI single and Boyden would walk to load the bases, but none got any further as the 5-3 defeat came to a close.
Special shout-out goes to the fine defense all weekend long at first base by Bubba Seelenbacher. Smothering grounders, proper footwork, digging throws out of the dirt - he was a busy man who made it look easy.
Click here for past tournament write-ups: 2013 12U Red Fall Results.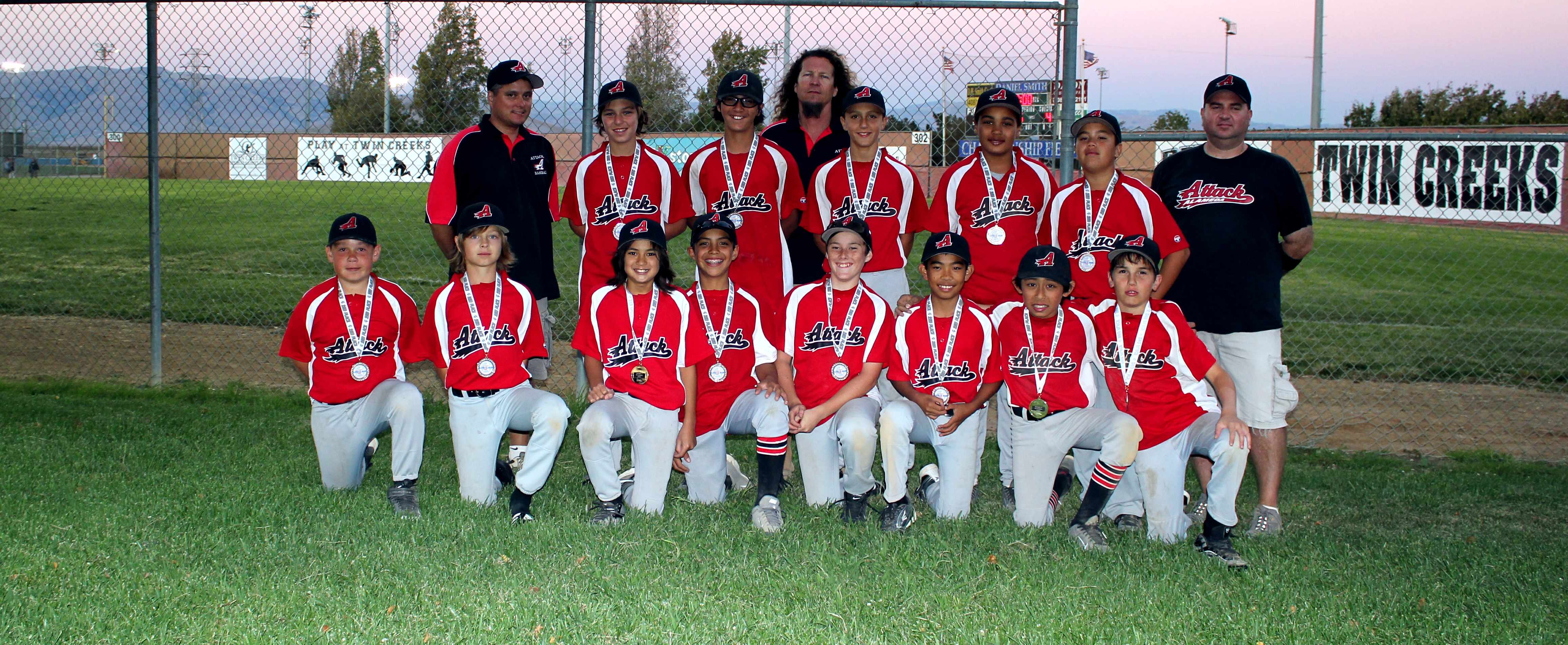 2nd Place at Twin Creeks
Thursday, August 29
Attack 12U Black Schedule
Updates from Manager Tony Cecaci:
Upcoming Games:
9/21-22 @ BLD Manteca(both 12u teams in this tournament)
10/19-20 @ Twin Creeks
12u Black played in Aptos 8/25 and went 2-2.
Links below are pics from 8/25/13 Fall shootout in Aptos Ca through Bigtimer baseball...we played 4 games in one day. The team lost in the Championship game, 5-2. We were winning going into the bottom of 4th. After losing the first game 15-0, it was great to comeback and play that same team well in the championship game.

All the kids received trophies and Eli Ottaviano was given an individual MVP award for the tournament
game 1 Loss 15-0 to Westcoast Titans 12u (Salinas)
game 2 Win 5-2 to Menlo Maruaders 12u
game 3 Win 4-2 to Menlo Maruaders 12u
game 4 Loss 5-2 to Westcoast Titans 12u
click on links below for pics from 8/25/13 Fall Shootout 1 day tourney in Aptos:
https://plus.google.com/photos/117437028712096561032/albums/5916897729669736065?authkey=COfK5dresc-06QE

https://plus.google.com/photos/117437028712096561032/albums/5916912856331280801?authkey=CO3BxrHOlJjg_wE
Attack 11U Red Schedule
11U Red Tournament Schedule:
Alameda Attack 11U Red - Labor Day Weekend Tournament at Big League Dreams in Manteca
Alameda Attack 11U Red - Tournament at Twin Creeks Sat. 21 Sept -Sun. 22 Sept, 2013 TBD Santa Clara
Alameda Attack 11U Red - Tournament at Big League Dreams Sat. 28 Sept-Sun. 29 Sept. 2013 TBD Manteca
Alameda Attack 11U Red - Tournament at Mather Sat. 19 Oct-Sun. 20 Oct. 2013 TBD Mather, CA
Alameda Attack 11U Red - Tournament at Santa Cruz Sat. 9 Nov 9-Sun. 11 Nov 2013 TBD.
Tuesday, August 27
Attack 11U Black Schedule
Manager Mark Loughran announced the fall schedule for the Attack 11U Black team today:
Attack 11U Black Tournament Schedule:
September 14-15 - Chase the Rings Tournament, Vacaville
September 28-29 - September Slam Tournament, Elk Grove
October 12-13 - Octoberfest Tournament, Santa Cruz
October 26-27 - Halloween Bash, Twin Creeks (Sunnyvale)
Good luck team!
Thursday, September 5
Attack 10U Red Schedule
Manager Nick Griego has announced the fall schedule for 10u RED
Sept 14, 15 - Vacaville
Sept 22 - Santa Cruz
October 5, 6 - Sacramento, Mather Field
October 19, 20 - Turlock,Pedretti Field
November 9, 10 - Manteca, BLD
September 14&15 Vacaville
DAY 1: VACAVILLE - Saturday, Sept. 14, 2013 SONOMA VALLEY STACK - 16 vs. ALAMEDA ATTACK 10U RED - 5 Nerves and first tournament jitters got to Alameda 10U Red in their first game against Sonoma Valley Stack last weekend in Vacaville. Mady Leung started the game with a solid performance on the mound, striking out two in the first inning. But errors plagued the defense allowing Sonoma to score 8 runs in the first inning and 7 more in the second before bringing Zack King in to pitch, striking out two to end the inning. Alameda's offense showed some life in the bottom of the second scoring 2 runs on back to back doubles from Emmitt Phinney and Devon Casias, and a single up the middle from King. Quinn Rassmussin dominated on the mound in relief, striking out 2 in two innings of work. Alameda's defense managed to pull it together behind Rassmussin, seeing the teams first double play of the year from Ben Ratto in the third, and another from King in the fourth, to hold Sonoma to only one additional run. Alameda tried to ralley in the bottom of the fourth, scoring 3 more runs on a couple of lead off walks, a two run double from Eli Jones and a single from King to score Jones. Leaving two runners on, it wasn't enough, and the final score was Sonoma Stack 16, Alameda Attack 5.
ALAMEDA ATTACK 10U RED - 2 vs. TRIPLE CROWN BASEBALL - 10 Game two in Vacaville started Zack King on the mound for Alameda vs. Triple Crown Baseball. King pitched well, striking out 3 and giving up only 2 earned runs in 2 & 2/3rd innings. Alameda's two runs came in the second inning with back to back RBI singles from Ben Ratto and Quinn Rassmussin. With Triple Crown ahead 5-2, King passed the ball to the bullpen. Christopher Scheaffer and Jerick Greigo each made an appearance on the mound in relief, but Alameda continued to struggle defensively, and the final score was Alameda 2, Triple Crown 10.
DAY 2: VACAVILLE - Sunday, Sept. 15, 2013 ALAMEDA ATTACK 10U RED - 6 vs. NOR CAL DEVIL DAWGS - 5 With Saturday behind them, Sunday proved to be a new day and a new attitude for Alameda Attack 10U Red. Seated as one of four teams in the Silver Division, Alameda came ready to play. In the first three innings Jerick Greigo dominated on the mound, striking out the side in both the first and second innings. Alameda had a slow start at the plate, scoring only 1 run in the second on an RBI double by Quinn Rassmussin. Great pitching continued for Alameda when Justin Leung took the mound in relief, shutting down the Devil Dawgs in order in the fourth and fifth innings. With the score 3-1 Devil Dawgs going into the sixth, Alameda had the top of their order coming up to bat. J. Leung started things off with a lead off single to left, stealing second, and coming around to score on a single to right by Griego. After a fly ball to center and a fielders choice out at second, Alameda had one runner on and was down to their final out. With two strikes Emmitt Phinney ripped a double to center to tie the game, followed with a single by Devon Casias to score Phinney. Zack King beat the throw on an infield hit to third, to keep Alameda's two out ralley alive. Next up was Quinn Rassmussin who ripped a single to left field scoring Casias and King, giving Rassmussin 3 RBI's for the game. With their first lead of the tournament, J. Leung went back out onto the mound in the bottom of the sixth with the score 6-3 Alameda. The Devil Dawgs quickly got their first two batters on base but Alameda wasn't worried. With some help from Ethan Tien and Casias in the outfield, Alameda played it safe, making sure they got the outs while two runs scored. With two outs and runners on second and third, J. Leung struck out the batter to end the game and give Alameda their first win of the tournament.
CHAMPIONSHIP GAME - SILVER DIVISION ALAMEDA ATTACK 10U RED - 18 vs. TEAM VELOCITY - 7 The final game of the tournament saw Eli Jones taking the mound for Alameda. Jones gave a commanding performance on the mound and solid defense behind him, Jones held Velocity to 7 runs in 3 & 2/3rd innings of work. But it was Alameda's offense that was on fire and won the game, starting with their first 7 batters reaching base and scoring in the first. It was a team contribution at the plate with and RBI each from Jerick Greigo, Zack King, Emmitt Phinney, Ben Ratto, and newcomer Aiden Gleason. Devon Casias had 3 RBI's on two hits, and Quinn Russmussin coming through in the clutch again with 4 RBI's in the game. But it was Eli Jones who lead the day with 5 RBI's, including a 3 RUN HOMERUN over the center field fence (205ft) with room to spare in the third. With two outs in the bottom of the fourth Emmitt Phinney threw one pitch in relief, getting the batter to ground out to second to end the game. Alameda won 18 to 7, becoming Vacaville's Silver Division Champions!!!!
Tuesday, August 27
Attack 10U Blue Schedule
Manager Marc Fournier announced these upcoming games for the Attack 10U Blue team:
Sept 7th and 8th: Got Game Tournament, Fremont
Sept 14th: Double header at Vallejo Aces (friendly)
Sept 22: Doubleheader vs Vallejo Aces 11u B at Alameda Little League Fields
Sept 28-29: Battle of the Bay Tournament Martinez
Oct 19: Doubleheader vs USF Dons
Oct 26-27: Halloween Havoc AA tournament Martinez

Alameda Attack 10u Blue Finish third in Battle of the Bay Martinez The Alameda Attack 10u Blue took third place in the Battle of the Bay tournament in Martinez finishing with a 2-2 record. The Blue did it with amazing starting pitching from Teddy Hernandez, Thomas Cook and Kai Berzabal with wins against the NorCal Devil Dawgs and East Bay Cyclones. Just as impressive as the two wins was Kai's pitching performance against the Solano Nationals one of the top ranked teams in the North Bay. Although the Attack lost that game 8-0 the Blue hung tough against a very tough team and Nicolas Ignaszewski made two brilliant plays in the outfield. Brandon Souza and Zack King both had a fantastic weekend defensively. The Attack Blue more than tripled their run production from their first tournament in Fremont and some of the leading hitters were James Moore, Brian Fournier, Zachary Rygg and Aiden Dudley. James Moore also saw his first live pitching action against the Bulldogs and battled through a tough lineup.

As the manager of the 10u Blue I couldn't be happier for these kids and I want to thank our coaches Tony Hayes, Nate Cook and Felix Berzabal. We have really worked hard to impress upon this group the team concept and this weekend it really started to come together for us. With a roster that is more than 50% players that are new to tournament baseball we are looking forward to continued success.

Marc Fournier- Manager
Go Alameda!
Click here for 10U Blue Past Results
Tuesday, October 8
Attack 9U Blue Schedule
Sept. 15 3:00 : Alameda Attack Blue vs. Alameda Attack Red. Red won 21-15.
Sept. 22 4:30: Alameda Attack Blue vs. SF Dons. Dons only had 5 players, so this became a friendly scrimmage
Sept. 28 10:00: Alameda Attack Blue vs. Union City. Attack Blue won 12-4
Oct. 6 10:00: Alameda Attack Blue vs. Head First Gamers
Oct. 7 4:30: Alameda Attack Blue vs. Alameda Attack Red
Oct. 12 10:00: Alameda Attack Blue @ Pinole-Hercules (Doubleheader)
Oct. 26 10:00: Alameda Attack Blue vs. Head First Gamers (Doubleheader)
Nov. 2-3: Chill Tournament, Martinez, CA
Nov. 9-10: Edge of Darkness Tournament, Fremont, CA
Monday, May 27
The Alameda Attack is returning for 2013
The Alameda Attack fall baseball teams -9U through 14u - have set the evaluation dates for this fall's teams. Evaluations will be held on June 23 at Krusi Park. See the Attack flyer for details.
For information about the 2012 season, please visit the Alameda Attack page on this website.
The Alameda Attack is returning for the fall of 2013! We will again field teams at all age groups from 9U to 14U (based on player age on 4/30/2014), with the opportunity to play in tournaments throughout the bay area, as well as games in Alameda and elsewhere around the East Bay.
Evaluations are scheduled for Sunday, June 23 at Krusi Park in Alameda. Make up evaluations are scheduled for Saturday, July 13; also at Krusi Park. Teams will be formed shortly after the evaluations are completed. Practices will start in early August and games will start in late August or September through early to mid-November. Exact schedules will vary by team, and will be published as the season gets closer.
Times for the June 23 evaluations:
9U,10U @12:00;
11U, 12U@1:30;
13U@3:00;
14U@4:30;
On July 13, all age groups are scheduled at 10:00 am.
Click here for a larger image of the Attack flyer for details. It has more information about the season.
Click here for the 2013 Attack Registration Form Please complete and bring with you to registration.
Click here for the 2013 Attack Medical Release Please complete and bring with you to registration.
We hope to see everyone who is interested at evaluations this year! It should be another great year for Alameda Attack baseball, following up on the great success of the Little League and Babe Ruth seasons!