Alameda Little League: News
Friday, May 19
NEPTUNE BEACH BASEBALL FALL BALL TRYOUTS
NEPTUNE BEACH BASEBALL IS HOLDING FALL BALL TRYOUTS ON SUNDAY MAY 21ST 2017 AT THE NAVY BASE FIELD 1101 W REDLINE AVE. TRYOUTS ARE FOR CURRENT 10, 11 & 12 YEAR OLDS IN LITTLE LEAGUE. THERE IS TRAVEL BALL AND LOCAL OPTIONS AVAILABLE FOR FALL PARTICIPATION. YOU MUST RSVP TO ATTEND THE TRYOUT AND DIRECT ANY QUESTIONS BY E-MAILING: INFO@NEPTUNEBEACHPEARL.COM
11U - Current 10 yr olds in Little League 8:30am - 10:00am
12U - Current 11 yr olds in Little League 10:00am - 11:30am
13U - Current 12 yr olds in Little League 11:30AM - 1:00PM
Tuesday, May 16
Mother's Day 2017
Mothers were honored with roses at this weeks T-Ball and Farm games. Special thanks to al our Little League Mothers for all they do!
Friday, May 12
Alameda Little League Store
Get your official Alameda Little League merchandise here at the ALL On-Line Store or by clicking on the image above while benefiting ALL! Little League International has partnered with PrepSports for this unique opportunity that benefits local leagues. Alameda Little League receives 15% of sales.
Friday, May 19
Little League Fireworks Night May 19th - SOME TICKETS REMAIN
May 11 Update: There are currently 4 tickets available, 3 together and a single seat. Please contact Paul Skuta at pskuta46@gmail.com if you would like to purchase tickets.
SOLD OUT - Thank you Alameda Little League!
Alameda Little League Fireworks Night at the Oakland A's is Friday, May 19th. Tickets are $20 each and there are still some available but going fast. If you want tickets please contact your team's manager.
Thursday, May 11
Operation Dress Up at ALL Fields Saturday, June 3
Operation Dress-Up will be at the Alameda Little League fields Saturday, June 3 during closing ceremonies. Please bring your gently used baseball items to donate.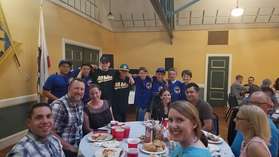 Sponsor Night 2017
Saturday, April 29
2017 Sponsor Night - April 28th from 6pm-11pm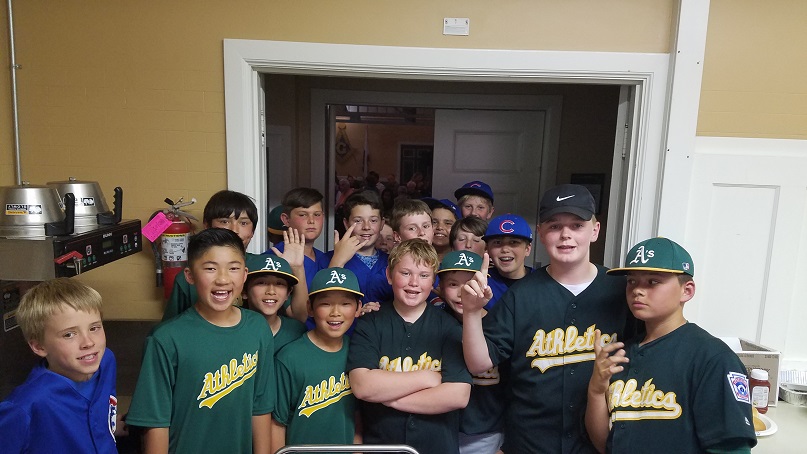 The Kitchen is Being Run by 12 year olds!
2017 Sponsor Night was a GREAT Success! Special thanks to Sheila Edwards for planning the event. Thank you Sponsors and friends of Alameda Little League for your support! Players from the Majors Athletics and Cubs acted as servers and did a great job!
Alameda Little League's Sponsor Night is coming soon! The annual event is scheduled for Friday, April 28th at the Alameda Mason's Lodge located on Alameda Ave between Oak St. and Park St. On-street parking is available, there is a pay lot accross the street and the theatre parking structure is only one block away.
Tickets are $30 per person. All proceeds will benefit Alamda Little League. The night features a tri-tip dinner along with music from DJ Zhaldee and no-host bar. Tickets are limited so purchase yours now by clicking the below link.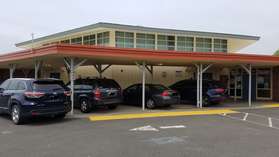 Illegal Parking at Lum 4/22
Saturday, April 22
Important, Please Read - Parking Situation at Lum Elementary
TO THE PARENTS OF ALL LITTLE LEAGUERS:
WE HAVE BEEN NOTIFIED BY THE ALAMEDA UNIFIED SCHOOL DISTRICT THAT SOME LITTLE LEAGUE PARENTS WHO PARK AT LUM SCHOOL ARE PARKING ILLEGALLY, AND ALSO ARE NOT OBSERVING BASIC COURTESY BY PARKING IN AREAS THAT ARE RESERVED FOR THE DAY CARE FACILITY AT THE BACK OF THAT PARKING LOT. YOU ARE NOW ADVISED THAT THE ALAMEDA POLICE DEPARTMENT WILL BE ISSUING CITATIONS FOR ALL VEHICLES THAT PARK ILLEGALLY, AND THAT PARKING IN AREAS DESIGNATED FOR ALAMEDA ISLAND KIDS (AIK), THE AFTER SCHOOL CARE PROGRAM ON SITE, MAY RESULT IN CITATIONS AND/OR TOWING OF VEHICLES.
FURTHERMORE, ALAMEDA LITTLE LEAGUE PARENTS SHOULD RECOGNIZE THAT COURTESY TO OUR NEIGHBORS IS ESSENTIAL. ANY DISRESPECTFUL SITUATIONS THAT ARE REPORTED TO THE LEAGUE MAY RESULT IN SUSPENSIONS FROM LITTLE LEAGUE EVENTS.
THIS IS A VERY SERIOUS MATTER, AND WE MUST CORRECT THE PROBLEM IMMEDIATELY OR THE LUM SCHOOL LOT WILL BE TOTALLY CLOSED TO ALL LITTLE LEAGUE PARKING. THANK YOU FOR SPREADING THE WORD, AND FOR HELPING TO MAKE OUR LEAGUE A GREAT EXAMPLE FOR OUR KIDS BY BEING GOOD NEIGHBORS.
Wednesday, March 1
2017 Season Calendar Updated
Season Prep and Training:
Mar 05 - ALL Umpire Training - mandatory for all teams, register on-line below; check-in at NOON at the Snack Bar
Available on-line - ALL Umpire Rules Clinic Webinar
Mar 07, 6:00pm - CPR Training - Wood Middle School Multi-Purpose Room. all managers are required to be certified, parents are also invited. FREE event. Register on-line below
Regular Season:
Mar 11- Opening Day Festivities - Noon to 1:30. Ceremonies for the entire League and at least 1 game per baseball divisions A, AA, AAA, Majors
Mar 11 - Photo Day
Mar 11 - Field Prep clinic immediately following Opending Day Festivities. Meet at the main equipment shed
Mar 11 - Opening Day Games - 2:00pm on all fields
Mar 12 - All remaing teams in Majors through A division play
Mar 12 - Challenger Games begin TBD - Score Keeping Clinic, at the picnic tables at Lum School playground area
Mar 19 - First games for Farm and T-Ball
May 13 Majors Division Double Elimination Playoff Tournament Begins
May 14 Mother's Day Farm and T-Ball Rose Games
May 20 AA Division Playoff Tournament Begins
May 22 AAA and A Division Playoff Tournaments Begin
Jun 03 - Championship Games and Closing Ceremonies
Wednesday, March 15
Baseball Schedules and Standings
Baseball Schedules:
All weekday games between now and through the end of March that started at 5:30pm have been moved to a 5:00pm start time. This is for Majors, AAA, AA and A divisions.
The website is considered the source of truth for all schedules and umpiring assignments. We will not redistribute spreadsheets if schedule changes are made. Please refer to the website.
On the "Baseball Schedules" page, if you scroll to the bottom you will see links for each team in the Majors, AAA, AA and A divisions. Visiting that page is an easy way to see your team's schedule.
Baseball Standings:
Baseball Standings are based on winning percentage
Winning percentage is calculated using the formula of (Wins)/(Total Number of Games Played)
A tie game equates to a loss for both teams. The league emphasizes playing out ties.
Friday, April 7
Batting Cage Use
Pre-game use: One hour prior to game time on Majors and Minors the teams playing have use of one batting cage. Cage Designation for pre-game warmups:
- The cage closest to the snack bar is for the Minors Home team
- The free standing cage in the Majors outfield is for the Majors Home team
- The cage furthest from the Majors Home cage is the Minors Visitor cage
- The cage adjacent to the Minors Visitor cage is for use by the Majors Visitin team.
On-field Practices: During on-field practices, each team gets one cage during practice time. 4 fields, 4 cages, one tee cage per team.
Cage Designation for practices:
- The cage closest to the snack bar will be the AA cage.
- The cage adjacent to the equipment shed will be the Single A cage.
- The AAA or major teams practicing on Minor or Major get the other 2 with the tee cage.
Tuesday, April 18
ALL Little League Fields STATUS - OPEN
Little League fields: Majors, Minors, Kees (Lippert) and Anderson (Rittler).
Sunday, April 16 - ALL Fields are OPEN. All Games scheduled to be played.
Friday, March 24
ARPD Fields STATUS
All ARPD fields (Bayport East, Bayport West, Franklin, Leyedecker, Lincoln, LittleJohn, Woodstock) are CLOSED.
For future practices to see if the fields are open and playable, you can call the ARPD weather hotline at 510-747-7540. One of the problems is that ARPD does not update the hotline on Friday and on the weekends. If you get to a field and there is a closed sign, do not use it.
Tuesday, March 8
Baseball Rules Webinar Recordings
The below recordings are from the 2016 Baseball Rule Webinar. These can be accessed anytime by clicking on the links. Please review these recordings before attending the 2017 Umpiring Training.
If this is your first time using Cisco's WebEx you will need to create a FREE account. You will also need to install the WebEx extension into your browser. You do not need to purchase an upgrade. If the meeting will not start, call Cisco WebEx customer support at 1-866-863-3905. This is a toll free call.
1) Intro, Umpires and Safety
2) Bat Rules
3) Strikes, Strike Zones, Uncaught Third Strike and Balls
4) Ball in Play (Fair/Foul, Catch, Foul Ball)
5) Tag, Batted Ball Out of Play, Thrown or Pitched Ball Out of Play
6) Interference and Obstruction, Sliding to Avoid Interference
7) Infield Fly Rule, Runner Leaving Early, Appeals, Continuous Batting Order
8) Baseball Myths
9) Local Rules
Reference Materials:
2016 Little League Rules Training Presentation (download)
Basic Umpire Mechanics (download)
Top 40 Baseball Rule Myths (download)
Baseball Myths Explained (you will be taken to an external website)
Sunday, February 26
2017 Local Rules Adopted
2017 Local Rules
. Keep a hard copy in your binder and give copies to your umpires and parents.
Wednesday, February 8
ALL Field Closure Protocol
There are two sets of fields that Alameda Little League uses, Little League Fields and ARPD fields. The Little League Fields of Anderson (formerly Rittler), Kees (formerly Lippert), Majors, and Minor and are under Alameda Little League control. The ARPD fields of Bayport, Littlejohn, Leydecker, Tillman, etc are managed by Alameda Recreation and Parks are under ARPD control. We have to call this out because ALL fields may be open while ARPD fields may be closed.
Little League Fields : The league controls whether or not the fields are open. Check the Little League website the day of an event (practice or games) to see if your team's field is open. We will do our best to update the status by 2:00pm. If you have a game or practice scheduled and there is no information on this website with respect to closure assume that the practice or game will go on as scheduled and arrive at the scheduled time.
If there are adverse weather conditions during the day any decision to suspend a game is a game-time decision and will not be reported on this website. Please plan on all games starting on-time and arriving at the time your team's manager has specified.
ARPD Fields: Alameda Recreation and Parks Department manage the ARPD Fields. They have full control deciding that a field is either open or closed.The ARPD maintains a weather hotline Monday through Friday at 510-747-7540. The hotline is updated by 2:00pm. If a field has a "Field Closed" sign the field is closed, please respect it and do not use the field. It is very easy to damage a wet field. Play fields in Alameda are a scarce resource and must be treated as such.
Saturday, November 12
Little League Bat Resource Page
The holidays are approaching quickly. If you plan on a new bat for your player please visit the Little League International website regarding Bat safety. You can find a list of approved bats there.
If that link doesn't work, cut and past the following into your browser: http://www.littleleague.org/learn/equipment/baseballbatinfo.htm
This page will give you up-to-the minute info on which non-wood bats are licensed and permissible for Little League. All bats that do not appear on the approved list are not allowed in Little League play. Bats must past rigorous testing. The maximum barrel diameter is 2 1/4" and must have a bpf rating of 1.15. If you have any questions please ask a board member.
Saturday, November 12
2017 Age Chart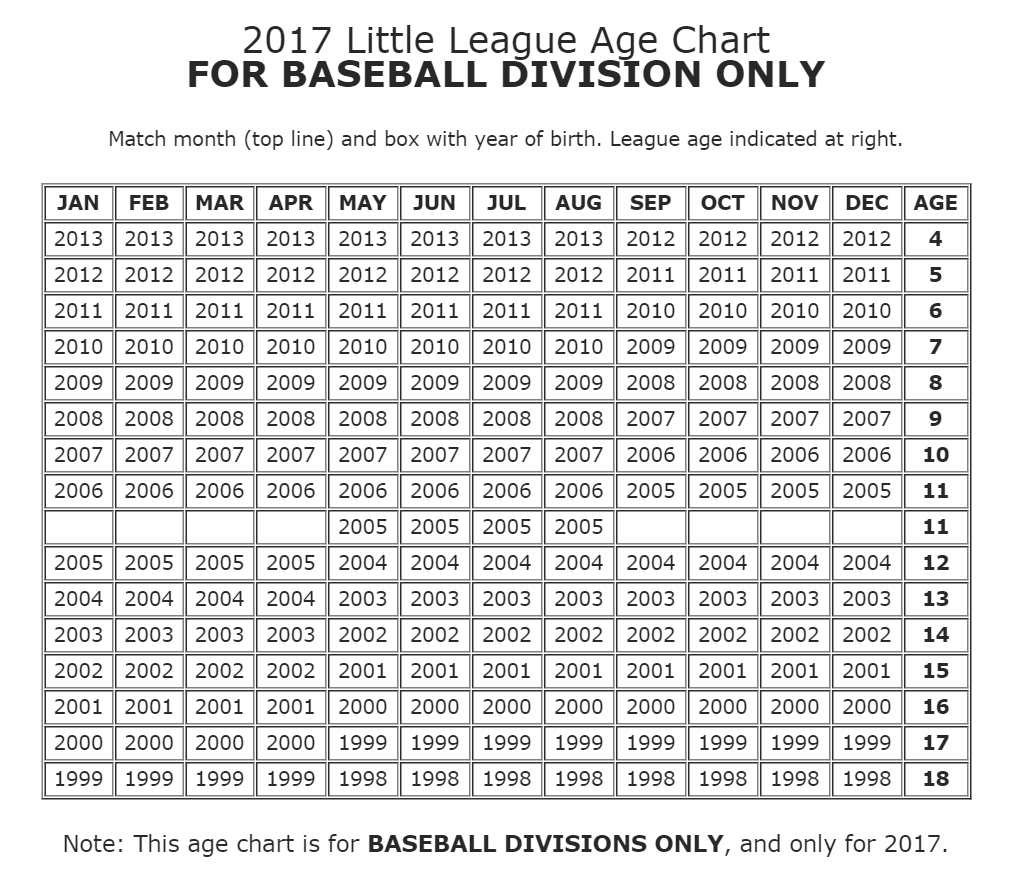 2017 Age Chart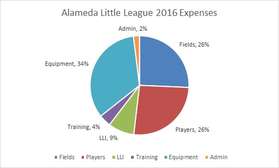 2016 Budget
Friday, October 7
Where Your Registration Fees Go
Curious as to where your registration fee goes? Alameda Little League prides itself as returning 98% of your registration fees back to the kids and Little League. The pie chart shows how the 2016 budget was allocated. We do our best to assure that dollar for dollar your children get the most out of your registration fee.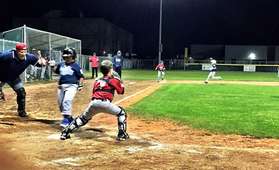 1st Night Game, March 16, 2016
Saturday, March 19
1st Night Game Played in Alameda Little League
The first regular season night game in the history of Alameda Little League was played on March 16 in the AAA division. The Lola's Chicken Shack Iron Pigs hosted the Bridge Bank Hooks. In the photo above Hooks player Daniel Hernandez is called out at home as Iron Pigs catcher Max Cohen executes a successful force out at home.
Tuesday, March 15
Definition of "CURFEW"
Curfew is referenced in the Local Rules and its definition is given here. Curfew is 9:30 on Tuesday-Thursday and 10:00 Friday & Saturday. At Curfew, the lights are extinguished.
AAA Games: In AAA games preceding a 7:15 night game there will be a "hard" stop at the 2 hour mark. All AAA games before a 7:15 night game will end precisely at 7:00pm regardless of its start time. Please review rule 4.10(d), "regulation" game and rule 4.11(d) Exception for incomplete innings.
Majors Games: No time limit may be imposed due to Little League rules, however, the lights must go out at 9:30 PM on games Tuesday through Thursday, and 10 PM on Friday and Saturday. Rule 4.10 applies.
Saturday, March 12
Roan Kees and Ben Anderson Fields Dedicated March 12, 2016
On March 12, 2016 at opening ceremonies, the diamonds used by Single A and AA divisions were dedicated to Roan Kees and Ben Anderson. Both Roan and Ben passed away last year. Each of them were long time board members. Roan was very active in youth sports programs. Ben was an inspirational coach. Surviving family members were on-hand for the dedication.
The field adjacent to Grand St. is now Roan Kees Field. The field adjacent to Lum elementary is now Ben Anderson Field. Two plaques will hang at the snack bar in their honor. League President, Ron Matthews, also presented the Kees family with a scholarship check for $8,000 which was donated to the family by members of the Alameda Little League community.
Friday, March 17
Sponsorship Donations
If you would like to help Alameda Little League serve the community in the form of a donation simply press the button below.
Sponsorship Donations
By pressing "Donate" you will be taken to a secured PayPal site for the processing of your transaction .
ORDER YOUR ENGRAVED BRICKS NOW!
As you may have heard at opening ceremonies, Alameda Little League has a great fundraiser starting up. You can purchase customized laser engraved bricks that will be installed on or around the snack bar. These bricks are similar to the custom bricks you may have seen at Disneyland. You can customize it to say your players name, your family name, your team name - whatever you'd like. This is your chance to leave a lasting memory at the Little League fields!
The cost is $100 for one brick/$150 for two. This fundraising effort is for the Alameda Little League General Fund only and will not go to any one team. All proceeds are used to keep registration fees as low as possible.
The order form can be found on the little league website, www.alamedalittleleague.org. If you have any questions, please feel free to contact me at (510) 769-6031 or via email at ron-matthews@comcast.net.
Thank you for supporting Alameda Little League!
Handout:
Brick Order Form
Tuesday, February 12
Frequently Asked Questions
Looking for more information regarding Alameda Little League, please
PRESS HERE!!!
or go to the FAQ menu option.
Wednesday, March 5
WE THANK OUR SPONSOR! PLEASE RECOGNIZE OUR SPONSORS BY PATRONIZING THEIR BUSINESSES!!
Thank You Sponsors! The 2014 sponsor list is available in the Sponsors section of this web site.
Wednesday, March 5
Information Regarding Background Checks
Some folks have been inquiring why Alameda Little League does background checks. Little League International, Inc. (LLI) takes the safety of its children participants very seriously. In 2007, Little League instituted a program where it is mandatory for all volunteers to be screened annually. LLI provides to its districts a screening service that searches through the state level sex offender registry and also a criminal records database of over 270 million records.
Volunteers have expressed concern regarding the process and how their confidential information is protected. The following is the process used as submitted by Alameda Little League President, Ron Matthews:
The system that is in place is that I am the person who receives the application, not a committee. Any documents are scanned into a PDF and shredded. I transmit them securely to our Director of Legal Affairs, Scott Hennigh (an accomplished attorney) who submits them to Lexis-Nexis for the background check. After I receive a thumbs up on each applicant the PDF's are deleted from my computer and his.

Little League International, Inc. has an entire section on its website devoted to this subject, and requires me to take this matter very seriously in order to protect our children from abuse. I am also required to sign and verify that I have checked every volunteer in the League. Here is a passage from the link provided:
Press here for summary of the LLI prescribed process --> background checks summary
Press here to be taken to the LLI website for information regarding background checks.
Wednesday, February 12
Comments or Questions Regarding This Website
If you have any comments, concerns or questions regarding this website, please email webmaster@alamedalittleleague.org.
Tuesday, March 11
Ron Matthews Receives Jefferson Award for Public Service
Our League President, Ron Matthews, is being presented by KPIX-TV Chanel 5 the Jefferson Award for Public Service. The Jefferson Award was established in 1972 by Jacqueline Kennedy Onassis, Senator Robert Taft Jr. and Sam Beard as a Nobel prize for public and community service on the national and local level. Ron is receiving the local level award. The local level Jefferson Awards recipients are ordinary people who do extraordinary things without expectation of recognition or reward. By honoring the recipients, it is the goal of the Jefferson Awards to inspire others to become involved in community and public service. The Alameda Board of Directors congratulates Ron Matthews on receiving this well deserved award and thanks him for his years of service to the families of Alameda and Little League. KPIX-TV 5 was at the Opening Ceremonies this weekend and will air a profile segment about Ron on the following dates:

KPIX-TV 5:
- 3/12 Wednesday KPIX 5 news at 6:00pm
- 3/13 Thursday KPIX 5 news at Noon
- 3/15 Saturday in KPIX 5 Early Edition (check local listings)
Radio KCBS 740AM 106.9 FM
- 3/12 Wednesday at 6:50pm, 9:40pm, 11:50pm
- 3/16 Sunday at 11:50am, 3:50pm
See the video here:
Sunday, November 1
Demystifying Alameda Little League Player Placement
The following information will help parents and players understand how teams are formed in Alameda Little League. Unlike school, all players will repeat a division (or two) at some point during their Little League career. Movement up through divisions is not and should not be viewed as a competition. Often times parents are disappointed when their player repeats a division. However, they later see that repeating a division was perhaps the best situation for their child as their child becomes a team leader, develops confidence, and increases their playing skills. If a child is moved-up too quickly, he/she may struggle, lose confidence, and no longer enjoy playing baseball and quit.
Alameda Little League's Minor/Majors divisions are: A, AA, AAA, and Majors. The age range for these divisions is 7 to 12 and player placement on a team and in a division is based on a player's performance during evaluations, as well as a coach's familiarity with a player based on the player's previous experience in Little League. T-Ball Division ages are typically 4 to 6 and Farm Division ages are typically 5 to 8. Age ranges for all divisions overlap to account for player experience, ability, maturity, and the number of teams formed based on coach availability.
In addition to Minor/Majors Alalmeda Little League has established its Intermediate Division for 13 year old players. We also have the Challenger Division for players with disabilities.
In our league, we have a T-Ball/Farm Player Agent and a Minor/Majors Player Agent. If you have questions about player placement, the league encourages you to contact the Player Agents. It is his/her job, along with the league's President, to facilitate the right placement for every player. That said, remember that Alameda Little League is a volunteer-run organization and our league has nearly 1,000 players. It takes an enormous amount of work and patience to sort the players into their respective divisions and teams so placement can take some time.
Alameda Little League Player Age
Your player's Little League age is their exact age as of August 31 of the coming year which is the end of the Little League World Series. For example, if they turn 11 on September 1, they are still considered to be Little League age 10 as they will be 10 throughout the season.
T-Ball/Farm Baseball Divisions
These are non-competitive divisions for players to learn the very basic skills and rules of baseball. Above all, it is about learning something new and having fun.
T-Ball is the starting point for all new and young players. Players hit the ball from a stationary tee. Outs and runs are not recorded. Farm is for players who have played at least one year of T-Ball and are at least 5 years of age. In Farm Ball, coaches will soft pitch to batters and outs are recorded, but score is not kept.
Major/Minor Baseball Divisions
The formation of these divisions is driven by the number of players in any age group and starts with the Majors division. All 12 year olds (12s) must be evaluated and play in the Majors Division. Each Major team has a roster of 12 players and can have no more than eight 12s. So, the number of 12s in the program drives the number of Majors teams. For example, if there are 64 -12s, then there are 8 teams, 80 - 12s, then there are 10 teams, etc. The remaining roster spots are filled by 11-year-old players. All 11s not drafted into Majors must play in AAA Division. All 10s not drafted into the AAA Division must play in the AA Division. All 9s not drafted into the AA Division must play in the A Division. There are exceptions, such as when a 12 year old who has never played baseball before can seek an exemption to play in the AAA Division.
Age and Division Guidelines
12 (Majors or exemption to AAA)
If your player has played in the lower divisions (and particularly AAA), he/she should play Majors. However, if the player fails to register on time and/or misses the evaluations, they may end up playing in the AAA Division or be placed on a waiting list. It is extremely important for 12 year olds to be registered prior to the deadline and, by rule, evaluated. If your 12 has never played baseball, has any limitations, or you feel there is a safety issue, then contact the Player Agent and seek an exemption for them to play in the AAA Division. 12s in AAA are not allowed to pitch.
11 (Majors or AAA)
If your player played AAA as a 10 year old, then as an 11 year old, he/she could be drafted into the Majors Division. As noted above, there will be limited spots for 11s in Majors.
10 (AAA or AA)
10s are not eligible for Majors. If your player played AA as a 9 year old, then as a 10 year old, they could be drafted into AAA. If your player played in the A Division as a 9 year old, there is a remote chance that they may be drafted to AAA as a 10. Our experience is that players who skip a division often have significant struggles adjusting to increased demands. Skipping divisions is not advisable. Again, it is very common to repeat a division. If you have a concern about either possibility, speak to the Player Agent before the draft.
9 (AAA, AA or A)
If your player played AA as an 8 year old, then as a 9 year old, there is a possibility they could be drafted into AAA. If your player played in the A Division as an 8, then as a 9, they could be drafted into AA.
8 (AA, A or Farm)
If your player played in the A Division as a 7 year old, then as an 8, they could be drafted into AA. If not, they repeat A. If your player played Farm as a 7 year old, then as an 8, they could be drafted into A. If not, they repeat Farm. If you have an 8 who has never played baseball before, they may be more comfortable learning the game in the Farm Division, however, they should still be evaluated and considered for the A draft (or possibly AA draft).
7 (A or Farm)
If your player was in Farm as a 6, then as a 7, they could possibly be drafted into A. In order for this to occur, your 7 year old must be evaluated. If the player is not evaluated, they will repeat the Farm Division. If you plan on playing Farm only, then there is no need to have your player evaluated for the A draft.
6 (Farm/T-Ball)
6 year olds should generally play in Farm. They are not eligible to be drafted into the A division. If they never played baseball, you could consider the T-Ball division, however they are not precluded from starting in Farm at age 6.
5 (Farm/T-Ball)
A 5 year old who played T-Ball at 4 years of age can either play T-Ball or Farm. If they did not previously play T-Ball, then a 5 must play T-Ball.
4 (T-Ball)
T-Ball only. No exceptions.
4 - 18 (Challenger Division)
A player with mental or physical challenges may participate in the league's Challenger Division. All ages may play.