Alameda Little League: News
Monday, February 18
New Website
If you reached this website by keying in www.alamedalittleleague.org you need to close this page and clear your browser cache.
Our new website is live! Follow this link to the new site:
Alameda Little League New Website
Please bear with us while we iron out the kinks. You do not need to create a log in to access the new site.
Saturday, February 16
Registration is CLOSED
Registration for all baseball programs is now closed. Registration for the 2020 season will open in September!
Monday, February 18
Field Status
Please follow this link to see new website Field Status.
Saturday, January 19
2019 Sponsor and Volunteer Appreciation Night
Press the headline above to purchase tickets.
Thursday, January 24
Neptune Pearl Spring Break Camp
Press the headline link to register.
Sunday, October 21
2019 Alameda Little League Calendar
Pre-Season:
Player Evaluations
- Jan 12-13 - Player Evaluations; times by age to be posted
- Jan 26 - Player Evaluations Make-Up Date
Baseball Drafts
- Jan 29 - Majors Draft
- Jan 31 - AAA Draft
- Feb 5 - AA Draft
- Feb 7 - A Draft
- Feb 18 - Farm & T-Ball Managers Meeting and teams formed; Time and Location TBD

- March 1 - Sponsor/Volunteer Recognition Party
Training:
- Mar 2 - Umpire Training (please refer to the new website to register and for more information)
- Mar 14 - CPR Training - Location TBD. All managers are required to be certified, parents are also invited. FREE event.
- Mar 09 - Field Prep clinic immediately following Opending Day Festivities. Meet at the main equipment shed
Regular Season:
- Mar 09 - Opening Day Festivities - NOON to 1:30. Teams should arrive at 11:30 to set up for the parade. Ceremonies for the entire League and at least 1 game per baseball divisions A, AA, AAA, Majors
- Mar 09 - Photo Day- teams will be notified of times to report
- Mar 09 - Opening Day Games - 2:00pm on all fields; Majors play at 6:30pm
- Mar 10 - Full slate of games for Majors through A division
- Mar 17 - First games for Farm and T-Ball
- Mar TBD - Home Challenger Games begin (schedule will be posted on the Challenger page)
- Mar 31 - Apr 7 - AUSD Spring Break (no games)
- May TBD - Photo Day Make-Up at the fields
- May TBD - Majors Division Double Elimination Playoff Tournament Begins
- May 10 - A's Fireworks Game
- May 12 - Mother's Day Farm and T-Ball Rose Games
- May TBD - AA and AAA Divisions Single Elimination Playoff Tournaments Begin
- May TBD - A Division Playoff Tournament Begins
- Jun 01 - Championship Games @9:00AM
- Jun 01 - Closing Ceremonies @NOON on the Minors field
Wednesday, October 24
Intermediate 50 70 Division 2019 Calendar
The Intermediate 50/70 Division is part of Little League and starts its play earlier than the other divisions. This is becaues its world series is held in July. Intermediate plays its games at Lyedecker Park. This division is primarily for those players who have graduated Majors. Registration closes January 11th at 8:00pm
Below are key dates:
Jan. 11 - Registration Closes
Jan. 12 - 4:00pm to 5:00pm - Evaluations (Alameda Litle League Fields)
Jan. 2019 - Team Formation
Feb. 2019 - Practices Begin
Late February / Early March 2019 - Games Begin


Sunday, November 4
MLBPAA Players and Coaches Clinic Great Success
The Major Leage Baseball Players Alumni Association held their free Legends For Youth Clinic and Coaches clinces on Saturday, Nov. 3. Nearly 100 players and coaches attended. Former MLB players clinic coaches: Erik Schullstrom - Twins, Jalal Leach - Giants, Tom Urbani - Cardinals, Mike Felder - Giants, Tim Fortugno - Angels, Rick Rodriguez - A's, Shooty Babitt - A's, Shawon Dunston - Giants, and Noah Lowry - Giants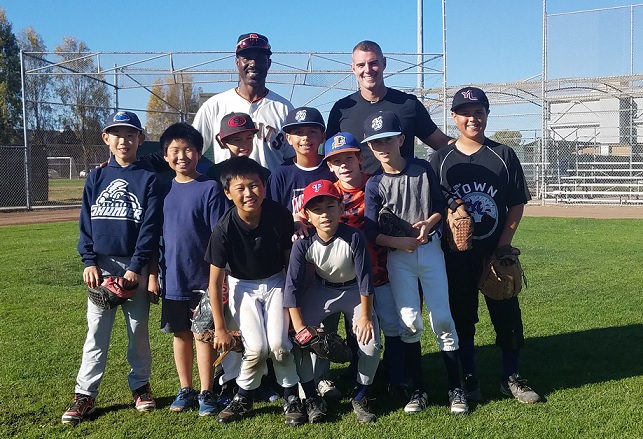 Shawon Dunston and Noah Lowry
Wednesday, June 6
Three Alameda Little League Alumni Drafted in 2018 MLB Amatuer Draft
Three former Alameda Little League players were drafted in the 2018 Major League Baseball Amatuer Draft!!!
Congratulations go out to Osiris Johnson, Michael Perri and Kaleo Johnson.
Osiris Johnson, a 2nd round pick and the 53rd overall pick by the Miami Marlins. Osiris just finished his Senior year at Encinal High School.
Michael Perri was a 21st round pick by the St Louis Cardinals. Michael graduated from Bishop O'Dowd High School and graduated this year from the University of San Francisco.
Kaleo Johnson was drafted in the 32nd Round by the Tampa Bay Rays. Kaleo a graduate of Encinal High School just finished his junior year at Montana State University Billings where he became the first player in school history to be named a consensus All-American!
Congratulations again to these former Alameda Little League players and their families on a dream come true!
Sunday, January 7
Batting Cage Use
PRE-SEASON ON-FIELD PRACTICES
During PRE-SEASON on-field practices, each team gets one cage during practice time. 4 fields, 4 cages, one cage per team.
Single A Field Pre-Season Practice Cage - Major Home - free standing cage in Majors outfield adjacent to equipment shed
AA Field Pre-Season Cage - Minor Home - free standing cage near snack bar in Minor outfield;
Majors Field Pre-Season Practice Cage - Major Away - cage furthest away from Major home in the cluster of three cages in the Majors outfield;
Minors Field Pre-Season Practice Cage - Minor Away - cage in the middle of the cluster of three cages in the Majors outfield.
T Cage - cage nearest Major Home. That one is first come, first serve. Please leave it open for walk-ups.
REGULAR SEASON
Pre-game use: One hour prior to game time on Majors and Minors the teams playing have use of one batting cage.Cage Designation for pre-game warmups:
- The cage closest to the snack bar is for the Minors Home team
- The free standing cage in the Majors outfield is for the Majors Home team
- The cage furthest from the Majors Home cage is the Minors Visitor cage
- The cage adjacent to the Minors Visitor cage is for use by the Majors Visitin team.
A reservation calendar will be built out on the Fields share by March 10.

Friday, May 12
Alameda Little League Store
Get your official Alameda Little League merchandise here at the ALL On-Line Store or by clicking on the image above while benefiting ALL! Little League International has partnered with PrepSports for this unique opportunity that benefits local leagues. Alameda Little League receives 15% of sales.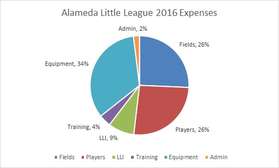 2016 Budget
Friday, October 7
Where Your Registration Fees Go
Curious as to where your registration fee goes? Alameda Little League prides itself as returning 98% of your registration fees back to the kids and Little League. The pie chart shows how the 2016 budget was allocated. We do our best to assure that dollar for dollar your children get the most out of your registration fee.
Tuesday, March 15
Definition of "CURFEW"
Curfew is referenced in the Local Rules and its definition is given here. Curfew is 9:30 on Tuesday-Thursday and 10:00 Friday & Saturday. At Curfew, the lights are extinguished.
AAA Games: In AAA games preceding a 7:15 night game there will be a "hard" stop at the 2 hour mark. All AAA games before a 7:15 night game will end precisely at 7:00pm regardless of its start time. Please review rule 4.10(d), "regulation" game and rule 4.11(d) Exception for incomplete innings.
Majors Games: No time limit may be imposed due to Little League rules, however, the lights must go out at 9:30 PM on games Tuesday through Thursday, and 10 PM on Friday and Saturday. Rule 4.10 applies.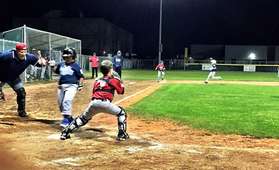 1st Night Game, March 16, 2016
Saturday, March 19
1st Night Game Played in Alameda Little League
The first regular season night game in the history of Alameda Little League was played on March 16 in the AAA division. The Lola's Chicken Shack Iron Pigs hosted the Bridge Bank Hooks. In the photo above Hooks player Daniel Hernandez is called out at home as Iron Pigs catcher Max Cohen executes a successful force out at home.
Saturday, March 12
Roan Kees and Ben Anderson Fields Dedicated March 12, 2016
On March 12, 2016 at opening ceremonies, the diamonds used by Single A and AA divisions were dedicated to Roan Kees and Ben Anderson. Both Roan and Ben passed away last year. Each of them were long time board members. Roan was very active in youth sports programs. Ben was an inspirational coach. Surviving family members were on-hand for the dedication.
The field adjacent to Grand St. is now Roan Kees Field. The field adjacent to Lum elementary is now Ben Anderson Field. Two plaques will hang at the snack bar in their honor. League President, Ron Matthews, also presented the Kees family with a scholarship check for $8,000 which was donated to the family by members of the Alameda Little League community.
ORDER YOUR ENGRAVED BRICKS NOW!
As you may have heard at opening ceremonies, Alameda Little League has a great fundraiser starting up. You can purchase customized laser engraved bricks that will be installed on or around the snack bar. These bricks are similar to the custom bricks you may have seen at Disneyland. You can customize it to say your players name, your family name, your team name - whatever you'd like. This is your chance to leave a lasting memory at the Little League fields!
The cost is $100 for one brick/$150 for two. This fundraising effort is for the Alameda Little League General Fund only and will not go to any one team. All proceeds are used to keep registration fees as low as possible.
The order form can be found on the little league website, www.alamedalittleleague.org. If you have any questions, please feel free to contact me at (510) 769-6031 or via email at ron-matthews@comcast.net.
Thank you for supporting Alameda Little League!
Handout:
Brick Order Form
Wednesday, March 5
Information Regarding Background Checks
Some folks have been inquiring why Alameda Little League does background checks. Little League International, Inc. (LLI) takes the safety of its children participants very seriously. In 2007, Little League instituted a program where it is mandatory for all volunteers to be screened annually. LLI provides to its districts a screening service that searches through the state level sex offender registry and also a criminal records database of over 270 million records.
Volunteers have expressed concern regarding the process and how their confidential information is protected. The following is the process used as submitted by Alameda Little League President, Ron Matthews:
The system that is in place is that I am the person who receives the application, not a committee. Any documents are scanned into a PDF and shredded. I transmit them securely to our Director of Legal Affairs, Scott Hennigh (an accomplished attorney) who submits them to Lexis-Nexis for the background check. After I receive a thumbs up on each applicant the PDF's are deleted from my computer and his.

Little League International, Inc. has an entire section on its website devoted to this subject, and requires me to take this matter very seriously in order to protect our children from abuse. I am also required to sign and verify that I have checked every volunteer in the League. Here is a passage from the link provided:
Press here for summary of the LLI prescribed process --> background checks summary
Press here to be taken to the LLI website for information regarding background checks.
Friday, March 17
Sponsorship Donations
If you would like to help Alameda Little League serve the community in the form of a donation simply press the button below.
Sponsorship Donations
By pressing "Donate" you will be taken to a secured PayPal site for the processing of your transaction .
Saturday, June 2
WE THANK OUR SPONSOR! PLEASE RECOGNIZE OUR SPONSORS BY PATRONIZING THEIR BUSINESSES!!
Thank You Sponsors! The 2014 sponsor list is available in the Sponsors section of this web site.
Wednesday, February 12
Comments or Questions Regarding This Website
If you have any comments, concerns or questions regarding this website, please email webmaster@alamedalittleleague.org.
Tuesday, March 11
Ron Matthews Receives Jefferson Award for Public Service
Our League President, Ron Matthews, is being presented by KPIX-TV Chanel 5 the Jefferson Award for Public Service. The Jefferson Award was established in 1972 by Jacqueline Kennedy Onassis, Senator Robert Taft Jr. and Sam Beard as a Nobel prize for public and community service on the national and local level. Ron is receiving the local level award. The local level Jefferson Awards recipients are ordinary people who do extraordinary things without expectation of recognition or reward. By honoring the recipients, it is the goal of the Jefferson Awards to inspire others to become involved in community and public service. The Alameda Board of Directors congratulates Ron Matthews on receiving this well deserved award and thanks him for his years of service to the families of Alameda and Little League. KPIX-TV 5 was at the Opening Ceremonies this weekend and will air a profile segment about Ron on the following dates:

KPIX-TV 5:
- 3/12 Wednesday KPIX 5 news at 6:00pm
- 3/13 Thursday KPIX 5 news at Noon
- 3/15 Saturday in KPIX 5 Early Edition (check local listings)
Radio KCBS 740AM 106.9 FM
- 3/12 Wednesday at 6:50pm, 9:40pm, 11:50pm
- 3/16 Sunday at 11:50am, 3:50pm
See the video here:
Sunday, November 1
Demystifying Alameda Little League Player Placement
The following information will help parents and players understand how teams are formed in Alameda Little League. Unlike school, all players will repeat a division (or two) at some point during their Little League career. Movement up through divisions is not and should not be viewed as a competition. Often times parents are disappointed when their player repeats a division. However, they later see that repeating a division was perhaps the best situation for their child as their child becomes a team leader, develops confidence, and increases their playing skills. If a child is moved-up too quickly, he/she may struggle, lose confidence, and no longer enjoy playing baseball and quit.
Alameda Little League's Minor/Majors divisions are: A, AA, AAA, and Majors. The age range for these divisions is 7 to 12 and player placement on a team and in a division is based on a player's performance during evaluations, as well as a coach's familiarity with a player based on the player's previous experience in Little League. T-Ball Division ages are typically 4 to 6 and Farm Division ages are typically 5 to 8. Age ranges for all divisions overlap to account for player experience, ability, maturity, and the number of teams formed based on coach availability.
In addition to Minor/Majors Alalmeda Little League has established its Intermediate Division for 13 year old players. We also have the Challenger Division for players with disabilities.
In our league, we have a T-Ball/Farm Player Agent and a Minor/Majors Player Agent. If you have questions about player placement, the league encourages you to contact the Player Agents. It is his/her job, along with the league's President, to facilitate the right placement for every player. That said, remember that Alameda Little League is a volunteer-run organization and our league has nearly 1,000 players. It takes an enormous amount of work and patience to sort the players into their respective divisions and teams so placement can take some time.
Alameda Little League Player Age
Your player's Little League age is their exact age as of August 31 of the coming year which is the end of the Little League World Series. For example, if they turn 11 on September 1, they are still considered to be Little League age 10 as they will be 10 throughout the season.
T-Ball/Farm Baseball Divisions
These are non-competitive divisions for players to learn the very basic skills and rules of baseball. Above all, it is about learning something new and having fun.
T-Ball is the starting point for all new and young players. Players hit the ball from a stationary tee. Outs and runs are not recorded. Farm is for players who have played at least one year of T-Ball and are at least 5 years of age. In Farm Ball, coaches will soft pitch to batters and outs are recorded, but score is not kept.
Major/Minor Baseball Divisions
The formation of these divisions is driven by the number of players in any age group and starts with the Majors division. All 12 year olds (12s) must be evaluated and play in the Majors Division. Each Major team has a roster of 12 players and can have no more than eight 12s. So, the number of 12s in the program drives the number of Majors teams. For example, if there are 64 -12s, then there are 8 teams, 80 - 12s, then there are 10 teams, etc. The remaining roster spots are filled by 11-year-old players. All 11s not drafted into Majors must play in AAA Division. All 10s not drafted into the AAA Division must play in the AA Division. All 9s not drafted into the AA Division must play in the A Division. There are exceptions, such as when a 12 year old who has never played baseball before can seek an exemption to play in the AAA Division.
Age and Division Guidelines
12 (Majors or exemption to AAA)
If your player has played in the lower divisions (and particularly AAA), he/she should play Majors. However, if the player fails to register on time and/or misses the evaluations, they may end up playing in the AAA Division or be placed on a waiting list. It is extremely important for 12 year olds to be registered prior to the deadline and, by rule, evaluated. If your 12 has never played baseball, has any limitations, or you feel there is a safety issue, then contact the Player Agent and seek an exemption for them to play in the AAA Division. 12s in AAA are not allowed to pitch.
11 (Majors or AAA)
If your player played AAA as a 10 year old, then as an 11 year old, he/she could be drafted into the Majors Division. As noted above, there will be limited spots for 11s in Majors.
10 (AAA or AA)
10s are not eligible for Majors. If your player played AA as a 9 year old, then as a 10 year old, they could be drafted into AAA. If your player played in the A Division as a 9 year old, there is a remote chance that they may be drafted to AAA as a 10. Our experience is that players who skip a division often have significant struggles adjusting to increased demands. Skipping divisions is not advisable. Again, it is very common to repeat a division. If you have a concern about either possibility, speak to the Player Agent before the draft.
9 (AAA, AA or A)
If your player played AA as an 8 year old, then as a 9 year old, there is a possibility they could be drafted into AAA. If your player played in the A Division as an 8, then as a 9, they could be drafted into AA.
8 (AA, A or Farm)
If your player played in the A Division as a 7 year old, then as an 8, they could be drafted into AA. If not, they repeat A. If your player played Farm as a 7 year old, then as an 8, they could be drafted into A. If not, they repeat Farm. If you have an 8 who has never played baseball before, they may be more comfortable learning the game in the Farm Division, however, they should still be evaluated and considered for the A draft (or possibly AA draft).
7 (A or Farm)
If your player was in Farm as a 6, then as a 7, they could possibly be drafted into A. In order for this to occur, your 7 year old must be evaluated. If the player is not evaluated, they will repeat the Farm Division. If you plan on playing Farm only, then there is no need to have your player evaluated for the A draft.
6 (Farm/T-Ball)
6 year olds should generally play in Farm. They are not eligible to be drafted into the A division. If they never played baseball, you could consider the T-Ball division, however they are not precluded from starting in Farm at age 6.
5 (Farm/T-Ball)
A 5 year old who played T-Ball at 4 years of age can either play T-Ball or Farm. If they did not previously play T-Ball, then a 5 must play T-Ball.
4 (T-Ball)
T-Ball only. No exceptions.
4 - 18 (Challenger Division)
A player with mental or physical challenges may participate in the league's Challenger Division. All ages may play.