Alameda Little League: News
Thursday, November 16
Information With Respect to 12 Year Olds Planning to Play in 2018
Dear Alameda Little League Parents and Caregivers of "League Age" 12 Year-Olds:
I have been advised that Little League International has recognized the problems that Leagues across the nation are experiencing due to the age changes that were made. As a result, the International Charter Committee of Little League has decided that the rules pertaining to team composition by age are hereby waived for the 2018 season. Leagues will now be allowed to form a Major Division team with more than eight 12 year-olds, and the League will be able to have more than 10 teams without splitting the League, which was not allowed until today.
What does this mean for your 12 year old player? Simply stated, you will now have the choice to register in either the Intermediate Division (50/70) OR the Major Division. Your player may choose now, whereas before today, according to the rules, Alameda Little League would have had to cap the number of teams and players on teams.
I am certainly pleased to share this news, as the board of directors is very sensitive to the fact that many players have spent the past 7 years waiting to have the opportunity to play in the Major Division, and will now have the choice to do so.
In an effort to help parents and caregivers make the right choice for their child, as well as themselves, the League will host an informational meeting regarding this issue on Tuesday, November 28th. Location and time TBD. Be sure to check the League's website for more information.
We apologize for the prior news releases and the frustration and disappointment it may have caused. If any parent or caregiver has any questions, I encourage you to call me directly at the number below.
Ron Matthews, President
Alameda Little League
510-915-6031
Thursday, November 16
2018 Season Calendar
Season Prep and Training:
2017
- Nov 28 - 12 Year Old Player Informational Meeting, time and location TBD
- Dec XX - Intermediate 50/70 Division Evaluations
2018
- Jan XX - Winter Manager Meetings
- Jan 20-21 - Baseball Divisions (Single A through Majors) Evaluations
- Jan 27-28 - Baseball Divisions Evaluations Make-Up Dates
- Jan 29-Feb 02 - Majors and AAA Divisions Drafts (exact dates, times and locations TBD)
- Feb 05-Feb 09 - AA-A Divisions Drafts (exact dates, times and locations TBD)
- Mar XX - ALL Umpire Training - mandatory for all teams, register on-line below; check-in at NOON at the Snack Bar
Available on-line - ALL Umpire Rules Clinic Webinar
- Mar XX, 6:00pm - CPR Training - Wood Middle School Multi-Purpose Room. all managers are required to be certified, parents are also invited. FREE event. Register on-line below
Regular Season:
- Mar XX- Opening Day Festivities - Noon to 1:30. Ceremonies for the entire League and at least 1 game per baseball divisions A, AA, AAA, Majors
- Mar XX - Photo Day
- Mar XX - Field Prep clinic immediately following Opending Day Festivities. Meet at the main equipment shed
- Mar XX - Opening Day Games - 2:00pm on all fields
- Mar XX - All remaing teams in Majors through A division play
- Mar XX - Challenger Games begin TBD - Score Keeping Clinic, at the picnic tables at Lum School playground area
- Mar XX - First games for Farm and T-Ball
- May XX Majors Division Double Elimination Playoff Tournament Begins
- May XX Mother's Day Farm and T-Ball Rose Games
- May XX AA Division Playoff Tournament Begins
- May XX AAA and A Division Playoff Tournaments Begin
- Jun XX - Championship Games and Closing Ceremonies
Note: all dates displayed as 'XX' are tentative and will be updated in January
Thursday, November 16
2018 New BAT Rules
Little League International has changed its bat rules for 2018.
Please note that as of January 1, 2018, the new USA Baseball Bat Standard will be implemented. Little League-approved baseball bats that are approved for use for the 2017 season will no longer be acceptable for use in any Little League game or activity starting on January 1, 2018.
The new bat standard applies to the following divisions:
- Baseball Single A through Majors along with T-Ball and Farm
- Intermediate 50/70
- Challenger

There is some really great content here that explains why the change and the benefit. If you are looking to purchase, especially with the holidays coming up we advise visiting the Little League International website and learn about the new standard.
http://www.littleleague.org/learn/equipment/baseballbatinfo.htm Little League Bat Info page.
Thursday, November 16
Estuary Park Update
Read about the new Estuary Park in the Alameda Patch. Alameda Little League is helping to build the park. The Challenger Division will play on the new turf baseball field. The playfields are nearing completion. Click to go to Alameda Patch: Estuary Park to find out more.
Estuary Park will officially open soon. ALL is looking forward to the new season.
Tuesday, November 7
West Coast Christmas Sale in November
Sale Dates 11/17-11/28
West Coast Sporting Goods is celebrating in November~
In addition to the store wide 10 day sale, we will be sending a series of daily email offers listing specific dates with SUPER SPECIAL pricing. A total of 12 SUPER SPECIAL deals will be advertised over the 12 Days of Christmas (above and beyond our regular sale prices). That daily price will be for that one advertised day only! Please be sure to open all the emails to take advantage of your 12 Super Daily Deals. New Clearance Outlet Area The upstairs is being converted into a new Clearance Outlet.
West Coast Sporting Goods
1855 Alvarado Street
San Leandro, CA 94577
Thursday, September 21
Calling All Manager Candidates!
Calling all Manager Candidates! Alameda Little League is ramping up for the 2018 season. If you are interested in managing a team please complete a volunteer application and email a completed to version to league President, Ron Matthews, at ron-matthews@comcast.net.
Managing a team can be a very rewarding experience.We have a great program here at Alameda Little League. Come be part of it. Annualy we have close to 1,000 of our area's youth playing baseball. To continue this we need your help. We cannot field teams without managers.
Please email me today at ron-matthews@comcast.net and volunteer to Manage a team in one of these Divisions. Your decision is very important to the League, and to the kids who look forward to growing along with their peers. Thanks for your help!
If you have never completed a volunteer application click here for the New Volunteer Application Form.
Those who are returning volunteers need only complete the Returning Volunteer Application Form.
Monday, September 18
Notice of Annual Meeting
The Annual meeting of the Alameda Little League Board of Directors will be held September 26, 2017 at 6pm at 2437 Santa Clara. Remax Real Estate offices. This is an open meeting. All are invited to attend.
Alameda Little League Board of Directors
Tuesday, August 22
Eagle Scouts Dugout Cubbies Project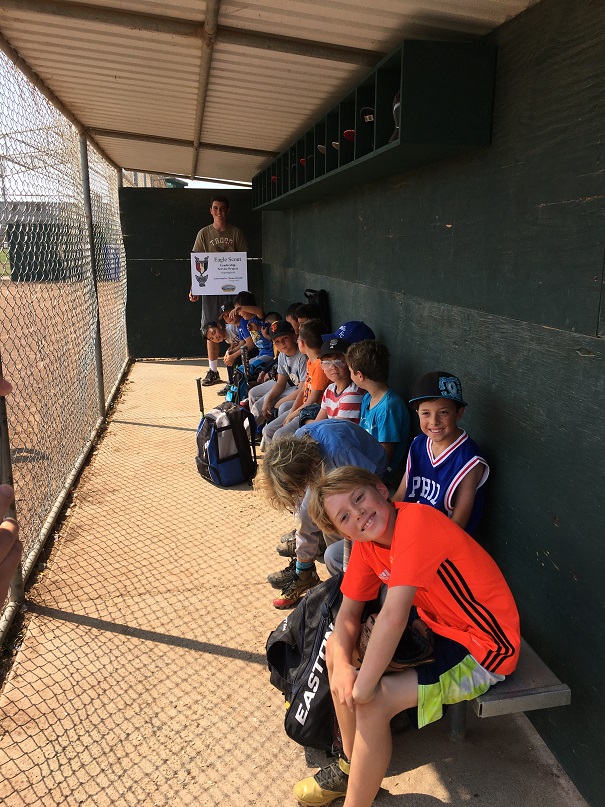 Former Little League player and Eagle Scout candidate, Mike Proffitt, is starting a project to help Alameda Little League. His project is to make Wooden Helmet Cubbies in each of the four dugouts at the major and minor league fields for players and coaches to put helmets and lineup cards in. His target completion is the beginning of the 2018 Little League season. He is volunteering his time but needs your help to purchase the materials. Mike is looking for a simple $10 donation. The project is estimated at costing approximatel $1000. You can donate through either of the PayPal buttons below or send a check made out to Alameda Little League at 2857 Sea View Parkway, Alameda, CA 94502.

Project funding is over 1/3 of the way there! Mike has received over $300 in donations. Please help! Your kids will benefit directly from what Mike and his fellow scouts are doing for the league. Some of the challenges every manager faces is players misplacing their equipment and tripping over batting helmets. "I can't find my hat. I can't find my glove." The cubbies will help eliminate that.

Help turn the thermometer "green" by donating. Fundraising is part of his project so please help him out. We will update the thermometer weekly. As of August 31, Mike has raised $380! Please help out!

Please donate early and often!

Provided by CoolFundraisingIdeas.net



| | | |
| --- | --- | --- |
| Donate $10 | | Donate More Than $10 |
Saturday, August 19
2018 Registration is OPEN
Registration for the 2018 Alameda Little League Season is now OPEN for ALL Divisions. To register your player(s) click on the <2018 Registration> button above or go to the "Register for 2018 Baseball!" menu option above. Rates are the same as last year.
As part of our commitment to building the best possible baseball fields for our kids, the following enhancements have been made to our fields:
• Windscreen fencing cover on the major and minor diamonds
• New fencing caps on both fields
• New home run fences for the Anderson and Kees diamonds at Rittler Park
• New infield dirt on all fields
• Enhanced drainage on fields to allow rain water to drain faster
• New John Deere Gator for maintenance needs
Use the age chart below to determine your child's "league age".
Tuesday, August 22
Operation Dress Up Thank You
Dear Alameda Little League Families,
Thank you for your generous donations of recycled baseball equipment. This year, Operation Dress Up donated to Pitch in for Baseball in conjunction with The Rod Dedeaux Foundation in Los Angeles. We also made a donation to Horgacito San Juan Bosco, an orphanage in Costa Rica. Both organizations were very grateful in receiving the baseball uniforms and equipment. See you again in January during evaluations.
Photo from left to right, Tristan Wiley, '18, Ryan Slez '18, Max Swinderman '18, Bryan Woo '18, Chris Regan '18, and Nate Low '18
Thursday, August 17
Little League World Series Starts Today
The Little League World Series starts today with Game 1, Mexico Region vs. Latin America Region at 1:00pm today. ESPN will be televising the games. You can also follow the action by following this link to the
2017 Little League World Series
.
Monday, July 24
Northern California Division Tournament Results
Canyon Creek Little League Northern California Division Champions
Alameda hosted the Northern California Division Tournament. Thank you to all of the volunteers who helped make this a big success. We received nothing but compliments from our guests.
The Northern California Division is comprised of over 350 Little Leagues. Canyon Creek will now represent Northern California in the West Regionals in San Bernadino. The winner of the West Regional will go onto the Little League World Series in Williamsport, PA.
Follow the West Region games here: 2017 Little League World Series West Region. West Region games begin Sunday, August 6. World Series games are August 17 through 27.
The Intermediate 50/70 Division World Series runs July 30 through August 6 in Livermore 2017 Little League Intermediate 50/70 World Series.
You can Google "Max Baer Park Livermore" for directions to the 50/70 WS field.
Division Wrap-Up:
Northern California Division Tournament Participating Teams:
Section 1 Champions Tiburon Peninsula (District 3)
Section 2 Champions Chico Central (District 47)
Section 3 Champions Canyon Creek (San Ramon) (District 57)
Section 4 Champions El Dorado Hills (District 54)
Section 5 Champions Willow Glen (San Jose) (District 12)
Section 6 Champions Morada (Stockton) (District 8)
Section 7 Champions River Park (Fresno) (District 10)
Tournament Schedule/Results: (updated daily)
Opening Round (Saturday, July 22):
Game 1 - Chico Central (2) 4, Morada (6) 1
Game 2 - El Dorado Hills (4) 7, Willow Glen (5) 1
Game 3 - Canyon Creek (3) 5, River Park (7) 4
Winner's Bracket Semifinals (Sunday, July 23):
Game 4 - Tiburon Peninsula (1) 14, Chico Central 4 (5 innings)
Game 5 - Canyon Creek 11, El Dorado Hills 6
Elimination Bracket - Round 1 (seven teams remain) (Sunday, July 23):
Game 6 - River Park 9, Willow Glen 4 (elim)
Elimination Bracket Quarterfinals (six teams remain) (Monday, July 24):
Game 7 - Morada 9, El Dorado Hills 8 (8 innings, elim.)
Game 8 - River Park 13, Chico Central 1 (4 innings elim.)
Elimination Bracket Semifinal (four teams remain) (Tuesday, July 25):
Game 10 - River Park 9, Morada 8 (elim)
Winner's Bracket Final (Tuesday, July 25):
Game 9 - Canyon Creek 10, Tiburon Peninsula 5 (moves to elimination bracket)
Elimination Bracket Final (three teams remain) (Wednesday, July 26):
Game 11 - River Park 3, Tiburon Peninsula 2 (elim.)
Championship Series:
Game 12 - Canyon Creek 13, River Park 1 in 4 innings (TITLE) (7/27 - 7:00 p.m.)
Game 13 - If necessary (7/28 - 7:00 p.m.)
Tuesday, July 25
Saturday, July 15
Alameda All Star Updates
Please congratulate the Alameda All Star teams on their accomplishments this post season.
The 13 year olds won both the District 4 title and Section 1 title. They came to within one game of winning Northern California.
The 12 year olds won the District 4 title and played two rounds in the Section 1 tournament.
The 11 year old Blue team won the District 4 title and played three rounds in the Section 1 tournament.
We are proud of all of you for representing Alameda so well.
Wednesday, July 5
11 Blue win District 4
Monday, July 3
Alameda 12's Team is District 4 Champion
Wednesday, June 28
Alameda Intermediate Team Wins Section 1
Alameda Little League Intermediate Division won the Section 1 championship tonight by beating Mark West Little League 10 to 7 in a sweep of the 5 Sections in our region. Alameda advances to the Northern California Championship Series hosted by Evergreen Little League in San Jose.
Wednesday, June 21
Alameda Intermediate Team is District 4 Champion
Monday, June 12
TOC Action
The Minors and Majors Divisions Tournament of Champions play kicked off Saturday, June 10. TOCs are a single elimination tournament.

Major Dvision
Alameda Yankees 8, Clayton Valley 2
Alameda 2, Continental 6 - Alameda eliminated
Minor Division
AAA
Alameda Mudcats 13, Richmond 5
Alameda Mudcats 8, Continental 0
Alameda to play South Oakland at Concord American at 5:30 on 6/14
AA
Alameda Blue Rocks' game was cancelled today
Alameda 13, North Oakland 4
Alameda to play Walnut Creek at Concord American at 5:30 on 6/14
To find game locations, follow this link to the Little League District 4 page: District 4 Fields
District 4 Tournament of Champions page:
District 4 TOC Schedule
Friday, June 9
2017 Intermediate Division - Alameda TOC Champs!
The Alameda Intermediate Team is District 4 Champions once again this year. Alameda defeated Walnut Creek to win the pennant.
June 8 - Alameda 11, Walnut Creek 1
June 6 - Alameda 19, North Oakland 7
June 3 - Alameda 14, South Oakland 2
Monday, June 5
2017 Graduates
Congratulations 12 Year Old Graduates on your Little League career. Alameda Little League hopes you enjoyed your years with us and hope to see you return next year in the Intermediate 50/70 Division.
Pictures from Closing Ceremonies of the Division Champions and Runners-Up may be found on the 2017 Champions and Awards page.
Sunday, June 4
2017 ALL STARS
All Star Players have been selected. Congratulations players! Best of luck to you in the upcoming tournaments.
| | | | | |
| --- | --- | --- | --- | --- |
| 12 International | 11 Blue | 11 Red | 10 Blue | 9-10 Red |
| | | | | |
| RYAN CHANG | JAMES ALEXANDER | ETHAN GONZALEZ* | JAREN BEENE | MATAN ANTEBI |
| OWEN CONWAY | COLE ANEY | CRUZ KELLY | ISAIAH DUMONT | LUCAS ARAUJO |
| THOMAS COOKE | NICOLAS ARAUJO | WILLIAM KELLY | ROBERT FINTLAND | KYLE COOKE |
| MAX DEMMLER | MAX COHEN | MATTHEW LEE | ZION MOORE | EVAN FURUICHI |
| OWEN FIRESTONE | SCANLAN DERRICK | FIONNTAN MEAGHER | JULIAN MUNOZ | HENRY GARCIA |
| CASEY GORMAN-MILLER | EVAN GREEN | COLLIN NG | MARCELO QUIRK | EZEKIEL LEE |
| JJ JACKSON | WILLIAM HESTER | ANGUS OLEAS | JUSTICE REED | DYLAN MANN |
| TERU KHAN | MATEO LEVETON | WILLIAM ROIZEN | TURNER SMITH | WILL MERRITT |
| LOUS LICEA | DAVID MCNAMARA | ELI SLEZ | SANDOR STRONG | MARCELO MOLINA-ACED |
| LEO MCMAHON | OWEN MERRITT* | JADEN SMITH | MAXWELL STUART | ZACHARY PIPPEN |
| DYLAN STEWART | QUENTIN MORELAND | HUDSON TAYLOR | KELVIN STUART | TAM PULLMAN-LETOURNEAU |
| ETHAN THOMAS | LEO PAREDES | MATTHEW THORNTON | ANDERS VIEAUX | DAWSON STEWART |
| ANDY TRUONG | SAGE ROY-BURMAN | PABLO VESSALI | TAYLOR WEHMANN | GRANT TOMONO |
| HENRY WEICHART | WILLIAM THOMPSON | DILLON WONG | BRAYDAN WHITE | HUNTER WILLETT |
| | KAI SHIMP | | | |
| Mgr. Nate Firestone | Mgr. James Araujo | Mgr. Scott Slez | Mgr. Randy Marmor | Mgr. Bob Mann |
*Not playing in ALL STARS but elected to team
Sunday, June 4
2017 All Star Selection Process
The below process describes how the All Star teams shall be selected for the 2017 season. The Board of Directors have made minor modifications to prior year rules.
MAJOR DIVISION TEAMS:
12 year old International Tournament Team:
First 8 players voted on by the Majors peers + 3 selected by Major Managers. Manager to select at least 2 more from Major Manager votes. 12's are purely age 12. President may allow Manager's son to be selected if not previously selected.
11 Year Old Blue:
Blue Teams to be selected first; then Red team will be selected. Major Managers vote on first 10; next 3 or 4 chosen by All Star Manager for that team. To be eligible, players on Blue must be from Majors division. No input from AAA managers unless requested. 11's are purely age 11.
11 Year Old Red:
Major Managers vote on first 10; next 3 or 4 chosen by All Star Manager for that team. To be eligible, players on Red must be from Majors. No input from AAA managers will be considered. 11's are purely age 11.
MINOR DIVISION TEAMS
10 Year Old Blue:
Blue Teams to be selected first; then Red team will be selected. Voted on by AAA managers 10 + next 3 or 4 chosen by selected manager. 10 Blue players are purely age 10.
9-10 Year Old Red:
Voted on by AAA managers 10 + next 3 or 4 chosen by selected manager. 9-10 Red players are 9 and 10 years old.
Friday, May 12
Alameda Little League Store
Get your official Alameda Little League merchandise here at the ALL On-Line Store or by clicking on the image above while benefiting ALL! Little League International has partnered with PrepSports for this unique opportunity that benefits local leagues. Alameda Little League receives 15% of sales.
Friday, June 2
2017 Attack Fall Ball Tryouts
Tryouts for the 2017 Alameda Attack teams will be held Sunday, June 25th for players currently 8 to 12 years old at the Little League fields.
Registration - Opens at 11
9U and 10U - noon to 1:00
11U, 12U, 13U - 1:00 to 2:00
Wednesday, March 15
Baseball Schedules and Standings
Baseball Schedules:
All weekday games between now and through the end of March that started at 5:30pm have been moved to a 5:00pm start time. This is for Majors, AAA, AA and A divisions.
The website is considered the source of truth for all schedules and umpiring assignments. We will not redistribute spreadsheets if schedule changes are made. Please refer to the website.
On the "Baseball Schedules" page, if you scroll to the bottom you will see links for each team in the Majors, AAA, AA and A divisions. Visiting that page is an easy way to see your team's schedule.
Baseball Standings:
Baseball Standings are based on winning percentage
Winning percentage is calculated using the formula of (Wins)/(Total Number of Games Played)
A tie game equates to a loss for both teams. The league emphasizes playing out ties.
Friday, April 7
Batting Cage Use
Pre-game use: One hour prior to game time on Majors and Minors the teams playing have use of one batting cage. Cage Designation for pre-game warmups:
- The cage closest to the snack bar is for the Minors Home team
- The free standing cage in the Majors outfield is for the Majors Home team
- The cage furthest from the Majors Home cage is the Minors Visitor cage
- The cage adjacent to the Minors Visitor cage is for use by the Majors Visitin team.
On-field Practices: During on-field practices, each team gets one cage during practice time. 4 fields, 4 cages, one tee cage per team.
Cage Designation for practices:
- The cage closest to the snack bar will be the AA cage.
- The cage adjacent to the equipment shed will be the Single A cage.
- The AAA or major teams practicing on Minor or Major get the other 2 with the tee cage.
Tuesday, April 18
ALL Little League Fields STATUS - OPEN
Little League fields: Majors, Minors, Kees (Lippert) and Anderson (Rittler).
Sunday, April 16 - ALL Fields are OPEN. All Games scheduled to be played.
Friday, March 24
ARPD Fields STATUS
All ARPD fields (Bayport East, Bayport West, Franklin, Leyedecker, Lincoln, LittleJohn, Woodstock) are CLOSED.
For future practices to see if the fields are open and playable, you can call the ARPD weather hotline at 510-747-7540. One of the problems is that ARPD does not update the hotline on Friday and on the weekends. If you get to a field and there is a closed sign, do not use it.
Tuesday, March 8
Baseball Rules Webinar Recordings
The below recordings are from the 2016 Baseball Rule Webinar. These can be accessed anytime by clicking on the links. Please review these recordings before attending the 2017 Umpiring Training.
If this is your first time using Cisco's WebEx you will need to create a FREE account. You will also need to install the WebEx extension into your browser. You do not need to purchase an upgrade. If the meeting will not start, call Cisco WebEx customer support at 1-866-863-3905. This is a toll free call.
1) Intro, Umpires and Safety
2) Bat Rules
3) Strikes, Strike Zones, Uncaught Third Strike and Balls
4) Ball in Play (Fair/Foul, Catch, Foul Ball)
5) Tag, Batted Ball Out of Play, Thrown or Pitched Ball Out of Play
6) Interference and Obstruction, Sliding to Avoid Interference
7) Infield Fly Rule, Runner Leaving Early, Appeals, Continuous Batting Order
8) Baseball Myths
9) Local Rules
Reference Materials:
2016 Little League Rules Training Presentation (download)
Basic Umpire Mechanics (download)
Top 40 Baseball Rule Myths (download)
Baseball Myths Explained (you will be taken to an external website)
Sunday, February 26
2017 Local Rules Adopted
2017 Local Rules
. Keep a hard copy in your binder and give copies to your umpires and parents.
Wednesday, February 8
ALL Field Closure Protocol
There are two sets of fields that Alameda Little League uses, Little League Fields and ARPD fields. The Little League Fields of Anderson (formerly Rittler), Kees (formerly Lippert), Majors, and Minor and are under Alameda Little League control. The ARPD fields of Bayport, Littlejohn, Leydecker, Tillman, etc are managed by Alameda Recreation and Parks are under ARPD control. We have to call this out because ALL fields may be open while ARPD fields may be closed.
Little League Fields : The league controls whether or not the fields are open. Check the Little League website the day of an event (practice or games) to see if your team's field is open. We will do our best to update the status by 2:00pm. If you have a game or practice scheduled and there is no information on this website with respect to closure assume that the practice or game will go on as scheduled and arrive at the scheduled time.
If there are adverse weather conditions during the day any decision to suspend a game is a game-time decision and will not be reported on this website. Please plan on all games starting on-time and arriving at the time your team's manager has specified.
ARPD Fields: Alameda Recreation and Parks Department manage the ARPD Fields. They have full control deciding that a field is either open or closed.The ARPD maintains a weather hotline Monday through Friday at 510-747-7540. The hotline is updated by 2:00pm. If a field has a "Field Closed" sign the field is closed, please respect it and do not use the field. It is very easy to damage a wet field. Play fields in Alameda are a scarce resource and must be treated as such.
Saturday, November 12
Little League Bat Resource Page
The holidays are approaching quickly. If you plan on a new bat for your player please visit the Little League International website regarding Bat safety. You can find a list of approved bats there.
If that link doesn't work, cut and past the following into your browser: http://www.littleleague.org/learn/equipment/baseballbatinfo.htm
This page will give you up-to-the minute info on which non-wood bats are licensed and permissible for Little League. All bats that do not appear on the approved list are not allowed in Little League play. Bats must past rigorous testing. The maximum barrel diameter is 2 1/4" and must have a bpf rating of 1.15. If you have any questions please ask a board member.
Saturday, November 12
2017 Age Chart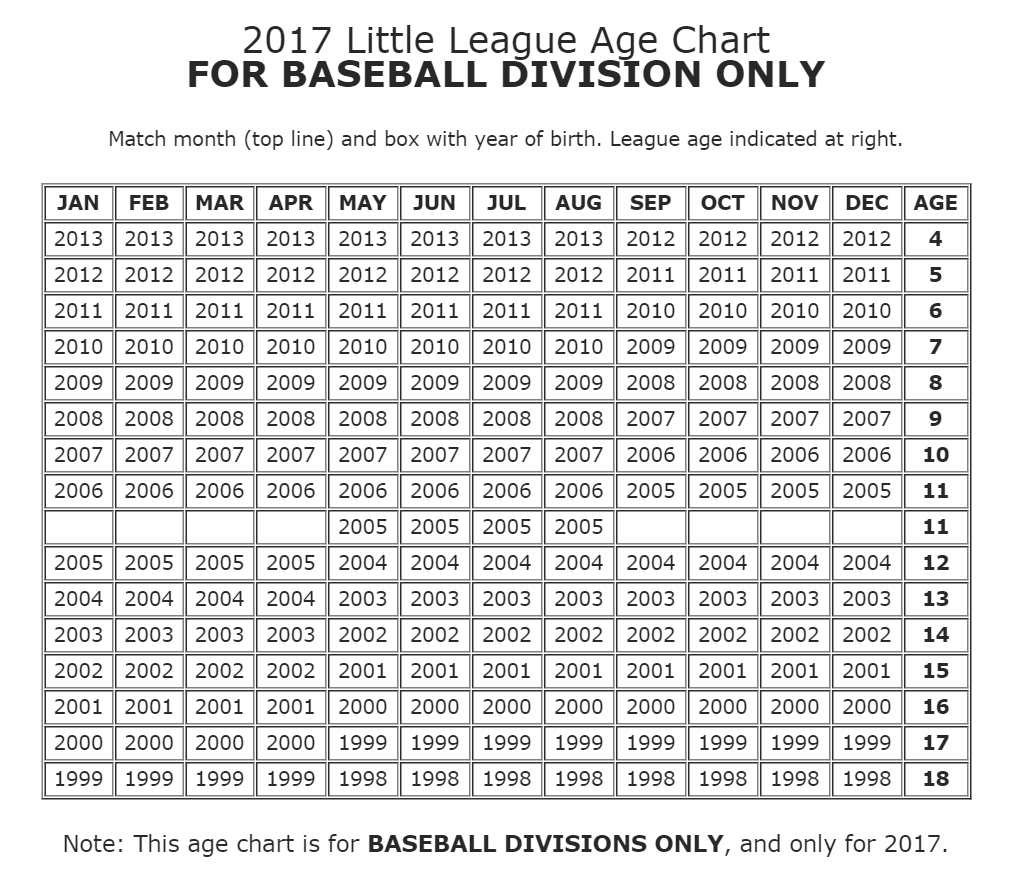 2017 Age Chart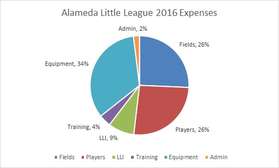 2016 Budget
Friday, October 7
Where Your Registration Fees Go
Curious as to where your registration fee goes? Alameda Little League prides itself as returning 98% of your registration fees back to the kids and Little League. The pie chart shows how the 2016 budget was allocated. We do our best to assure that dollar for dollar your children get the most out of your registration fee.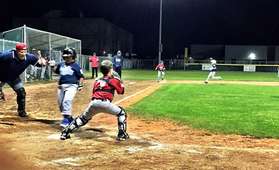 1st Night Game, March 16, 2016
Saturday, March 19
1st Night Game Played in Alameda Little League
The first regular season night game in the history of Alameda Little League was played on March 16 in the AAA division. The Lola's Chicken Shack Iron Pigs hosted the Bridge Bank Hooks. In the photo above Hooks player Daniel Hernandez is called out at home as Iron Pigs catcher Max Cohen executes a successful force out at home.
Tuesday, March 15
Definition of "CURFEW"
Curfew is referenced in the Local Rules and its definition is given here. Curfew is 9:30 on Tuesday-Thursday and 10:00 Friday & Saturday. At Curfew, the lights are extinguished.
AAA Games: In AAA games preceding a 7:15 night game there will be a "hard" stop at the 2 hour mark. All AAA games before a 7:15 night game will end precisely at 7:00pm regardless of its start time. Please review rule 4.10(d), "regulation" game and rule 4.11(d) Exception for incomplete innings.
Majors Games: No time limit may be imposed due to Little League rules, however, the lights must go out at 9:30 PM on games Tuesday through Thursday, and 10 PM on Friday and Saturday. Rule 4.10 applies.
Saturday, March 12
Roan Kees and Ben Anderson Fields Dedicated March 12, 2016
On March 12, 2016 at opening ceremonies, the diamonds used by Single A and AA divisions were dedicated to Roan Kees and Ben Anderson. Both Roan and Ben passed away last year. Each of them were long time board members. Roan was very active in youth sports programs. Ben was an inspirational coach. Surviving family members were on-hand for the dedication.
The field adjacent to Grand St. is now Roan Kees Field. The field adjacent to Lum elementary is now Ben Anderson Field. Two plaques will hang at the snack bar in their honor. League President, Ron Matthews, also presented the Kees family with a scholarship check for $8,000 which was donated to the family by members of the Alameda Little League community.
Friday, March 17
Sponsorship Donations
If you would like to help Alameda Little League serve the community in the form of a donation simply press the button below.
Sponsorship Donations
By pressing "Donate" you will be taken to a secured PayPal site for the processing of your transaction .
ORDER YOUR ENGRAVED BRICKS NOW!
As you may have heard at opening ceremonies, Alameda Little League has a great fundraiser starting up. You can purchase customized laser engraved bricks that will be installed on or around the snack bar. These bricks are similar to the custom bricks you may have seen at Disneyland. You can customize it to say your players name, your family name, your team name - whatever you'd like. This is your chance to leave a lasting memory at the Little League fields!
The cost is $100 for one brick/$150 for two. This fundraising effort is for the Alameda Little League General Fund only and will not go to any one team. All proceeds are used to keep registration fees as low as possible.
The order form can be found on the little league website, www.alamedalittleleague.org. If you have any questions, please feel free to contact me at (510) 769-6031 or via email at ron-matthews@comcast.net.
Thank you for supporting Alameda Little League!
Handout:
Brick Order Form
Tuesday, February 12
Frequently Asked Questions
Looking for more information regarding Alameda Little League, please
PRESS HERE!!!
or go to the FAQ menu option.
Wednesday, March 5
WE THANK OUR SPONSOR! PLEASE RECOGNIZE OUR SPONSORS BY PATRONIZING THEIR BUSINESSES!!
Thank You Sponsors! The 2014 sponsor list is available in the Sponsors section of this web site.
Wednesday, February 12
Comments or Questions Regarding This Website
If you have any comments, concerns or questions regarding this website, please email webmaster@alamedalittleleague.org.
Tuesday, March 11
Ron Matthews Receives Jefferson Award for Public Service
Our League President, Ron Matthews, is being presented by KPIX-TV Chanel 5 the Jefferson Award for Public Service. The Jefferson Award was established in 1972 by Jacqueline Kennedy Onassis, Senator Robert Taft Jr. and Sam Beard as a Nobel prize for public and community service on the national and local level. Ron is receiving the local level award. The local level Jefferson Awards recipients are ordinary people who do extraordinary things without expectation of recognition or reward. By honoring the recipients, it is the goal of the Jefferson Awards to inspire others to become involved in community and public service. The Alameda Board of Directors congratulates Ron Matthews on receiving this well deserved award and thanks him for his years of service to the families of Alameda and Little League. KPIX-TV 5 was at the Opening Ceremonies this weekend and will air a profile segment about Ron on the following dates:

KPIX-TV 5:
- 3/12 Wednesday KPIX 5 news at 6:00pm
- 3/13 Thursday KPIX 5 news at Noon
- 3/15 Saturday in KPIX 5 Early Edition (check local listings)
Radio KCBS 740AM 106.9 FM
- 3/12 Wednesday at 6:50pm, 9:40pm, 11:50pm
- 3/16 Sunday at 11:50am, 3:50pm
See the video here:
Sunday, November 1
Demystifying Alameda Little League Player Placement
The following information will help parents and players understand how teams are formed in Alameda Little League. Unlike school, all players will repeat a division (or two) at some point during their Little League career. Movement up through divisions is not and should not be viewed as a competition. Often times parents are disappointed when their player repeats a division. However, they later see that repeating a division was perhaps the best situation for their child as their child becomes a team leader, develops confidence, and increases their playing skills. If a child is moved-up too quickly, he/she may struggle, lose confidence, and no longer enjoy playing baseball and quit.
Alameda Little League's Minor/Majors divisions are: A, AA, AAA, and Majors. The age range for these divisions is 7 to 12 and player placement on a team and in a division is based on a player's performance during evaluations, as well as a coach's familiarity with a player based on the player's previous experience in Little League. T-Ball Division ages are typically 4 to 6 and Farm Division ages are typically 5 to 8. Age ranges for all divisions overlap to account for player experience, ability, maturity, and the number of teams formed based on coach availability.
In addition to Minor/Majors Alalmeda Little League has established its Intermediate Division for 13 year old players. We also have the Challenger Division for players with disabilities.
In our league, we have a T-Ball/Farm Player Agent and a Minor/Majors Player Agent. If you have questions about player placement, the league encourages you to contact the Player Agents. It is his/her job, along with the league's President, to facilitate the right placement for every player. That said, remember that Alameda Little League is a volunteer-run organization and our league has nearly 1,000 players. It takes an enormous amount of work and patience to sort the players into their respective divisions and teams so placement can take some time.
Alameda Little League Player Age
Your player's Little League age is their exact age as of August 31 of the coming year which is the end of the Little League World Series. For example, if they turn 11 on September 1, they are still considered to be Little League age 10 as they will be 10 throughout the season.
T-Ball/Farm Baseball Divisions
These are non-competitive divisions for players to learn the very basic skills and rules of baseball. Above all, it is about learning something new and having fun.
T-Ball is the starting point for all new and young players. Players hit the ball from a stationary tee. Outs and runs are not recorded. Farm is for players who have played at least one year of T-Ball and are at least 5 years of age. In Farm Ball, coaches will soft pitch to batters and outs are recorded, but score is not kept.
Major/Minor Baseball Divisions
The formation of these divisions is driven by the number of players in any age group and starts with the Majors division. All 12 year olds (12s) must be evaluated and play in the Majors Division. Each Major team has a roster of 12 players and can have no more than eight 12s. So, the number of 12s in the program drives the number of Majors teams. For example, if there are 64 -12s, then there are 8 teams, 80 - 12s, then there are 10 teams, etc. The remaining roster spots are filled by 11-year-old players. All 11s not drafted into Majors must play in AAA Division. All 10s not drafted into the AAA Division must play in the AA Division. All 9s not drafted into the AA Division must play in the A Division. There are exceptions, such as when a 12 year old who has never played baseball before can seek an exemption to play in the AAA Division.
Age and Division Guidelines
12 (Majors or exemption to AAA)
If your player has played in the lower divisions (and particularly AAA), he/she should play Majors. However, if the player fails to register on time and/or misses the evaluations, they may end up playing in the AAA Division or be placed on a waiting list. It is extremely important for 12 year olds to be registered prior to the deadline and, by rule, evaluated. If your 12 has never played baseball, has any limitations, or you feel there is a safety issue, then contact the Player Agent and seek an exemption for them to play in the AAA Division. 12s in AAA are not allowed to pitch.
11 (Majors or AAA)
If your player played AAA as a 10 year old, then as an 11 year old, he/she could be drafted into the Majors Division. As noted above, there will be limited spots for 11s in Majors.
10 (AAA or AA)
10s are not eligible for Majors. If your player played AA as a 9 year old, then as a 10 year old, they could be drafted into AAA. If your player played in the A Division as a 9 year old, there is a remote chance that they may be drafted to AAA as a 10. Our experience is that players who skip a division often have significant struggles adjusting to increased demands. Skipping divisions is not advisable. Again, it is very common to repeat a division. If you have a concern about either possibility, speak to the Player Agent before the draft.
9 (AAA, AA or A)
If your player played AA as an 8 year old, then as a 9 year old, there is a possibility they could be drafted into AAA. If your player played in the A Division as an 8, then as a 9, they could be drafted into AA.
8 (AA, A or Farm)
If your player played in the A Division as a 7 year old, then as an 8, they could be drafted into AA. If not, they repeat A. If your player played Farm as a 7 year old, then as an 8, they could be drafted into A. If not, they repeat Farm. If you have an 8 who has never played baseball before, they may be more comfortable learning the game in the Farm Division, however, they should still be evaluated and considered for the A draft (or possibly AA draft).
7 (A or Farm)
If your player was in Farm as a 6, then as a 7, they could possibly be drafted into A. In order for this to occur, your 7 year old must be evaluated. If the player is not evaluated, they will repeat the Farm Division. If you plan on playing Farm only, then there is no need to have your player evaluated for the A draft.
6 (Farm/T-Ball)
6 year olds should generally play in Farm. They are not eligible to be drafted into the A division. If they never played baseball, you could consider the T-Ball division, however they are not precluded from starting in Farm at age 6.
5 (Farm/T-Ball)
A 5 year old who played T-Ball at 4 years of age can either play T-Ball or Farm. If they did not previously play T-Ball, then a 5 must play T-Ball.
4 (T-Ball)
T-Ball only. No exceptions.
4 - 18 (Challenger Division)
A player with mental or physical challenges may participate in the league's Challenger Division. All ages may play.
Wednesday, March 5
Information Regarding Background Checks
Some folks have been inquiring why Alameda Little League does background checks. Little League International, Inc. (LLI) takes the safety of its children participants very seriously. In 2007, Little League instituted a program where it is mandatory for all volunteers to be screened annually. LLI provides to its districts a screening service that searches through the state level sex offender registry and also a criminal records database of over 270 million records.
Volunteers have expressed concern regarding the process and how their confidential information is protected. The following is the process used as submitted by Alameda Little League President, Ron Matthews:
The system that is in place is that I am the person who receives the application, not a committee. Any documents are scanned into a PDF and shredded. I transmit them securely to our Director of Legal Affairs, Scott Hennigh (an accomplished attorney) who submits them to Lexis-Nexis for the background check. After I receive a thumbs up on each applicant the PDF's are deleted from my computer and his.

Little League International, Inc. has an entire section on its website devoted to this subject, and requires me to take this matter very seriously in order to protect our children from abuse. I am also required to sign and verify that I have checked every volunteer in the League. Here is a passage from the link provided:
Press here for summary of the LLI prescribed process --> background checks summary
Press here to be taken to the LLI website for information regarding background checks.
Monday, May 29
James Taylor Passing
On May 22, 2017 Little League Farm Manager and A division coach, James Taylor passed away. In addition to Little League, James volunteered at Otis Elementary. The principal at Otis set up a go-fund me site to help support the Taylor family. You can reach the site and learn more about James Taylor at this address: James Taylor Memorial. A memorial for Mr. Taylor will be held June 3 at 2:00pm at the Chapel of the Chimes 499 Piedmont Avenue Oakland.