Alameda Little League: News
Friday, April 11
Alameda Police Department: Parking Enforcement Beginning this Weekend
The League is experiencing a parking problem. Neighbors to the fields are
upset
due to driveways being blocked and drivers being rude when advised that they are parking illegally. Our neighbors are the surrounding houses and Lum and Wood School. The Alameda Police Department has received numerous complaints and as a result of
Neighbor and School complaints
has advised the league that starting this weekend APD will begin citing ALL ILLEGALLY PARKED CARS. Please respect our neighbors and park legally. Also be courteous if someone tells you that you are blocking their driveway. If in doubt, don't park there. Thank you in advance for you cooperation and proving to the community that we obey and respect the law.
Wednesday, April 2
Important Rule Regarding Spectators on the Field of Play
Most people are not aware of a very important rule regarding spectators/parents coming onto the field. There is NO REASON other than serious injury to a player that a spectator or parent may come onto the field. League rules allow for only a Manager and TWO coaches permitted in the dugout, not more (except in A Division we are allowing one extra coach or scorekeeper in the dugout). It is also recommended that spectators use the provided bleacher seats instead of setting up chairs in foul territory. If you do set up chairs please assure that you are sitting in an out of bounds area in not in the field of play. Any spectator who violates this rule will be ejected from the premises, and in addition the League will suspend that spectator for at least ONE game. Here are the applicable rules:
RULE 3.15 (page 37-38): "No person shall be allowed on the playing field during a game except uniformed players, managers, and coaches, umpires and news photographers authorized by the League."

RULE 3.18 (page 38): "The local League shall provide proper protection sufficient to preserve order and prevent spectators from entering the field. Either team may refuse to play until the field is cleared."
All Managers are expected to obey these rules. In the event one does not, his opponent may LEGALLY refuse to continue. It is possible that the umpire may rule a forfeit in this case, so please understand the seriousness of this issue.
Thursday, March 13
Vehicles Prohibited from Driving Onto Pathway Between Lippert and Wood Middle School
Managers and Parents, as per AUSD and ARPD policies vehicles are prohibited from driving onto the pathway between Lippert Field and Wood Middle School. Only maintenance vehicles are allowed. Please help keep this pathway safe for the children while allowing maintenance vehicles through.
Tuesday, March 11
Ron Matthews Receives Jefferson Award for Public Service
Our League President, Ron Matthews, is being presented by KPIX-TV Chanel 5 the Jefferson Award for Public Service. The Jefferson Award was established in 1972 by Jacqueline Kennedy Onassis, Senator Robert Taft Jr. and Sam Beard as a Nobel prize for public and community service on the national and local level. Ron is receiving the local level award. The local level Jefferson Awards recipients are ordinary people who do extraordinary things without expectation of recognition or reward. By honoring the recipients, it is the goal of the Jefferson Awards to inspire others to become involved in community and public service. The Alameda Board of Directors congratulates Ron Matthews on receiving this well deserved award and thanks him for his years of service to the families of Alameda and Little League. KPIX-TV 5 was at the Opening Ceremonies this weekend and will air a profile segment about Ron on the following dates:

KPIX-TV 5:
- 3/12 Wednesday KPIX 5 news at 6:00pm
- 3/13 Thursday KPIX 5 news at Noon
- 3/15 Saturday in KPIX 5 Early Edition (check local listings)
Radio KCBS 740AM 106.9 FM
- 3/12 Wednesday at 6:50pm, 9:40pm, 11:50pm
- 3/16 Sunday at 11:50am, 3:50pm
See the video here:
Thursday, February 27
Important 2014 Dates
Let's keep it in perspective
Please note the following dates for the 2014 Season:

5/18 - Alameda Little League at Cal Bears (scroll down for the flyer)
6/13 - Alameda Little League Fireworks Night at Oakland A's
Click here for the Score Keeping Clinic Scoring Guide "What's the Score".
Click here for the Score Keeping Clinic FAQ.
Wednesday, March 5
Information Regarding Background Checks
Some folks have been inquiring why Alameda Little League does background checks. Little League International, Inc. (LLI) takes the safety of its children participants very seriously. In 2007, Little League instituted a program where it is mandatory for all volunteers to be screened annually. LLI provides to its districts a screening service that searches through the state level sex offender registry and also a criminal records database of over 270 million records.
Volunteers have expressed concern regarding the process and how their confidential information is protected. The following is the process used as submitted by Alameda Little League President, Ron Matthews:
The system that is in place is that I am the person who receives the application, not a committee. Any documents are scanned into a PDF and shredded. I transmit them securely to our Director of Legal Affairs, Scott Hennigh (an accomplished attorney) who submits them to Lexis-Nexis for the background check. After I receive a thumbs up on each applicant the PDF's are deleted from my computer and his.

Little League International, Inc. has an entire section on its website devoted to this subject, and requires me to take this matter very seriously in order to protect our children from abuse. I am also required to sign and verify that I have checked every volunteer in the League. Here is a passage from the link provided:
Press here for summary of the LLI prescribed process --> background checks summary
Press here to be taken to the LLI website for information regarding background checks.
Tuesday, February 25
2014 Local Rules
Managers and parents, please review the local rules which were adopted on the Board of Directors on Feb. 19, 2014. These rules are intended to augment and not superseed the rules of Little League Baseball.
Press here for the
2014 Local Rules.
Thursday, March 6
Baseball Equipment Recycling Program Update
The Equipment Recycling Program team will be at the Little League fields Opening Ceremonies Weekend. Please see the flyer below for more information.
Thursday, February 27
Baseball Division Schedules with Umpiring Assignments
Baseball Division (A, AA, AAA, Majors) schedules with umpiring assignments may be found on the "Handouts" page of this website. Follow the link below to the handouts.
Handout:
Baseball Division Schedules with Umpiring Assignments
Tuesday, February 12
Frequently Asked Questions
For answers to Frequently Asked Questions about Alameda Little League, please
PRESS HERE!!!
or go to the FAQ menu option.
ORDER YOUR ENGRAVED BRICKS NOW!
As you may have heard at opening ceremonies, Alameda Little League has a great fundraiser starting up. You can purchase customized laser engraved bricks that will be installed on or around the snack bar. These bricks are similar to the custom bricks you may have seen at Disneyland. You can customize it to say your players name, your family name, your team name - whatever you'd like. This is your chance to leave a lasting memory at the Little League fields!
The cost is $100 for one brick/$150 for two. This fundraising effort is for the Alameda Little League General Fund only and will not go to any one team. All proceeds are used to keep registration fees as low as possible.
The order form can be found on the little league website, www.alamedalittleleague.org. If you have any questions, please feel free to contact me at (510) 769-6031 or ron-matthews@comcast.net.
Thank you for supporting Alameda Little League!
Handout:
Brick Order Form
Wednesday, March 5
WE THANK OUR SPONSOR! PLEASE RECOGNIZE OUR SPONSORS BY PATRONIZING THEIR BUSINESSES!!
Thank You Sponsors! The 2014 sponsor list is available in the Sponsors section of this web site.
Wednesday, April 2
Sports Authority Coupons
These two coupons can be used for the entire month of April at Bay Area Sports Authority Stores:
e-Coupon to Sports Authority $20 OFF -> $20 coupon
e-Coupon to Sports Authority $10 OFF -> $10 coupon
If you still see the previous month's coupon, please press your browser's refresh button.
Monday, March 17
The Alameda Little League 2014 Board of Directors
Wednesday, March 5
Why the Permanent Baselines?
Permanent baselines help us in many ways, not the least of which is how much time and white line marker is needed for all of our fields. Another issue with white line marker (AKA: chalk) is that the large amounts of chalky marker ultimately degrade and decondition the expensive dirt mixtures that we use on our fields. And finally, of course, permanent baselines are ALWAYS STRAIGHT, unlike manual applications.
The process of constructing the baselines is not simple. The plastic landscaping material used for the baselines are secured to a concrete foundation that is sub-surface. The first base line pictured here required 20 bags, or 1/2 yard of concrete! Anchor bolts are put into the concrete while wet in order to secure the baselines. Then the baselines are painted with a gritty, non-skid paint used in marine environments. The entire process for one field takes three men at least two full days of work of forming, pouring concrete, then securing the baselines.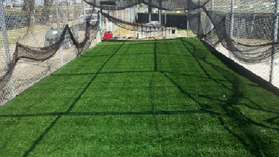 Finished Cage
Sunday, April 21
Curious About the Work on the Minor Field Batting Cage?
New Cement Floor, Fence, Floor and Netting to Follow
The Board of Directors recently approved the funds to widen and improve two batting cages for both functional and safety reasons. Our President looked at bids from vendors and decided that it was too costly, so he and our Independent Contractor John Peralta tackled the immense job by themselves, saving an estimated $7,000-$8,000 in costs. The cage nearest our Snack Bar is almost complete and teams are excited to use it. The final touches will be a synthetic turf surface and netting. The batting cage in the left-center field bull pen area of the Major Field will begin the same construction process as soon as this season ends. We do it for the kids!!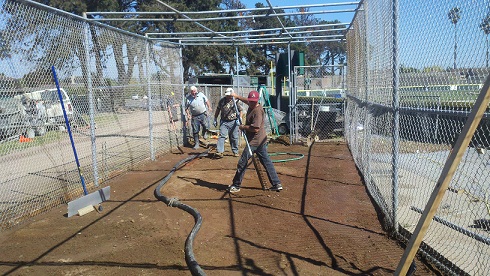 Old Batting Cage Being Reworked
Wednesday, February 13
A NOTE FROM THE PRESIDENT
This is my 20th year at Alameda Little League and I have enjoyed every year immensely. We have a great environment for our kids to develop into strong people and that is Little League's primary purpose. Your Board of Directors continues to think of ways to improve the venue and to make rules that don't stifle us but are needed in order to preserve the great environment that we have.
But it takes more than rules to make Alameda Little League successful. It takes parents who understand the collective challenge that we have to be role models for our youth. By collective, I mean all of us, not just managers and coaches and umpires but as spectators too. Our challenge is to remember that we are ALL teaching LIFE LESSONS to our youth, and how to win AND lose with dignity and good sportsmanship.
There are some behavior that simply does not fit into the category of good role modeling. First, regarding spectators, it is NEVER acceptable to BOO at Little League, NEVER! The message being sent to our impressionable youth is disrespect for others. But there are other things that spectators say that are just as bad, like "Pitch right at him, he can't hit!" Now, the boy or girl who is at bat probably is struggling and statements like that certainly don't help the self esteem very much, do they? Or, for example, verbally questioning the judgment of an umpire by making remarks like " Come on blue, he was safe!" What is that teaching our youth? It teaches them that it is OK to question the authority of the official enforcement of rules. It is also a violation of our Code of Conduct, and for good reason. Our umpires are primarily volunteers who are trying to do the best they can, and they are important to our success, even if they make mistakes.
Finally managers and coaches must remember our meetings in December in which we went over all of the above plus a lot more. We place a great deal of responsibility on these men and women who work hard to form teams and teach the game of baseball. But more importantly we expect them to teach the players good sportsmanship with their words and actions. Managers and coaches should never bicker and fight about situations that occur, rather, a positive discussion will produce far better results while showing our kids the right way to deal with differences. Managers and coaches should always keep the self esteem of players on BOTH TEAMS in mind when they make on field statements. And most importantly, they should remember that it is OK to lose a game as long as we try our best. Our managers and coaches know that yelling at our players does not produce the results that we want, not to mention the impact again on the self esteem of our youth.
There is much that can go wrong in the "heat of the battle," but as long as the adults understand the bigger picture we will come out fine. If we recognize our responsibility as role models, then we will make our League better. I ask that everyone again read and live by our Parent Code of Conduct because it is the foundation on which our success is built.
We hope you had a great season!
Handout:
Parent Code of Conduct
Tuesday, March 11
Message From The League President
On behalf of the Board of Directors of Alameda Little League, we welcome you to our program if you are new in 2014, and we welcome you back if you are returning. Alameda Little League is not really much different from any other youth sports program in our great community. Our purpose, like the others, is to provide a safe, organized program for youth in the City of Alameda, with the specific objectives of implanting firmly in the youth of Alameda the ideals of good sportsmanship, honesty, courage, and respect for authority. As volunteers in the community, we sincerely wish for you to join us in our efforts to assist these youth in this, their final stage of development before becoming a teenager. We work very hard, sometimes harder than we should because we may not have enough volunteers to help. That's why we need you, and that is why our youth, your youth, need you! They are children, and they will soon be adults, but they will always need you to be there for them. I urge you to get involved, as an umpire, as a coach, as a team parent, or as a spectator who is positively interested in your son or daughter's development in these crucial years. Don't just take them to the game and leave…participate and enjoy! Go out and play catch with your "almost adult" because you will never regret it. Better yet, they will never forget it! Please join us in 2014 for a great year. Like any church or school or any other social institution, we are not a building, or a field, but we are the people who care about making our community better.
Come and get to know us, and enjoy Alameda Little League!
Ron Matthews
Alameda Little League President
Wednesday, February 12
Comments Regarding This Website
If you have any comments, concerns or questions regarding this website, please email webmaster@alamedalittleleague.org.
Wednesday, March 5
Save the Date - May 18th
May 18th is Alameda Little League at Cal Bears. Please see the flyer for more information.