Alameda Little League: Welcome
Welcome to Alameda Little League, California District 4!
Alameda Little League is a community organization driven by dedicated volunteers whose primary purpose is to provide an outlet for healthful activity and training under positive leadership. The objective of the League shall be to instill firmly in the children of Alameda the ideals of good sportsmanship, honesty, loyalty, courage and respect for authority, so that they can be well adjusted, stronger and happier children and grow to be good, decent, healthy and trustworthy citizens.Our Board of Directors serve as volunteers and receive no compensation for their time.
Thursday, September 6
Registration For the 2019 Season is OPEN!!!
Press HERE to register for the 2019 Season
We here at Alameda Little League hope that everyone has had a great summer. It's not too early to start planning for the 2019 spring season. This year we are opening our on-line registration earlier for your convenience. This also helps us because late registration makes the process of finding Managers and coaches more difficult for us as administrators. So we encourage you to register now for the 2019 Spring Season. If you would like to Manage a team, please contact Ron Matthews as soon as possible at ron-matthews@comcast.net
You can find most of the information that you need on our FAQ, or in one of the articles of our news page. If you have a question that is not answered on the website, please feel free to give me a call at 1-510-769-6031 and I will personally answer. Unidentified callers will not be accepted.
Alameda Little League is very popular in our community and boasts a great reputation for a recreational and competitive baseball program. Please register early and get it out of the way, we always offer a money back guarantee if your player decides they don't want to play before they are assigned to a team in late January. Rates go up January 1st, 2019. Registration closes mid-January.
Scroll down to read other exciting news!
Wednesday, September 12
MLBPAA Players and Coaches Clinic Nov 3
The Major Leage Baseball Players Alumni Association will be holding clinics on Nov. 3 at the Alameda Little League fields! Scheduled are the Legends For Youth Clinic from 9:00 AM-12:00 PM and our Legends for Youth Coaches Clinic from 12:30 PM-2:30 PM.
The Major League Baseball Players Alumni Association (MLBPAA) was formed in 1982 in order to promote the game of baseball, raise money for charity, inspire and educate youth through positive sport images and protect the dignity of the game through former players. A nonprofit organization, the MLBPAA establishes a place where a player's drive for excellence and achievement on the field can continue long after they take their last steps off the professional diamond.
Headquartered in Colorado Springs, Colo., the MLBPAA's membership currently has more than 8,300 members composed of former and current Major League players, umpires, managers, coaches, front-office personnel and fans. President Brooks Robinson guides the MLBPAA with Bob Boone, George Brett, Robin Yount, Rusty Staub, Carl Erskine and Al Kaline presiding as Vice Presidents.
Can't wait, who will be in Alameda?
Sample clinic: MLBPAA 7 Station Clinic
Press MLBPAA Alameda Little League Clinic for more information about the MLBPAA and Alameda clinic!
Press here to REGISTER
Wednesday, September 12
Change in Volunteer Background Checks
Little League has entered into an agreement with J.D. Palentine (JDP), another vendor for background checks, this time taking the local League out of the information gathering. All volunteers will need to do now is give our President their name and email address and a letter will be sent to them with a link that will allow them to complete the application online in just a few minutes. There are no forms, no emailing confidential information! Once done, volunteers will be on the JDP data base and always be recognized as a volunteer. Please read the link below for more information and FAQ regarding this change.
https://www.littleleague.org/news/little-league-international-partners-with-jdp-to-provide-national-background-check-service/
Saturday, September 22
Oakland A's Play Ball!
While the A's were closing in on a playoff spot, Major League Baseball reached out and the A's partnered to put on Oakland PLAY BALL event, September 29th. Kids from Alameda joined others from the general Oakland area to hear some inspirational words from Bip Roberts and receive instruction from Cal and Cal State East Bay players.
Press here to see some footage: www.playball.org
Who: Kids ages 5-14 as of Jan. 1, 2018
Cost: FREE
When: Saturday, September 29 from 10 am – 12 pm
Where: 426 45th St. Oakland, CA, 94609
Friday, September 14
Annual Meeting Notice
The annual general meeting was held on Tuesday, September 25. The 2019 board elections were held and new officers installed.
Friday, July 20
Tournament Roundup
The 9-10 year old Red Team won the District 4 Future All Stars tournament for their age group.
The 11 year old Red Team won the District 4 Future All Stars tournament for their group.
The 10 year old Blue Team won the Buckeye Tournament in Lafayette for their age group.
Congratulations go out to the players, coaches and families.
Friday, June 29
Intermediate All Stars Win District 4
Congratulations to the 2018 Intermediate Division All Stars for capturing the District 4 Championship. This is the 4th consecutive championship for Alameda Intermediate. Section play begins this Saturday in Woodlawn vs. the Distrct 35 champion, Mark West Youth Club Little League. The Intermediate World Series is held in Livermore.
Update: The Intermediate All Stars advanced to the Championship game but were defeated by Woodland American LL.
Additional information may be found at: 2018 Intermediate Sectionals Home D64.
Alameda Intermediate All Stars
| | | |
| --- | --- | --- |
| Nico Araujo | Owen Conway | Luis Licea |
| Shaan Castro | Anthony Fortie | Leo McMahon |
| Ryan Chang | Jacob Goodman | Collin Ng |
| Max Cohen | Casey Gorman-Miller | William Thompson |
| Tom Cooke | Matthew Lee | |
Wednesday, June 6
2018 All Stars Schedules and Results
Updates:
International Tournaments:
12's
Alameda 9 Continental 2
Alameda 3 North Oakland 7
Alameda 8 Concord American 10
Alameda eliminated

9-11's
Alameda 1 Lafayette 5
Alameda 10 Antioch 3
Alameda 10 Clayton Valley 0
Alameda 10 South Oakland 0
Alameda 10 East County 18
Alameda eliminated
8-10
Alameda 13 Concord American 8
Alameda 1 Albany 13
Alameda 20 Lafayette 6
Alameda 11 Continental 2
Alameda plays Walnut Creek 7/5 in North Oakland. Winner to play North Oakland on 7/6 in Alameda
Future Stars
9-11
Alameda 11 East County 4
Alameda 9 Lafayette 7
Alameda advances to Championship on 7/10 in Alameda
8-10
Alameda 29 Clayton Valley 0
Alameda 15 Lafayette 5
Alameda 12 North Oakland 1
Alameda advances to Championship on 7/10 in Antioch
Please use the below links to get to the 2018 All Stars schedules and results pages. The schedule lists the date, time, teams and location. Please note that many games are played here in Alameda.
The 12 year olds are eligible to advance all the way to the tournament in Williamsport, PA in August. Intermediate 50/70 plays its World Series in Livermore, also in August. The 11's and 10/9's teams can advance to a state level tournament. These are the former 'Blue' teams and will keep that color uniform. These are double elimination tournaments.
2018 International All Stars Tournaments Home
New for this year is the "Future All Stars Tournament". This is a district level tournament that was carved out from the interntional tournaments. Traditionally the 'Red' teams would exit the tournament early. The "Future's" tournament helps level the playing field. These are double elimination tournaments.
Wednesday, June 6
Three Alameda Little League Alumni Drafted in 2018 MLB Amatuer Draft
Three former Alameda Little League players were drafted in the 2018 Major League Baseball Amatuer Draft!!!
Congratulations go out to Osiris Johnson, Michael Perri and Kaleo Johnson.
Osiris Johnson, a 2nd round pick and the 53rd overall pick by the Miami Marlins. Osiris just finished his Senior year at Encinal High School.
Michael Perri was a 21st round pick by the St Louis Cardinals. Michael graduated from Bishop O'Dowd High School and graduated this year from the University of San Francisco.
Kaleo Johnson was drafted in the 32nd Round by the Tampa Bay Rays. Kaleo a graduate of Encinal High School just finished his junior year at Montana State University Billings where he became the first player in school history to be named a consensus All-American!
Congratulations again to these former Alameda Little League players and their families on a dream come true!
Wednesday, June 6
2018 All Stars
Congratulations to the 2018 All Star teams. This year there are three teams at the International level, 12 years old, 11 years old and 10 years old. The 12's can go all the way to the Little League World Series in Williamsport, PA. The 11's and 10's can go as far as state. District 4 has started a district level tournament for the second teams that will play at the district level, 11-10 and 10-9 years old.
12 y/o
International

11 y/o Blue
11 y/o
Future All Stars
10 y/o Blue
9-10 y/o
Future All Stars
Marcus Finch
Evan Green
Will Hester
Cruz Kelly
Will Kelly
Elijah Lee
Aaron Leung
David McNamara
Angus Olaes
Sam Paskins
Sage Roy-Burman
Eli Slez
Hudson Taylor
Dillon Wong


Tyler Aficial
Jaren Beene
Turner Brotze
Jack Busch
Robert Fintland
Colin Pero
Marcelo Quirk
Justice Reed
Turner Smith
Dawson Stewart
Kelvin Stuart
Maxwell Stuart
Anders Vieaux
Taylor Wehmann

Jazlyn Alcantar
Max Bellotti
Isaiah Dumont
Wilson Henriquez
Oskar Jones
Jesse Kim
Ezekiel Lee
Alijah Meadows
Julian Munoz
Parker Nomura
Ian Shaw
Sandor Strong
Grant Tomono
Hunter Willett

Lucas Araujo
Tennyson Bradley
Kyle Cooke
Hannah Dispensa
Dean Finch
Evan Furuichi
Tyler Ichihara
Dylan Mann
Will Merritt
Zachary Pippen
Tam Pullman-Letourneau
Wyatt Smith
Kayden Thai
Kento Tsuji

Isaiah Croxton
Emerson Decourcy
Bryson Edwards
Amaru Guerra
Kirk Humbles III
Connor Kniep
Mateo McMinn
Avery Sadie
Damian Senna
Samuel Skolnick
Rowan Stewart
Jayden Sullivan
Kance Tran
Colby Williamson


*indicates nominated but not available to play


Finn Meagher*
Jaden Smith*
Matt Thornton*
Matan Antebi*



Manager
Scott Slez

Manager
Marc Fournier

Manager
John Willett

Manager
Derek Furuichi

Manager
Brian Edwards
International All Star games begin on 6/19.
12 year olds: 6/19 5:30pm - Alameda plays North Oakland here in Alameda.
11 year olds: 6/25 5:30pm - Alameda plays Lafayette here in Alameda
10 year olds: 6/26 5:30pm - Alameda plays the winner of Albany vs. East County in Albany

Future All Star games begin on 6/22.
11 year olds: 6/27 5:30pm - Alameda plays North Oakland here in Alameda
10 year olds: 6/22 5:30pm - Alameda plays Albany here in Alameda
Wednesday, June 6
Tournament of Champions Schedules
The below links will take you to the District 4 Tournament of Champions home page. The Alameda winners of the Intermediate, Majors, AAA and AA divisions advance to a single elimination tournament. Schedules and results are updated daily.
2018 Tournament of Champions Home
Once on the TOC home page, you can select schedule/results page you want to see.
The Little League CA District 4 facebook page is updated sooner than the tournament home. Follow this link to the
CA D4 Facebook home page
Wednesday, June 6
TOC Games in Alameda
Alameda will be hosting the following Tournament of Champions games at our fields this year. These dates and times are subject to change. Please refer to the Tournament of Champions link elsewhere on this page for updates.
Majors:
6/9 11:00am - Alameda Red Sox vs. East County on Minors Field
6/11 5:30pm - winner of Alameda Red Sox vs. East County and Pittsburgh vs. Pinole Hercules
6/13 5:30pm - 3rd round game
6/15 5:30pm - Championship Game
AAA:
6/9 11:00am - Alameda Express vs. North Oakland on Majors Field
6/11 5:30pm - winner of Alameda Express vs. North Oakland and winner of Pittsburgh vs. Pinole Hercules
Come on out and cheer for Alameda!
Sunday, June 3
2018 Closing Ceremonies
Closing Ceremonies were held on a sun drenched Saturday, June 2. This marks the end of the 2018 season. Fans and players enjoyed exciting championship games and $1 hotdogs from the snack bar.
Recognized were the graduating 12 year olds, and the newly crowned champions of each baseball division, as well as the second place teams. In addtion we also recognized the Wootten Award Player winners, Matteucci Award Manager winners and President's Award. T-ball and Farm players receive a participation trophy, and baseball division players receive an Alameda Little League t-shirt.
This is our way of giving participation trophies as a tradition for our younger players, while still giving the older kids something to remember for the season. Shirt for the graduating 12 year olds will be distributed through the Majors Division managers later this week.
A special thank you goes out to all of our volunteers, parents and players for making this such a successful season!
Friday, June 1
NB Orange Intermediate Champs
The NB Orange team won the Intermediate Champtionship defeating Graphite 8-7. Orange will go on to the District 4 Tournament of Champions playing Martinez in Martinez on 6/12 at 5:30.
Saturday, April 21
2018 Neptune Pearl Summer Camp
Diamond Skills Camp has 7 weeks of BASEBALL and ALL-SPORTS CAMPS hosted at the ALAMEDA LITTLE LEAGUE FIELDS. This SUMMER schedule is highlighted by a WEEK #1 appearance from OAKLAND A'S STAR MATT OLSON!
These camps hosted at our fields are the only camps endorsed by ALAMEDA LITTLE LEAGUE. All coaches have completed background checks and camps are held at our facility. For more information and to REGISTER please visist WWW.DIAMONDSKILLSCAMP.COM
Sunday, May 20
Aftermarket Helmet C Flaps Decertified
Please read the below letter. It is late breaking news and needs to be followed. Please do not wait for a game to find out your child cannot use their batting helmet.
Today Little League issues guidance regarding the modification of batters helmets with the addition of a face guard (i.e. C Flap). It includes a discussion of the differences between helmet face guards (i.e flaps) and why they are an alteration, vs. a Face Mask which is a NOCSAE certified addition to the helmet.
You can read the entire piece on this page on the Little League website. Embedded in this is the letter that has been sent to each helmet manufacturer.https://www.littleleague.org/playing-rules/modifying-helmets-with-additional-attachments/.
The summary of this is that any alteration or modification of a helmet potentially voids the NOCSAE certification of that helmet. Little League has asked the manufacturers and suppliers of helmets to respond and advise if the addition of a C Flap or other Face Guard will void the certification on their helmets. To date, only Boombah has replied that if their supplied Flap is attached to their helmet they will stand by the NOCSAE certification. The manufacturer of Rawlings, DeMariani, Louisville Slugger, and EvoShield has advised that the addition of a face guard will void their certification. No reply has been made by the other manufacturers such as Easton or Adidas.
All league officials are being advised to not allow the use of helmets that do not have the approval letter (so as of now only Boombah complies) in Little League play. Umpires doing equipment inspection should remove those helmets. Managers should be removing them from use on their team unless they meet the guidance. Parents and others should be told to contact the manufacturers for more information and to secure an approval letter on their own behalf if desired. If a manager produces such a letter to the umpires satisfaction, they should allow the modified helmet to be used. However, if the umpire can determine that the helmet has been altered by drilling of holes or other changes the helmet should be deemed not for use.
For more information on protecting our players from damage to the head and facial area, I suggest you review the information on the Center for Disease Control Heads Up website. They have available a great resource you can post on your league website or distribute to your participants on Batter's helmet safety.https://www.cdc.gov/headsup/helmets/index.html.
Tuesday, February 7
2018 Season Calendar
2018 Calendar

Training:
- Mar 03 - ALL Umpire Training - Noon to 3:00pm (please refer to the "Umpiring" page for more information)
- Mar 06, 6:00pm - CPR Training - Alameda Boys and Girls Club. All managers are required to be certified, parents are also invited. FREE event.Register on-line below
- Mar 10 - Field Prep clinic immediately following Opending Day Festivities. Meet at the main equipment shed
Regular Season:

- Mar 10- Opening Day Festivities - NOON to 1:30. Teams should arrive at 11:30 to set up for the parade. Ceremonies for the entire League and at least 1 game per baseball divisions A, AA, AAA, Majors
- Mar 10 - Photo Day- teams will be notified of times to report
- Mar 10 - Opening Day Games - 2:00pm on all fields; Majors play at 6:30pm
- Mar 11 - Full slate of games for Majors through A division
- Mar 18 - First games for Farm and T-Ball
- Mar 25 - Home Challenger Games begin (schedule is posted on the Challenger page)
- April 1 - 8 - AUSD Spring Break (no games)
- May 5 - Alameda Little League Cinco de Mayo Fundraising Dinner
- May 6 - Photo Day Make-Up at the fields
- May 12 - Majors Division Double Elimination Playoff Tournament Begins
- May 13 - Mother's Day Farm and T-Ball Rose Games
- May 19 - AA and AAA Divisions Single Elimination Playoff Tournaments Begin
- May 21 - A Division Playoff Tournament Begins
- May 25 - A's Fireworks Game
- Jun 02 - Championship Games @9:00AM
- Jun 02 - Closing Ceremonies @NOON on the Minors field
Monday, April 16
Pet Rules at the Fields
We love our dogs and a lot of folks like to bring them with them to the games. Just a friendly reminder that dogs are not permitted within the fenced spectator areas of the Majors and Minors fields. Elsewhere dogs are permitted and must be on a leash as per ARPD rules. Thank you for your cooperation.
Monday, April 16
Athletic Shoes ONLY at Estuary Park
Please be advised that only athletic shoes may be used when playing at Estuary Park. Effective immediately all games except Challenger scheduled for Estuary will be moved back to the Little League Fields. Estuary Park will still be used for practices and players and coaches must wear athletic shoes only. Cleats may not be worn.
Monday, April 16
Field Status
April 16 - 2:00pm
Alameda Little League Fields Update: All Little League fields are in playable condition and are OPEN. All games are to be played as scheduled. Players should report to the fields at their manager's requested time.
ARPD Fields Update: All ARPD fields are OPEN unless there is a "Field Closed" sign on the field. Please do not ignore the sign and use a "Closed" field.
ARPD field status line, 510-747-7540, is updated at 2:00pm. If not updated on this website, please call and check. Since Estuary is synthetic it drains well and may remain open. Please do not use Estuary if it is raining.
During rainy weather, please respect the "Fields Closed" signs on ARPD fields.
For additional information, please see the "ALL Field Closure Protocol" article in the Managers Info and Forms page.
Tuesday, March 8
Baseball Rules Webinar Recordings
The below recordings are from the 2016 Baseball Rule Webinar. These can be accessed anytime by clicking on the links. Please review these recordings before attending the 2017 Umpiring Training.
If this is your first time using Cisco's WebEx you will need to create a FREE account. You will also need to install the WebEx extension into your browser. You do not need to purchase an upgrade. If the meeting will not start, call Cisco WebEx customer support at 1-866-863-3905. This is a toll free call.
1) Intro, Umpires and Safety
2) Bat Rules
3) Strikes, Strike Zones, Uncaught Third Strike and Balls
4) Ball in Play (Fair/Foul, Catch, Foul Ball)
5) Tag, Batted Ball Out of Play, Thrown or Pitched Ball Out of Play
6) Interference and Obstruction, Sliding to Avoid Interference
7) Infield Fly Rule, Runner Leaving Early, Appeals, Continuous Batting Order
8) Baseball Myths
9) Local Rules
Reference Materials:
Alameda Little League Rules Training Presentation, Updated 2018 (download)
Basic Umpire Mechanics (download)
Top 40 Baseball Rule Myths (download)
Baseball Myths Explained (you will be taken to an external website)
Sunday, January 7
Batting Cage Use
PRE-SEASON ON-FIELD PRACTICES
During PRE-SEASON on-field practices, each team gets one cage during practice time. 4 fields, 4 cages, one cage per team.
Single A Field Pre-Season Practice Cage - Major Home - free standing cage in Majors outfield adjacent to equipment shed
AA Field Pre-Season Cage - Minor Home - free standing cage near snack bar in Minor outfield;
Majors Field Pre-Season Practice Cage - Major Away - cage furthest away from Major home in the cluster of three cages in the Majors outfield;
Minors Field Pre-Season Practice Cage - Minor Away - cage in the middle of the cluster of three cages in the Majors outfield.
T Cage - cage nearest Major Home. That one is first come, first serve. Please leave it open for walk-ups.
REGULAR SEASON
Pre-game use: One hour prior to game time on Majors and Minors the teams playing have use of one batting cage.Cage Designation for pre-game warmups:
- The cage closest to the snack bar is for the Minors Home team
- The free standing cage in the Majors outfield is for the Majors Home team
- The cage furthest from the Majors Home cage is the Minors Visitor cage
- The cage adjacent to the Minors Visitor cage is for use by the Majors Visitin team.
A reservation calendar will be built out on the Fields share by March 10.

Thursday, November 16
2018 New BAT Rules
Little League International has changed its bat rules for 2018.
Please note that as of January 1, 2018, the new USA Baseball Bat Standard will be implemented. Little League-approved baseball bats that are approved for use for the 2017 season will no longer be acceptable for use in any Little League game or activity starting on January 1, 2018.
The new bat standard applies to the following divisions:
- Baseball Single A through Majors along with T-Ball and Farm
- Intermediate 50/70
- Challenger

There is some really great content here that explains why the change and the benefit. If you are looking to purchase, especially with the holidays coming up we advise visiting the Little League International website and learn about the new standard.
http://www.littleleague.org/learn/equipment/baseballbatinfo.htm Little League Bat Info page.
Friday, May 12
Alameda Little League Store
Get your official Alameda Little League merchandise here at the ALL On-Line Store or by clicking on the image above while benefiting ALL! Little League International has partnered with PrepSports for this unique opportunity that benefits local leagues. Alameda Little League receives 15% of sales.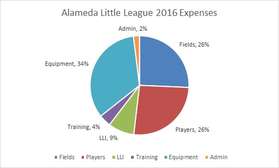 2016 Budget
Friday, October 7
Where Your Registration Fees Go
Curious as to where your registration fee goes? Alameda Little League prides itself as returning 98% of your registration fees back to the kids and Little League. The pie chart shows how the 2016 budget was allocated. We do our best to assure that dollar for dollar your children get the most out of your registration fee.
Tuesday, March 15
Definition of "CURFEW"
Curfew is referenced in the Local Rules and its definition is given here. Curfew is 9:30 on Tuesday-Thursday and 10:00 Friday & Saturday. At Curfew, the lights are extinguished.
AAA Games: In AAA games preceding a 7:15 night game there will be a "hard" stop at the 2 hour mark. All AAA games before a 7:15 night game will end precisely at 7:00pm regardless of its start time. Please review rule 4.10(d), "regulation" game and rule 4.11(d) Exception for incomplete innings.
Majors Games: No time limit may be imposed due to Little League rules, however, the lights must go out at 9:30 PM on games Tuesday through Thursday, and 10 PM on Friday and Saturday. Rule 4.10 applies.
Friday, March 17
Sponsorship Donations
If you would like to help Alameda Little League serve the community in the form of a donation simply press the button below.
Sponsorship Donations
By pressing "Donate" you will be taken to a secured PayPal site for the processing of your transaction .
ORDER YOUR ENGRAVED BRICKS NOW!
As you may have heard at opening ceremonies, Alameda Little League has a great fundraiser starting up. You can purchase customized laser engraved bricks that will be installed on or around the snack bar. These bricks are similar to the custom bricks you may have seen at Disneyland. You can customize it to say your players name, your family name, your team name - whatever you'd like. This is your chance to leave a lasting memory at the Little League fields!
The cost is $100 for one brick/$150 for two. This fundraising effort is for the Alameda Little League General Fund only and will not go to any one team. All proceeds are used to keep registration fees as low as possible.
The order form can be found on the little league website, www.alamedalittleleague.org. If you have any questions, please feel free to contact me at (510) 769-6031 or via email at ron-matthews@comcast.net.
Thank you for supporting Alameda Little League!
Handout:
Brick Order Form
Tuesday, February 12
Frequently Asked Questions
Looking for more information regarding Alameda Little League, please
PRESS HERE!!!
or go to the FAQ menu option.
Saturday, June 2
WE THANK OUR SPONSOR! PLEASE RECOGNIZE OUR SPONSORS BY PATRONIZING THEIR BUSINESSES!!
Thank You Sponsors! The 2014 sponsor list is available in the Sponsors section of this web site.
Wednesday, February 12
Comments or Questions Regarding This Website
If you have any comments, concerns or questions regarding this website, please email webmaster@alamedalittleleague.org.
Wednesday, February 12
Advertising On This Website
Did you know that we average 10,000 hits per week on this website during the playing season? This is a great place for local business to advertise while supporting Alameda Little League. The two banner ads on the top of this website are available. All proceeds benefit Alameda Little League. For more information please contact Ron Matthews at ron-matthews@comcast.net.