Alameda Little League: Welcome
Player registration for 2018 Alameda Little League Baseball, all divisions, is now open.
Welcome to Alameda Little League, California District 4!
Alameda Little League is a community organization driven by dedicated volunteers whose primary purpose is to provide an outlet for healthful activity and training under positive leadership. The objective of the League shall be to instill firmly in the children of Alameda the ideals of good sportsmanship, honesty, loyalty, courage and respect for authority, so that they can be well adjusted, stronger and happier children and grow to be good, decent, healthy and trustworthy citizens. Our Board of Directors serve as volunteers and receive no compensation for their time.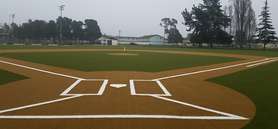 Challenger Field View From Home Plate
Saturday, January 20
Estuary Park Challenger Field Dedication
Estuary Park at 200 Mosley Ave will be dedicated Saturday, January 20th at noon. Alameda Little League helped build the park. This will be the new home of our Challenger Division.
ARPD will be hosting a ribbon cutting ceremony followed by a two inning demonstration game as Alameda's Challenger Division hosts a team from Concord/Clayton. Last year's Intermediate Division District Champions will act as budies helping the Challenger players play the game. This field is ideal for Challenger because of it being a turf field. ARPD will be will be providing free hot dogs, popcorn and pennants.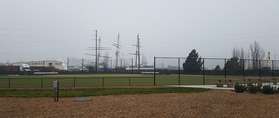 Challenger Field Center Field View
Saturday, January 13
Operation Dress Up Returns for 2018
High School students from Alameda who make up the local chapter of Operation Dress Up will be at the fields Jan. 20 and 21 during evaluations to collect gently used baseball equipment and clothing. Collected items are then redistibuted to Bay Area communities in need. Please contribute.
Sunday, January 7
Manager Candidates Needed for A Division
Calling all Manager Candidates! Alameda Little League is ramping up for the 2018 season. If you are interested in managing a team please complete a volunteer application and email a completed to version to league President, Ron Matthews, at ron-matthews@comcast.net.
Manager candidates are needed for the A Division!

Managing a team can be a very rewarding experience.We have a great program here at Alameda Little League. Come be part of it. Annualy we have close to 1,000 of our area's youth playing baseball. To continue this we need your help. We cannot field teams without managers.
Please email me today at ron-matthews@comcast.net and volunteer to Manage a team in one of these Divisions. Your decision is very important to the League, and to the kids who look forward to growing along with their peers. Thanks for your help!
If you have never completed a volunteer application click here for the New Volunteer Application Form.
Those who are returning volunteers need only complete the Returning Volunteer Application Form.
Wednesday, January 18
2018 Registration T-Ball, Farm and Challenger Remains Open
Registration closed on January 18 for the 2018 season for Single A through Majors divisions.
All walk-up registrants will be wait listed.
Registration for T-Ball, Farm (coach pitch) will remain open through Feb. 21.
Registration for Challenger always remains open.
To register your player(s) click on the <2018 Registration> button above or go to the "Register for 2018 Baseball!" menu option above. Rates are the same as last year.
As part of our commitment to building the best possible baseball fields for our kids, the following enhancements have been made to our fields:
• Windscreen fencing cover on the major and minor diamonds
• New fencing caps on both fields
• New home run fences for the Anderson and Kees diamonds at Rittler Park
• New infield dirt on all fields
• Enhanced drainage on fields to allow rain water to drain faster
• New John Deere Gator for maintenance needs
Use the age chart below to determine your child's "league age".
Saturday, January 20
2018 Evaluation Schedule - January 20-21
The 2018 Player Evaluation dates for Baseball Divisions (Majors, AAA, AA, and A) for ages 12-7 are scheduled for the weekend of January 20 and 21. Player Evaluations will be held at the Alameda Little League fields at Grand Street and Otis Drive behind Wood Middle school. Evaluations are required for all baseball divisions. No player may be drafted into Majors without being evaluated. Again, players who are eligible to play in Majors MUST be evaluated. Farm and T-Ball players do not need to evaluate. Players should arrive to sign in and do warm ups at least 30 minutes prior to their group's assigned start time. The sign in table will be in the walk way between the Major and Minor fields. A player's evaluation group is based on age. Below is the schedule based on LEAGUE AGE.
Please use the 2018 AGE CHART to determine age and attend the correct time.
Due to the fickle nature of spring weather, parents are advised for thier child to evaluate on the weekend of Jan 20 and 21.
All Walk-Up registrants will be wait listed.
Saturday, January 20
Check In: 8:30am
12's: A-L at 9:00am (check-in at 8:30), M-Z at 10am (check-in at 9:30)
11's: A-L at 11am (check-in at 10:30), M-Z at 1pm (check-in at 12:30)
10's: A-L at 2pm (check-in at 1:30), M-Z at 3pm (check-in at 2:30)

Sunday, January 21
Check In: 8:30am
9's: A-L at 9am (check-in at 8:30), M-Z at 10am(check-in at 9:30)
8's: A-L at 11am (check-in at 10:30), M-Z at 1pm(check-in at 12:30)
7's: ALL 7 year olds at 2pm(check-in at 1:30)

Make up dates:
Saturday, January 27
Check In: 8:30
11 and 12 year olds 9am (check-in at 8:30)
9 and 10 year olds 10am (check-in at 9:30)
7 and 8 year olds 11am (check-in at 10:30)

Sunday, January 28
(if January 27 is rained out)
Saturday, December 30
What to Expect at the 2018 Evaluations
Player evaluations for divisions Single A through Majors are scheduled for Jan. 20 and 21 with make-up days Jan 27 and 28. Please arrive at least 1/2 hour before your age group's scheduled time to allow for check in and warm ups. We go from oldest to youngest. The schedule will be posted to this website soon. Players should be in baseball attire including a hat (ok if you don't have baseball clothing, athletic type clothing that is appropriate for the weather will do) and bring their glove, bat and batting helmet. If you don't have a bat and batting helmet the league has some loaner equipment. During evaluations, players will 1) field fly balls, 2) field infield hits at short-stop and throw to 1st, 3) hit and 4) run the bases. The best way to prepare your child is to work with them on their catching, throwing and hitting skills.
Tuesday, November 28
2018 Season Calendar
2018
- Jan 18 - A, AA, AAA Managers Evaluations and Draft Meeting; 6:00PM,
ReMax Realty, 2437 Santa Clara
- Jan 20 - City of Alameda, Challenger Field Dedication at NOON; Challenger demonstration game
- Jan 20-21 - Baseball Divisions (Single A through Majors) Evaluations
- Jan 27-28 - Baseball Divisions Evaluations Make-Up Dates
*** All Drafts to be held at 6:00pm at ReMax Realty, 2437 Santa Clara Ave. ***
- Jan 29 Majors Division Draft
- Jan 31 AAA Division Draft
- Feb 07 AA Division Draft
- Feb 09 A Division Draft
- Mar 03 - ALL Umpire Training (please refer to the "Umpiring" page for more information)
- Mar XX, 6:00pm - CPR Training - Wood Middle School Multi-Purpose Room. All managers are required to be certified, parents are also invited. FREE event.Register on-line below
Regular Season:
- Mar 10- Opening Day Festivities - NOON to 1:30. Teams should arrive at 11:30 to set up for the parade. Ceremonies for the entire League and at least 1 game per baseball divisions A, AA, AAA, Majors
- Mar 10 - Photo Day- teams will be notified of times to report
- Mar 10 - Field Prep clinic immediately following Opending Day Festivities. Meet at the main equipment shed
- Mar 10 - Opening Day Games - 2:00pm on all fields
- Mar 11 - All remaing teams in Majors through A division play
- Mar XX - Challenger Games begin
TBD - Scorekeeping Clinic, at the picnic tables at Lum School playground area
- Mar 18 - First games for Farm and T-Ball
- April 2 - 6 - AUSD Spring Break (no games)
- May XX Majors Division Double Elimination Playoff Tournament Begins
- May XX Mother's Day Farm and T-Ball Rose Games
- May XX AA Division Playoff Tournament Begins
- May XX AAA and A Division Playoff Tournaments Begin
- May 25 - A's Fireworks Game
- Jun 02 - Championship Games and Closing Ceremonies
Note: all dates displayed as 'XX' are tentative and will be updated in January
Thursday, November 16
2018 New BAT Rules
Little League International has changed its bat rules for 2018.
Please note that as of January 1, 2018, the new USA Baseball Bat Standard will be implemented. Little League-approved baseball bats that are approved for use for the 2017 season will no longer be acceptable for use in any Little League game or activity starting on January 1, 2018.
The new bat standard applies to the following divisions:
- Baseball Single A through Majors along with T-Ball and Farm
- Intermediate 50/70
- Challenger

There is some really great content here that explains why the change and the benefit. If you are looking to purchase, especially with the holidays coming up we advise visiting the Little League International website and learn about the new standard.
http://www.littleleague.org/learn/equipment/baseballbatinfo.htm Little League Bat Info page.
Monday, September 18
Notice of Annual Meeting
The Annual meeting of the Alameda Little League Board of Directors will be held September 26, 2017 at 6pm at 2437 Santa Clara. Remax Real Estate offices. This is an open meeting. All are invited to attend.
Alameda Little League Board of Directors
Tuesday, August 22
Eagle Scouts Dugout Cubbies Project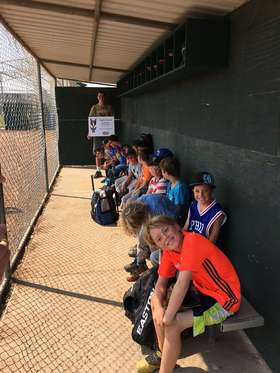 Former Little League player and Eagle Scout candidate, Mike Proffitt, is starting a project to help Alameda Little League. His project is to make Wooden Helmet Cubbies in each of the four dugouts at the major and minor league fields for players and coaches to put helmets and lineup cards in. His target completion is the beginning of the 2018 Little League season. He is volunteering his time but needs your help to purchase the materials. Mike is looking for a simple $10 donation. The project is estimated at costing approximatel $1000. You can donate through either of the PayPal buttons below or send a check made out to Alameda Little League at 2857 Sea View Parkway, Alameda, CA 94502.
Project funding is over 1/3 of the way there! Mike has received over $300 in donations. Please help! Your kids will benefit directly from what Mike and his fellow scouts are doing for the league. Some of the challenges every manager faces is players misplacing their equipment and tripping over batting helmets. "I can't find my hat. I can't find my glove." The cubbies will help eliminate that.
Help turn the thermometer "green" by donating. Fundraising is part of his project so please help him out. Please help out!
| | | |
| --- | --- | --- |
| Donate $10 | | Donate More Than $10 |
Friday, May 12
Alameda Little League Store
Get your official Alameda Little League merchandise here at the ALL On-Line Store or by clicking on the image above while benefiting ALL! Little League International has partnered with PrepSports for this unique opportunity that benefits local leagues. Alameda Little League receives 15% of sales.
Sunday, January 7
Baseball Schedules and Standings
Baseball Schedules:
The website is considered the source of truth for all schedules and umpiring assignments. We will not redistribute spreadsheets if schedule changes are made. Please refer to the website.
On the "Baseball Schedules" page, if you scroll to the bottom you will see links for each team in the Majors, AAA, AA and A divisions. Visiting that page is an easy way to see your team's schedule.
Baseball Standings:
Baseball Standings are based on winning percentage
Winning percentage is calculated using the formula of (Wins)/(Total Number of Games Played)
A tie game equates to a loss for both teams. The league emphasizes playing out ties.
Sunday, January 7
Batting Cage Use
Pre-game use: One hour prior to game time on Majors and Minors the teams playing have use of one batting cage. Cage Designation for pre-game warmups:
- The cage closest to the snack bar is for the Minors Home team
- The free standing cage in the Majors outfield is for the Majors Home team
- The cage furthest from the Majors Home cage is the Minors Visitor cage
- The cage adjacent to the Minors Visitor cage is for use by the Majors Visitin team.
On-field Practices: During on-field practices, each team gets one cage during practice time. 4 fields, 4 cages, one tee cage per team.
Cage Designation for practices:
- The cage closest to the snack bar will be the AA cage.
- The cage adjacent to the equipment shed will be the Single A cage.
- The AAA or major teams practicing on Minor or Major get the other 2 with the tee cage.
Tuesday, March 8
Baseball Rules Webinar Recordings
The below recordings are from the 2016 Baseball Rule Webinar. These can be accessed anytime by clicking on the links. Please review these recordings before attending the 2017 Umpiring Training.
If this is your first time using Cisco's WebEx you will need to create a FREE account. You will also need to install the WebEx extension into your browser. You do not need to purchase an upgrade. If the meeting will not start, call Cisco WebEx customer support at 1-866-863-3905. This is a toll free call.
1) Intro, Umpires and Safety
2) Bat Rules
3) Strikes, Strike Zones, Uncaught Third Strike and Balls
4) Ball in Play (Fair/Foul, Catch, Foul Ball)
5) Tag, Batted Ball Out of Play, Thrown or Pitched Ball Out of Play
6) Interference and Obstruction, Sliding to Avoid Interference
7) Infield Fly Rule, Runner Leaving Early, Appeals, Continuous Batting Order
8) Baseball Myths
9) Local Rules
Reference Materials:
2016 Little League Rules Training Presentation (download)
Basic Umpire Mechanics (download)
Top 40 Baseball Rule Myths (download)
Baseball Myths Explained (you will be taken to an external website)
Sunday, February 26
2017 Local Rules Adopted
2017 Local Rules
. Keep a hard copy in your binder and give copies to your umpires and parents.
Wednesday, February 8
ALL Field Closure Protocol
There are two sets of fields that Alameda Little League uses, Little League Fields and ARPD fields. The Little League Fields of Anderson (formerly Rittler), Kees (formerly Lippert), Majors, and Minor and are under Alameda Little League control. The ARPD fields of Bayport, Littlejohn, Leydecker, Tillman, etc are managed by Alameda Recreation and Parks are under ARPD control. We have to call this out because ALL fields may be open while ARPD fields may be closed.
Little League Fields : The league controls whether or not the fields are open. Check the Little League website the day of an event (practice or games) to see if your team's field is open. We will do our best to update the status by 2:00pm. If you have a game or practice scheduled and there is no information on this website with respect to closure assume that the practice or game will go on as scheduled and arrive at the scheduled time.
If there are adverse weather conditions during the day any decision to suspend a game is a game-time decision and will not be reported on this website. Please plan on all games starting on-time and arriving at the time your team's manager has specified.
ARPD Fields: Alameda Recreation and Parks Department manage the ARPD Fields. They have full control deciding that a field is either open or closed.The ARPD maintains a weather hotline Monday through Friday at 510-747-7540. The hotline is updated by 2:00pm. If a field has a "Field Closed" sign the field is closed, please respect it and do not use the field. It is very easy to damage a wet field. Play fields in Alameda are a scarce resource and must be treated as such.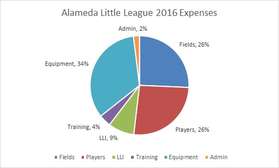 2016 Budget
Friday, October 7
Where Your Registration Fees Go
Curious as to where your registration fee goes? Alameda Little League prides itself as returning 98% of your registration fees back to the kids and Little League. The pie chart shows how the 2016 budget was allocated. We do our best to assure that dollar for dollar your children get the most out of your registration fee.
Tuesday, March 15
Definition of "CURFEW"
Curfew is referenced in the Local Rules and its definition is given here. Curfew is 9:30 on Tuesday-Thursday and 10:00 Friday & Saturday. At Curfew, the lights are extinguished.
AAA Games: In AAA games preceding a 7:15 night game there will be a "hard" stop at the 2 hour mark. All AAA games before a 7:15 night game will end precisely at 7:00pm regardless of its start time. Please review rule 4.10(d), "regulation" game and rule 4.11(d) Exception for incomplete innings.
Majors Games: No time limit may be imposed due to Little League rules, however, the lights must go out at 9:30 PM on games Tuesday through Thursday, and 10 PM on Friday and Saturday. Rule 4.10 applies.
Friday, March 17
Sponsorship Donations
If you would like to help Alameda Little League serve the community in the form of a donation simply press the button below.
Sponsorship Donations
By pressing "Donate" you will be taken to a secured PayPal site for the processing of your transaction .
ORDER YOUR ENGRAVED BRICKS NOW!
As you may have heard at opening ceremonies, Alameda Little League has a great fundraiser starting up. You can purchase customized laser engraved bricks that will be installed on or around the snack bar. These bricks are similar to the custom bricks you may have seen at Disneyland. You can customize it to say your players name, your family name, your team name - whatever you'd like. This is your chance to leave a lasting memory at the Little League fields!
The cost is $100 for one brick/$150 for two. This fundraising effort is for the Alameda Little League General Fund only and will not go to any one team. All proceeds are used to keep registration fees as low as possible.
The order form can be found on the little league website, www.alamedalittleleague.org. If you have any questions, please feel free to contact me at (510) 769-6031 or via email at ron-matthews@comcast.net.
Thank you for supporting Alameda Little League!
Handout:
Brick Order Form
Tuesday, February 12
Frequently Asked Questions
Looking for more information regarding Alameda Little League, please
PRESS HERE!!!
or go to the FAQ menu option.
Wednesday, March 5
WE THANK OUR SPONSOR! PLEASE RECOGNIZE OUR SPONSORS BY PATRONIZING THEIR BUSINESSES!!
Thank You Sponsors! The 2014 sponsor list is available in the Sponsors section of this web site.
Wednesday, February 12
Comments or Questions Regarding This Website
If you have any comments, concerns or questions regarding this website, please email webmaster@alamedalittleleague.org.
Wednesday, February 12
Advertising On This Website
Did you know that we average 10,000 hits per week on this website during the playing season? This is a great place for local business to advertise while supporting Alameda Little League. The two banner ads on the top of this website are available. All proceeds benefit Alameda Little League. For more information please contact Ron Matthews at ron-matthews@comcast.net.