Alameda Little League: Welcome
Player registration for 2017 Alameda Little League Baseball is now open.
Welcome to Alameda Little League, California District 4!
Alameda Little League is a community organization driven by dedicated volunteers whose primary purpose is to provide an outlet for healthful activity and training under positive leadership. The objective of the League shall be to instill firmly in the children of Alameda the ideals of good sportsmanship, honesty, loyalty, courage and respect for authority, so that they can be well adjusted, stronger and happier children and grow to be good, decent, healthy and trustworthy citizens. Our Board of Directors serve as volunteers and receive no compensation for their time.
Saturday, December 10
Intermediate Registration Extended!!!
For those Little League families who are interested in their children playing in the 50-70 Intermediate Division, that registration has been extended and remains open.
Friday, November 3
President's Plea for Managers
Alameda Little League is run by volunteers who are Board Members, Managers, coaches, snack bar workers, umpires and field preparation crews. We are one month into the regstration process and the league is very light in manager candidates for AA, A and T-Ball/Farm divisions. We have a great program here at Alameda Little League. Annualy we have close to 1,000 of our area's youth playing baseball. To continue this we need your help.We cannot field teams without managers.
Please email me today at ron-matthews@comcast.net and volunteer to Manage a team in one of these Divisions. Your decision is very important to the League, and to the kids who look forward to growing along with their peers. Thanks for your help! Click here for the
2017 Volunteer Application Form.
Wednesday, November 30
Holiday Sale at West Coast Sporting Goods
West Coast Sporting Goods is having their annual Holiday Sale now through Sunday, Dec. 4. Bats, Gloves, Gift Cards, Accessories and More! New items being added daily.
West Coast Sports Holiday Sale Link
Saturday, November 12
Little League Bat Resource Page
The holidays are approaching quickly. If you plan on a new bat for your player please visit the Little League International website regarding Bat safety. You can find a list of approved bats there.
If that link doesn't work, cut and past the following into your browser: http://www.littleleague.org/learn/equipment/baseballbatinfo.htm
This page will give you up-to-the minute info on which non-wood bats are licensed and permissible for Little League. All bats that do not appear on the approved list are not allowed in Little League play. Bats must past rigorous testing. The maximum barrel diameter is 2 1/4" and must have a bpf rating of 1.15. If you have any questions please ask a board member.
Wednesday, November 30
2017 Alameda Little League Important Dates
Below is the 2017 calendar. All dates tagged with (*) are tentative. Please make a note of the following dates:
Registration:
Oct 1 - Registration opens for all divisions
Jan 1 - Registration fees increase
Player Evaluations:
Jan 21-22 - Player evaluations Weekend 1
Jan 28-29 - Player evaluations Weekend 2
Feb 4 - Player evaluations rain makup day
Draft Dates & Practices:
Feb 6 - Majors player drafts - players to be notified by managers within 24 to 48 hours
Feb 7 - AAA player drafts - players to be notified by managers within 24 to 48 hours
Feb 11* - Practices for Majors and AAA divisions begin (depends on permits and notifications)
Feb 13 - AA player drafts - players to be notified by managers within 24 to 48 hours
Feb 15 - A player drafts - players to be notified by managers within 24 to 48 hours
Feb 18 - Practices for AA and A divisions can begin. Managers must have player's medical releases signed and in hand
T-Ball/Farm:
Feb 14 - Registration for T-Ball and Farm closes
TBD – T-Ball and Farm Rosters are released to managers
TBD – Manager meeting for Farm/Tball
TBD - Practice begins Farm/TBall
Season Prep and Training:
TBD - ALL Umpire Training - mandatory for all teams, check-in at 8:30 AM at the Snack Bar
TBD - CPR Training - all managers are required to be certified, parents are also invited. FREE event.
TBD - ALL Umpire Rules Clinic Webinar - 6:45 PM. Please contact your manager to R.S.V.P.
Regular Season:
TBD - Opening Day Festivities - Ceremonies for the entire League and at least 1 game per baseball divisions A, AA, AAA, Majors
TBD - Photo Day
TBD - Field Prep clinic immediately following Opending Day Festivities. Meet at the main equipment shed.
TBD - Score Keeping Clinic, 8:00am, at the picnic tables at Lum School playground area
TBD - First games for Farm and T-Ball
TBD - Closing Ceremonies
Wednesday, November 30
Diamond Skills Winter Break Baseball Camps
REGISTRATION IS OPEN FOR WINTER BREAK DIAMOND SKILLS BASEBALL CAMPS
Winter Camps are also being offered and are a great opportunity for friends to get back together and have a fun week of baseball! Camp will be held at Alameda Little League Fields & Neptune Beach Pearl Batting Cages pending weather. We look forward to seeing many back out on the field!
Session #1 Monday December 26th - Friday December 30th
Session #2 Monday January 2nd - Friday January 6th
Saturday, October 1
Registration for 2017 is OPEN
Register now for the 2017 season! Registration is now open for league ages 4-13. Press the "2017 Registration" button above or choose from the 2017 Registration menu option. Either option takes you to the on-line regitration site. Rates will increase January 1, 2017 so save some bucks and register NOW! Looking forward to seeing everyone at the fields!
Saturday, November 12
2017 Age Chart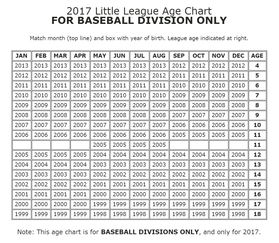 2017 Age Chart
Tuesday, October 25
Attention 2017 Manager Candidates
The 2017 season is right around the corner. If 2017 shapes up like past seasons we will have enough players to field 10 teams per division. Don't procrastinate, sign up now. Manager candidates meet with league president, Ron Matthews, prior to evaluations. During these meetings, Ron will explain a lot more about the role, and about the need for all Managers in a Division to work together and place winning in back of teaching life lessons. A good place to start is by reading this material on the national Little League website which explains the manager role:
http://www.littleleague.org/managersandcoaches/coachrole.htm
Here's a local document that describes the role of a Manager pretty well: Little League Manager
The first step to be considered a manager is to complete the 2017 Volunteer Application Form. Click here for the 2017 Volunteer Application Form. Social Security # is required along with a copy of your driver's license.
Returning managers can now complete the 2017 Returning Volunteer Application Form. Click here for the 2017 Returning Volunteer Application Form.
Download the form and fill it out. Print out the completed. If you have access to a scanner, scan the completed form and send the completed soft copy to to ron-matthews@comcast.net. Or send the hard copy to:
Ron Matthews
2857 Sea View Pkwy
Alameda, CA 94502
The League guarantees confidentiality and we destroy the document after background is processed. Do this as early as possible. After that, Ron will be involved in your training and supervision. Looking forward to seeing everyone you at the diamonds in 2017.
Alameda Little League Board of Directors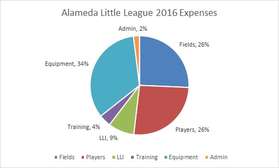 2016 Budget
Friday, October 7
Where Your Registration Fees Go
Curious as to where your registration fee goes? Alameda Little League prides itself as returning 98% of your registration fees back to the kids and Little League. The pie chart shows how the 2016 budget was allocated. We do our best to assure that dollar for dollar your children get the most out of your registration fee.
Wednesday, September 7
Alameda Little League Annual Meeting
The Alameda Little League Annual meeting is scheduled for September 27, 6PM, Lum School Faculty Room. This is an open meeting. All who are interested are invited to attend.
Sunday, September 18
Challenger Field Ground Breaking Ceremony
This past week city officials broke ground for Challenger Field, the first phase in the development of Estuary Park. Challenger Field will be a synthetically surfaced field which will become the home of Alameda Little League's Challenger program. The Challenger program originated in 1989 and enables boys and girls to enjoy the game of baseball. Alameda's Challenger completed its second season this year. Follow the below links to learn more about Challenger and read Alameda's press release.
Little League Baseball's Challenger program
Tuesday, March 8
2016 Baseball Rules Webinar Recordings
The below recordings are from the 2016 Baseball Rule Webinar. These can be accessed anytime by clicking on the link.
1) Intro, Umpires and Safety
2) Bat Rules
3) Strikes, Strike Zones, Uncaught Third Strike and Balls
4) Ball in Play (Fair/Foul, Catch, Foul Ball)
5) Tag, Batted Ball Out of Play, Thrown or Pitched Ball Out of Play
6) Interference and Obstruction, Sliding to Avoid Interference
7) Infield Fly Rule, Runner Leaving Early, Appeals, Continuous Batting Order
8) Baseball Myths
9) Local Rules
If this is your first time using Cisco's WebEx you will need to create a FREE account. You do not need to purchase an upgrade. If the meeting will not start, call Cisco WebEx customer support at 1-866-863-3905. This is a toll free call.
2016 Little League Rules Training Presentation (download)
Basic Umpire Mechanics (download)
Top 40 Baseball Rule Myths (download)
Baseball Myths Explained (you will be taken to an external website)
Tuesday, March 15
Definition of "CURFEW"
Curfew is referenced in the Local Rules and its definition is given here. Curfew is 9:30 on Tuesday-Thursday and 10:00 Friday & Saturday. At Curfew, the lights are extinguished.
AAA Games: In AAA games preceding a 7:15 night game there will be a "hard" stop at the 2 hour mark. All AAA games before a 7:15 night game will end precisely at 7:00pm regardless of its start time. Please review rule 4.10(d), "regulation" game and rule 4.11(d) Exception for incomplete innings.
Majors Games: No time limit may be imposed due to Little League rules, however, the lights must go out at 9:30 PM on games Tuesday through Thursday, and 10 PM on Friday and Saturday. Rule 4.10 applies.
Sunday, September 13
LITTLE LEAGUE BASEBALL® AGE DETERMINATION DATE TO MOVE TO AUGUST 31 FOR THE 2016 SEASON
Little League Baseball has changed the age determination date from December 31 to August 31. There was a lot of concern voiced by parents and the local leagues. The new date determination goes into effect for the 2016 season. The emphasis is to make Little League Baseball a 12 and under program. Below is the rationale from LLB:
Why the change?
In 2011, Little League conducted very detailed participation research. As a result of that research, we learned that parents, players, and volunteers wanted to see Little League become, as a whole, a younger program, and give children an easier way to play Little League with their classmates. Since the research concluded, Little League revamped its Tee Ball program, established a Coach Pitch Program, and changed its residency requirements to allow children to play in the league where their school is located. Adjusting the Age Determination Date will help us achieve the goal of making Little League younger. And, making the date August 31, the same that many schools in many states use for student registration, allows Little Leaguers to play with their classmates.
This change will make the Little League Baseball Division, also known as the Major Division, truly a 12 and under program – ensuring that no child playing in the Little League/Major Division will turn 13 years old at any point during their final season in that division. The same will be true with the upper age limit at all teenage divisions of Little League Baseball.
Click HERE to read more about the changes and view the 2016-2019 age charts along with the explanation on why age determination is changing.
Monday, October 26
Sponsorship Donations
If you would like to help Alameda Little League serve the community in the form of a donation simply press the button below.
Sponsorship Donations
By pressing "Donate" you will be taken to a secured PayPal site for the processing of your transaction .
Sunday, November 1
Demystifying Alameda Little League Player Placement
The following information will help parents and players understand how teams are formed in Alameda Little League. Unlike school, all players will repeat a division (or two) at some point during their Little League career. Movement up through divisions is not and should not be viewed as a competition. Often times parents are disappointed when their player repeats a division. However, they later see that repeating a division was perhaps the best situation for their child as their child becomes a team leader, develops confidence, and increases their playing skills. If a child is moved-up too quickly, he/she may struggle, lose confidence, and no longer enjoy playing baseball and quit.
Alameda Little League's Minor/Majors divisions are: A, AA, AAA, and Majors. The age range for these divisions is 7 to 12 and player placement on a team and in a division is based on a player's performance during evaluations, as well as a coach's familiarity with a player based on the player's previous experience in Little League. T-Ball Division ages are typically 4 to 6 and Farm Division ages are typically 5 to 8. Age ranges for all divisions overlap to account for player experience, ability, maturity, and the number of teams formed based on coach availability.
In addition to Minor/Majors Alalmeda Little League has established its Intermediate Division for 13 year old players. We also have the Challenger Division for players with disabilities.
In our league, we have a T-Ball/Farm Player Agent and a Minor/Majors Player Agent. If you have questions about player placement, the league encourages you to contact the Player Agents. It is his/her job, along with the league's President, to facilitate the right placement for every player. That said, remember that Alameda Little League is a volunteer-run organization and our league has nearly 1,000 players. It takes an enormous amount of work and patience to sort the players into their respective divisions and teams so placement can take some time.
Alameda Little League Player Age
Your player's Little League age is their exact age as of August 31 of the coming year which is the end of the Little League World Series. For example, if they turn 11 on September 1, they are still considered to be Little League age 10 as they will be 10 throughout the season.
T-Ball/Farm Baseball Divisions
These are non-competitive divisions for players to learn the very basic skills and rules of baseball. Above all, it is about learning something new and having fun.
T-Ball is the starting point for all new and young players. Players hit the ball from a stationary tee. Outs and runs are not recorded. Farm is for players who have played at least one year of T-Ball and are at least 5 years of age. In Farm Ball, coaches will soft pitch to batters and outs are recorded, but score is not kept.
Major/Minor Baseball Divisions
The formation of these divisions is driven by the number of players in any age group and starts with the Majors division. All 12 year olds (12s) must be evaluated and play in the Majors Division. Each Major team has a roster of 12 players and can have no more than eight 12s. So, the number of 12s in the program drives the number of Majors teams. For example, if there are 64 -12s, then there are 8 teams, 80 - 12s, then there are 10 teams, etc. The remaining roster spots are filled by 11-year-old players. All 11s not drafted into Majors must play in AAA Division. All 10s not drafted into the AAA Division must play in the AA Division. All 9s not drafted into the AA Division must play in the A Division. There are exceptions, such as when a 12 year old who has never played baseball before can seek an exemption to play in the AAA Division.
Age and Division Guidelines
12 (Majors or exemption to AAA)
If your player has played in the lower divisions (and particularly AAA), he/she should play Majors. However, if the player fails to register on time and/or misses the evaluations, they may end up playing in the AAA Division or be placed on a waiting list. It is extremely important for 12 year olds to be registered prior to the deadline and, by rule, evaluated. If your 12 has never played baseball, has any limitations, or you feel there is a safety issue, then contact the Player Agent and seek an exemption for them to play in the AAA Division. 12s in AAA are not allowed to pitch.
11 (Majors or AAA)
If your player played AAA as a 10 year old, then as an 11 year old, he/she could be drafted into the Majors Division. As noted above, there will be limited spots for 11s in Majors.
10 (AAA or AA)
10s are not eligible for Majors. If your player played AA as a 9 year old, then as a 10 year old, they could be drafted into AAA. If your player played in the A Division as a 9 year old, there is a remote chance that they may be drafted to AAA as a 10. Our experience is that players who skip a division often have significant struggles adjusting to increased demands. Skipping divisions is not advisable. Again, it is very common to repeat a division. If you have a concern about either possibility, speak to the Player Agent before the draft.
9 (AAA, AA or A)
If your player played AA as an 8 year old, then as a 9 year old, there is a possibility they could be drafted into AAA. If your player played in the A Division as an 8, then as a 9, they could be drafted into AA.
8 (AA, A or Farm)
If your player played in the A Division as a 7 year old, then as an 8, they could be drafted into AA. If not, they repeat A. If your player played Farm as a 7 year old, then as an 8, they could be drafted into A. If not, they repeat Farm. If you have an 8 who has never played baseball before, they may be more comfortable learning the game in the Farm Division, however, they should still be evaluated and considered for the A draft (or possibly AA draft).
7 (A or Farm)
If your player was in Farm as a 6, then as a 7, they could possibly be drafted into A. In order for this to occur, your 7 year old must be evaluated. If the player is not evaluated, they will repeat the Farm Division. If you plan on playing Farm only, then there is no need to have your player evaluated for the A draft.
6 (Farm/T-Ball)
6 year olds should generally play in Farm. They are not eligible to be drafted into the A division. If they never played baseball, you could consider the T-Ball division, however they are not precluded from starting in Farm at age 6.
5 (Farm/T-Ball)
A 5 year old who played T-Ball at 4 years of age can either play T-Ball or Farm. If they did not previously play T-Ball, then a 5 must play T-Ball.
4 (T-Ball)
T-Ball only. No exceptions.
4 - 18 (Challenger Division)
A player with mental or physical challenges may participate in the league's Challenger Division. All ages may play.
ORDER YOUR ENGRAVED BRICKS NOW!
As you may have heard at opening ceremonies, Alameda Little League has a great fundraiser starting up. You can purchase customized laser engraved bricks that will be installed on or around the snack bar. These bricks are similar to the custom bricks you may have seen at Disneyland. You can customize it to say your players name, your family name, your team name - whatever you'd like. This is your chance to leave a lasting memory at the Little League fields!
The cost is $100 for one brick/$150 for two. This fundraising effort is for the Alameda Little League General Fund only and will not go to any one team. All proceeds are used to keep registration fees as low as possible.
The order form can be found on the little league website, www.alamedalittleleague.org. If you have any questions, please feel free to contact me at (510) 769-6031 or via email at ron-matthews@comcast.net.
Thank you for supporting Alameda Little League!
Handout:
Brick Order Form
Tuesday, February 12
Frequently Asked Questions
Looking for more information regarding Alameda Little League, please
PRESS HERE!!!
or go to the FAQ menu option.
Wednesday, March 5
WE THANK OUR SPONSOR! PLEASE RECOGNIZE OUR SPONSORS BY PATRONIZING THEIR BUSINESSES!!
Thank You Sponsors! The 2014 sponsor list is available in the Sponsors section of this web site.
Wednesday, February 12
Comments or Questions Regarding This Website
If you have any comments, concerns or questions regarding this website, please email webmaster@alamedalittleleague.org.
Wednesday, February 12
Advertising On This Website
Did you know that we average 10,000 hits per week on this website during the playing season? This is a great place for local business to advertise while supporting Alameda Little League. The two banner ads on the top of this website are available. All proceeds benefit Alameda Little League. For more information please contact Ron Matthews at ron-matthews@comcast.net.