Alameda Little League: Welcome
Welcome to Alameda Little League, California District 4!
Tuesday, May 21
The Matteucci and Wooten Awards
Our League President, Ron Matthews, explains the Matteucci and Wootten Awards.
THE MATTEUCCI AWARD Bill Matteucci coached in the early 2000's here in Alameda Little League and was a hard working Board Member as well. Bill was always a hoot, full of laughter and good, clean, honest friendliness. He loved the kids, all of them, from opponent teams as well. He would do anything for the League and always rolled up his sleeves to pitch in where needed. But most of all, on the field he NEVER argued, yelled, or showed anyone emotion that was negative. Yes, umpires then were like the ones today in Little League, very human. He saw that and knew the bigger picture in life was what we were there to teach the kids. His teams would never be in the cellar, nor would they be on the top, but they were always out there to have FUN and still compete. Bill was the embodiment of good sportsmanship and integrity during his short life, and our League learned a lot from him, which is why we have named this prestigious award after him. The Matteucci Award is given to the Manager of each Baseball Division voted by fellow Managers to exemplify the good sportsmanship and integrity that we seek to teach our youth in Alameda Little League. It is the highest honor a Manager in Alameda Little League can receive from the League.
THE WOOTTEN AWARD Whitey and Alice Wootten started going to baseball games at Krusi Park in the late 1970's. Whitey was about 60 years old at the time. They didn't have any kids or grandkids in the program. They just loved baseball and cheered good plays. They didn't care who won. They cheered for all of the players. In December 1984, Whitey died. To honor his memory, his wife Alice donated money to both Little League and Babe Ruth to establish sportsmanship awards. This award is given to players on each team in Alameda Little League and Alameda Babe Ruth who show leadership through good sportsmanship on and off the field. This award is the highest honor a player can receive from the League.
Tuesday, May 21
NEPTUNE BEACH PEARL OPENING DAY JUNE 1ST, 5:00PM
The Neptune Beach Pearl Alameda's Collegiate Summer Baseball Team featuring top college baseball players from around the country is having Alameda Little League Day with the Pearl at Opening Day 2013. June 1st 5:00pm at the College of Alameda. FREE ADMISSION, BASEBALL BINGO, JUMPY HOUSE, IN-GAME ENTERTAINMENT, SNACK BAR, NEW PEARL APPAREL & SOUVINERS, MEET THE TEAM & RUN THE BASES AFTER THE GAME. Many Pearl players live with our Little League Families for the summer. The Neptune Beach Pearl is a proud sponsor of Alameda Little League, please show them your support and attend this great event on the island. For more information on the Pearl and the complete 2013 Schedule visit
www.neptunebeachpearl.com
Wednesday, May 8
Alameda Attack Fall Ball Evaluation Dates Are Set
The Alameda Attack fall baseball teams -9U through 14u - have set the evaluation dates for this fall's teams. Evaluations will be held on June 23 at Krusi Park. See the Attack flyer for details.
For information about the 2012 season, please visit the Alameda Attack page on this website.
Wednesday, May 15
All Star Selection Process
The Alameda Little League Board of Directors announces that the 2013 All Star selection process is being defined and will be announced later this month. The Board may elect to change the voting used in 2012. Also, the President appoints and the Board approves All Star Managers and coaches. Below is the process used in 2012.
2012 All Star Selection Process:
12's:
6 voted on by peers + 3 selected by Major Mgrs + 3 or 4 selected by team Mgr. 12's are purely age 12.
11 Blue: team to be selected first; then red team will be selected. Major managers vote on first 8; next 4 or 5 chosen by assigned mgrs for that team. No players from AAA should be on blue. No input from AAA managers unless requested. 11's are purely age 11.
11 Red: All AAA mgrs may attend meeting & provide input to managers. Major managers vote on first 8; next 4 or 5 chosen by assigned mgrs for that team. Purely age 11.
10 Blue: Voted on by AAA managers 8 + next 4 or 5 chosen by selected manager.
10 Red: Voted on by AAA managers 8 + next 4 or 5 chosen by selected manager. 10's are 9 and 10 years old.
Monday, May 13
Diamond Skills Camps Announce Summer Schedule
Diamond Skills Camps is offering 10 weeks of summer camps hosted at the Little League fields. Camps start on June 10 and run through August 23.
Alameda Little League endorses the Diamond Skills Camps that are run by Neptune Beach Pearl at our Little League fields. These are former Alameda Little Leaguers who have come back to Little League and offer excellent clinics designed to make our players better during the summer months. No other clinics in Alameda are endorsed by Alameda Little League, nor do they contribute to us. You can find more information and register at www.diamondskillscamp.com If you sign up for a clinic please sign up for these to benefit Alameda Little League!
Click here for the Diamond Skills Flyer
Monday, May 6
Icon Pros Game Day Images Available On-Line
Icon Pros Game Day Images are available on-line until May 26. Click the link above or type www.iconpros.com into the URL path of a browser. I understand that uploading is in process so it may take until later today for your child's image to appear on the site. Click here for more information:
Icon Pros Flyer
Wednesday, May 8
Sports Authority Coupons
These two coupons can be used for the entire month of May at Bay Area Sports Authority Stores:
The weekend of May 18-19 is Alameda Little League Appreciation Day. Bring this coupon to a Bay Area Sports Authority Store to recieve 20% off your entire purchase -> ALL Appreciation Coupon
e-Coupon to Sports Authority $20 OFF -> $20 coupon
e-Coupon to Sports Authority $10 OFF -> $10 coupon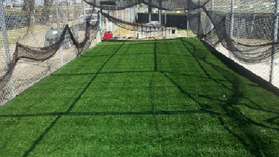 Finished Cage
Sunday, April 21
Curious About the Work on the Minor Field Batting Cage?
New Cement Floor, Fence, Floor and Netting to Follow
The Board of Directors recently approved the funds to widen and improve two batting cages for both functional and safety reasons. Our President looked at bids from vendors and decided that it was too costly, so he and our Independent Contractor John Peralta tackled the immense job by themselves, saving an estimated $7,000-$8,000 in costs. The cage nearest our Snack Bar is almost complete and teams are excited to use it. The final touches will be a synthetic turf surface and netting. The batting cage in the left-center field bull pen area of the Major Field will begin the same construction process as soon as this season ends. We do it for the kids!!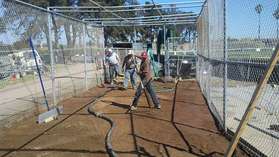 Old Batting Cage Being Reworked
Monday, May 6
Division A Coach's Passing
We regret to inform you of the sudden passing of one of our Little League coaches on Tuesday. Craig Wolff was a coach for three seasons in Farm Division and this year was a coach of the Single A-Lugnuts. In addition to being a doting father and devoted husband, Craig was a first year doctoral student at Cal Berkeley and a researcher, scientist and environmental engineer for the public health industry. Craig enjoyed the outdoors and was an avid cyclist. Craig is survived by his wife Sonia Urzua and his three children: Clarisa, Sebastian and David.
To honor Craig's memory, Alameda Little League held a silent reflection period before the Lugnuts game at Rittler Field at 11:25am on Saturday, May 11 for anyone who wanted to join. Over 300 attended, including all teams from games at that game time.
A scholarship fund has been set up for Craig's children at Wells Fargo Bank: Acct Name: Sonia Urzua Acct #5207-822213 or donations may be made to AIDS/Life-Cycle in Craig's Wolff's name. Alameda Little League is contributing $500 to the scholarship fund. Please join the League in recognizing this loss in our community.
Sunday, April 21
Alameda Little League Day at Cal Baseball - Update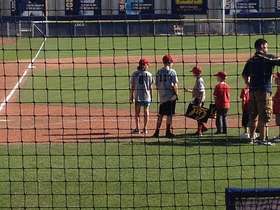 Niamh Mayhew, Jake Emerson and Konrad Matz Line Up to Run the Bases
It was a beautiful day for baseball in Berkeley as the Cal Bears hosted Washington State. Alameda Little League had 350 Little League in attendance at Alameda Little League day at Cal's Evan's Diamond. Alameda players witnessed a 2-1 Cal win.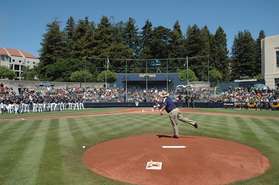 League President, Ron Matthews, Throws Out First Pitch
Friday, March 22
URGENT MESSAGE ABOUT PARKING AROUND OUR FIELDS
THE ALAMEDA UNIFIED SCHOOL DISTRICT WILL ALLOW US TO OPEN THE PARKING LOT AT WOOD SCHOOL ON WEEKENDS UNDER THE CONDITION THAT WE SUPERVISE THE LOT. WE HAVE ASKED ALAMEDA POLICE DEPARTMENT TO CITE ANY VEHICLE THAT IS PARKED ILLEGALLY THERE, AND AT THE LUM ELEMENTARY SCHOOL PARKING LOT WHERE THE PRINCIPAL HAS COMPLAINED ABOUT OUR ILLEGAL PARKING.
PLEASE DO NOT PARK ILLEGALLY IN HANDICAPPED SPACES, AND DO NOT BLOCK OTHER VEHICLES OR LANES. PARK IN DESIGNATED SPACES ONLY, DO NOT CREATE A SPACE THAT DOES NOT EXIST. AND PLEASE BE COURTEOUS TO ALL OF OUR RESIDENTIAL NEIGHBORS AS WELL WHEN PARKING ON THE STREET.
THANKS FOR YOUR COOPERATION!
Thursday, March 28
MANAGERS: Important Information Regarding Score Keeping and Pitch Counts
As a result of a recent situation that occurred in an Alameda Little League Major Division game, we have decided to immediately ask all Official Scorekeepers in Major, AAA, and AA Divisions (Home Team Scorekeeper) to:
1) ANNOUNCE THE PITCH COUNTS OF ANY AND ALL PITCHERS EVERY HALF INNING, AS WELL AS THE CURRENT SCORES.
2) BE AWARE THAT HE/SHE MAY HAVE NOT RECORDED THE CORRECT INFORMATION AND, IN THE EVENT THAT HE/SHE ACCEPTS ANY INFORMATION PRESENTED, MAYCORRECT THE OFFICIAL SCOREBOOK ACCORDINGLY.
The Official Scorekeeper must provide the current pitch count for any pitcher when requested by either Manager or any umpire. In the event no announcement is made or heard, the Manager/s remain responsible for the pitch count and the rules that govern them, including limits by age. Please refer to Regulation VI-Pitchers, Page 37-38, Little League 2013 Baseball Official Regulations and Rules.
Click here for Rule 10.01 Score keeping and 10.22 Pitch Count
Click here for Official Scorer Rules from Little League
Tuesday, April 2
Check Out the new GAME SUMMARIES section
Click here to check out the new
GAME SUMMARIES
section of the website. These are the same that are published weekly in local media.
Wednesday, March 20
What Are Youth Sports About? A letter from Mike Matheny To Parents
Dear Little League Parents,
The 2013 season has begun and we are already into our second week of games. The kids are having a GREAT time! Please take the time to read this letter from Mike Matheny (current St. Louis Cardinals manager) to the parents of his youth baseball team. It was recently published former St. Louis Cardinal Kevin Seitzer's company website.
In his letter, Mr. Matheny states his goals for the team at the beginning:
"My main goals are as follows: (1) to teach these young men how to play the game of baseball the right way, (2) to be a positive impact on them as young men, and (3) do all of this with class. We may not win every game, but we will be the classiest coaches, players, and parents in every game we play. The boys are going to play with a respect for their teammates, opposition, and the umpires no matter what."
Click here for the Mike Matheny Letter.
Saturday, March 9
Snack Bar Schedules Posted
The snack bar schedules for this season are posted in the "Handouts" section of the website. Managers, please review with your teams.
Wednesday, March 13
The Alameda Little League 2013 Board of Directors
Friday, March 1
Information Regarding Background Checks
Little League International, Inc. (LLI) takes the safety of its children participants very seriously. In 2007, Little League instituted a program where it is mandatory for all volunteers to be screened annually. LLI provides to its districts a screening service that searches through the state level sex offender registry and also a criminal records database of over 270 million records.
Volunteers have expressed concern regarding the process and how their confidential information is protected. The following is the process used as submitted by Alameda Little League President, Ron Matthews:
The system that is in place is that I am the person who receives the application, not a committee. Any documents are scanned into a PDF and shredded. I transmit them securely to our Director of Legal Affairs, Scott Hennigh (an accomplished attorney) who submits them to Lexis-Nexis for the background check. After I receive a thumbs up on each applicant the PDF's are deleted from my computer and his.

Little League International, Inc. has an entire section on its website devoted to this subject, and requires me to take this matter very seriously in order to protect our children from abuse. I am also required to sign and verify that I have checked every volunteer in the League. Here is a passage from the link provided:
Press here for summary of the LLI prescribed process --> background checks summary
Press here to be taken to the LLI website for information regarding background checks.
Saturday, February 2
Parents: Required Paperwork for All Players and Volunteers
Hi Parents,
Help out your child's manager by completing all necessary paperwork prior to your parent's meeting. To play, each child must have a signed Medical Release, Medical Release 2013
and signed Parent's Code of Conduct. Parent's Code of Conduct
All volunteers (coaches for right now) must submit a Volunteer Application. Volunteer App 2013
The Volunteer Application can be either given to you team's manager or sent directly to Ron Matthews.
Volunteer Application Instructions: Complete the form and return to Ron Matthews, 2857 Sea View Parkway, Alameda, 94502, or scan and e-mail it to him at ron-matthews@comcast.net. Please include a photo copy of a government issued photo ID.
Tuesday, February 12
Majors through A Division Game Schedules
Majors through A Division schedules are posted to the "Schedules" section of this website.
Note: The start time of the 3/29 AAA Scrappers vs. River Cats game at Leydecker Park has moved to 7:00p.m.
Check this news item for any future schedule changes.
Wednesday, March 20
Field Closure Procedures
We will always use this website to advise field conditions during rainy weather conditions.
For the Little League Fields (Rittler, Lippert, Majors, Minor), the league controls whether or not the fields are open. Check the Little League website the day of an event (practice or games) to see if your team's field is open.
For ARPD managed fields (Bayport, Littlejohn, Leydecker, Tillman) on Monday through Friday, call the ARPD hotline at 510-747-7540. The hotline is updated by 2:00pm.
For ARPD managed fields on Saturday and Sunday, closure status will be posted to the Little League website.
Wednesday, March 6
WE THANK OUR SPONSOR! PLEASE RECOGNIZE OUR SPONSORS BY PATRONIZING THEIR BUSINESSES!!
Thank You Sponsors! The 2013 sponsor list is available in the Sponsors section of this web site.
Monday, February 13
Message From The League President
On behalf of the Board of Directors of Alameda Little League, we welcome you to our program if you are new in 2013, and we welcome you back if you are returning. Alameda Little League is not really much different from any other youth sports program in our great community. Our purpose, like the others, is to provide a safe, organized program for youth in the City of Alameda, with the specific objectives of implanting firmly in the youth of Alameda the ideals of good sportsmanship, honesty, courage, and respect for authority. As volunteers in the community, we sincerely wish for you to join us in our efforts to assist these youth in this, their final stage of development before becoming a teenager. We work very hard, sometimes harder than we should because we may not have enough volunteers to help. That's why we need you, and that is why our youth, your youth, need you! They are children, and they will soon be adults, but they will always need you to be there for them. I urge you to get involved, as an umpire, as a coach, as a team parent, or as a spectator who is positively interested in your son or daughter's development in these crucial years. Don't just take them to the game and leave…participate and enjoy! Go out and play catch with your "almost adult" because you will never regret it. Better yet, they will never forget it! Please join us in 2013 for a great year. Like any church or school or any other social institution, we are not a building, or a field, but we are the people who care about making our community better.
Come and get to know us, and enjoy Alameda Little League!
Ron Matthews
Alameda Little League President
ORDER YOUR ENGRAVED BRICKS NOW!
As you may have heard at opening ceremonies, Alameda Little League has a great fundraiser starting up. You can purchase customized laser engraved bricks that will be installed on or around the snack bar. These bricks are similar to the custom bricks you may have seen at Disneyland. You can customize it to say your players name, your family name, your team name - whatever you'd like. This is your chance to leave a lasting memory at the Little League fields!
The cost is $100 for one brick/$150 for two. This fundraising effort is for the Alameda Little League General Fund only and will not go to any one team. All proceeds are used to keep registration fees as low as possible.
The order form can be found on the little league website, www.alamedalittleleague.org. If you have any questions, please feel free to contact me at (510) 523-7946 or ron-matthews@comcast.net.
Thank you for supporting Alameda Little League!
Handout:
Brick Order Form
Tuesday, August 28
Frequently Asked Questions
For answers to Frequently Asked Questions about Alameda Little League, please
PRESS HERE!!!
or go to the FAQ menu option.