Alaska District #2 Little League: Sponsors
Alaska Airlines
| | |
| --- | --- |
| | Official Airlines of Alaska District 2 Little League and their local leagues. |
McDonalds of Juneau
2285 Trout St
Juneau, Alaska
99801


With both downtown and valley locations; breakfast, lunch and dinner; supporting youth in Juneau: "I'm Lovin' It!!"
JDHS Rebounders Club
PO Box 23044
Juneau, Alaska
99802-3044


Supporting the Juneau Douglas High School women's basketball program for many years. Encouraging young people to be involved. Supporting ALL women's sports in Juneau!
Faulkner, Banfield Attorneys at Law
One Sealaska Plaza Ste 202
Juneau, Alaska
99801-1245


Faulkner Banfield PC Attorneys at Law supporting youth and youth sports in the Capital City for many years.
Phone: 907-586-2210
Fax: 907-586-8090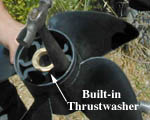 A Four Bladed Prop
A-1 Propeller Repair
Have you been out boating and…hit a log, nicked a rock or spun a hub? We repair all types of boat propellers. brass, aluminum, stainless…you name it. Call A-1 Prop Repair .
Phone: 907-790-2933
Fax: 907-790-2963
Polysteel of Alaska
PO Box 32077
Juneau, Alaska
99801


When designing your next home or building consider using Polysteel of AK. Polysteel construction is environmentally friendly; rot proof, mold resistant and energy efficient. "Polysteel of Alaska, we are building a better world"
Phone: 907-789-7170
Fax: 907-789-7171
Duck Creek Market
9951 Stephen Richards Memorial Dr
Juneau, Alaska
99801


Your friends at the Duck Creek Market are supporting youth sports broadcasts. Convenient hours and a convenient valley location. Good luck to all tournament teams. Supporting youth sports in Juneau—the Duck Creek Market.
Phone: 907-789-4637