Ahwatukee Foothills PONY Baseball Association: News
Thursday, October 23
PONY Pitcher & Catcher Clinic on Sunday 10/26
Hello AFPBA Mustang & Bronco Families:
Announcing a speical PONY Pitcher & Catcher Clinic!
How would you like your baseball player to get the same coaching and instruction as Major League pitchers, Jered Weaver and Joe Thatcher?
Ahwatukee Foothills PONY Baseball is proud to have Mike Butcher, the Pitching Coach of the Los Angeles Angels of Anaheim, conduct a Pitcher/Catcher Clinic from 10:00 am - 12:00 pm, Sunday, October 26 at the Akimel Bronco (south) baseball field. The cost of the clinic is only $20. Check or cash only please.
This clinic is geared towards youth baseball players aged 8-12. You do not have to be a current AFPBA player to attend.
Mr. Butcher was an MLB 2nd Round draft pick in 1986. He pitched for the Angels from 1992-1995 and has been their Pitching Coach since 2006, making the AL Playoffs in four (4) of those seasons.
Please arrive up to 30 minutes early to get signed in and warmed up for the clinic. Catchers should bring your gear if you have it.
Please contact, Eric McCarthy (Mustang Division Director) at ericmccar@aol.com if you have any questions.
We look forward to seeing you on Sunday!
AFPBA
Saturday, October 4
Field Changes & Parking Restrictions for Saturday 10/4
Hello AFPBA Families:
The Kyrene School District has determined the Akimel Lower SW "Bronco" field is still too wet to use so they have officially cancelled games for today on this field. As of last night there was still 6-8" of standing water behind the backstop of the south field.
Please plan on moving all Saturday, October 4th Akimel Lower SW games to the Akimel Upper SW field. This will allow the games to be played and while somewhat inconvenient, still playable at the revised field. All other games on other fields will remain as scheduled.
Also, the annual state-wide band competition is at Desert Vista High School today and the Akimel parking lots will be unavailable for PONY and AYSO parking. Please plan on parking in the area neighborhoods and give yourself a few extra minutes to arrive at the fields.
See you at the games!
AFPBA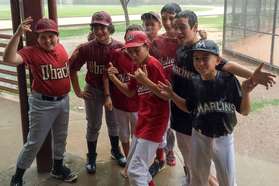 There will be a 'slight' rain delay...
Saturday, September 27
Some Saturday 9/27 Games Cancelled Due to Rain
With the rain returning in force around 2pm, the afternoon and evening games have been cancelled.
Friday, September 26
Saturday 9/27 Game & Picture Plans
Hello AFPBA Families:
At this time, all games continue to remain as scheduled, although the latest forecast calls for a high probability of rain throughout tomorrow. If there is rain, or lightning, the games will be cancelled for tomorrow and rescheduled. The most likely rescheduling scenario will be an added weeknight game throughout the season. Another possibility may be Sunday afternoon games held on a weekend after Fall break. Once we know the full impact, a schedule update can be issued.
If it is not raining, or very light rain, please arrive as scheduled for your game(s). In the event rain starts after the games have started, the League umpires will be responsible to determine when games are halted.
Picture Day is also scheduled for tomorrow and will also remain as scheduled. If this activity is rained out, the make-up date is October 18. New picture times will be issued to each team if rescheduling is required.
We will continue to monitor the weather and update the website and inform coaches as to the field status.
Thank you,
Ron Ensley
AFPBA President
Monday, September 22
Fall Team Picture Schedule Posted for Opening Day
The Fall team picture schedule has been posted to the events in the Calendar.
Please arrive 15 minutes early to your scheduled picture time. Your team head coach should should have / be passing out a pictures packet that has the order form and picture package pricing. There is no requirement to purchase pictures but if you choose to do so, please have this filled out with payment and brought to your team picture time to help things move along quickly. If you happen to forget it at home there will be a table with extra forms along with samples ( I think ) of some picture products.
The photo sitting will utilize a bat and the photographer will have a community bat available to use but if your player wants the picture with their favorite bat, they may bring it but please don't swing it while waiting - too many people around.
Tip: If you haven't received your uniform by the time of your team picture, the restrooms at the Akimel Bronco concession stand will be open for your player to change in. Bring or wear as much as you can and arrive early to meet up with your coach to receive the uniform and change.
If you have any questions or concerns, please contact your team head coach or Division Director.
Friday, September 19
Fall Game Schedules Posted for all Divisions
That thing you've been waiting for - the posting of the Fall Game Schedules for all Divisions - has occurred. Your coach should be distributing your team's portion soon if not already as well.
As previously announced the Shetland, Pinto, Mustang and Bronco division games get under way on Saturday, September 27th. Games will occur all day long on the various fields at the Akimel & Estrella school complex with a few teams starting the season off with a double header. The Champions division will begin their games on Friday, October 3rd.
You may also see and download the game schedules from our website under the Calendar or Schedules tabs on the left. The Calendar tab is a graphical view of the month in the typical grid style. The Schedules tab lists the games played and scheduled in a row listing.
With the schedule just being released there may still be a few corrections occurring as coaches and parents review them so please check back occasionally for any updates. If any games are modified a news announcement similar to this will be posted to help notify you of the changes.
We'll see you on the ball field!
Monday, September 1
Note to Fall Season registered families
Hello AFPBA Families
Congratulations on registering your young athlete for the Fall 2014 season! We are looking for a very exciting season with a high number of registrations in our upper divisions. Registration is still open until Sept 7 so be sure to inform your friends that have not signed up yet. You can check out our website FAQ page to provide an overview of equipment you will need and other basic information.
The Shetland and Pinto teams are being formed now, but you should not expect to hear from your coach until the weekend of September 6-7 at which time your team's coach will make contact with specific practice times for your team and his requirements. Practices will start the following week of Sept 8. A new rule this season, after reviewing your feedback, we have modified the Shetland pitching by moving the machine further from home plate and speeding up the pitches.
The Mustang and Bronco evaluations will be held Saturday, September 6 at the Akimel baseball fields. Mustang will start at 8:00 am sharp. Bronco evaluations will start around 10:30 am, once the Mustang group is complete. Please arrive at least 20 minutes early to sign in and get warmed up. Be sure to bring all the baseball gear, water and sunscreen. The draft will occur on Sunday and all coaches will contact their players by the end of the day with practice schedules and team requirements.
We have required each coach this season to have concussion training through NFHS and First Aid Training in an effort to further promote safety within our League.
The first games of the season will start on Saturday, September 27.
Do not hesitate to contact your Division Director with any additional concerns or questions. They are here to help.
Bronco Division: Cory Sanders cory@securecloudsolutions.com
Mustang Division: Eric McCarthy ericmccar@aol.com
Pinto Division: Mike Kirby kirby@wertech.com
Shetland Division: Janell Brassfield janellbrass@yahoo.com
Champions Division: Chris Kelly tkelly36@cox.net
In the event you have any registration questions, please contact Michael Boucher at vp@ponybaseballaz.com.
Be sure to send your proof of residency and age documents to documents@ponybaseballaz.com.
We are all very excited for the start of this season, so let's play some ball!
Thanks,
Ron Ensley
President
Ahwatukee Foothills PONY Baseball Association
Saturday, August 30
President's Letter - Fall 2014
Welcome Parents and Players,
I thank each and every one of you for giving your children the opportunity to play a sport that is truly one of America's past times. I am certain each of you that played youth sports still have vivid and fantastic memories of your teammates, coaches, mentors and even the "game-changing" play you were involved in that won the game.
Our League offers high levels of baseball to all kids (boys and girls) from ages 4-12. The local League is affiliated and in good standing with the international PONY baseball organization.
Youth baseball can be an opportunity for your young athlete to learn new skills, make new friends and have fun. One very important life skill is the teamwork aspect of the game where each player learns how to function and contribute to a bigger group of people...their team. It is rewarding to see the individual growth in each of these players as time goes by.
We have many coaches and League volunteers with amazing knowledge of the game, some having played and/or coached at the highest levels of baseball. In the event we have a challenge arise and a coach or parent needs help, there is a large support group to ensure we provide the best possible experience for your player.
Our League is a community League made up of players from the Ahwatukee area. The players and families already have the common bond of living and going to school here and many long-time family friendships develop through the seasons played in the League. Baseball can be a bond that will take your children well beyond the base paths and into their future as friends that can reflect and say "Remember when..."
Competition is an important element of any sport and as kids grow they naturally become more competitive. We feel the coaches role and that of the parents is helping the kids develop the ability to deal with competition in a healthy way. Effort and attitude is the focus. The League has been fortunate to represent well at the State PONY Level. We had Arizona State Champions at the Shetland, Pinto Kid Pitch and Mustang age groups. The Mustang team reached the semi-final gamest the Zone Tournament in California. Each Spring season we typically have multiple teams win the Arizona State Tournament.
As President of the Ahwatukee Foothills PONY Baseball Association, and on behalf of the countless Board members, League volunteers and sponsors I again thank you for the commitment you have made to give your child a positive experience through our League. We look forward to knowing each and every one of you and seeing the smiles on your athlete's face as we play another season.
Have a great next season and let's play ball!
Ron Ensley
President
Ahwatukee Foothills PONY Baseball Association