Ahwatukee Foothills PONY Baseball Association: Welcome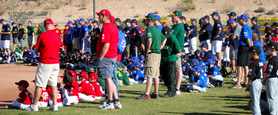 Teams Gather for Spring Opening Day Ceremonies
AFPBA Updates:
Keep up to date with the AFPBA via Social Media by clicking the following buttons:
Tuesday, January 5
PONY Alumni 2016 Scholarship Info
The PONY Baseball and Softball organization is proud to announce an Alumni Scholarship for graduates of PONY 14U™ LEAGUE, COLT 16U™ LEAGUE and/or PALOMINO 18U™ LEAGUE. In order to be considered for a scholarship a PONY baseball or girl's softball player must play on a PONY affiliated PONY 14U™, COLT 16U™ and/or PALOMINO 18U™ team for at least two years prior to application and be a senior in high school.
Likewise an application must be submitted prior to May 1st, 2016 along with the School & Community Activities Form, an Essay on the designated topic, an Official Secondary School Transcript, test results from either the SAT, ACT or TOEFL, a copy of the Letter of Acceptance from the school you are planning to attend, a Notarized Letter confirming participation in an affiliated league and two Letters of Recommendation.
When the aforementioned information has been received, the Scholarship Committee will consider the application complete. The Scholarship Committee will administer eight scholarships annually, one each to the four United States Zones (North, East, South, and West), Asia Pacific Zone, Caribbean Zone, Canada and Mexico.
Abraham Key
President and CEO
PONY Baseball and Softball
www.pony.org
Handout:
Scholarship Application
Wednesday, March 30
Arizona State Tournament Updates
Updated information for the Arizona State PONY Tournaments have been announced:
Arizona State Shetland Tournament
Hosted by: Chandler Youth Baseball PONY
Dates: Thursday June 2nd - Sunday June 5th
Location: Chandler Arrowhead Park 1475 W Erie St, Chandler 85224
Arizona State Pinto Tournament
Hosted by: Chandler Youth Baseball PONY
Dates: Thursday June 2nd - Sunday June 5th
Location: Chandler Arrowhead Park 1475 W Erie St, Chandler 85224
Arizona State Mustang Tournament
Hosted by: Scottsdale Playball PONY
Dates: Thursday June 16th - Monday June 20th
Location: Phoenix Reach 11 2425 E Deer Valley Rd, Phoenix 85050
Arizona State Bronco Tournament
Hosted by: TBD
Dates: Wednesday June 15th - Monday June 20th *OR* Wednesday June 22nd - Monday June 27th
Location: TBD
Arizona State Pony Tournament
Hosted by: TBD
Dates: Thursday June 23rd - Monday June 27th
Location: TBD
Will update as information is announced.
Saturday, February 27
Spring 2016 Teams
Saturday, February 27
Spring 2016 Opening Day
Friday, March 4
PONY Express March-April 2016
The March-April 2016 issue of the online PONY Express magazine. The official online magazine of the National PONY League organization. Enjoy!
Wednesday, February 24
President's Welcome Letter
Hello AFPBA Families,
I want to personally thank each of you for having your child participate in a great youth sport with a great community organization. We strive to put the best product on the field each season and feel the growth, both as a young athlete and as a person, is unmatched. PONY requires coach training each season, safety instruction and first aid training of all our coaches who have also been background checked. There is no other youth league we know of that goes to the expense and concern that we do for your child's safety and experience.
As we are about to kick off our Spring 2016 season with Opening Day this coming Saturday, February 27 we will need your help coordinating some of the last minute items. We expect all our players and families to attend the Opening Day ceremonies. The Ceremonies will be held on the Kyrene Akimel South baseball field. Kelly Stinett, former Diamondbacks catcher, will be our special guest speaker and throw out our 1st Pitch!
Please arrive by 7:45 am, unless you have an earlier Picture Time. Be sure to wear full uniform (uniforms are due to arrive Thursday night and your Coach will communicate with you on when/how to get the uniforms. It is quite common to put on the jersey, socks and hat once you arrive at the field on Saturday morning. Do not bring gloves or bats to the Ceremonies. Please find your team area with a name card and have your player join their team. You can find a location near the fields at that time to hang out and wait for the photo opportunities.
Be sure to turn your signed Parent Code of Conduct sheet in to your Head Coach if you haven't already. The forms are available on our website at www.ponybaseballaz.com under the Handouts tab.
Thank you for being a part of our PONY family and we look forward to seeing you on Saturday.
Ron Ensley
AFPBA President