Ahwatukee Foothills PONY Baseball Association: Welcome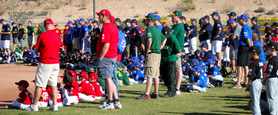 Teams Gather for Spring Opening Day Ceremonies
Spring 2015 Season Opening Day is Saturday February 28th!
The Spring Season is about to get under way. Please check this page often for announcements, news and updates!
Monday, February 23
Opening Day & Game Schedule Released
Hello AFPBA Familes,
Welcome to the Spring 2015 Season of Ahwatukee Foothills PONY Baseball!
If you haven't already heard from your coach, the Spring 2015 game schedule has been released for all divisions. Over the course of the next few days there could be some revisions so please check the schedule/calendar on our website for udpates often.
Opening Day Ceremonies are less than one week away on Saturday February 28th at 8:00am at the Kyrene Akimel Middle School Bronco (Lower Southwest) field. All teams are to be present (hopefully in uniforms :) ) for the parade of teams as well as speeches from several local dignitaries and our League President. The festivities usually last about one hour.
Team and Individual Pictures will also occur through out the morning of Saturday February 28th as well. The team schedule will be announced shortly. There is no purchase necessary but we hope to have every player in their team picture. Additional details about pictures will be sent out when the schedule is announced early this week.
The first games get underway at 9:30am and continue across the day into the evening. Please get with your coach about your team's opening day plan for travel and food.
Jersey distribution should occur in the later half of this week. In the event some teams do not get their jerseys distributed in time, get with your coach to go over the team plan for players to receive their gear. There are restrooms available for changing at the field. Please allow some extra time in the morning to get ready before the ceremonies if this happens to you.
We look forward to seeing lots of familiar players and parents and meeting all the new ones too!
AFPBA
www.ponybaseballaz.com
www.facebook.com/ponybaseballaz
www.twitter.com/ponybaseballaz

Tuesday, February 24
Team Pictures Schedule Posted
Hello AFPBA Families,
The Spring Team Picture Schedule has been posted to the Calendar on our website. Team Picture day is this Saturday 2/28. Team times start early and may be hours before your opening day first game. Please check the calendar so you can plan for the possibility of two trips to the ball fields that day due to Opeing Day Ceremonies.
Please arrive 15 minutes early to your scheduled picture time. Your team coach should be passing out picture packet that have the order form and picture package pricing. There is no requirement to purchase pictures but if you choose to do so, please have this filled out with payment and brought to your team picture time to help things move along quickly. If you happen to forget it at home there will be a table with extra forms along with samples ( I think ) of some picture products.
There is an electronic copy of the 2014 photo items for in our Handouts - Fall 2014 - Forms secton. You may review this to get an idea of what is available to make your selection quicker if you have to fill out your forms on Saturday at the field.
The photo sitting will utilize a bat and the photographer will have a community bat available to use but if your player wants the picture with their favorite bat, they may bring it but please don't swing it while waiting - too many people around.
Tip: If you haven't received your uniform by the time of your team picture, the restrooms at the Akimel Bronco concession stand will be open for your player to change in. Bring or wear as much as you can and arrive early to meet up with your coach to receive the uniform and change.
If you have any questions or concerns, please contact your team coach or Division Director.
AFPBA
www.ponybaseballaz.com
www.facebook.com/ponybaseballaz
www.twitter.com/ponybaseballaz