Ahwatukee Foothills PONY Baseball Association: Welcome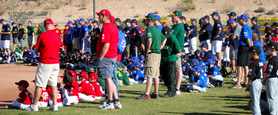 Teams Gather for Spring Opening Day Ceremonies
Spring 2015 Season is about to start!
The Spring Season is about to get under way. The last few days to registration are upon us.
Look for emails regarding the Mustang and Bronco Skills Evaluation sessions soon.
You should hear from your coach around Sunday Febraury 8th with details of the first team practices later that week.
Spring 2015 Season Registration
***Regular Registration Rates for our Spring 2015 Season end at 11:59pm on Friday January 23rd***
Please click the button below to be sent to our online registration system.
Spring 2015 Season Information:
We have made some dramatic improvements to our registration process. We have revised the required information and streamlined the overall process. All the information will be saved to make future registrations dramatically easier and less time consuming.
If you want your child to play up, please register as normal and submit the Play Up Waiver from our "Handouts" section of this website for approval.
Regular Player registration costs are as follows:
Pony Division (13-14 years old): $160
Bronco Division (11-12 years old): $160
Mustang Division (9-10 years old): $145
Pinto Division (7-8 years old): $135
Shetland Division (4-6 years old): $105
Champions Division (special needs): No charge
Family discounts (three or more children from the same household) will be automatically applied at check out.
*** Please be aware the league determines a player's "league age" and division placement as their age on April 30, 2015.
Important Dates for registration:
Early Registration - November 26 to December 26

$10 discount to the regular rates above during this period

Regular Registration - December 27 to January 23

regular rates shown above

Late Registration - January 24 to February 7

additional $15 fee to the regular rates above during this period
Important Dates for the upcoming season:
Mustang & Bronco Evaluations - Saturday, February 7th
Practices Start - week of Monday, February 9th
Season Starts - Saturday, February 28th

Opening Day Ceremonies
Team & Individual Picture Day

Kyrene Spring Break - Monday, March 9th to Friday, March 13th

There will be games the first weekend of Spring Break only (3/7 & 3/8).

Season Ends - Friday, May 1st
All Star Team Rosters:

Shetland - Friday, May 1st
Pinto - Friday, May 1st
Mustang - TBD
Bronco - TBD

In-house Tournament - Saturday, May 2nd to Tuesday, May 12th
Memorial Day - Monday, May 25th
State All Star Tournaments:

Shetland - Friday, May 29th to Sunday, May 31st
Pinto - Friday, May 29th to Sunday, May 31st
Mustang - TBD
Bronco - TBD
See you all on Opening Day!
Thursday, January 22
Last 24 Hours for Regular Registration Rates!
Hello AFPBA Families,
The Last 24 hours to get the Regular Registration Rates are here!
Regular registration ends at 11:59pm on Friday January 23rd. Register now to beat the $15 increase to the late registration rates.
Many of you have already registered so pass the word to all your friends and family that may be interested in spring baseball to sign up now to get the best rates. Pass the word along to friends and past teamates that you will be playing PONY baseball and to join you by registering now!
Registration closes for the season at the end of the day on Saturday February 7th. Team practices will start the *week* of February 9th and Opening Day is before Srping Break this year on Saturday February 28th. The Mustang & Bronco Division recreational players' skills evalation session is on Saturday February 7th at Akimel A-al Middle School. Look for an email soon with the details.
We look forward to seeing many familiar faces and plenty of new one too on Opening Day!
AFPBA Board