Ahwatukee Foothills PONY Baseball Association: Welcome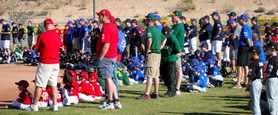 Teams Gather for Spring Opening Day Ceremonies
AFPBA News
Keep up to date with the AFPBA via Social Media by clicking the following buttons:
The AFPBA can always use additional volunteers as team parents, assistant coaches, head coaches and board members - if you are interested in helping, please contact any board member listed on the Board tab of this website.
Wednesday, January 25
PONY Baseball adopts USA Baseball bat standard
In conjunction with USA Baseball and its other participating national member organizations, PONY Baseball has adopted the new USA Baseball bat standard (USABat). Effective January 1, 2018, with the exception of -3 (BBCOR certified), all other minus factor bats (-5, -7, -9, etc.), must be YBBCOR certified with the USABat licensing stamp on the bat in order to be used for league and tournament play. Minus factor bats -5, -7, -9, etc. used in 2017 will be illegal to use in 2018.
The new YBBCOR certified bats bearing the USABat licensing mark are expected to be offered in retail stores in September.
To find out more about the USABat standard click here.
Tuesday, January 24
PONY Baseball and Softball partners with Positive Coaching Alliance
Washington, Pennsylvania (Jan 24) - PONY Baseball and Softball is proud to announce that it has partnered with Positive Coaching Alliance (PCA), a national non-profit organization dedicated to developing "Better Athletes, Better People" through youth and high school sports.
"We are very excited to partner with Positive Coaching Alliance to create a better atmosphere for our baseball and softball teams and leagues," said PONY President & CEO Abraham Key. "PONY and PCA have many of the same goals in mind as we focus on making the sport experience a very positive one for players, parents, families, coaches and officials."
Read the full length press release at PONY.org, HERE
Friday, September 2
New USABaseball bat standards coming to PONY in 2018
Hello AFPBA Families,
In August, USABaseball announced a new bat standard that all the major youth and junior baseball organizations are enacting starting January 1st, 2018. All existing bats may no longer be allowed. New bats with the USABat certification will start being sold in late 2017. If you have thoughts of buying a new expensive bat soon, realize it may not be allowed in games in 15 months. You can read the article on USABaseball's website at this link.