Ahwatukee Foothills PONY Baseball Association: Welcome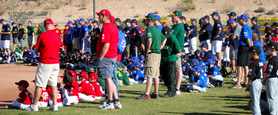 Teams Gather for Spring Opening Day Ceremonies
Fall 2015 Update
Keep up to date with the AFPBA via Social Media by clicking the following buttons:
Fall Season News:
*** Regular Season Winding Down - In-house Playoffs Begin Saturay 11/14 ***
*For Pinto, Mustang & Bronco Divisions*
*Double Elimination Tournament*
See you at the field!
AFPBA Board
Monday, November 16
Field Condition Update - Akimel: playable - Estrella: rescheduled
Hellow AFPBA Families:
The Akimel Lower North (Mustang) and Lower South (Bronco) fields are available for use tonight - Monday 11/16. No other fields are in usable condition i.e. Estrella South (Dirt) and Akimel Upper South (Pony).
We will have to revise the brackets and game schedule based on not having all the fields available for use. This will likely affect all divisions moving forward. Please look for communcations from your Director or Coaches for changes to the game schedules for the rest of this week or monitor the website or Facebook.
AFPBA Board