Ahwatukee Foothills PONY Baseball Association: Welcome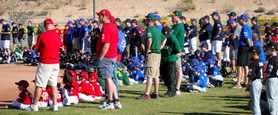 Teams Gather for Spring Opening Day Ceremonies
AFPBA News
Keep up to date with the AFPBA via Social Media by clicking the following buttons:
The AFPBA can always use additional volunteers as team parents, assistant coaches, head coaches and board members - if you are interested in helping, please contact any board member listed on the Board tab of this website.
Monday, November 5
End of Season Tournament Dates
Due to rainout and reschedules, the end of year Division Tournament Dates have changed!
The Tournament schedule will begin the week of 11/26/2018 and will be held at the Akimel/Estrella complex.
Games will be played on Monday, Wednesday, Friday and Saturday of that week. The schedule for specific dates and times will be released when Division standings are finalized upon completion of regular season play this weekend.
Monday, November 5
Spring 2019 Registration Coming Soon
Ahwatukee Foothills Pony Baseball is planning to open Spring Registration next week. The first week of Spring Practice is slated for January 9th, 2019.
We are in the process of coordinating the Start of Registration with the launch of our new website.
While this site has served us well, the new site will have many new features that will help us run the league including:
Integrated Registration and waitlist functionality.
All division schedules and scores on the site.
Real time field status updates
The ability to email and/or text members with information like field closings or schedule changes.
Local Rules for all divisions, Pony National Rules and MLB rules all linked to the site
A Team Store where you can purchase items with your player's name and number on it.
There are more features that we plan to roll out over time, but we are really looking forward to moving to this league management tool and want to get it rolled out quickly for all of you to see.
Wednesday, September 19
Opening Day is Saturday September 22nd
Opening Day is this Saturday the 22nd!
We are asking that everyone arrive at the fields at 7:30am so that players can find their teams and line up together to march onto the field as a team. To avoid any possible issues with thrown/batted balls while waiting, we ask that players leave their gear in the car until game time. Some teams will need to arrive slightly earlier to have their pictures taken.
There will be a brief Opening Ceremony and early games will start at 9am.
Team pictures will be held throughout the day. Coaches will distribute packets and inform you of picture times this week. Please try to arrive a few minutes before your scheduled picture time.
Finally, Chik-Fil-A will be at the fields selling breakfast sandwiches with a portion of the proceeds going back to the league!
Here's to a great 2018 Fall Season. We are looking forward to seeing everyone on Saturday!
Ahwatukee Foothills Pony Baseball Association Board
Wednesday, September 19
PONY Baseball adopts USA Baseball bat standard
In conjunction with USA Baseball and its other participating national member organizations, PONY Baseball has adopted the new USA Baseball bat standard (USABat). Effective January 1, 2018, with the exception of -3 (BBCOR certified), all other minus factor bats (-5, -7, -9, etc.), must be YBBCOR certified with the USABat licensing stamp on the bat in order to be used for league and tournament play. Minus factor bats -5, -7, -9, etc. used in 2017 will be illegal to use in 2018.
To find out more about the USABat standard click here.
Friday, September 2
New USABaseball bat standards coming to PONY in 2018
Hello AFPBA Families,
In August, USABaseball announced a new bat standard that all the major youth and junior baseball organizations are enacting starting January 1st, 2018. All existing bats may no longer be allowed. New bats with the USABat certification will start being sold in late 2017. If you have thoughts of buying a new expensive bat soon, realize it may not be allowed in games in 15 months. You can read the article on USABaseball's website at this link.