Ahwatukee Foothills PONY Baseball Association: Welcome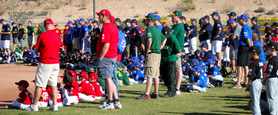 Teams Gather for Spring Opening Day Ceremonies
Happy Holidays & Thanks for a GREAT Fall Season!
Thanks for a fun and exciting Fall 2014 Season!
Have safe and happy holidays in November, December and January as we hope to see you all back for our Spring 2015 Season rested and ready for another season of baseball AFPBA style!
Spring 2015 Season Registration
***Registration for our Spring 2015 Season opens November 26th***
Please click the button below to be sent to our online registration system.
Spring 2015 Season Information:
We have made some dramatic improvements to our registration process. We have revised the required information and streamlined the overall process. All the information will be saved to make future registrations dramatically easier and less time consuming.
If you want your child to play up, please register as normal and submit the Play Up Waiver from our "Handouts" section of this website for approval.
Regular Player registration costs are as follows:
Pony Division (13-14 years old): $160
Bronco Division (11-12 years old): $160
Mustang Division (9-10 years old): $145
Pinto Division (7-8 years old): $135
Shetland Division (4-6 years old): $105
Champions Division (special needs): No charge
Family discounts (three or more children from the same household) will be automatically applied at check out.
*** Please be aware the league determines a player's "league age" and division placement as their age on April 30, 2015.
Important Dates for registration:
Early Registration - November 26 to December 26

$10 discount to the regular rates above during this period

Regular Registration - December 27 to January 23

regular rates shown above

Late Registration - January 24 to February 7

additional $15 fee to the regular rates above during this period
Important Dates for the upcoming season:
Mustang & Bronco Evaluations - Saturday, February 7th
Practices Start - week of Monday, February 9th
Season Starts - Saturday, February 28th

Opening Day Ceremonies
Team & Individual Picture Day

Kyrene Spring Break - Monday, March 9th to Friday, March 13th

There will be games the first weekend of Spring Break only (3/7 & 3/8).

Season Ends - Friday, May 1st
All Star Team Rosters:

Shetland - Friday, May 1st
Pinto - Friday, May 1st
Mustang - TBD
Bronco - TBD

In-house Tournament - Saturday, May 2nd to Tuesday, May 12th
Memorial Day - Monday, May 25th
State All Star Tournaments:

Shetland - Friday, May 29th to Sunday, May 31st
Pinto - Friday, May 29th to Sunday, May 31st
Mustang - TBD
Bronco - TBD
See you all on Opening Day!
Saturday, November 22
Division Champions Crowned!
League Championships were decided on Saturday under perfect weather (although about 45 degrees at 1st pitch). Congratulations to the Pinto Rays (Coach Ron Ensley), Mustang Phillies (Coach Howard Coates) and Bronco Marlins (Coach Ryan Horn) for winning their Division Championships! A fun season for all!
Also Congratulations to the Pinto Phillies (Coach Ben Melendez), Maricopa Crushers (Coach David Smith) and the Bronco Diamondbacks (Coach John Diaz) for battling their way to Division Runner Up.
Wednesday, November 12
Joy of playing baseball fuels PONY Champions Division
There is a nice article about Chris Kelly and our Champions Division in the Wednesday, November 12th, 2014 edition of the Ahwatukee Foothills News. Please follow this link to read.
As stated in the article, the ASU Men's Baseball team will be the on field buddies for the games this Friday, November 14th at 6 and 7 pm on the Bronco field at Akimel A-al Middle School. Please come out and support the Champions Division!
Sunday, October 26
Fall 2014 Pitching & Catching Clinic Pictures
Pictures from our Pitching & Catching Clinic with Mike Butcher, the Pitching Coach of the Los Angeles Angels of Anaheim.
Saturday, August 30
President's Letter - Fall 2014
Welcome Parents and Players,
I thank each and every one of you for giving your children the opportunity to play a sport that is truly one of America's past times. I am certain each of you that played youth sports still have vivid and fantastic memories of your teammates, coaches, mentors and even the "game-changing" play you were involved in that won the game.
Our League offers high levels of baseball to all kids (boys and girls) from ages 4-12. The local League is affiliated and in good standing with the international PONY baseball organization.
Youth baseball can be an opportunity for your young athlete to learn new skills, make new friends and have fun. One very important life skill is the teamwork aspect of the game where each player learns how to function and contribute to a bigger group of people...their team. It is rewarding to see the individual growth in each of these players as time goes by.
We have many coaches and League volunteers with amazing knowledge of the game, some having played and/or coached at the highest levels of baseball. In the event we have a challenge arise and a coach or parent needs help, there is a large support group to ensure we provide the best possible experience for your player.
Our League is a community League made up of players from the Ahwatukee area. The players and families already have the common bond of living and going to school here and many long-time family friendships develop through the seasons played in the League. Baseball can be a bond that will take your children well beyond the base paths and into their future as friends that can reflect and say "Remember when..."
Competition is an important element of any sport and as kids grow they naturally become more competitive. We feel the coaches role and that of the parents is helping the kids develop the ability to deal with competition in a healthy way. Effort and attitude is the focus. The League has been fortunate to represent well at the State PONY Level. We had Arizona State Champions at the Shetland, Pinto Kid Pitch and Mustang age groups. The Mustang team reached the semi-final gamest the Zone Tournament in California. Each Spring season we typically have multiple teams win the Arizona State Tournament.
As President of the Ahwatukee Foothills PONY Baseball Association, and on behalf of the countless Board members, League volunteers and sponsors I again thank you for the commitment you have made to give your child a positive experience through our League. We look forward to knowing each and every one of you and seeing the smiles on your athlete's face as we play another season.
Have a great next season and let's play ball!
Ron Ensley
President
Ahwatukee Foothills PONY Baseball Association