Adrenaline Football Camp: News

Football fundamentals combined with character building experiences.
Adrenaline Football Camp
So you have heard we have put together the 7th annual youth contact summer football camp for ballplayers in 3rd to 9th grade (8 to 14 yrs old) who are interested having a great time while learning solid football. Adrenaline Football Camp is open to all ballplayers interested in learning football and having fun. Adrenaline Football Camp is NOT league specific.
AFC is a 5 day/4 night contact football camp taking place at Camp Casey Washington.
This camp is a not-for-profit camp so the cost will be $375 and will include lodging, insurance, t-shirt, meals, and a great time. Adrenaline Football Camp equals Football and More......More Character, More Strength, More Integrity
Campers will be split into divisions depending on their age, grade and experience.
There is a ratio of 1 coach for every 10 campers and 1 counselor for every 8 campers to ensure our campers are supervised in a fun and educational environment.
We teach the individual fundamentals of football and then combine those skills into team drills. We finish the camp with Division scrimmages on Saturday.
All 8 to 14 year olds are invited! It does not matter to what league you belong or if you have ever played football before. This camp will build your individual skills and make you a better football player as well as teaching you core team skills.
Adrenaline Football Camp is limited to 170 campers to ensure quality, safety and fun.
Open registrations will begin in February 1, 2011. Registration form will be posted to website on February 1st.
AFC Camper Info
ADRENALINE FOOTBALL CAMP
Carleen Sams, Camp Director
Adrenaline Football Camp
AFC Phone # for questions...425 293-3061
Interested in Coaching?
Adrenaline Football Camp is run solely by volunteers. Are you interested in joining a excited, motivated and skilled staff? Fill out a AFC Coaches Application and mail it in.
All interested in coaching will have a personal background check as well as a WSP criminal check and will be contacted.
We are looking for coaches interested in investing time in a great group of campers, so don't delay! Coaches will receive a registration stipend for volunteering (ask for details).
Besides coaching some great campers, this is one of the best coaches clinics around. You work along side a great staff and learn how other fundamentals are taught.
Coaching Applications can be found in the "handouts" section. Get your paperwork in today!

Counselors are Supermen
Interested in becoming a Camp Counselor?
Adrenaline Football camp is run solely by volunteers. Are you interested in joining our excited, motivated staff? Fill out a AFC Counselor Application and mail it in.
All interested in being a Camp Counselor will have a personal background check as well as a WSP criminal check and will be contacted.
Counselor positions are open for Sophomores in high School on up.
We are looking for Counselors interested in investing time in a great group of campers, so don't delay! See the handout section at the top of the page for applications in 2010 Forms
About Camp Casey and Adrenaline Football Camp
Camp Casey is part of Seattle Pacific University. Seattle Pacific University was established in the Pacific Northwest more than a century ago by Free Methodist pioneers. SPU is a comprehensive Christian University of the liberal arts, sciences and professions. Our location offers the benefits of an intimate campus community and a thriving metropolis. It's a unique combination that works.
Adrenaline Football Camp was established to provide safe and sane fundamental full-contact football instruction for campers in 3rd - 8th grades. Adrenaline Football Camp is a non-profit camp. Unlike many camps out there that charge $500 and $600, the money raised goes to the campers' experience and not to individual people. Unlike many of those camps out there, we are not about ego. The focus is on the ballplayers. The 5 day/4 night camp is not a glorified autograph session.
Take a good look at the camps and make an informed decision.
Adrenaline Football Camp Sample Schedule
Here is a sample schedule for Wednesday to Friday. Campers will receive 11 instructional sessions as well as 4 days of Speed & Agility training.
6:45 Wake-up
7:00 7:45 Speed & Agility
7:45 9:00 Breakfast
9:00 12:00 Football Session (Offense)
12:00 1:30 Lunch
1:30 4:30 Football Session (Defense)
4:30 6:00 Dinner
6:00 8:00 Football Session (Scrimmage)
8:00 8:30 Personal Time (Coaches Meeting Auditorium B)
8:30 10:00 Snacks/Division Time/ Movies/ Game Film
10:30 Lights Out. Bed check will be conducted at 10:30.
The goal is to teach and practice football, both individual as well as team skills. The 12 sessions are designed to promote both skills and confidence.
Click on the handout to view the full schedule.
Handout:
Daily Schedule Condenced
Where was everyone from?
Adrenaline Football Camp has campers from a wide geographical area as well as a broad spectrum of experience. From 1st year ballplayers to guys that have 8 years of experience. Listed is an example of where campers are from:
Anacortes
Arlington
Auburn
Ballard
Bellingham
Bonnie Lake
Bothell
Burien
Burlington
Camano Island "Stanwood Spartans"
Duvall
Edmonds "Edmond Cyclones"
Everett "Everett Mariners"
Everett "Everett Eagles"
Ferndale
Fox Island
Graham
Kenmore
Kirkland
Junction City
LaConner
Lakewood "Lakewood Cougars"
Lake Forest
Lynnwood "Lynnwood Tigers"
Marysville
Mt Vernon "Mt Vernon Bulldogs"
Mountlake Tarrace "MLT Trojans"
Mukilteo
Oak Harbor
Olympia
Puyallup "Puyallup Roughriders"
Redmond
Shelton
Silverlake "Silverlake Wolves"
Shoreline
Snohomish
Spanaway
Stanwood "Stanwood Spartans"
Woodinville
Woodland
also Oregon and South Carolina
Go to the "Links Section" and check out some of these programs.
Have questions?
Have you checked out our "Message Boards"? Click on the link in the menu. Then visit 'Frequently Asked Questions' to see other information that has been posted.
If the question you have is not posted, either contact us at adrenalinefbcamp@hotmail.com or post the topic in the Message Board.
Thursday, August 3
Thank You Letter from 2006 Adrenaline Football Camp
July 27, 2006
AFC-
Greetings! I wanted to take a few minutes and thank you for a great camp experience. Camp gave my son an opportunity to grow as an inndividual and re-enforce the importance of team play.
Often, youth football seems to focus on individual talent, nepotism, and favoritism. AFC seemed to go against the grain and demonstrate attributes which will translate into life long positive characteristics, one of those being the importance of team.
I felt my son was given multiple opportunities to improve himself in different situations and through the experiences gained confidence. The overall camp operation was run with the skills of a well paid staff and I was continually awed by the proficiency in which the camp was run.
It was very apparent each volunteer was on the same page. I never saw or heard one coach or counselor speak to the boys in a manner that was degrading or excessively harsh.
I applaud you and your staff on striving for perfection and achieving excellence.
You are to be commended on your efforts, which did not go unnoticed. I wish you all the best this coming season and throughout life.
Thank you.
We will see you next year.
Thank You letter from the 2004 camp...
Dear Allen,
I wanted to personally thank you and your wonderful staff for creating a great camp experience for my son! Being involved in our local sports programs, my husband and I know how much volunteer effort it takes to make good programs operate.
My husband has always been our son's coach. This has been good and bad (as you probably have experienced with your own kids). One downfall is he tends to get grief about being the "coaches son" and playing quarterback. It has really affected his self confidence as a player, so we thought it was time for Dad to sit in the bleachers and just play for the Middle School (which he will be doing this year). We know he is a good player and no favoritism was shown, but my son and the kids surrounding him need to discover that.
Sending him to this camp was our first step in letting him make his own way in the "sports" world. His dad was not a coach and no one at the camp knew us or him. This was the best step we took!
I can't tell you how much my son's self-confidence has grown in the past 5 days -- not an "ego" but positive self confidence. He went off to camp wanting to learn more as a quarterback. He was determined to work hard and hopefully get some playing time in the Superbowl. He called his Dad Friday night to tell him he was starting as quarterback for the JV squad -- Although it was only a scrimmage -- this start was probably his most memorable because it was one he "knew" he earned. I think it was his dad's favorite "start" too for the same reasons. It was the first time in our family that Dad was not on the sidelines coaching, but in the crowd cheering. It was the first time he got to show emotion when his son completed a pass or did something good. I have never seen my husband jump out of a chair and yell with so much excitement as he completed a pass. He could show favoritism as a fan and it was great to see. On the way home Gabe also told us he was elected team captain for his squad. This made him feel so great -- he said, "I went to camp knowing only one kid, but my squad still picked me to lead them -- it couldn't have been because of popularity" -- He took that honor very seriously and it had a great impact on him as a player, especially quarterback. He felt a responsible not only to his team as a player, but as a leader.
Also, the comments made by the coaches on the survey had an incredible impact on my son. They meant a lot to him because he truly respects and honors the feed back from the camp coaches.
The position he got, the honor of captain and offensive MVP meant so much to him because he truly "earned" them and knew it wasn't because he was a coaches son. Instead of having a neg. affect by inflating his ego -- it has only humbled him and made him want to work even harder. He feels he has a responsible to live up to the honors given to him and doesn't want to let his camp coaches down. He wants to return to camp next year in better condition, with better skills and show them that their efforts and honors were not wasted on him.
Please pass on our thanks to the JV coaches and quarterback skills coach -- for having such a positive impact on my son. Their time and comments truly have left a lasting impression on him and given him a self confidence that will make him a better player and student this Fall.
PS -- He was dead asleep by the time we got to the ferry! It takes a lot to make him drop like that -- we knew we got our money's worth when he didn't even have the energy to fight with his sister! He slept in to 10:30 today, but was outside working on speed drills by the afternoon!
Again, please pass on our sincere thanks to the Coach's for coaching my son-- he really likes and respects these guys and hopes to see them again next year.
Sincerely,
Fort Casey with Camp Casey to the north
2004 Football Camp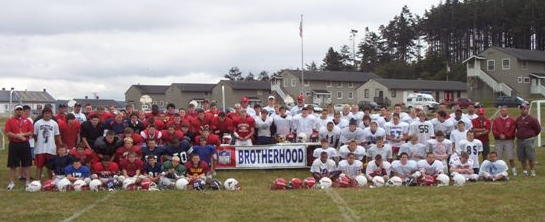 2004 WJCFC Football Camp

2004 Freshman Group

2004 JV Group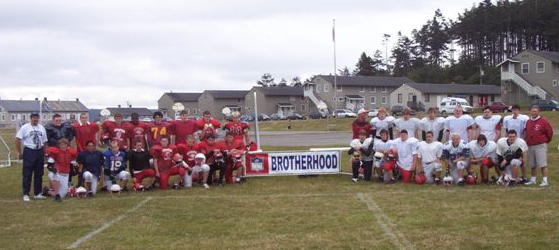 2004 Varsity Group

Barracks Row
Camp Casey, Whidbey Island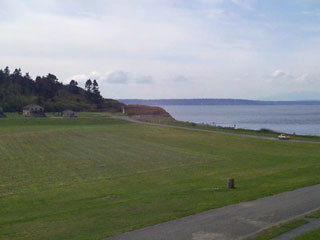 Overlooking Puget Sound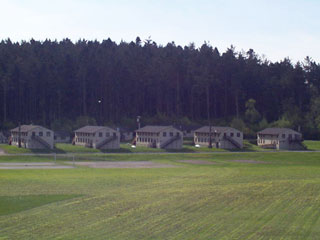 Practice Field and Barracks
Sign Our Guest Book and Tell a Friend!!!