: Keepers Corner (Fun Facts)
Welcome to "Keepers Corner"
KEEPERS, you are near and dear to my heart...after 22 years of back stopping teams to Heartbreaks & Championships, I still believe that goalkeepers are the most important pawn in the beautiful game...enjoy, learn and laugh!
Safe Keeping...Coach Carter
Cam McKay - Former Cowdenbeath FC & CSL Keeper
My friend..."The Goalkeeping Guy"
2011-07 Demo Cam by Coach Carter
Adam Street - Former West Ham United & Canadian International
My Colleague..."To be #1 you have to train like you're #2"
Oliver Kahn - Retired Bayern Munich & German International
My Mentor..."The White Gorilla"
Peter Schmeichel - Retired MUFC & Danish International
My Idol..."The Great Dane"
Peter Shilton - England's #1 Son!
My First Hero - Video Tribute #2
Hope Solo - WPSL St. Louis Athletica & US National Team
"Flying Solo"
Jose Moreira - Swansea City F.C. & Portuguese International
"Soaring with Eagles"
Edwin Van Der Sar - Retired MUFC & Holland International
"The Flying Dutcman"
Maarten Stekelenburg - A.S. Roma & Dutch International
"2011 AFC Ajax Player of the Year"
Iker Casillas - Real Madrid & Spanish International
"The General of the Spanish Armarda"
Julio Cesar - Inter Milan & Brazilian International
"Brazilian Magic"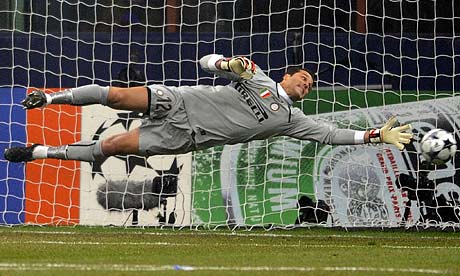 Pepe Reina - Liverpool FC & Spanish International
Can you believe he is the #2 Keeper for Spain?
Petr Cech - Chelsea FC & Czech International
"A Living Legend"
Gianluigi Buffon - Juventus & Italian International
"Viva Italia"
Tim Howard - US International & Everton Backstop
"From Grassroots to the English Premiership"
Robert Green - West Ham United & English International
"Everyone makes mistakes...Winners persevere"
David Seaman - Retired Gunner and England International!
Big Dave takes the O2 out of Sheffield United's sail / 2003 FA Cup Semi-Final!
Gordan Banks - The Greatest Save Ever
Considered the greatest to ever play the game!
Lev Yashin - Legendary Dynamo and Russian International!
Considered to be one of the greatest to ever grace the game!
Rene Higuita - Columbian International!
It only takes 1 save to write your page in history!
Tribute to Englands Past - Present - Future
A CLASSIC - Shilton cleaning house for Banks!
Wednesday, September 21
Great Goalkeepers and Great Saves!
Along Comes a Spider Compilation!
Top 10 of the World's Worst Goalkeeping Blunder!
"No one's perfect...all goalkeepers make mistakes, the great ones learn from them"
The HANDS Lead for a Reason!!!
"VERY funny video"
GOALKEEPER Tricks - Lassi Hurskainen
"UNC Asheville Bulldogs Keeper showing off his accuracy"
Dan Gaspar - The Coach Show - Part 1
"Former Portugal National Goalkeeper Coach & Founder of STAR Goalkeeper Academy"
The Top 100 Keepers in the World!
Something fun and educational!

Click on the attached link to view a spreadsheet of the top 100 Goalkeepers in the world today.

Sort them by Minutes Played / GAA or Shutouts, etc... See how each of the #1's in each of the 'Big 10 Leagues' stack up against the other #1's around the world:

Keep Your Eye on the Ball...Coach Carter
Handout:
General Interest