Acers: Welcome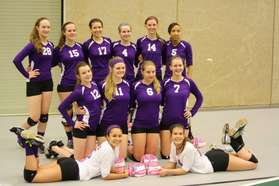 Midwest Champion 16U--4/13
Wednesday, October 22
Acers VBC is an economically affordable club ( $650.00) serving SW Chicago..Contact Chris O'Keefe @ 708-363-4218/email acersvolleyball@gmail.com
Openings for 12U team! Girls in 5th or 6th grade who are interested in playing, contact Chris O'Keefe.
TRYOUT DATES FOR THE 2014-15 SEASON FOR 15U-17U ARE POSTED BELOW:
NO REGISTRATION FEE FOR TRYOUTS!
10/27 --15U (USUALLY 9TH GRADE) BORN ON OR AFTER 9/1/99
10/29 -- 16U (USUALLY 10TH GRADE) BORN ON OR AFTER 9/1/98
11/3 -- 17U (USUALLY 11TH GRADE) BORN ON OR AFTER 9/1/97
ALL TRYOUTS WILL BE HELD AT HAMLIN MIDDLE SCHOOL, 122ND AND HAMLIN IN ALSIP, FROM 6:00 - 7:30.
THE GYM DOORS ARE IN THE BACK OF THE SCHOOL. ALL PARTICIPANTS MUST BE REGISTERED USA PLAYERS. IF YOU WERE REGISTERED LAST YEAR YOUR MEMBERSHIP IS GOOD UNTIL 10/30. NEW MEMBERS NEED TO GO TO GREAT LAKES VOLLEYBALL FOR REGISTRATION. TRYOUT REGISTRATION FOR GREAT LAKES IS $10.
CALL/EMAIL CHRIS O'KEEFE WITH ANY QUESTIONS