Abington, Massachusetts Youth Soccer: Latest News!
Wednesday, September 10
Another Opening Day Success for Fall Soccer!
We kicked off Fall 2014 soccer with another bang on Saturday 9/6/14. It was very hot but the over 500 kids, looked festive in their colorful shirts and enthusiastic in their games!
Thanks again, to all who made this day possible!!
AYS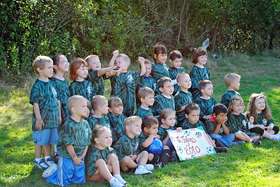 Little Kickers!
Friday, June 14
Back by Popular Demand, Little Kickers!
Once again AYS is bringing Kick-it USA, of Hingham, MA to our fields on Soccer Saturdays in the fall! If your child is too young for AYS then you may sign up with Littlest Tykes. The Kick-it USA coaches will come to Abington to train your players right down to 3 years of age. If it rains they invite you to the South Shore Sports Center in Hingham for indoor training and small games!
Wednesday, June 5
Online Registration Comes to Abington Youth Soccer!
To register for Fall Soccer 2013 now, click links on home page! Please ignore the online registration selection on the left menu and use the link above! Note! All new online registrants must first create a new account! Click on the link above and create a new account! For complete online registration instructions, click links on home page! For pictorial instructions, click links on home page! Online registrations will be available from 6/5/13 until 7/21/13. After that we will close it off and a $20 per player late charge will apply. AYS sincerely thanks you for choosing Soccer; the biggest sport on the planet!
Wednesday, April 10
On-line Registration for Fall Soccer 2013 Coming Soon!
On-line Registration for Fall Soccer 2013 Coming Soon! Abington Youth Soccer, soon, will be rolling out a new, online, credit card or pay by check system in the coming weeks! This will make the process of registering more streamlined, convenient for you and give you the ability to pay in more ways. Details coming soon! Thank you, AYS.
Wednesday, February 6
Spring 2013 Schedules Announced.