Southern Little League: Welcome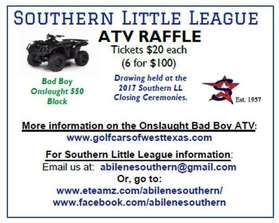 Welcome to Southern Little League
ALL STARS WILL BE ANNOUNCED LIVE ON OUR FACEBOOK PAGE JUNE 1ST @ 10 PM
CITY TOURNAMENT BRACKETS
CLOSING CEREMONIES WILL BE FRIDAY, JUNE 9th @ 6:30PM
Parents, players, and coaches we are quickly nearing the end of our raffle for the Badboy Onslaught ATV. If you have sold your ticket packet then you need to get it and the money turned into your coach by THURSDAY, MAY 25th. You only have a few weeks left as the drawing will be at closing ceremonies. Remember you can exercise the $100 Buyout Option if you would rather do that. Let's get those packets sold and turned in!
COME ON OUT AND ENJOY SOME GREAT BASEBALL!
MAKEUP GAMES
None at this time
CAMPS/CLINICS
None at this time
For questions or concerns email us at abilenesouthern@gmail.com or message us on Facebook
We would love to hear your thoughts on improving and maintaining a positive league for the children at Southern Little League! If you have any input please contact us, or consider joining the board!
PLEASE REMEMBER
1. These are kids
2. This is a game
3. The coaches volunteer
4. The umpires are human
5. This is not professional baseball
Thank you