Arizona AAU Athletics Conference (AAC): CHAMPIONS
FOOTBALL CHAMPIONS
BOYS CLASS A (HIGH SCHOOL)
YEAR
2010
2009 PHOENIX VERDE PARK
2008 PHOENIX MAYA HIGH SCHOOL
2007 PHOENIX PREMIER HIGH SCHOOL
2006 AVONDALE ESTRELLA HIGH SCHOOL
2005 EAST VALLEY ATHLETES FOR CHRIST
2004 SCOTTSDALE THUNDERSBIRD SEVENTH DAY ADVENTIST ACADEMY
2003 PHOENIX JWJ ACADEMY/PHOENIX VERITAS ACADEMY
PLAYER OF THE YEAR
YEAR
2010
2009 RJ LOVETT (Phoenix Maya HS)
2008 Roy Grigsby (Phoenix Maya HS)
2007 Ryan Nieto-Whitaker (Phoenix Premier)
2006 Andre Daniels (Avondale Estrella)
2005 Mario Moore (Westland), Bryan Coots (EVAC)
2004 Dior Arnpriester (Thunderbird)
2003 Josh Taylor (JWJ Academy)
COACH OF THE YEAR
2010
2009 Rodney Crossin (Verde Park)
2008 Jon Kronsted (Phoenix Maya)
2007 Andre Nillo (Phoenix Premier)
2006 Brian Echols (Avondale Estrella)
2005 Jerry Lumpkin (East Valley Athletes for Christ)
2004 Dave Henderson (Thunderbird Seventh Day Adventists Academy)
2003 Co-coach of the Year
Shawn Simpson (JWJ Academy) Tom Vierra (Veritas Academy)
CLASS B (JUNIOR HIGH SCHOOL)
2010
2009 ARTHUR HAMILTON ELEMENTARY
2008 ARTHUR HAMILTON ELEMENTARY
2007 PHOENIX OUTSIDERS
2006 PHOENIX JESS SCHWARTZ JEWISH COMMUNITY HIGH SCHOOL
2005 PHOENIX VERDE PARK
2004 PHOENIX VERITAS PREPATORY JHS
2003 PHOENIX UNIVERSITY PARK
2002 PHOENIX EASTLAKE PARK
CITY CHAMPIONS
2010
2009: ARTHUR HAMILTON VS GARCIA
2008: SUMMIT
2007: PHOENIX OUTSIDERS
2006: VERDE PARK
2005: VERDE PARK
2004: VERITAS ACADEMY
2003: UNIVERSITY PARK
2002: EASTLAKE PARK
2001: VERDE PARK
PLAYER OF THE YEAR
2009:
2008
2007 JOSHUA FEDERICO (OUTSIDERS)
2006 Cheese Hernandez (Verde Park)
2005 Donald McGrudder (Verde Park)
2004 Richard Valasquez (Estrella A)
2003 Antoine Riggins (Verde Park)
2002 Antoine Peete (Eastlake Park)
2001 Eric Archuleta (Eastside Americans)/Tyrese McGrudder (Westside Cardinals)
Note:
Antoine Peete played HS football at North (now in college)
Archuleta played HS quarterback at North High School (In College)
Tyrese McGrudder is a star at Glendale high school (Football/track)
Donald McGrudder is plays football at Glendale High School
COACH OF THE YEAR
2010
2009 Roynaldo Plata (Garcia)
2008 Renee Small (Hamilton)
2007 Rafael Federico (Outsiders)
2006 Coach Rodney (Verde Park)
2005 Coach Rodney (Verde Park)
2005 Bill Brittan (Veritas Prepatory Academy)
CLASS C CHAMPIONS
2010
2009 HERMOSA PARK
2008 TEAM JESSIE (NEW YORK)
2007 PHOENIX SUMMIT SCHOOL
2007 PHOENIX OUTSIDERS
2006 PHOENIX KENILWORTH ELEMENTARY SCHOOL
2005 WESTSIDE WEASELS
2004 WESTSIDE WEASELS
2003 EASTLAKE PARK
2002 CARDINALS
2001 EASTSIDE COWBOYS
INDOOR CHAMPIONSIP SERIES DIVISION ONE (JHS)
2010
2009 COFFELT CARDINALS
2008 WESTSIDE WEASELS
2007 WESTSIDE WEASELS
2006 KUBAN COUGARS
2005 EASTLAKE PARK
2004 WESTSIDE OUTSIDERS
2003 CHANDLER CARDINALS
2002 WESTSIDE CARDINALS
2003 LIGHT AND LIFE
2002 VERDE PARK
2001 EASTSIDE COWBOYS
INDOOR CHAMPIONSHIP SERIES (ELEMENTARY DIVISION)
2006 KUBAN SCHOOL
2005 WESTSIDE WEASELS
2004 LIGHT AND LIFE CHRISTIAN SCHOOL
2003 EASTLAKE PARK
2002
2001
BASKETBALL CHAMPIONS
LEAGUE CHAMPIONS
HIGH SCHOOL
GIRLS CLASS A
YEAR
2010-2011:
2009-2010: PHOENIX MAYA HIGH SCHOOL
2008-2009: PHOENIX PREMIER HIGH SCHOOL
2007-2008: PHOENIX MAYA HIGH SCHOOL
2006-2007: PHOENIX CAREER SUCCESS HIGH SCHOOL
2005-2006: SCOTTSDALE JESS SCHWARTZ JEWISH COMMUNITY HIGH SCHOOL
2004-2005: PHOENIX WILSON HIGH SCHOOL
BOYS CLASS A
YEAR
2010-2011
2009-2010 PHOENIX VERDE PARK
2008-2009 TOLLESON HOPE INTERNATIONAL ACADEMY
2007-2008 PHOENIX PREMIER HIGH SCHOOL
2006-2007 AVONDALE ESTRELLA HIGH SCHOOL
2005-2006 PARADISE VALLEY OCOTILLO HIGH SCHOOL
2004-2005 PHOENIX CAREER SUCCESS TECH
CONFERENCE (REGULAR SEASON) CHAMPIONS
GIRLS
2010-2011
2009-2010 PHOENIX MAYA HIGH SCHOOL
2008-2009 PHOENIX PREMIER HIGH SCHOOL
2007-2008 PHOENIX MAYA HIGH SCHOOL
2006-2007 AVONDALE ESTRELLA HIGH SCHOL
2005-2006 SCOTTSDALE JESS SCHWARTZ JEWISH COMMUNITY HIGH SCHOOL
2004-2005 PHOENIX WILSON HIGH SCHOOL
BOYS
2010-2011 CITY CHAMPION:
2010-2011 PSL CHAMPION:
2009-2010 CITY CHAMPION: PHOENIX VERDE PARK
2009-2010 PSL CHAMPION: PHOENIX PREMIER HIGH SCHOOL
2008-2009 AVONDALE HOPE INTERNATIONAL ACADEMY
2007-2008 TOLLESON THOMAS JEFFERSON HIGH SCHOOL
2006-2007 LEONA CONFERENCE: AVONDALE ESTRELLA
2006-2007 I-10 CONFERENCE: PHOENIX PREMIER
2005-2006 OCOTILLO HIGH SCHOOL
2004-2005 1-17 EAST: PHOENIX CAREER SUCCESS TECH
2004-2005 I-10 WEST: PHOENIX CAREER SUCCESS-GLENDALE
BOYS PLAYER OF THE YEAR
YEAR
2010-11
2009-10 Kaliffe Gentry (Verde Park)
2008-09 Josh Taylor & Levi Hill (Hope International)
2007-08 Ryan Nieto-Whitaker (Premier high school)
2006-07 Joshua Taylor (JWJ Academy)
2005-06 Royce Dobbs (Premier HS)
2004-05 Durand White(Success-Glendale)
GIRLS PLAYER OF THE YEAR
2010=2011:
2009-2010: Margaret Leban (Maya)
2008-2009: Juliana Young (Premier)
2007-2008: Jessica Arias (Premier)
2006-2007: Ashley Rocha (Maya HIgh School)
2005-2006: Karen Finkelstien (Schwartz)
2004-2005: Cynthia Quionnes (Wilson)
BOYS COACH OF THE YEAR
YEAR
2010-11
2009-10 Rodney Crossin (Verde Park)
2008-09 Shawn Simpson (Hope International)
2007-08 Andre Nillo (Premier high school)
2006-07 Jon Kronsted (Maya) & Tiffany Washington (Summitt)
2005-06 Coach Gregory (Arizona Charter)
2004-05 Art Wilson (Success Tech)
GIRLS COACH OF THE YEAR
2010-2011:
2009-2010: John Kronstedt (Maya)
2008-2009: Andre Nillo (Premier)
2007-2008: John Kronstedt (Maya)
2006-2007: Jen Kincaid (Estrella HS)
2005-2006: Coach Reco (Arizona charter)
Friday, November 12
VOLLYBALL CHAMPIONS
2010: WESTLAND HIGH SCHOOL
2006: WESTLAND HIGH SCHOOL
2005:
Friday, November 18
2005 FOOTBALL STATE CHAMPIONSHIPS
Wednesday, November 16
EVAC WINS CLASS A TITLE
East Valley Athletes for Christ 7, MAYA 6
A fitting end to this years AAC championship series. All semi-final games were decided by a single point. No diference here. East Valley Athletes For Christ (EVAC) completed a turn around that began in the middle of last season when the team began showing signs of maturity, before loosing a semi final game to Thunderbird. They grinded out at togh win against this year's Cinderella, Maya.
Maya began the season as the leagues worst team on a record setting pace for few points scored & the most given up. A few tweeks in the machine made them the hottest team in the league over the last month. The defense held it's ground, but the offense, like EVACs, had a hard time getting on track.
Both quarterbacks, known for their runing as well as passing ability, were held well below runshing averages. For some reason, DeAndre Dean & playoff MVP Bryan Coots chose not to run, turning the game into a test of wills that was finally decided by a missed extra point. Each team made a serious charge at the end zone late in the game, but both failed to score.
VERDE PARKS WINS CLASS B TITLE AS TIME EXPIRES
VERDE PARK 19, ESTRELLA (8) 18
They did it again. With time runing out, Verde Park quarterback Edgar Leyva threw a 50 yard pass in the the direction of Donald McGrudder, who snagged it and outran Estrella defenders as Verde wins the Class B football championship. In what had become a battle between two of the leagues best running backs, both with well over 200 yards rushing, the teams combined for 4 touchdowns in the last 5 minutes of play. Leyva and McGrudder connected last week on a similar play to win the City Championship at Eastlake Park.
Tuesday, November 16
Fall 2004: Thunderbird beats Westland, wins Class A title
CHAMPIONS: Thunderbird Seventh Day Adventists Academy
#1 vs #2. These two have been looking over their shoulders at each other since they tied 8-8 early in the season. Thunderbird would have to play without 2004 Player of The Year Dior Arnpriester. Mario Moore was slowed by an apparent injury and the majority of Westland's team arrived late due to a traffic jam caused by an accident, and the officials were determined to start the game on time.
In the end, Thunderbird jumped off to a 14-0 halftime lead, then held off a second half Westland rally to win the AAAC Class A State Championship, finishing with a 12-0-1 record.
In the first half, Thunderbird marched right downfield as Adam Lacey threw an 18 yard scoring strike to Tyler Thimsen followed by a conversion to Larry Scott. In their second possesion, the Thunderbirds again appeared to be headed to the end zone, but Westland's Moore intercepted the pass.
The late arriving Westland team failed to mount a single first half drive accumulating 4 total yards and one completion. T-Birds defensive rush, led by Ben Lacey (2 sacks), Rob Parrish, Adam Edwards & Sang-Hoon Kang, totally shut down the Westland attack.
On their final scoring drive, Adam Lacey drove TBird down the field playing catch with MJ Bildner, Thimsen and Scott while completing 7 of 7 passes-including a 20 yarder to Scott and a conversion to Bildner. Lacey finished the half completing 14 of 16 passes for over 100 yards. The Bildner catch would loom large in the final sore.
The second half was a different story. Coach Steve Brown calmed the troops and an inspired Westland took the field refreshed and refocused. Moore, slowed by injury, ran for first downs when needed, twiceand racked up nearly 100 total second half yards. He baited Thunderbird in with a mix of running and a short passing game with Josh Hernendez....then he connected on a 42 yard bomb to Mario Lopez, but the extra point failed. Lopez finished with 70 yards receiving. Failure to convert the extra points proved to be critical for Westland.
On Thunderbirds very next possesion, Moore picked off Adam Lacey's first pass. He then cashed it in for a touchdown two plays later. The two point conversion attempt fell short, but the gap was closed to 14-12, Thunderbird.
In the second half, it was the Westland defense that was the aggressor. Thunderbird was held to under 30 yards rushing and under 50 passing. At the 7 minute mark, Moore tipped and interepted a Lacey pass. The momentum seemed to be in their favor but Kang & Edwards (AKA the freaks) regrouped & put the rush on the Westland offense, forcing a turnover on downs with 4 minutes left.
With Lacey out breifly with an injury, Thunderbirds offense was led by Adam Scott. A late TD drive was stalled by the Moore interception, but they managed to drain the clock. Westland seemed poised to try one more scoring drive, but Tyler Thimsen stole the show, interception a pass with 1:30 left. What a game!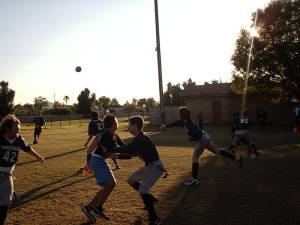 GOIN' YARD: Alan Lacey fires a first half scoring strike toTyler Thimsen
Wednesday, November 17
2004: Veritas outduels ARSAP in classic, wins Class B title
CLASS B CHAMPIONS: Veritas Prep Falcons
Yes it was a duel, with subtitles. Veritas, who all season long knew they were the rightful heirs, played second fiddle to Verde Park and Estrella all season. ARSAP was a over looked Johnny-come-lately. They were embarrassed by Veritas earlier this season....they, like Veritas were looking for respect. The result was a well-fought, knock-down drag out, helluva game!
The games first play was indicative of what was to come. Tazio Tate sacked Gonsher for a 5 yard loss. Veritas recovered and marched down the field behind a 20 yard catch by Mike Fox. The drive was halted by ARSAP's classic goal line stand.
The teams then traded possessions and exchanged scores. Veritas on a center keep by Isaac Davis, ARSAP on a 6 yard pass from Tazio to Dante Best.
In the second half, ARSAP answered the bell with a stinging punch. On the first play, Dante Best, who late in the season emerged as the league's top deep threat, caught a deflected pass in a tremendous display of skill...and luck...for a 65 yard touchdown catch. To a person, the response was.." I've never seen anything like it". It has to be the catch of the year. It was the biggest play in the championships since Anthony Marshall's (Ironwood high school) in the 2001 title game.
Not to be out done. Veritas answered with an uppercut. On the very next play, Gonsher (That's Gone-sher) went upfield 30 yards to the ARSAP 10. Two plays later he thew a 5 yard TD pass to Duvall. The stage is set for a classic ending.
Again, the teams trade possesions. Veritas takes possesion with 5 minutes left and BANG....Tazio steps in the passing lane and intercepts a Gonsher pass. Game on.
ARSAP methodically moves down the field as Jabril & Terryon Tate lead a determined Rhino's with key catches. Att he 4 minute mark, the drive stalls as ARSAP fires four straight incomplete passes, leaving Veritas with 1:30 left on the clock. Looks like overtime...not.
A penalty and a David Hines sack force the Falcons back 10 yards in their first two plays. So what does coach of the year Bill Brilliant call. Why not the end around....again. It failed terribly three times resulting in nothing, so why not run it? Again. Answer....so Mike Fox could again steal the spotlight and throw a 45 yard touchdown pass to Aaron Gonsher! Brilliant.
Storylines
-Aaron Gonsher was stalked by Tazio Tate all game. Tate sacked, harrassed, and intercepted Gonsher seemingly at will. But in the end it was a Gonsher run and TD catch that clinched tie and the win. But Tazio and the ARSAP rush was a terror.
-The Veritas defensive line vs Tazio Tate. He never had a moment of freedom. Every completed pass was indeed an accomplishment. He had noe rushing yards on 6 attempts.
-Mike Fox & Annie Nevils attracted double coverage all night. Annie was smothered and shadowed everywhere she went. Fox pretty much did whatever he wanted.
-Mike Duvall vs Jabril Gibson. Gibson caught 5 passes for 40 yards and held Duvall to one catch in the battle of tight ends. Duvall's catch tied the game...and he was triple covered at the time.
This was probably the best played game of the year full of anything you'd see in a good movie.
There was drama: Can ARSAP-locks overcome the big-bad Fox.
Comedy: Dante Bests's catches and reactions were performances of their own. Especially the 65 yarder he caught with his ears.
Popularity contests: The Veritas boys really liked Annie Nevils. There were always three or four of them following her around.
And finally a first. A player that went only by his first name. Like Prince. Tazio. Remember that name.
By the way...Veritas won 18-12.
2004 Indoor League Championships (23 April)
23 April, 2004
Apollo High School
The Westside Outsiders (13-3-1) completed one of the most successful campaigns in league history sweeping the Desert West Brahmas in the Indoor Championship Series 2 games to 0. Robert Osorio showed why he was the leagues best player by intercepting 3 passes (returning one for a touchdown) and throwing five touchdown passes.
GAME ONE
OUTSIDERS 14, BRAHMAS 7
Robert Osorio threw TD pases to Joseph Federico and Steve Ramirez as the Outsiders steal one with seconds left in the game. Osorio, John Suggs and Eric Gonzales intercepted passes for the Outsiders. The Brahmas scored on a Jabron Harrington to Kenneth Melvin pass play.
GAME TWO
OUTSIDERS 28, BRAHMAS 7
Robert Osorio threw TD passes to Eric Gonzales, Steve Ramirez and Jonathan Suggs and returned an interception for a score as the Outsiders sweep the Brahmas and win the 2004 Indoor Spring Championship Series. Osorio (2) and Gonzales (1) also intercepted passes for the Outsiders.
Coach Mo Football Alumni
Tyrese McGrudder & Stevell Neal: South Mountain
Eric Archuleta started at QB as a sophomore at Chandler Mesquite high school.
Anthony Marshall: Football for Glendale Ironwood
Chaparadza Martin: Moon Valley HS (Football/track)
John Stanley Tempe Marcos de Niza high school.
Mike Springfield-Sandra Day-O'Conner football/track