Downtown Athletic Conference (AAU): FOOTBALL ROUNDUP (NEWS & NOTES)
Monday, October 10
BIG WEEKEND COMING UP
ELEMENTARY SCHEDULE
Murphy vs South Central: 4pm at Hamilton
Murphy (1-0-1/1-1-1) shut out the highly regarded Phoenix Grizzlies (1-1-1/2-1-1. The Grizzlies shut out South Central (0-3/0-2). Easy enough, south needs to win and if they do they wil see the Grizzlies on the 29th. A loss and they'll be done for the year. Murphy's 12U are the hope of the district whigh was an elementary & juniot high powerhouse 2008-2012 with 5 titles between the two divisions. They failed to field a junior high squad this year. If Murphy wins they are a lock for the city championship game on the 5th, probably vs the Grizzlies. A loss and it's a big mess in 12U.
Phoenix Grizzlies vs City West Soldiers 12U
Last year the Soldiers handed the Grizzlies their only loss, 30-0. The Grizzlies were unbeaten prior to meeting City West and were favorites going in. The Grizzlies are once again winning but suffered a wake up call vs Murphy last week at Phoenix Christian. The Grizzlies have had a year to think about last years loss. No doubt the Soldiers will be ready.
Phoenix Grizzlies vs City West Soldiers 10U
The Grizzlies little guys get to tangle with the little soldiers.
JUNIOR HIGH SCHEDULE
Phoenix Christian vs South Central.
Both teams are playing for pride and a chance to meet the first place Grizzlies. South (1-1) has had it's way in the Junior high division, along with Phoenix Christian for the past 4 years as theyve been the only champions either on their own merit and as a united team in 2014. South won the conference last year. Phoenix Christian, after being champs and co-champs from 2012-2014, found themselves without a team in 2015, but they are back and this is a gut check for their squad and a school with a proud tradit, ion. The winner will have and outside shot vs the Grizzlies, the looser may or may not get a bowl game and will probably be on the second tier schedule the remaining two weeks, probably vs newcomer Julian.
Monday, October 10
Downtown Athletic League (Coach Mo Football) Looking to host Annual Field Of Dreams Bowl
Click here to see results of last years Field Of Dreams Bowl
Coach Mo Football will host it's 3rd Annual Field Of Dreams Bowl on Saturday, November 12th at Arthur M Hamilton elementary school located in central Phoenix.
For the past 3 years we've hosted teams from Casa Grande Youth Sports and City West Sports. Our host teams, the South Central Cougars, Phoenix Grizzlies and Phoenix Christian Unified Schools serve as host teams in 12U & 14U divisions.
For more on The Field Of Dreams visit www.fieldofdreams.coachmo.com
If you are interested in entering a team, contact us at 4802170175 or email us at coachmo@coachmo.com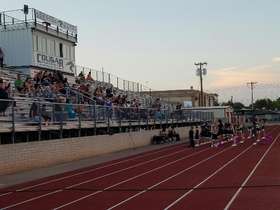 Junior High football and cheer returns to Phoenix Christian
Monday, October 10
FOOTBALL ROUNDUP
Murphy upsets Grizzlies at Phoenix Christian
Elementary
Murphy shuts down Grizzlies. A long toughdown run late in the second half sealed the deal to Murphy, who's now in the drivers seat for the elementary city championship. A win Saturday vs South sets up a championship berth. It's the defending champ Grizzlies first ever loss in city league play.
Click here for details
Junior High
The Phoenix Grizzlies continued their turn around from last year. They are now the team to beat in 2016 and after realing off their 3rd straight shut out, are eyeballing a city title and post season bowls.
Click here for Saturdays results!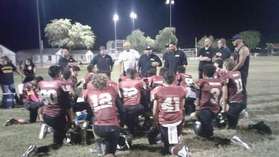 Power Move: Downtown Football Has Arrived in central Phoenix
Monday, October 3
Grizzlies Assert Themselves, Sweep South Central
Grizzlies move into the drivers seat, rematch vs Murphy next week
Phoenix Grizzlies Junior High & Elementary teams shut out South Central
Junior High Roundup
Using a relentless defensive scheme, the downtown Phoenix based Phoenix Grizzlies roll in consecutive games vs South Central.
South has dominated the downtown league at the junior high level the past four years and hadn't suffered a conference loss in 3 years. That came to an end last Saturday. Click here for details !
Elementary Roundup
This game was closer than the score but its the score that counts. South Central put up a fight but lost to the defending champion Phoenix Grizzlies 19-0.
South made big plays but turned the ball over after every power move. The the Grizzlies made mistakes of their own but scored when it counted. Click here for details!
Monday, September 26
GRIZZLIES JUNIORS WIN, ELEMENTARY TIES TEAM MURPHY
JUNIOR HIGH
GRIZZLIES 16, PATRIOTS 0
Fast & talented are the Grizzlies, who out ran the GYP league's Patriots in a non-conference matchup. The game was hard hitting but the grizzlies defense held their ground and the offense took advantage of opportunities. The win makes for an interesting matchup vs two time champion South Central, fresh off a win vs the Glendale Cardinals. Both teams bring 1-0 records. South swept the Grizzlies last year.
ELEMENTARY
Always tough Team Murphy and the Grizzlies battle it out but the game ends in a tie. These two will meet again on the 16th. Next week, the Grizzlies face South, who they swept last season. South is 0-2 following back to back shutout losses to Casa Grande and Glendale.
Thursday, September 22
FOOTBALL ROUNDUP: GRIZZLIES AND MURPHY HOST GAMES SATURDAY
Grizzlies eager to defend title
The Phoenix Grizzlies , defending 6th grade champs and 8th grade spring game kings, host Team Murphy and the Patriots of the Glendale Youth Project (GYP).
Both elementary teams have a win under their belts.
The GYP and Central Phoenix Tackle have been partners for almost 10 years with a 50/50 split in the win column.
The Grizzlies elementary team got off to a flying start with a 24-o shut out vs Casa Grande. Murphy had a different result as they lost to a Casa Grande team in their non conferense season opener.
This one counts.
The Grizzlies Junior high team returns a loaded group of skill players and should be explosive offensively and hard hitting on the defensive side. This is a non league tuneup for both teams. Opponents will be watching.
Sunday, September 18
SOUTH CENTRAL & GLENDALE SPLIT
South Central gets a non conference "W"
JUNIOR HIGH 8G (Eighth grade & younger)
SOUTH CENTRAL 8, GLENDALE CARDINALS 6
Down 6-0, South engineered a game winning drive, converted on a two point conversion and held on defensively in a non-league contest vs Glendale.
Click on link below for more
http://www.eteamz.com/aaufootball/schedules/index.cfm?season=484043&division=3944203&cat=807981&sport=3&show=overview&game=22795114
ELEMENTARY 6G (6th grade & younger)
GLENDALE 19, SOUTH CENTRAL 0
A more disciplined Glendale team wore down mistake prone South Central on a non conference game. After 3 years of loosing to Cougar teams, the Cardinals has now beaten South the last 3 years.
Click on the link for game highlights
http://www.eteamz.com/aaufootball/schedules/index.cfm?season=484043&division=6663287&cat=1273818&sport=3&show=overview&game=22807205
Monday, September 12
FOOTBALL ROUNDUP
After a year away from competition, Phoenix Cristian looked good in its return.
ELEMENTARY/6G (6th grade & under)
GRIZZLIES WIN NONLEAGUE GAME VS CASA GRANDE
The Phoenix Grizzlies knock the rust off and show why they are the favorites in our 6th grade division with a 24-0 win. The Grizzlies, who face Murphy in league play next week, have never lost a Public School League game.
MURPHY LOSES BUT READY FOR LEAGUE PLAY
Murphy loses to Casa Grandeas they prepare for their season opener vs the Grizzlies.
CASA GRANDE UPENDS SOUTH CENTRAL
Host South Central just couldnt get the ball moving nor could they get their passing game going in a non league tuneup vs Casa Grande.
JUNIOR HIGH SCRIMMAGES
Phoenix Christian, South Central and Phoenix Christian met for a 3 way scrimmage. Host South Central and their rival Glendale Cardinals had the most physical of the 3 matchups but Phoenix Christian, with its 12 man roster, looked the most impressive. All 3 had polished passing games and ran the ball well. A fourth team, Julian, is under construction and will be ready come tournament time.
Coach Mo Football...Follow Us