ALL ABOUT DA GAME BASEBALL: Welcome
Tuesday, September 7
LOS ANGELES * SAN FERNANDO VALLEY * SAN GABRIEL VALLEY * YEAR AROUND BASEBALL TOURNAMENTS AGE 7U THRU 18U
ALL ABOUT DA GAME IS SOUTHERN CALIFORNIAS PREMIERE BASEBALL PROVIDER. LOCATED IN THE GREATER LOS ANGELES AREA, SAN FERNANDO AND SAN GABRIEL VALLEYS. OUR GOAL IS TO PROVIDE ORGANIZED BASEBALL TO OUR COMMUNITIES KEEPING KIDS OFF THE STREET AND ON THE FIELD. OUR GOAL IS TO OFFER THE LOWEST COST TOURNAMENTS IN CALIFORNIA. WE ARE ALWAYS SEARCHING FOR GREAT FIELDS AND SPORTS COMPLEXES.
7U-8U $250 * 9U-12U $350 2 UMPIRES 13U-18U $400 2 UMPIRES
WE OFFER:
OTHER TOURNAMENT PROVIDERS OFFER 3 GAME MINIMUMS AT A HIGHER COST!
WE PROVIDE A 4 GAME MINIMUM AT A LOWER COST. PARENTS GET MORE FOR YOUR BUCK! JOIN US ON THE DIAMOND
AGES 9U THRU 18U WE OFFER 2 UMPIRES PER GAME
TEAMS NEED TO PROVIDE 2 NEW BASEBALLS PER GAME
1ST AND 2ND PLACE TEAMS RECIEVE TEAM TROPHY
1ST PLACE PLAYERS RECIEVE HOODED SWEATERS
2ND PLACE PLAYERS RECIEVES TOURNAMENT T-SHIRTS
CONTACT US AT 818-922-5278
FOR TOURNAMENT INFORMATION
JOIN AADG FOR OUR FINAL TWO GAMES OF THE YEAR! FAMILY FUN! RAFFLES! GREAT AWARDS PACKAGE! SUPERB HOST FIELD FOR WATCHING AND PLAYING BASEBALL!! REGISTER TODAY!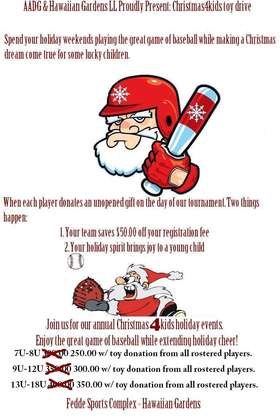 REGISTER TODAY!
Monday, December 3
AADG FINAL 2 TOURNAMENTS OF THE YEAR! JOIN US!
Happy Monday! Youth teams 7U-18U We are looking for YOU! Join AADG for our last 2 tournaments of the year. We are going out with a bang.
If you have not played at Fedde Sports Complex, come on down and give us a try. A great place to watch and play the great game of baseball! Call or visit our website and register today!
See you on the field.
Monday, November 26
AADG HOLIDAY TOURNAMENT DEC. 1&2 We are still taking teams.
If you missed this weekends holiday tournament, it is not too late. We are still accepting teams for this up coming weekends event. Our host park "Fedde Sports Complex" is a clean, new sports complex that is a wonderful place to watch AND play the great sport of baseball. visit our site or call and sign up today. We will be having holiday tournament all through the month of December. If you can not join us this weekend, sign up for the next. check out our schedule at www.aadgbaseball.com and sign up today! Have a great day and remember to "like" us on facebook!
Tuesday, October 9
DAY OF THE DEAD 2 PROUD SPONSOR: GAME1SPORTS.COM NEWS EXTRA!
PROUD EVENT SPONSOR GAME 1 SPORTS HAS NEWS: Attention ALL teams joining us for our Day of the Dead 3 event. www.game1sports are offering a discount on all pre owned bats and will have them the day of the tourney. all they have to do is email juanc@game1sports.com and they will take their order.
Don't wait register today!
October 27 & 28 Fedde Sports Complex in the city of Hawaiian Gardens