A2 Volleyball Club: My Site News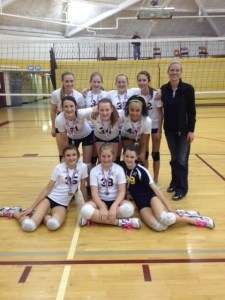 13U Blue Team Winners
Team Results
Congratulations to our 18U Blue and 13U Blue Teams for winning the Gold Division at Motor City Madness while 14U Blue took first place in the silver division! Way to go Blue!!!!
More recent results. Congratulations A2!
16U Blue: 7th Place Power League Gold Division
16U Maize: 1st Place Power League Bronze Division
13U Blue: 1st Place Great Lakes Festival Silver Division.
College Commitments
Congratulations to the first A2 Graduating Class of 2012!
Caitlin Foote-Dominican University
Marissa Owen-Hillsdale College
Kristin Malcolm-Hillsdale College
Sam Siddall-Hillsdale College
Julia Peterson-Lake Superior State
Meghan Clearly-Northwood University
Maggie DeLoy-Grand Valley State