Yellowhead Chiefs AAA Female Midget: Welcome
Back row – Jessi Rampton, Emma Coulter, Abby Krzyzaniak, Tatum Amy, Tess Rampton
Middle Row – Kristin Nickel – Ass't Coach, Hannah Street, Kirsten Brown, Mallory Workman, Sam Geekie,
Karissa Cullum, Hannah Fouillard, Jalin Adams, Manager – Bill Brown
Front Row – Kristen Hunt, Tashel Scantlebury, Jordyn Tibbatts, Head Coach – Derek Tibbatts, Jalyn Elmes,
Mackenzie Bortis, McKenna Claeys
Saturday, April 19
Chiefs Invited to U18 Team Manitoba Top 40 Camp
The Yellowhead Chiefs are proud to announce that three members of the team have been invited to the next step in the U18 Team Manitoba selection process. Defenceman Jalyn Elmes of Brandon, forward Hannah Fouillard of St Lazare and forward Sam Geekie from Strathclair will participate in the Top 40 camp to be held May 8-11, 2014 in Portage la Prairie. This is the second phase in the Program of Excellence and following the Top 40 Camp a short list of roughly 27-players will be invited to a skills and conditioning camp in July. The final roster will be selected in the fall and will compete in the 2015 Canada Winter Games which are being held February 14-20, 2015 in Prince George, BC.
Best of luck to Jalyn, Hannah and Sam!!!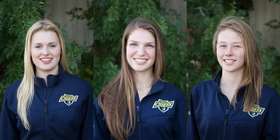 Elmes-Fouillard-Geekie
Thursday, April 3
Chiefs Host Prospects Camp
On Friday March 28th and Saturday March 29th, the Yellowhead Chiefs hosted a prospects camp at the Shoal Lake Communiplex for players that are interested in playing AAA hockey in the future. With players born in 1997 to 2001 invited, the Chiefs were happy to host 37 players over the two day camp. Head Coach Derek Tibbatts and assistant Coach Kristin Nickel ran practice sessions on Friday night and Saturday morning for the players who were split into two teams for the camp. Several Chiefs veterans were participating and commented on the amount of skating and hard work drills that Coach Tibbatts prepared for the players, showing the younger players the intesisty that is required for AAA hockey.
The teams finished the weekend with an intersquad game that ended in a 4 - 2 win for Team Yellow. The coaches selected players of the game from each team, with 2001 defenceman Samantha Lindenbach showing some solid defensive work for Team Yellows first selection and Chiefs vet Hannah Fouillard scoring two goals for the other. Team Blue players of the game were another defenceman in Binscarth's Sydnee DeCorby having a good game for one selection and young goaltender Kiandra Lytle who played with a sore wrist but was an easy choice as the diminutive goalie made some solid saves in the second period.
The Chiefs would like to thank all the players for attending and look forward to seeing the elegible players at the team tryout camp this fall.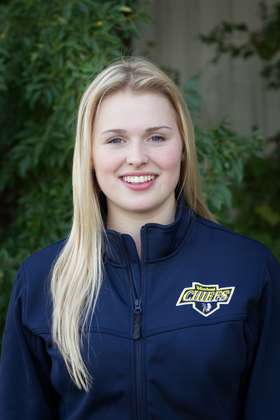 Elmes - 2nd Team All Star
Wednesday, March 26
Veteran Chief Selected to League All Star Team
Congratulations to Chiefs defenceman Jalyn Elmes on her selection to the Manitoba Female Midget Hockey Leagues Second All Star team. The Yellowhead veteran was selected in a vote by all 8 MFMHL teams. A second year Chief and assistant captain this past season, the Brandon native played in all 61 games for Yellowhead, scoring 7 goals and adding 24 assists for 31 points. In league play, she posted numbers of 4 goals, 13 assists for 17 points in 28 games played, adding 2 goals and 3 assists for 5 points in 9 playoff games as the Chiefs advanced to the league semi finals for the first time in team history.
Wednesday, March 26
Chiefs Prospects Camp


Wednesday, March 19
Say It Ain't So – Chiefs Season Ends with Game 4 Loss

The MFMHL semi final series moved to the Communiplex in Shoal Lake for Game 4, with the ...
Sunday, March 16
Slow Start Results in Game 3 Loss
Yellowhead travelled to Pilot Mound for Game 3 of their MFMHL semi-final series versus ...
Saturday, March 15
Double Overtime Thriller on Friday Night
Thursday, March 13
Overtime Loss in Game 1 of Semi Final
Tuesday, March 4
Semi Final Series Set
Sunday, March 2
On to the Semi Finals!!!!!!!!!!
Sunday, March 2
Chiefs force Game 5 with Victory on the Road
Saturday, March 1
Chiefs Backs Against the Wall
Sunday, February 23
Chiefs Even Playoff Series with OT Win
Saturday, February 22
Chiefs Lose Game One of Playoffs
Monday, February 17
Chiefs Tune Up for the Playoffs.
Tuesday, February 11
Chiefs Travel North; Finish the Season in 5th
Friday, February 7
Chiefs Raffle Winners
Thursday, February 6
Chiefs and Wildcats Tangle on a Tuesday Night
Sunday, February 2
Future Chiefs
Sunday, February 2
Chiefs Goal Scoring Woes Continue at Home
Tuesday, January 28
It Was One of THOSE Nights
Sunday, January 26
Chiefs Win on the Road In Portage La Prairie
Monday, January 20
Shaftesbury Winter Classic Results
Tuesday, January 14
Chiefs win In Eastman
Tuesday, January 7
Chiefs Forward Jalin Adams - MFMHL Player of the Week
Monday, January 6
Chiefs kick off 2014 in Winning Style
Sunday, December 22
The Avros that Stole Christmas
Sunday, December 15
Amy-zing Weekend of Goal Scoring as Chiefs host Eastman and Pembina Valley
Monday, December 16
Chiefs To play in 2014 Manitoba Games
Saturday, December 7
Chiefs Falter against Hawks.
Tuesday, December 3
Chiefs Goalie Honored By League
Tuesday, December 3
Chiefs in Minneapolis for Thoroughbred Tournament
The Chiefs boarded the bus and headed south on Thursday morning, bound for Minneapolis ...
Tuesday, November 26
Another Chief in the news - Scantlebury Player of the Week.
Monday, November 25
Jordyn Tibbatts Signs with NAIT Ooks.
Sunday, November 24
Bounce Back Sunday for Chiefs
Sunday, November 24
Chiefs Falter in Saturday Night Game
Friday, November 22
Sam Geekie Selected as MFMHL Player of the Week
Sunday, November 17
Sunday Morning Goalfest at the Communiplex
Saturday, November 16
Chiefs hand out Capital Punishment
Tuesday, November 12
Chiefs Tame Wildcats with Road Victory
Saturday, November 9
Home Ice Win for Chiefs
Sunday, November 3
Mixed Results for the Chiefs on the Weekend
Saturday, October 26
Friday Night is Not All Right for Chiefs
Tuesday, October 22
Chiefs Split Road Games in Winnipeg
Thursday, October 17
Chiefs Earn Tie in Home Opener
Monday, October 14
Pembina Valley Showcase Tournament Results for Chiefs
Monday, October 7
Disappointing Start to Regular Season for Chiefs
Wednesday, September 11
2013-2014 Season Begins
Sunday, September 15
Chiefs Split Exhibition Games
Friday, September 20
Chiefs First Road Trip
Tuesday, September 24
Successful Road Trip for Chiefs
Monday, September 30
Solid Weekend at CP Showcase
Saturday, October 5
Chiefs on the Road to Start Regular Season