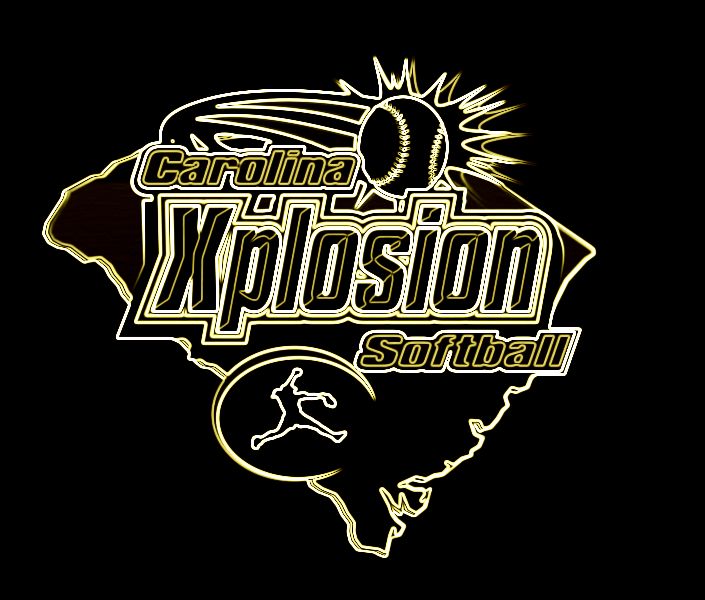 The Carolina Xplosion are a 16u fastpitch travel softball team with players from Marlboro, Dillon, Darlington, Horry, and Bladen (NC) counties. Our mission is to instill the integrity of the game of softball into each

player

while helping them understand the greatness of the game. This will allow each player to learn the many

life lessons

associated with the game of softball. In addition, these lessons will guide and enhance the development needed to advance towards their high school, college or professional career. Our coaching staff demands that each member put forth no less than their best effort. They are encouraged and expected to strive for excellence as team players and as individuals. We believe that by providing an environment that rewards dedication, determination, cooperation and hard work, the girls will build the foundation they need to ensure their success as young adults. The girls will excel not only in softball, but also in all personal, physical and mental requirements necessary for participating in any type of team sport. This will in turn provide them with the tools, talent and positive attitude that will ensure their success in school and throughout their lives.

Greg Leviner, coach 843-479-8814

John Crowley, coach 843-586-9588

"Coming together is a beginning. Keeping together is progress. Working together is success."

Thank You..... To All The Sponsors That Make This Possible!!!

Please Support Those Who Support Us!!!

Click Here to Visit our Sponsor Page




Saturday, January 22


2010 Carolina Xplosion Team Awards




Offensive Awards
Batting Average - Shayna Covington (.462)
RBI's - Tara Grimsley (45)
Stolen Bases - Shayna Covington (57)
Runs - Shayna Covington (64)
Singles - Shayna Covington (69)

Doubles - Shelby Culler (13)
Triples - Taylor Price (3)
Home Run Club
Madison Lowe (2)
Breanna Hunt (2)
Taylor Price (1)
Lacey Tyner (1)
Defensive Awards
All Defensive Team
Taylor Price (.947)
Shelby Culler (.910)
Kellie Crowley (.935)
Tara Grimsley (.936)
Lacey Tyner (.966)
Gold Glove
Pitching Awards

ERA - Shelby Culler (1.20)
Wins - Shelby Culler (21)
Strike Outs - Shelby Culler (110)
Offensive Player of the Year
Defensive Player of the Year
MVP
Saturday, October 30
2010 Tournament Results
46-15-3
Spring Supreme - 1st place
End of School Fling - 1st place
Memorial Day Bash - 1st place
Southeast NIT - 1st place
Red, White, and Boom - 1st place
East Coast Classic - 1st place
CSA State Warmup - 2nd place
CSA State - 4th place
NSA State - DNP
Beach Ball Blast - DNP
Battle at the Beach - ?
*DNP=Did Not Place
Tuesday, April 13
"Take Me Out To the Ballgame"
To succeed as a player, as a leader, as a team
you've got to be committed...
That is what teamwork is all about: commitment.
Being committed to each other! Being committed to winning!
Being commited to a dream! Commitment makes it happen!!

Music Playlist at MixPod.com