Welcome to X-Treme Fastpitch Softball of WNY: Welcome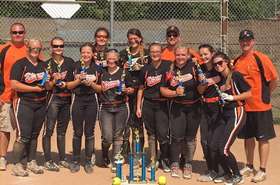 Lou Gehrig Tournament 14U Champions
X-TREME SOFTBALL FREE CLINIC & 2017 TRYOUTS:
FREE CLINIC - TUESDAY, AUGUST 9 from 5:30 - 8:30pm

It will be held at the Frontier JV Field on Riley Rd. Open to all - not only travel ball players!
TRYOUTS for 2017 SEASON (all sessions held at Frontier High School, 4432 Bayview Road, Hamburg)
Mon. Aug. 15 & Wed. Aug 17 (10U & 12U) from 6:00-8:00pm
Sun. Aug. 14 & Tue. Aug. 16 (14U & 16U) from 6:00-8:00pm
Sat. Aug 19 (18U) from 6:00-8:00pm
Sun. Aug 20 - all age divisions from 10:00am-12:00pm
X-Treme Fastpitch Softball, Elite Fastpitch Softball of Western New York
Mission Statement : Honesty-Integrity-Good Sportsmanship-Friendship
We strive at X-Treme Fastpitch Softball to instill good sportsmanship and a love of the Game.
X-Treme Fastpitch Softball is an all volunteer not-for profit program. We field teams in all age groups and compete in highly competitive leagues based in WNY. Tournament play involves local as well as out of town competition. Our teams are sanctioned by NSA, ASA & USSSA.
The X-Treme Program offers its own year round in door hitting facility and team gym use during the fall, winter & spring season.
X-Treme Fastpitch Softball teams and their families travel throughout New York, Pennsylvania, Ohio & Canada proudly carrying a banner displaying their sponsors. Your name would also be placed on our web site. Thus, the opportunity for growth potential expands dramatically!
Get the word of your business out to the public! Please download a sponsor letter from our handout section and choose one of our sponsor packages. Advertise your business, help area children, stop by and catch a game! CONTACT US for more information.
Interested in Helping the Young Ladies in Our Program. !! SPONSOR A TEAM !!
Advertisement is a great way to expand your business and increase your profit margin.
Play_Ball
Thursday, June 19
XTREME SUMMER MADNESS 10U