Woodinville High School Fastpitch: 2012 (State Champs)
Wednesday, May 30
2012 - Dream Season
2012 Woodinville Lady Falcons Fastpitch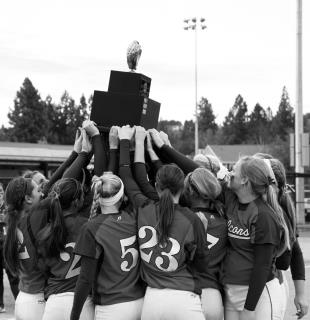 !! 2012 WA STATE 4A CHAMPIONS!!
Final - Woodinville 6 | Walla Walla 0
Semi Final - Woodinville 11 | Richland 1
2nd Round - Woodinville 9 | Marysville-Pilchuck 1
1st Round - Woodinville 19 | South Kitsap 1
!! 2012 KINGCO 4A LEAGUE CHAMPIONS !!
!! 2012 KINGCO 4A TOURNAMENT CHAMPIONS !!
!! 2012 WA STATE 4A ACADEMIC CHAMPIONS !!
Runs Scored: 286 | Runs Against: 21 | Shut-outs: 12
Washington State 4A: Ranked #1
ESPN FAB 50: Ranked #11
ALL

HANDS

ON

DECK

ALL HANDS ON DECK for 2012

2012 KingCo Champs !!

ALL

HANDS

2012

ON

DECK
Thursday, May 31
Simply Perfect.
Great article by the Woodinville Weekly on the 4A Championship win by our Lady Falcons.
Monday, May 28
Woodinville completes dream season with the 4A State championship
The academic state championship award. An undefeated season. The Class 4A state softball title. Woodinville finished the season in style with a dominating 6-0 victory over Walla Walla in the championship game Saturday at the Dwight Merkel Sports Complex. The top-ranked Falcons (26-0) outscored opponents 45-3 in four tournament wins.

Woodinville got busy early in the title game, taking a 2-0 lead on Sarah Taketa's two-run double in the first. That was all the support junior pitcher Madi Schreyer would need, but the Falcons tacked on a run in the third and two more in the fourth on Emily Jackson's two-run single. Lauren Burchak's RBI groundout drove in Jackson to hike Woodinville's lead to 6-0 in the sixth inning.

Schreyer limited Walla Walla, which scored 38 runs in its first three tournament games, to three hits and struck out eight. Woodinville had eight hits, two each by O'Farrell, Jackson and Keelin Davis, and made the Bombers pay for four errors. The Falcons were aggressive throughout, taking extra bases on several occasions and picking up another run when pinch-runner Tori Lettus' slide avoided the catcher's tag at home plate.

Final - Woodinville 6 | Walla Walla 0

Semi Final - Woodinville 11 | Richland 1

2nd Round - Woodinville 9 | Marysville-Pilchuck 1

1st Round - Woodinville 19 | South Kitsap 1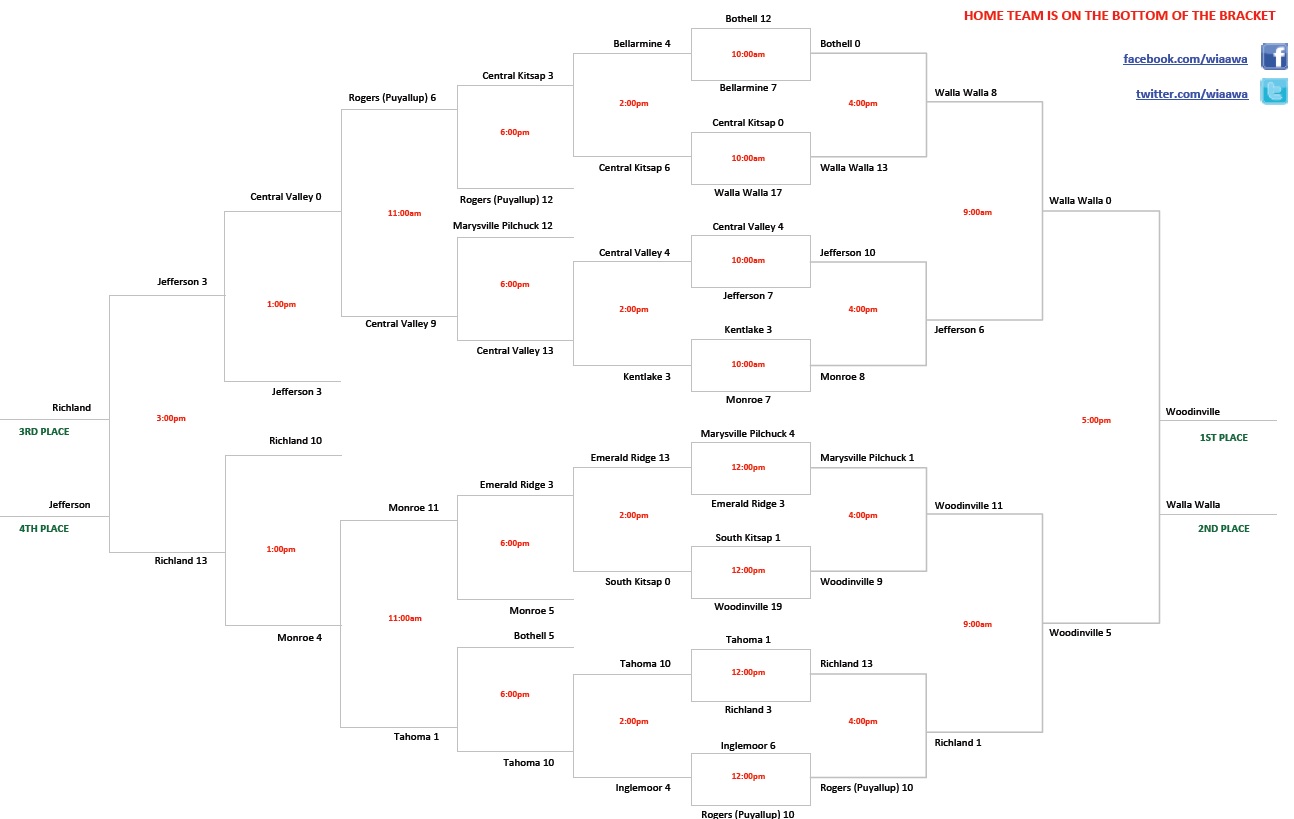 4A State Bracket
Sunday, May 20
Woodinville Gets South Kitsap First Round at 4A State
Woodinville will get a chance to play South Kitsap again as they drew them first round of 4A State Friday at 10am in Spokane. Earlier in the season, South Kitsap traveled to Woodinville for a non-league game where the Madi Schreyer punched out 16 in an 8-0 victory. I am sure South Kitsap will be gearing up for a better battle this time around.
Checkout the 4A State Bracket here.
Saturday, May 19
3.78 GPA Earns Woodinville 2012 4A Softball Academic Champions
Our Lady Falcons were honored with the 2012 Washington State 4A Softball Academic Award by achieving a cumulative 3.78 GPA. What an honor for these girls to do it off the field as well as they do on the field.
Friday, May 18
2012 4A KingCo Tournament Title to Lady Falcons Over Bothell 16-2
Our Lady Falcons came out with a flury of fire putting up 6 runs in the top of the first inning against Bothell last night at Hartman field in the Final for the 2012 KingCo 4A Tournament. Bothell never had a chance.
In the top of the first, Emily Jackson walked to lead off and Kayla O'Farrell followed with a double over left fielder to put Emily and Kayla on 2nd and 3rd. Makenna Weir smashed a hard ground out which scored Emily. Alex Boyd then walked and Sarah Taketa knocked in 2 on a line drive double. Lauren walked and with her and Sarah on, Alyssa O'Farrell blasted a home run over left field fence to put the Lady Falcons up 6-0. After batting around in the first inning the Lady Falcons were up 6-0 and off and running.
In the 3rd inning the Lady Falcons put it out of reach with a Lauren Burchak grand-slam home-run to deep center. Up 12-0 at that point, coach went to the bench to show-off the depth of the team. Nearly every Lady Falcon then got into the hit parade with Bailey Hicks, Alison Wulfmann and Alex Nelson leading the way producing doubles of their own and by the time the inning was over it was 14-0.
Madi Schreyer was working all of her pitches last night which kept the Bothell batters off-kilter all night.
The Lady Falcons had it all going last night to finish their 2012 league season a perfect 22-0 with both 4A KingCo League Championship and 4AKingCo Tournament Championship. Now off to KingCo 4A State as a #1 seed.
Wednesday, May 16
Woodinville Finish 2012 League Ranked #1 in 4A WA State Fastpitch; Ranked #26 Nationally in ESPN FAB 50
Woodinville Lady Falcons finish the 2012 league season ranked #1 in Washington State 4A Fastpitch according to the Seattle Times State softball rankings after going a perfect 20-0 compiling 11 shut-outs along the way. The Lady Falcons are 40-0 in league play over the past 2 years with 63% (25/40) being shutouts while outscoring opponents 406 to 45. They move up to #26 in the National Rankings on the ESPN FAB 50.

Class 4A

1. Woodinville (20-0)
2. Walla Walla (21-1)
3. Richland (19-4)
4. Arlington (18-2)
5. Skyview (Vancouver) (15-2)
6. Jefferson (Auburn) (20-3)
7. Bellarmine Prep (Tacoma) (15-2)
8. Snohomish (16-4)
9. Central Valley (Spokane Valley) (15-5)
10. Emerald Ridge (Puyallup) (16-3)
Wednesday, May 16
Three Woodinville Lady Falcons Headline the Seattle-Times 2012 All-Area Team
| | |
| --- | --- |
| | Makenna Weir, Madi Schreyer and Alex Boyd were selected to the Seattle Times 2012 All-Area Team. Besides being stud athletes on the field, these three ladies are an example of how hard work, dedication and a love for the sport can give you the foundation for all things in life not only on the ball field. We couldn't be more proud of them! |
Tuesday, May 15
Lady Falcons Win 2012 KingCo 4A League Title with 8-1 Victory Over Newport
At a beautiful evening at Hartman Park in Redmond, our Lady Falcons put their 20-0 record on the line in the annual KingCo #1 Crown vs KingCo #1 Crest game to decide the outright KingCo Champion.
Newport jumped out to an early lead with a little help from two uncharacteristic errors by the Woodinville infield to help put Newport up 1-0 in the bottom of the 2nd innning. Though the top of the 3rd Woodinville would strike back quickly. Keelin Davis jumped on the first pitch and drove a long home run to left center to make it a 1-1 tie. Kayla O'Farrell then stroked a line drive single to left center and Makenna Weir came up to smash a perfect line drive double to the wall to score Kayla. Lady Falcons up 2-1.
Madi Schreyer came out and delivered all night. With Newport pumped up, the excitement and pressure mounted on a few occasions where Newport was able to get runners on base. Madi focused in and dug a little deeper. In a situation in the 5th, Madi had runners at 1st and 2nd and Bridgette Rafferty, who is Newports biggest hitter, at the plate. Madi showed her the rise ball at 63, then 64, then 65 mph. With Bridgette just getting a piece of it Madi decided to put a little more into it and brought the next one 65+. Needless to say that sent the Newport banger back to the dugout and recorded one of 10 strikeouts for Madi.
After that performance by Madi in the bottom of the 5th, the Lady Falcons came up in the 6th to do more damage. Alex Boyd leads off with a bomb Home Run to deep center to put the Lady Falcons up 3-1. Alyssa O'Farrell then hits a sharp single to right center and Keelin Davis gets her third hit of the night and smokes a double to right center to score Alyssa from first base putting Woodinville up 4-1.
In the top of the 7th, Kayla O'Farrell led off with a 9 pitch at bat finally drawing a walk. Makenna Weir too draws a walk and Lauren Burchak moves them over to 2nd and 3rd. Sara Taketa walks to load the bases for Alex Boyd. Wanting very little to do with the KingCo Home Run leader, Newport chooses to pitch around her and walk in another run. With two outs and bases loaded, Alyssa O'Farrell drives a deep one-hop to the fence double to clear the bases and put 3 more runs on the board to make it 8-1.
Madi shut Newport down in the bottom of the 7th getting a 6-3 ground out by Mak on the final play.
Woodinville now waits until Thursday to play in the Final of the KingCo Tournament for a #1 or #2 berth to KingCo 4A State in Spokane.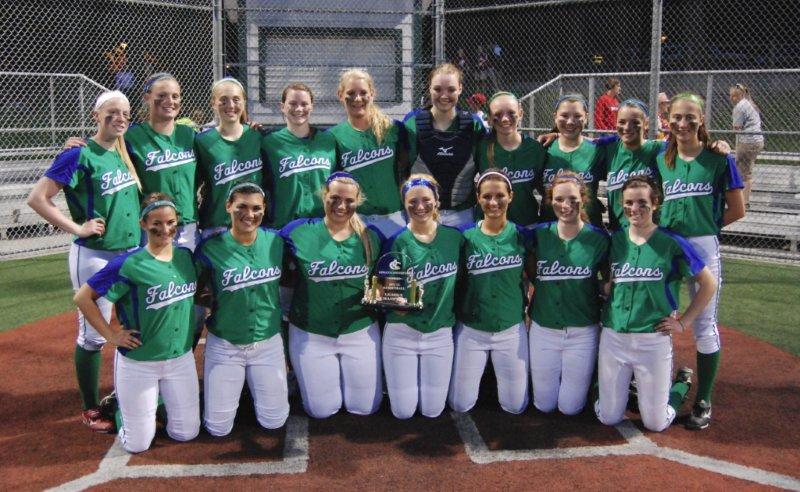 Thursday, May 10
Woodinville Bury's Inglemoor 12-1 to Finish a Perfect 20-0
A perfect end on Senior Night to a perfect season as our Lady Falcons go 20-0 beating the Inglemoor Vikings 12-1. With 7 Seniors in the lineup, our girls got up on Inglemoor early in the first inning on hits by Emily Jackson and Alex Boyd putting the Falcons up 5-0 out of the gate. Madi Schreyer was on fire last night punching out 11 Viking batters while getting some great defensive help behind her by the likes of Sara Anderson who went horizontal to catch a smoked drive to right field by Taylor Peacocke.
It was then an emotional time for the girls as the younger class told stories about the seniors and the impact they have had on them and the game at Woodinville. With this senior class they have a 3 season combined record of 64-4. Still a few more games left as they make another run at Districts and then hopefully on to State in Spokane.
Wednesday, May 9
Lady Falcons Down Ballard 5-3
Emily Jackson led the Falcons going 2 for 3 with a double and an RBI. Alex Boyd continued to go deep with a 250ft blast over deep center fence. Keelin Davis wheeled around the bases and touched them all with a deep drive to right center and a missed cut. With a nice 5-0 lead the Falcons were able to hold on after a late rally by Ballard to win their 19th straight.
Tuesday, May 8
Roosevelt Goes Down 11-0 to the Lady Falcons in a Combined Perfect Game
Madi Schreyer threw 2 innings and Keelin Davis 3 innings to combine for a no-hit & perfect game with no Roosevelt batters reaching first base.
Alex Boyd and Tori Lettus led the Lady Falcon offense with two scorched base hits and an RBI and 2 runs scored. Alyssa O'Farrell entered the game in the 3rd and blasted a double high off the 220 foot metal fence in deep left to score an RBI and had two runs scored. Sarah Taketa, Maggie Loyet, Alex Nelson and Alison Wulfman each got into the hit attack as well.
In the end the Lady Falcons put up 11 runs to record their 11th shut-out of the season.
Saturday, May 5
Lady Falcons Pound Ballard 11-1 on Parents Appreciation Night
It was a night full of fun, music, rain but lots of Lady Falcon offense and great pitching to go with it. Kayla O'Farrell started the night off in the bottom of the first with a double off the face of the wall. She scored on Makenna Weir infield hit resulting in a bad throw by Bothell.
They were off and running again after the third inning when Sara Anderson singled to left to score a couple more runs and then Makenna blasted a 2 run home run over right field fence to help the Lady Falcons offense put 5 more on the board. It was 8-1 at that point and the girls were dancing in the dugout to some retro music. Sara Taketa got a clutch 2 out 2 rbi single to put the game out of reach.
Madi Schreyer threw a 1 hitting punching out 10 batters in the rain. It was a great accomplishment to fight through the elements.
Monday, April 30
Lady Falcons Get By Ballard 2-1 Behind HR's By Alex Boyd and Makenna Weir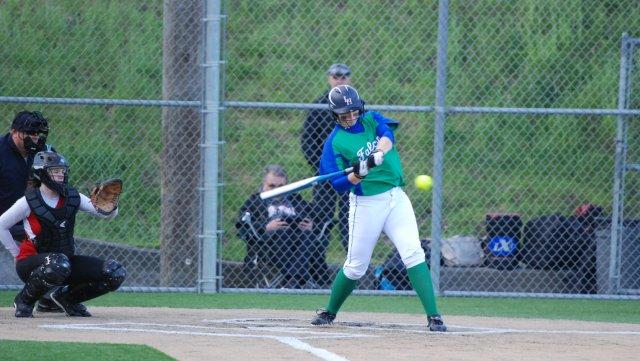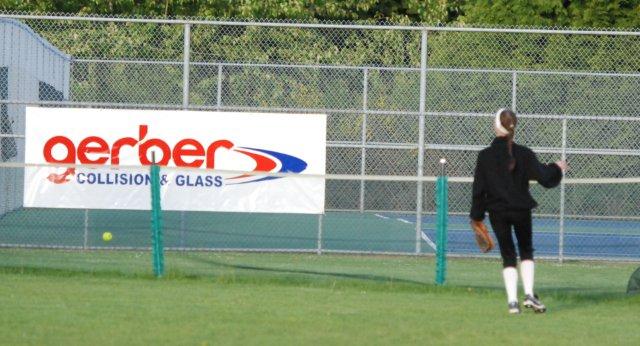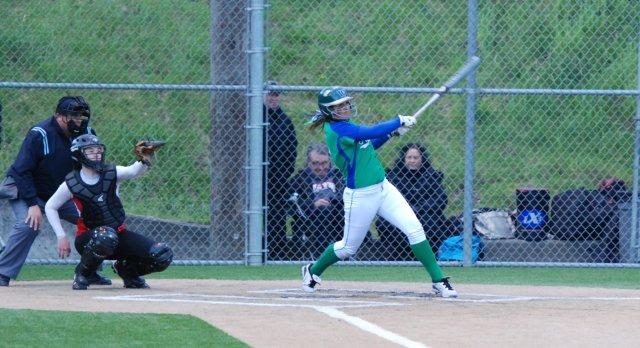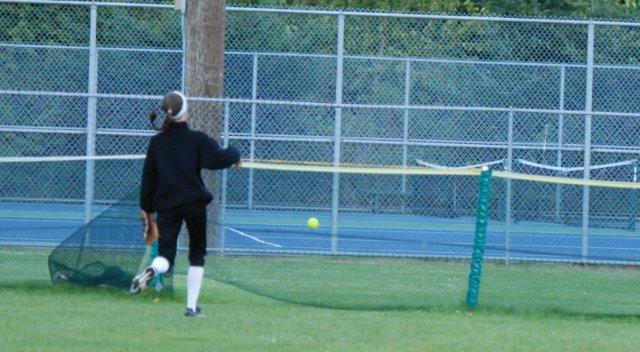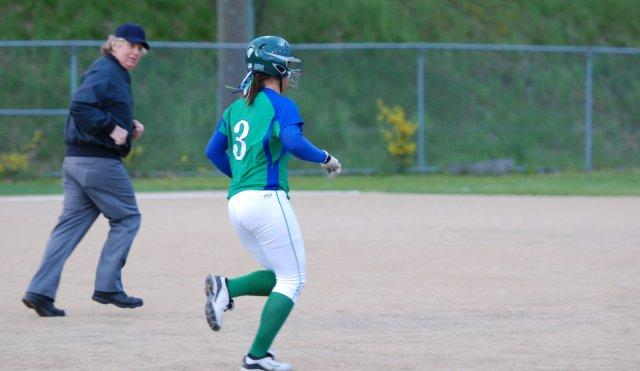 Alex Boyd continues her KingCo 4A leading home run count by putting a critical blast over the fence in a 0-0 tie in the 4th inning to help Woodinville take a 1-0 lead. Makenna Weir followed up with a solo bomb in the 6th which proved to be the final run that would keep our Lady Falcons unbeaten against Ballard tonight at WHS.
Ballard pushed across their only run of the game in the 7th on an un-characteristic error by the Falcons defense. Madi Schreyer doubled-down to punch out the final batter to secure the 2-1 win and propel the unbeaten Lady Falcons to 15-0. She had 13 strikeouts on 4 hits in the win.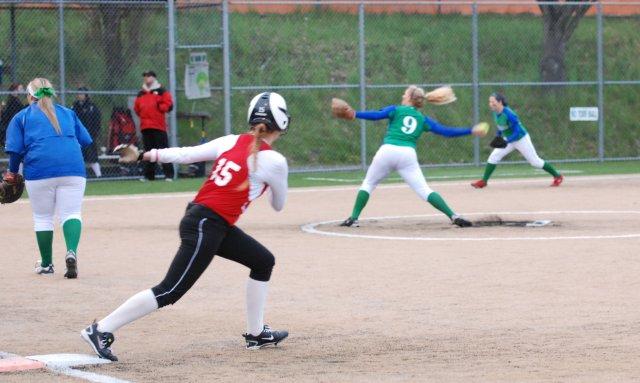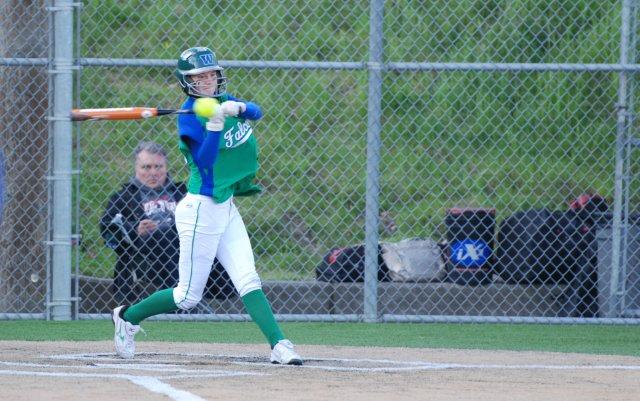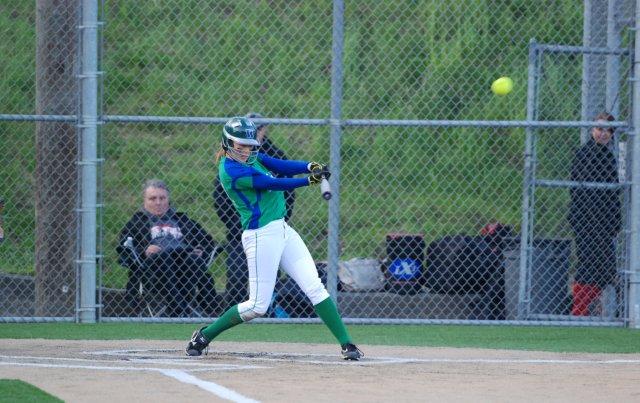 Monday, April 30
Inaugural Home Run Derby - Alumni vs Players
We had the first annual Alumni vs Player Home Run Derby after the Fastpitch camp on Sunday. With Jimbo serving up softies to the girls and ducking behind the net, the Alumni pounded out a 9-7 victory. It was great to see Amanda, Caitlin, Keely, Dani, Dani E and Rachel out there slugging away!
Saturday, April 28
Woodinville Crushes Eastlake 10-0 in 5 Innings With Support of Our Little Leaguers
It was a wonderful evening at Woodinville High School last night as our Lady Falcons put on a show for our annual Little League Night. Each of them, dressed in their team uniforms while enjoying prizes and food, had plenty to cheer about from the first inning on.
Emily Jackson walks to lead off the game. Kayla moves her to second and Makenna Weir comes up for the first of 3 doubles of the evening to score Jackson and the Lady Falcons are off and running 1-0. After pushing another run across the plate in the second inning, the third inning offense puts the game out of reach as Makenna smokes another double and Alex Boyd comes up with two runners on and launches another bomb over right center for a 3 run home run to push the score to 6-0 after 3 innings. Four more runs are scored in the bottom of the 4th to make the score 10-0.
Madi Schreyer was dominate as usual tossing a 1 hitter behind 8 strikeouts on the mound through a run-ruled 5 innings. After the game the Little Leaguers went on the field for a run-around-the-bases and chats with the Lady Falcons players.
Friday, April 27
Woodinville Lady Falcons Crack ESPN Top 50
Our Lady Falcons enter the ESPN Top 50 at #49 last week after they pushed their record to 11-0. Woodinville is the only team in the NW that is in the Top 50 as Walla Walla fell out after losing to Richland last week.
Wednesday, April 25
Lady Falcons Shut Out Issaquah 7-0
The rain held off just long enough for Woodinville to take their 12-0 record on the road at Issaquah tonight.
Our Lady Falcons jumped out in the third inning with a hit by Kayla O'Farrell who then stole second. A hit by Lauren Burchak scored Kayla from second base for a 1-0 lead. Sarah Taketa singled to move Lauren to third and Sarah reaches second base. With first base open, Alex Boyd was intentionally walked to load the bases for Alyssa O'Farrell who jumped on a fast ball to line drive a bases clearing 3RBI double to the fence to open the game up 4-0.
In the fourth inning, the Lady Falcons were able to work home a couple of additional runners on some infield hits and in the seventh inning a timely two-out RBI single by Alyssa pushed the score to 7-0 which was plenty for Madi Schreyer who tossed a 3 hit shutout with 7 strike outs.
Tuesday, April 24
4A #1 Woodinville Handles 4A #6 Newport 6-1
Madi Schreyer strikes out 9 while walking only 2 in a 7 inning 6-1 win last night at Woodinville High School against 4A #6 ranked Newport.
Emily Jackson and Lauren Burchak were able to provide for timely hits and runs to put the game out of reach for Newport with Madi on the hill.
The win pushes the Lady Falcons to 12-0 on the season with only 4 home games remaining.
Monday, April 23
Woodinville Lady Falcons are #1 in Washington 4A State Rankings
Walla Walla, with a previous 4A #1 ranking, loses to Richland while Woodinville continues to dominate team after team to push their record to 11-0. That Walla Walla loss plus solid wins over teams like 3A #1 ranked Juanita propelled the Lady Falcons into the #1 seat in the Washington 4A Softball Rankings. Let's see if Woodinville can keep on this roll throughout the final 9 games of the regular season.
Saturday, April 21
KING5 TV - Woodinville Fastpitch Team Knocking on Wood
KING5.com
Posted on April 20, 2012 at 2:28 PM
Woodinville fastpitch fans are feeling a liitle De Ja Vu as this years Falcons are looking alot like the 2005 team that went undefeated and won a State championship. In this week's prep zone King 5 's Chris Egan is "Knocking on Wood" in Woodinville.
Wednesday, April 18
Long Night for Redmond as Woodinville Pounces Them 12-2
Keelin Davis allowed 2 runs on 7 hits through 6 innings last night in Redmond as our Lady Falcons pounded the ball all night long for a 12-2 win.
Emily Jackson led off the first inning with a solo home-run to left field on her way to a 3 hit performance. Nicole Versace was driving doubles and driving in runs all night long going 3 for 4 and Alex Boyd capped it off with another long home run to right center which highlighted her 3 for 4 night as well. Accounting for 9 of the 12 RBI's between Emily, Nicole and Alex. Alyssa O'Farrell contributed 2 of the RBI's with a sac fly and a double to right. Sara Taketa and Kayla O'Farrell each chipped in for 2 hits and 2 runs each. With 17 hits the Lady Falcons were all getting into the action last night.
Now a few days off for spring break. Back at it Monday against Newport.
Monday, April 16
Lady Falcons Push One Across in 7th to Win 1-0 vs Skyline
In a long night of frustration at the plate, the Lady Falcons finally get it going in the bottom of the 7th inning when Madi Schreyer takes things into her own hands on offense with a double off the wall to lead it off. Nicole Versace comes in to run for Madi and Alyssa O'Farrell sacrifices her over to third. With one out the squeeze is on with Keelin Davis putting down the bunt with just enough time for Nicole to score the winning run.
Not to be overlooked was Madi's performance on the mound keeping Skyline from having any real chance of scoring a run. In the end the Lady Falcons happily walk off the field with a 1-0 win.
Saturday, April 14
#1 Ranked 3A Defending State Champion Juanita Gets Shutout by Woodinville 4-0
It was a battle of 3A #1 ranked and defending champion Juanita against 4A #2 ranked Woodinville last night on a gorgeous evening at WHS. Similar to last year it was a duel of the two top pitchers in the state, 2011 4A King Co MVP Pitcher Madi Schreyer of Woodinville and 2011 3A KingCo MVP Pitcher Alison Rhodes of Juanita. They combined for 21 strikeouts in the game, 10 for Madi and 11 for Alison. It would come down to which team was more patient at the plate and that turned out to be our Lady Falcons.
Our girls got it going in the second by Lauren walking for the first of her three of the game. Sarah Taketa traded places with her at first on a fielders choice. Alex Boyd drew a walk which brought up Alyssa O'Farrell. Replacing Alex at first was Maggie Loyet. A throw down to first base from the catcher in error sent Sarah Taketa to 3rd which resulted in another errant throw and Sarah was able to make it home for a 1-0 Woodinville lead.
Madi on cruise control throughout the game was awarded more supporting runs in the third with an infield hit by Kayla O'Farrell and back to back walks from Makenna Weir and Lauren Burchak sent Sarah Taketa to the plate with the bases loaded. Sarah delivered with a line drive base hit to right field scoring two runs to put Woodinville up 3-0. Alison struggled with another walk of Alex Boyd and with the bases loaded Alyssa O'Farrell drew a bases loaded walk to push across the 4th run of the game.
Madi shut it down from there and our Lady Falcons knocked off the reigning 3A State Champion Juanita and handing them their only loss of the season.
Tuesday, April 10
Lady Falcons Put the Hammer Down vs Inglemoor Last Night 12-1
Through 4 innings the Lady Falcons were denied over and over the ability to put a run across the plate at Inglemoor last night. Nice leadoff hits by Emily Jackson and sacrafice bunts by Kayla O'Farrell couldn't get a run across the old fashioned way. So, knowing Madi Schreyer was going to keep the score dreadfully low for the Vikings, the Lady Falcons decided it was time to get it done with the sticks.
Over the next 3 innings the Lady Falcons put on a hitting clinic scoring 12 runs on 12 hits. Keelin Davis got the 5th going with a smoked line drive single. Emily got on base nicely. Over to second and third move the two for Kayla to rocket a line drive base hit to score our first two runs. That was all the taste of blood our girls needed. The inning was capped off with an Alex Boyd BOMB to right center nearly hitting the 285 foot back fence. With that three run home run, the Lady Falcons were up 6-1 and off and flying to another victory.
Madi Schreyer again dominated. The Vikings got on the board early with a lead off walk and then a triple off of a change-up by Madi. From there she settled in throwing the rest of her mastery which resulted in a very long night for the Vikings, punching out 13 batters while walking only 1 more.
In the end, the Lady Falcons picked up where they left off last year against rivaled Inglemoor...up on top with a 12-1 drubbing!
Thursday, April 5
Lady Falcons go to 7-0 with a Shutout Win Over Wilson
In a fundamentally solid game last night the Lady Falcons, behind a 10 strike out - 2 hit pitching performance by Madi Schreyer, ended Wilsons unbeaten streak.
The Falcons jumped out early with an RBI single off the shortstop by Lauren Burchak. They then cruised into the 4th inning with that one-run lead when Kayla O'Farrell broke it open with a 2RBI double down the right field line.
Madi too got into the hit parade with a smoked line drive triple. In the end our Lady Falcons were too solid on defense to allow Wilson a chance back into the game and shut them out 4-0.
Tuesday, April 3
Roosevelt Heads Home after 5 in 11-0 Win by our Lady Falcons
Keelin Davis came out to play in a big way last night against Roosevelt. With the rock in her hand she pitched a one-hit shutout for the Lady Falcons. Not to be out done by her family of falcon-friends, Keelin also smashed a home-run to cap off the night.
Alison Wulfman had a very solid performance with her stick. Going 2-3 with 2RBI's and a run scored, she was on base and rounding the base all night long. Alex Boyd got into one, sending it deep over the fence while backing it up with a nice triple as well.
In the end the Lady Falcons bats were just too much for Roosevelt resulting in a run-ruled 5-inning game.
Monday, April 2
Lady Falcons Bury Bothell 6-1
Emily Jackson got it going big time vs Bothell last night. Going 3 for 3 with 3RBI's and a smokin' HR. That kind of offense was all that Madi Schreyer needed tossing a 2 hit game giving up only 1 run all night. Lady Falcons then cruised to a 6-1 win at conference rival Bothell.
Friday, March 30
Woodinville just too much for Garfield - Run-ruled in 5 Innings
Keelin Davis threw an 11 strike-out no-hitter against Garfield last night in Woodinville. With her moving fastball and deadly change-up, Garfield couldn't get anything going.
However, the Lady Falcons jumped on the ball all night long. Putting 12 runs up on the board in the first inning on their way to a 25-0 win.
It was a good night for Alex Boyd and Alyssa O'Farrell, both with 3 hits, 4 RBI's and 2 doubles each. Nearly every Woodinville player participated in the offensive barrage that lasted only 5 innings.
Monday, March 26
South Kitsap Heads Home Shutout by 8
Madi Schreyer punched out 16 giving up only 2 hits vs South Kitsap in an 8-0 shut-out last night.
The two O'Farrell girls had the hot bats going for the Lady Falcons. Senior Kayla hit the ball hard all night going 3 for 3 with an RBI while her freshman sister Alyssa went 1 for 3 with a triple and 2 RBI's.
Thursday, March 22
Win Over Monroe Pushes Lady Falcons to 2-0
Keelin Davis goes the distance giving up 4 runs and striking out 9 Monroe batters in an 11-4 win last night. Monroe put up thier runs early and had our Lady Falcons get busy with the bats. Four hits by Alex Boyd, three hits by Makenna Weir and a home run by Madi Schreyer yielded 7 of the 11 runs for the night.
Saturday, March 17
Lady Falcons Hold On Over Glacier Peak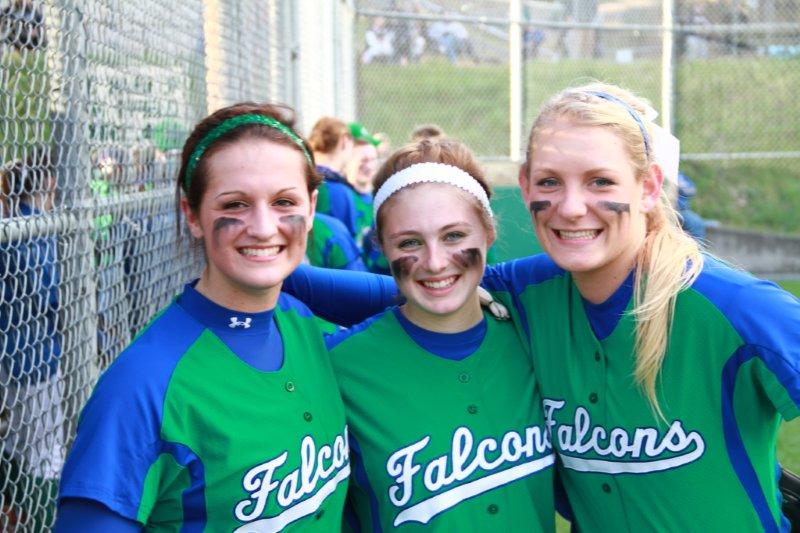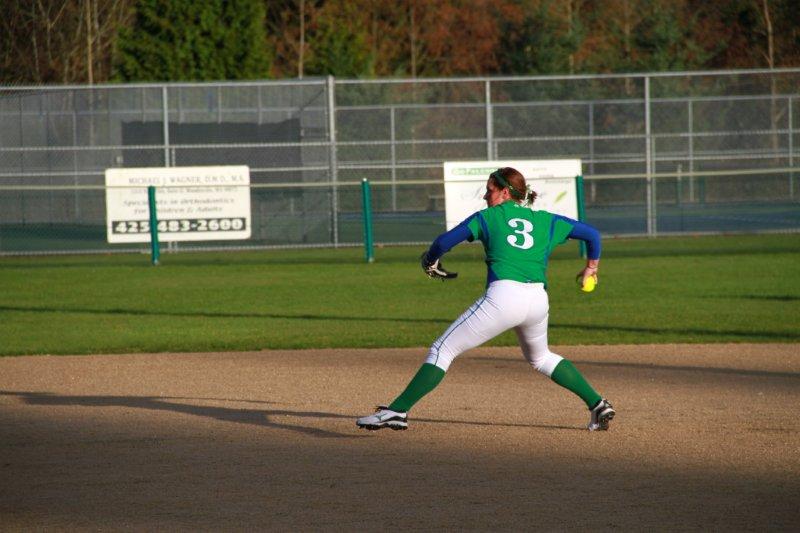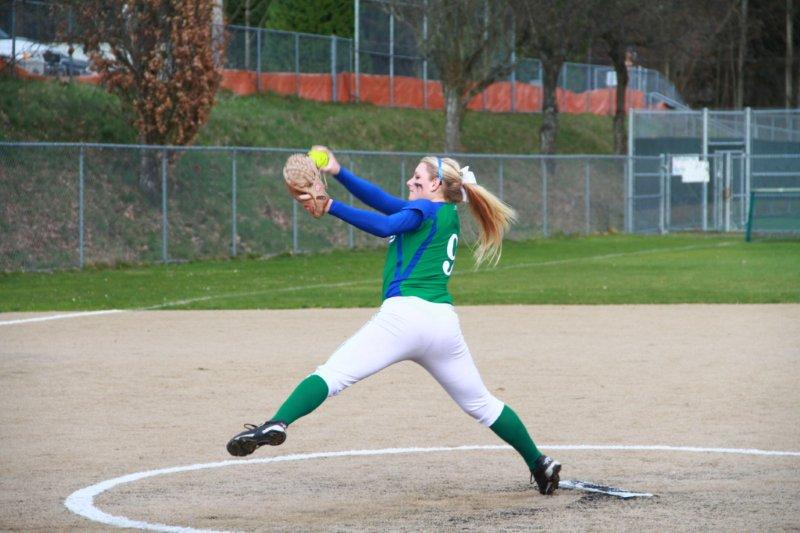 On a surprisingly nice evening in Woodinville, our Lady Falcons kicked off the 2012 season in a home opener against Glacier Peak. Both pitchers were "on" last night keeping each opponent from scoring until the bottom of the 4th. Makenna Weir led off with a walk and Lauren Burchak smoked a line drive double to the fence scoring Makenna on what would become the Lady Falcons only run of the night.
Madi Schreyer kept the Grizzlies off the bases with 11 strikeouts. Kayla O'Farrell made a nice catch on a line drive to center field in the Top of the 7th. Madi finished off the last batter with a lazy fly ball to Alison Wulfman in left field.
Our Lady Falcons happily walked off the field with a 1-0 victory.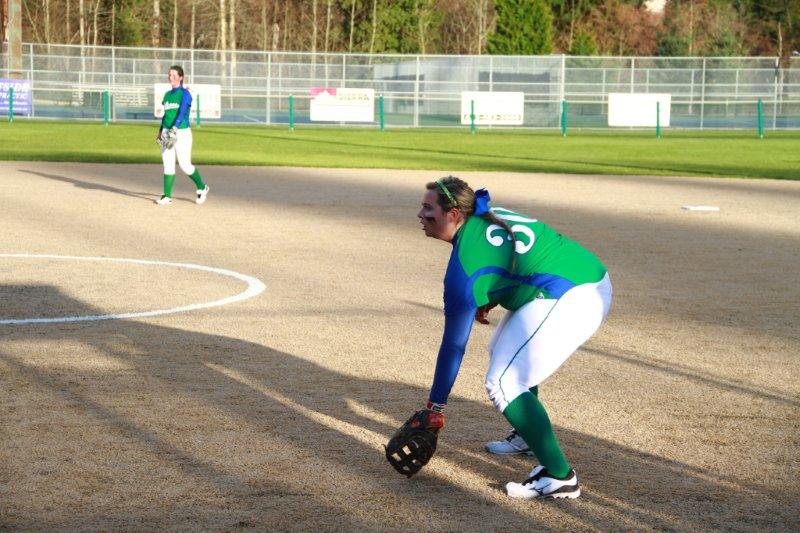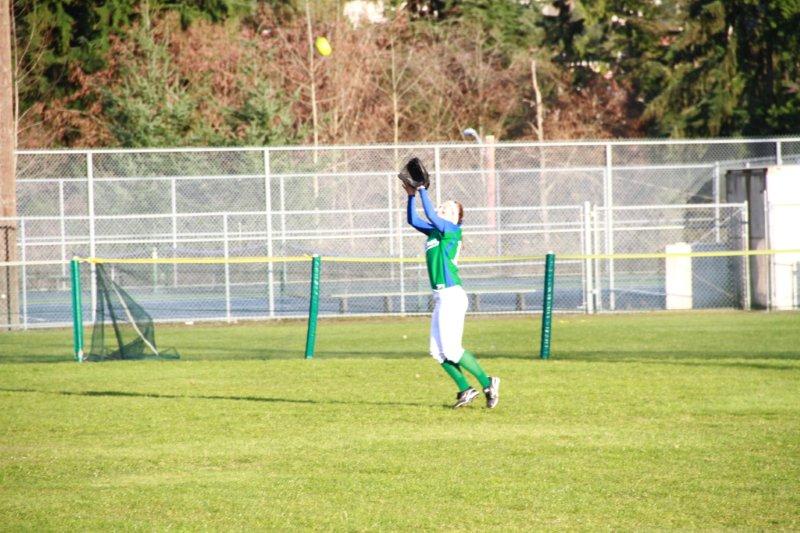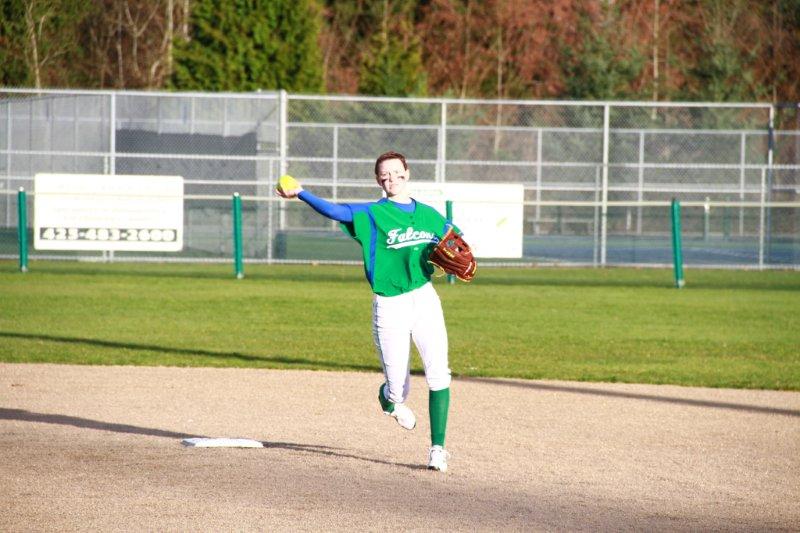 Sunday, May 20
4A State Bracket
Go
Here
for Tournament Updates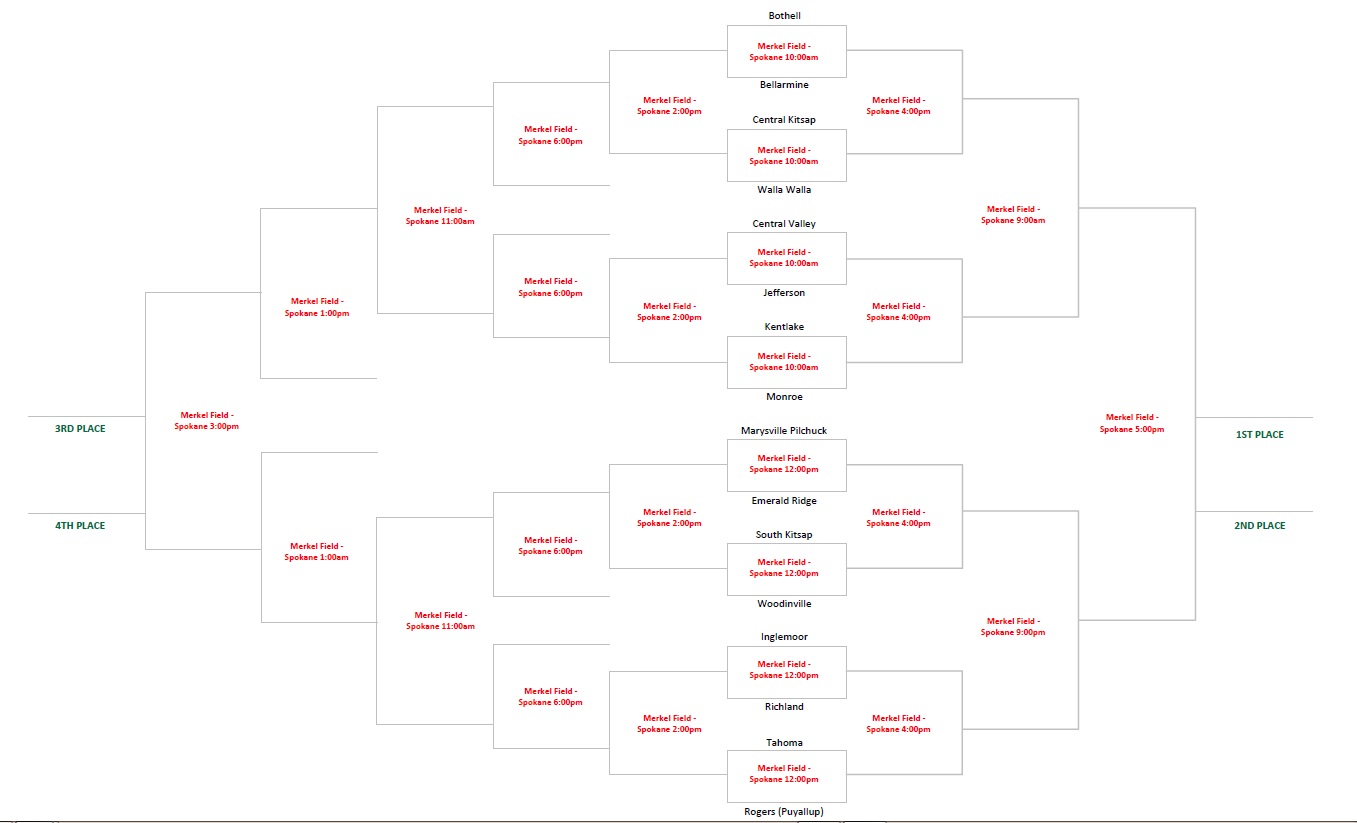 4A State Bracket
4A State Tournament Flyer