Westview Wolverine Baseball: Alumni News
Monday, February 28
2010 Westview Alum Cianfrocco Big Ten Player Of The Week Honors
http://www.purduesports.com/sports/m-basebl/spec-rel/022811aaa.html
Saturday, December 31
Updated List of Players moving on to the next level and beyond.
2011 Updated list of Westview Alumni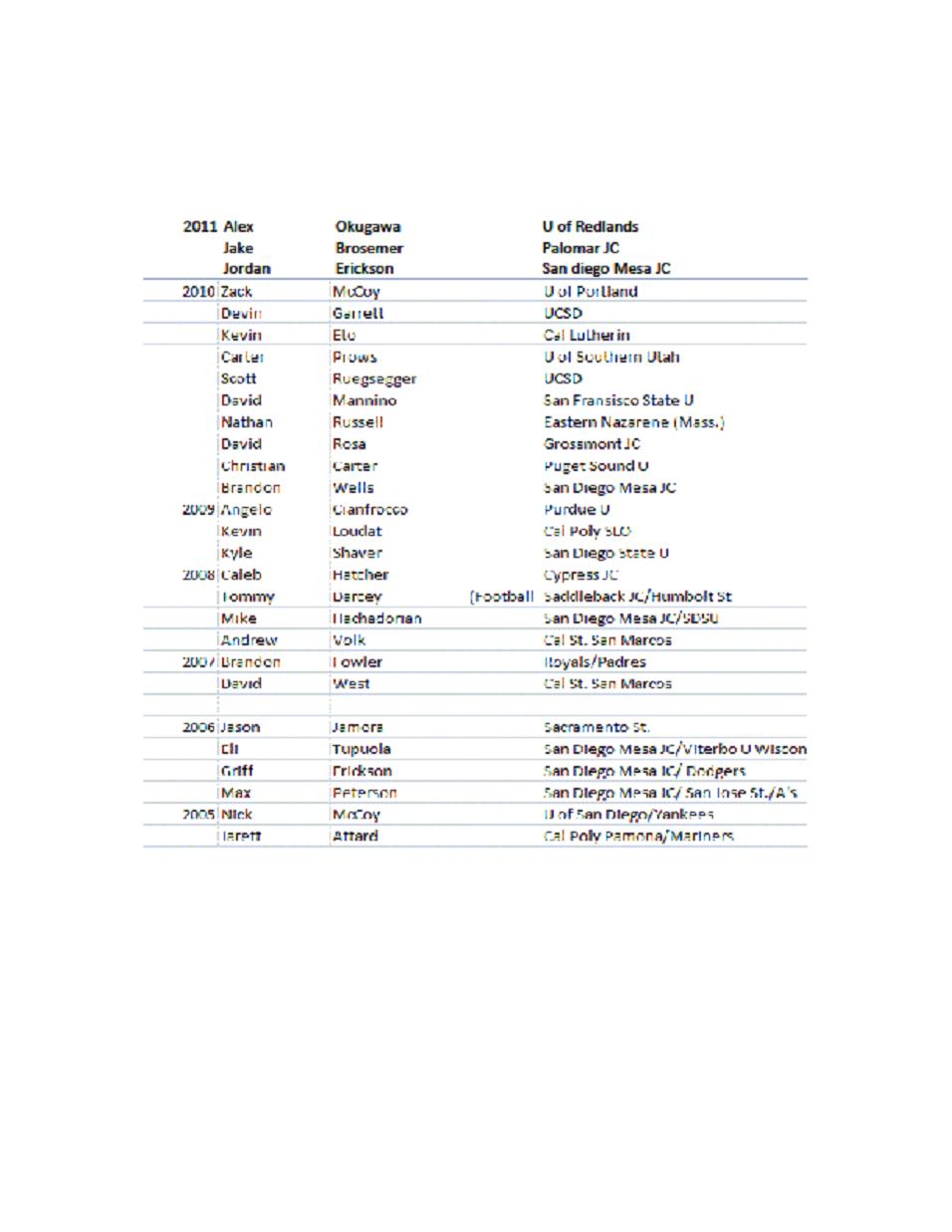 Class of 2008
Mike Hachadorian is pitching for Whittier College. He had a good outing at his game on Saturday, March 6, 2009. Although the team lost, Mike stepped in as relief pitcher for 3 innings, only allowed 2 hits and had strikeout 3 players. Great job, Mike! More in the attached article: http://www.wcpoets.com/sports/bsb/2008-09/news/recap_cms
Andrew Volk is playing baseball for Cal State San Marcos!
Caleb Hatcher is playing baseball for Grossmont Community College!
Tommy Darcey is playing football for Mt. San Antonio College (Mt. SAC)!
Class of 2007
David West is on the baseball roster at Cal State San Marcos.
Brandon Fowler was drafted in the June 2007 draft by the Kansas City Royals in the 45th round.
Class of 2006
March 3, 2008 - Max Peterson is currently a sophomore at San Jose State. He had a successful freshman season at San Diego Mesa College, where he was named first-team All-Pacific Coast Conference. During the summer of 2007, he played for the Mat-Su Miners in Palmer, Alaska, and was named the No. 9 prospect in the Alaska Baseball League by Baseball America . He transferred to San Jose State prior to the start of the 2008 baseball season, and is competing for a weekend starting position.
Ryan Floros and Alan Nematbakhsh are pitching for San Diego Mesa College . Eli Tupuola is playing shortstop for San Diego Mesa College.
Griff Erickson was drafted in the June 2006 draft by the Los Angeles Dodgers in the 15th round. He played for a season at San Diego Mesa College, and then signed with the Dodgers in the spring of 2007. Last season he played Rookie ball for the Gulf Coast Dodgers, and was brought up to the AAA Las Vegas 51s at the end of the season.
Westview alum Max Peterson, a sophomore at San Jose State, has been named the Western Athletic Conference ("WAC") Baseball Pitcher of the Week for May 12-18, 2008. Max pitched a six-hit complete game shutout against Nevada last weekend. Over his last two appearances, starts at Fresno State and home against Nevada , Peterson is 2-0 with a 0.00 ERA over 16.0 innings pitched, with just 11 hits and one walk against him and 10 strikeouts. For the complete story, see http://www.sjsuspartans.com/ViewArticle.dbml?SPSID=34974&SPID=2729&DB_OEM_ID=5600&ATCLID=1472519.
Class of 2005
January 24, 2009 - Westview Alumni Nick McCoy college team U.S.D. Torres ranked 11th is on the starting line-up as Catcher for 2009 season. See http://www.baseballamerica.com/today/college/top-25/2009/267456.html#sandiego for additional information. Have a great season!
May 19, 2008 - The North County Times has a story about Westview alum Nick McCoy, who is catching for USD. See the complete story at http://www.nctimes.com/articles/2008/05/19/sports/collegesports/z665ff6a91ff067368825744d0073a03b.txt#nctcomments
April 24, 2008 - Union-Tribune had a story about the emergence this year of University of San Diego catcher Nick McCoy, a Westview player who graduated in 2005. Nick has become the regular catcher for All-American Brian Matusz, and has had several key hits and RBIs for the #12 ranked Toreros. See the complete story at http://www.signonsandiego.com/sports/usd/20080425-9999-1s25usdcatch.html
Jarett Attard is a starting pitcher at Cal Poly Pomona. He was an honorable mention all-CCAA (California Collegiate Athletic Conference).