2016 Season of West Warwick Baseball: Welcome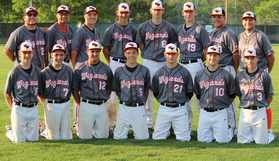 West Warwick Wizards Varsity Team
Friday, June 17
West Warwick Baseball
West Warwick Wizards - Class of 2016

West Warwick Baseball

The official summer home of Connie Mack, Babe Ruth and Cal Ripken Baseball in West Warwick.
West Warwick Connie Mack Baseball:
The West Warwick Connie Mack team opened up their 2016 "wooden-bat" season with a 4-1 victory over East Greenwich. WWHS graduate, Matt Hopper, picked up the complete-game victory by scattering five hits, striking out one batter and allowing no walks. Hopper threw 49 of his 59 pitches for strikes. After scoring an unearned run in the second inning, WWCM struck for two runs (Robert Bird and Matt Grenier) on r.b.i. hits by Andrew D'ambrosca and Ryan Carlson. In the bottom of the fifth inning, they added their fourth run on a lead-off triple by Matt Grenier and a sacrifice fly by newcomer Mason Provoyeur.
On Saturday, they travel to Narragansett for a 9-inning league game.
This year's sponsors include: SDS Disposal of Johnston and Universal Auto Inc. of West Warwick
West Warwick Babe Ruth League Baseball:
The WWBRL will announce their All-Star teams later this month
.
West Warwick Cal Ripken League Baseball:
Major Division:
Although the WW PIC Athletics (14-1) finished first place for the fourth consecutive year, there are several teams that look to unseat the A's in the upcoming playoffs. The Yankees (8-5-2) who finished as playoff runner-up in 2015, Red Sox (7-6-2), Ray (7-8), Mets (4-10) and Orioles (2-12) have all had their share of solid performances and memorable moments in 2016.
Playoff Schedule:
Game One: Orioles 6 Red Sox 14
Game Two: Mets 5 Rays 7
Game Three: Yankees 13 Red Sox 12 (7 Innings)
Game Four: Athletics 10 Rays 4
Game Five: Red Sox 10 Mets 8
Game Six: Orioles 11 Rays 7
Game Seven: Red Sox 14 Orioles 6
Game Eight: Athletics 11 Yankees 1
Game Nine: June 17th @ 6:00 Red Sox vs. Yankees
Game Ten: June 18th @ 12:00 Winner of Red Sox/Yankees vs. Athletics
Game Eleven: June 20th @ TBA (If Necessary)

"Bill Flynn" End of the Year Minor Division Tournament:
June 18th (Riverpoint) @ 2:00 Mets (4th Seed) at Giants (2nd Seed)
West Warwick Wizards Varsity Baseball:
Despite an injury-plagued season, the Wizards, who returned just three varsity starters from 2015, not only qualified for the playoffs, but reached the Loser's Bracket Semi-Finals with a road win against Scituate (3rd Seed), 5-3.
Several Wizards received Post-Season honors:
Matthew Grenier (Divisional Player of the Year),
Tom Doran (First Team All-Division),
Chris Gaipo (First Team All-Division),
Andrew D'Ambrosca (Second Team All-Division) and
Ernie Wright (Second Team All-Division).
West Warwick Wizards Junior Varsity Baseball:
The Wizards Junior Varsity had a solid 2016 season, winning the Division II-Central playoffs and participating in the Skee Carter State Tournament. The Wizards finished the year with an overall mark of 13-2.
John F. Deering Middle School Baseball:
T
he Junior Wizards (6-7) finished in fourth place and participated in the RIPCOA Middle School State Playoffs for the first time since 2012.
West Warwick Baseball Website & Facebook Page: Visitors should look in the following folders (tabs are located at the top of this page) for information regearding their specific team, league, and/or association:
Albums (Past & Present Pictures)
Facebook Page - This website has limited video capacity. Please go to our FACEBOOK page for our latest information, pictures, slideshows and videos. (http://www.facebook.com/pages/West-Warwick-Baseball/391272384228630)
Handouts (Documents, Schedules, Playoff Brackets, and Stats)
Links (Links to Sites that Support West Warwick & RI Connie Mack Baseball)
News Pages (Articles, News, Pictures, Rosters, Rules & Other Information)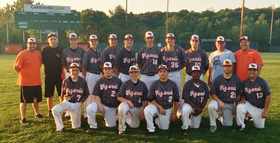 West Warwick Junior Varsity: Division II Central Champions
Recent Games
Date
Event
Time
Location
Thu 6/23
Warwick edges EP, 4-1!
5:30 PM - 7:30 PM
PCD
Fri 6/24
Powers leads Chariho to 5-3 victory!
5:30 PM - 7:30 PM
EGHS
Sat 6/25
Lamont shuts out WW, 5-0!
10:00 AM - 1:00 PM
McCarthy Field
Sat 6/25
Pitcher's Duel goes to Coventry, 1-0!
10:00 AM - 1:00 PM
Hendricken
Sat 6/25
Scituate stymies AMS, 11-3!
10:00 AM - 1:00 PM
Manning Field
Sat 6/25
Bulldogs win again, 12-1!
10:00 AM - 1:00 PM
Metcalf Field
Sat 6/25
NP pounds Providence, 18-3!
10:00 AM - 1:00 PM
North Providence
Sat 6/25
Tiverton vs. East Providence
10:00 AM - 1:00 PM
PCD
Sat 6/25
PAL beats 365, 7-2!
10:00 AM - 1:00 PM
Mickey Stevens
Sat 6/25
Lions blank Westerly, 12-0!
10:00 AM - 1:00 PM
Sprague Field
Sat 6/25
Slocum edges EG in extra innings, 4-3!
10:00 AM - 1:00 PM
Lischio Field
Mon 6/27
Algier leads Westerly to first win, 4-2!
5:30 PM - 7:30 PM
Cimalore Field
Mon 6/27
Tiverton vs. Flood Ford (Hendricken)
5:30 PM - 7:30 PM
Hendricken
Tue 6/28
Tiverton vs. Warwick PAL
5:30 PM - 7:30 PM
Mickey Stevens
Wed 6/29
Westerly vs. West Warwick
5:30 PM - 7:30 PM
McCarthy Field
Wed 6/29
East Greenwich vs. Chariho
5:30 PM - 7:30 PM
Chariho
Wed 6/29
Slocum (NK) vs. Narragansett Lions
5:30 PM - 7:30 PM
Sprague Field
Wed 6/29
Coventry vs. 365 Sports (Bristol)
5:30 PM - 7:30 PM
Guitteras Field
Wed 6/29
Flood Ford (Hendricken) vs. East Providence
5:30 PM - 7:30 PM
PCD
Wed 6/29
Cranston Bulldogs vs. AMS - Johnston
5:30 PM - 7:30 PM
Johnston
Wed 6/29
Providence vs. Scituate
5:30 PM - 7:30 PM
Manning Field
Wed 6/29
Prime Electric vs. North Providence
7:30 PM - 9:30 PM
North Providence