2017 Season of West Warwick Baseball: Welcome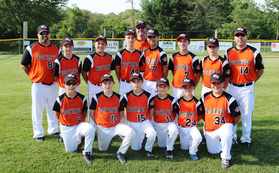 West Warwick 12 Year Old All Stars
Wednesday, July 26
West Warwick Baseball

West Warwick Baseball

The home of the West Warwick Wizards and West Warwick Connie Mack Summer Team!
West Warwick Wizards Connie Mack Baseball:
The West Warwick Connie Mack baseball team (8-5-1) finishes their regular season this week with home games against Chariho (Wednesday) and North Providence (Saturday).
West Warwick Wizards Varsity Baseball:
After a slow start to the 2017 season where the Wizards could not manage any consistency due to the inclement weather and only five league games played in April, they missed the Division II State Playoffs by one game after finishing with the second best record (6-3) over the second half of the season.
West Warwick Cal Ripken League Baseball:
12 Year Old All-Stars: The 12 year old all stars of West Warwick have reached the 2017 State Championship against Washington Park. They play Friday night.
10 Year Old All-Stars: The 10 year old all stars advanced to the State Championship with a key victory over CLCF last night. They will play on Saturday against either CLCF, Jamestown or Washington Park.
West Warwick Baseball Website & Facebook Page: Visitors should look in the following folders (tabs are located at the top of this page) for information regearding their specific team, league, and/or association:
Facebook Page - This website has limited video capacity. Please go to our FACEBOOK page for our latest information, pictures, slideshows and videos. (http://www.facebook.com/pages/West-Warwick-Baseball/391272384228630)
West Warwick Cal Ripken - Sports Illustrated Site (http://westwarwickcalripken.website.siplay.com/)
Albums (Past & Present Pictures)
Handouts (Documents, Schedules, Playoff Brackets, and Stats)
Links (Links to Sites that Support West Warwick & RI Connie Mack Baseball)
News Pages (Articles, News, Pictures, Rosters, Rules & Other Information)
Thursday, June 29
West Warwick Baseball
At the Rhode Island Baseball Coaches Association's 34th ...

Wednesday, July 26

West Warwick 12-Year-Old All Stars Win Two Games in State Tournament!

Although the West Warwick ...


Recent Games
Date
Event
Time
Location
Wed 7/19
West Warwick comes from behind for 9-7 win!
5:30 PM - 7:30 PM
McCarthy Field
Wed 7/19
Chariho beats EG, 10-7!
5:30 PM - 7:30 PM
Chariho
Wed 7/19
Westerly defeats Slocum, 9-1!
5:30 PM - 7:30 PM
Lischio Field
Wed 7/19
Dirtdogs down Knights, 5-2!
5:30 PM - 7:30 PM
Fay Field
Wed 7/19
365 edges Scituate, 3-1!
5:30 PM - 7:30 PM
Manning Field
Wed 7/19
Warwick PAL blanks Bulldogs, 2-0!
5:30 PM - 7:30 PM
Mickey Stevens
Wed 7/19
Slocum rolls over Academy, 8-2!
5:30 PM - 7:30 PM
LaSalle
Wed 7/19
NP walks off with 13-12 win!
7:30 PM - 9:30 PM
NPHS
Thu 7/20
West Warwick and Westerly tie, 3-3!
5:30 PM - 7:30 PM
McCarthy Field
Thu 7/20
Chariho downs Narragansett, 10-4!
5:30 PM - 7:30 PM
Chariho
Fri 7/21
Tiverton blanks Coventry, 11-0!
5:30 PM - 7:30 PM
Pocasset Elementary
Sat 7/22
WW squeezes by EG, 4-2!
10:00 AM - 12:00 PM
EGHS
Sat 7/22
Narragansett wins pitching duel, 1-0!
10:00 AM - 12:00 PM
Sprague Field
Sat 7/22
Chariho beats Slocum, 6-2!
10:00 AM - 12:00 PM
Lischio Field
Sat 7/22
NP beats Coventry, 8-2!
10:00 AM - 12:00 PM
Paine Field
Sat 7/22
Tiverton squeaks by Cranston, 4-3!
10:00 AM - 12:00 PM
Pocasset Field
Sat 7/22
Flood blanks EP, 2-0!
10:00 AM - 12:00 PM
PCD
Sat 7/22
Warwick PAL beats Academy, 5-3!
10:00 AM - 12:00 PM
Mickey Stevens
Sat 7/22
Cranston edges Scituate, 3-2!
10:00 AM - 12:00 PM
Fay Field
Sat 7/22
Slocum edges 365 Sports, 4-3!
10:00 AM - 12:00 PM
Colt Park
Mon 7/24
Coventry vs. Scituate
5:30 PM - 7:30 PM
Manning Field
Mon 7/24
Slocum Baseball vs. Flood Ford (Hendricken)
5:30 PM - 7:30 PM
Hendricken
Tue 7/25
Scituate beats Chariho, 7-1!
5:30 PM - 7:30 PM
Manning Field
Tue 7/25
WW defeats Slocum, 6-1!
5:30 PM - 7:30 PM
Lischio Field
Tue 7/25
Narragansett blasts EG, 18-3!
5:30 PM - 7:30 PM
EGHS
Tue 7/25
Warwick PAL edges Dirtdogs, 2-1!
5:30 PM - 7:30 PM
Fay Field
Tue 7/25
Bulldogs stop 365 Sports, 8-4!
5:30 PM - 7:30 PM
Colt Park
Tue 7/25
Tiverton picks up win over Academy!
5:30 PM - 7:30 PM
Pocasset Field