2017 Season of West Warwick Baseball: Welcome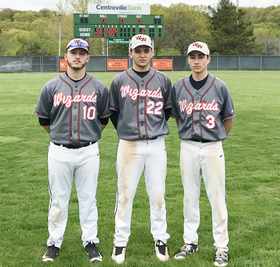 West Warwick All Stars: Chris Gaipo, Robert Bird & Ernie Wright
Friday, May 19
West Warwick Baseball

West Warwick Baseball

The home of the West Warwick Wizards and West Warwick Connie Mack Summer Team!
West Warwick Wizards Varsity Baseball:
After a slow start to the 2017 season where the Wizards could not manage any consistency due to the inclement weather and only five league games played in April, they have recently started to play some of their finest ball of the season.
In the midst of playing seven league games in the final eight days of the season, West Warwick lost to Chariho (first place) on Wednesday, but manage to outhit them and did not commit an error in the infield. On Thursday, the Wizards who ran their infield errorless streak to a season-high 14 consecutive innings backed the lefty Robert Bird in a 3-1 victory over Prout. It marked the second consecutive complete effort for Bird, who allowed just one run on three hits while striking out three batters.
The Wizards end their 2017 campaign playing five games in the next six days against Exeter-West Greenwich (Friday at McCarthy), Burrillville (Sunday night at McCarthy), Juanita Sanchez (Monday at Richardson Field), Woonsocket (Tuesday at McCarthy) and Mt. St. Charles (Wednesday at McCarthy).
Wizard All-Star Notes: On May 13th, West Warwick was represented by three players (Junior Robert Bird, Senior Chris Gaipo and Senior Ernie Wright) in the Division II All-Star games which were held at McCarthy Field.
West Warwick Wizards Junior Varsity Baseball:
After wining the Division II-Central playoffs last spring, the Wizards Junior Varsity will look to defend their title next week when the divisional round commences. For the year, the Wizards, who have had several games postponed due to weather and varsity conflicts, are 4-4 overall.
John F. Deering Middle School aseball:
The Junior Wizards (4-5) are battling for the final spot of the playoffs with Bain Middle School (6-5). The two teams face off today at Ray Silva Field.
West Warwick Cal Ripken League Baseball:
The 2017 All-Star brackets were selected for the 9, 10, 11 & 12 year olds last night. West Warwick will be hosting the 12 year-old State Tournament beginning on June 24th. The 10 year olds will be traveling to Jamestown who is a host for the first time in over two decades.
For the most recent results of the Major Division, visit West Warwick Cal Ripken's "SI Play" site (link below).
West Warwick Baseball Website & Facebook Page: Visitors should look in the following folders (tabs are located at the top of this page) for information regearding their specific team, league, and/or association:
Facebook Page - This website has limited video capacity. Please go to our FACEBOOK page for our latest information, pictures, slideshows and videos. (http://www.facebook.com/pages/West-Warwick-Baseball/391272384228630)
West Warwick Cal Ripken - Sports Illustrated Site (http://westwarwickcalripken.website.siplay.com/)
Albums (Past & Present Pictures)
Handouts (Documents, Schedules, Playoff Brackets, and Stats)
Links (Links to Sites that Support West Warwick & RI Connie Mack Baseball)
News Pages (Articles, News, Pictures, Rosters, Rules & Other Information)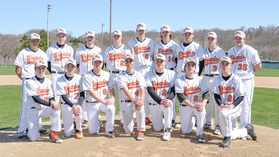 West Warwick Wizards Baseball Team