West Haverstraw Roller Hockey: Welcome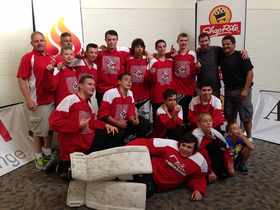 Nutmeg Tournament Champions
Tuesday, March 24
Spring 2016 Sign-Ups
Mail your registration to the P.O. Box below.
Season begins April 16, 2016
Boys and Girls 10 thru 16
Mail application & check made out to
West Haverstraw Roller Hockey Club
Mail to: West Haverstraw Roller Hockey Club
P.O. Box 292
Garnerville, NY 10923
Season starts April 16th
Sunday games & Friday night games under the lights for
13& Under & 16& Under
Cost: $85.00 13& Under/16& Under
$50.00 Learn to skate/play
*Cost includes Inline Hockey Insurance, Jerseys, player awards & ref fees*
Questions please contact:
Steve Apicella 845-429-1335
Wolfgang Luttinger 845-548-2747
John Checco 845-558-1407
Aiden Hilliard 845-300-3332
Bernie Sokolwski 845-323-1214
Bring unwanted/outgrown equiptment for drop-off
Volunteers Needed
At Pecks Pond Roller Hockey rink behind
West Haverstraw Community Center
130 Samsaondale Avenue
West Haverstraw, NY
Just off Railroad Ave/Rockland Route 94 East
Equiptment needed: Helmet with face mask
In-line roller skates
Elbow pads & shin gaurds
Gloves
Roller hockey stick
***Many thanks to the Village of West Haverstarw - all Board Members, Mayor Ramundo and Robert D'Amelio for resurfacing the rink for our kids***
The rule of thumb for rain games---if it is raining or drizzling--the game is off---the only way the game is played is if the rink has begun to dry off. This page will be updated on mornings of bad weather.

***What do we need to play? Each child is required to wear an approved hockey helmet with a face guard, gloves, knee pads and elbow pads. Of course you need a stick too. For the beginners there is some donated equipment available on a limited basis. All coaches must wear a helmet while skating on the play surface.

***Standard of play---the Learn to Skate is once a week. It is an hour or so time period where the kids will start at the basics of holding the stick right and how to get up from falling, and progress into game play and more advanced instruction in passing and backwards skating. The instruction is done by USA Hockey certified inline and ice hockey coaches. Our other hockey programs run during the same time and include weekly practices and games finishing in playoffs and a championship game at each level. All coaches are volunteers and are USA Hockey certified.


Please email us at Write WHRHC.COM