Snow Canyon Warriors: Welcome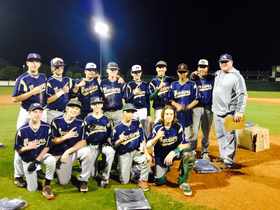 Fall Baseball Champions
SNOW CANYON WARRIORS BASEBALL STATE CHAMPIONS 2002, 2007, 2012 & 2013
KJ6
Believe 4 Britton - GOFUND.ME/GM4AUC
KEEP FIGHTING BRIT!
If your company would like to hang a sign on the outfield fence for the entire year please contact Coach Secrist on his email reed.secrist@washk12.org for details.
2014 Fall Baseball
Congratulations to the GOLD team defeating Green 4-3 in the Fall Ball Championship. Great Pitching and Great Defense dominated the cold night.
Remember to continue to work hard this off season to get your bodies in shape and let your arms rest! We'll be back on the field the first of Jan. for open field. If we do any strength and conditioning with the team we'll post it on this website.