| | |
| --- | --- |
| Sponsors | |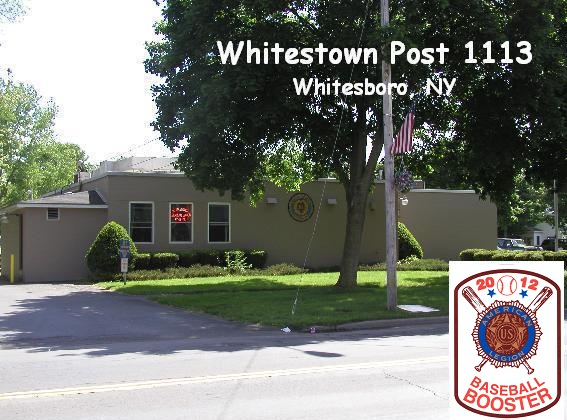 Whitestown Post 1113 American Legion
Click Here for Whitestown Post Website
Whitestown Post 1113 American Legion
110 Main Street
Whitesboro, New York
13492


Whitestown American Legion Post 1113 is located in beautiful Whitesboro, New York... a suburb just to the west of Utica in Central New York State. Whitestown Post is currently the 3rd largest American Legion in Oneida County and the 9th largest in New York State. Post 1113 has proudly sponsored American Legion baseball for over 50 years and is very proud of the many accomplishments of the WP 1113 American Legion baseball teams over the years, specifically the Oneida County Championships in 1997 and 2000... the New York State District V Championships in 2007, 2011 and 2012... and especially the NEW YORK STATE CHAMPIONSHIP IN 2011!!!

The players and coaches would like to express their gratitude and thanks to the members of Whitestown Post 1113 for their continued support! We would especially like to thank the following 2011-2012 legion officers:

Commander: Gary Eckerson
1st Vice: Don Mullen
2nd Vice: Dick Jones
3rd Vice: Larry Smith
Adjutant: Ray O'Connor Jr.
Finance: Bob Young
Chaplain: Bill Hadden
Historian: A J O'Connor
Judge Advocate: Jack Sprague
Sargeant at Arms: Ray Sylvester
Service Officer: Evan Pearl
Steward: D.J. Moylan
Sons of the Legion Commander: Greg Beckman
Woman's Auxiliary President: Darlene Hill
"Baseball Coordinator:" Pat Gubbins

post_1113@yahoo.com
Phone: 315-736-0108
Baseball Boosters
| | |
| --- | --- |
| | Many thanks to the following "Gold," "Silver," "Bronze," and "Patron" level sponsors that provided donations towards our 4th Annual Program Ad Book for the 2009 season. Your contributions are greatly appreciated! |
"Gold" Sponsors:

Whitestown Post 1113
IKON Office Solutions
Hidden Valley Golf Club


"Silver" Sponsors:

Adirondack Bank
Dan & Kim Bunal
Dr. & Mrs. John Konyak, DDS
Boulevard Trailers
Leone's Refrigeration & Appliance
Piluso's Service
Rick Flisnik, Oneida County Legislator
Stanwix Veteran's and Men's Club
The Travel Connection of Central New York
Vomero Coffee Company
Whitesboro Fire Department

"Bronze" Sponsors:

B&F Milk Center and Ice Cream
Colonial Liquors
Northland Motors Trailer Sales & Service
Whitesboro Teachers Association

Patrons:
| | |
| --- | --- |
| | Patrick Gubbins, Past Post Commander |

SINCE 1925 - "AN INVESTMENT IN AMERICA'S YOUTH"
American Legion Baseball is the oldest and largest nationwide teenage baseball program in America. American Legion Baseball became a national program in 1925. Since its inception, over ten million teenagers have played American Legion Baseball. In 2005, 5,400 teams registered for National tournament play. Since 1985 the number of registered Legion teams has increased by 27% as over 1,900 new teams have registered to play American Legion Baseball.

This season marks the 81st Anniversary of competition in American Legion Baseball. Over 100,000 players, ages 15 to 19, participated in 2005. Each year, 1,280 players and coaches on 64 teams compete at eight Regional Tournaments. All National Tournaments are double-elimination tournaments, held over a five-day period. Attendance averages 75,000 paid admissions for the eight Regional Tournament sites and 25,000 paid admissions at the World Series Tournament. The American Legion is the only amateur youth baseball program that funds 100 percent of the cost for hotels, transportation, meals, umpires and baseballs for our National tournaments.

The purpose continues to be in 2006 the same as was in 1925, "An investment in America's Youth." The history of American Legion Baseball has proven that America's youth receive on the baseball diamond a thorough understanding of the true value of sportsmanship, leadership and individual character building.

During the past seven decades, millions of young players have enjoyed playing American Legion baseball. The American Legion and their 2.7 million members have raised millions of dollars each year for players to learn the importance of teamwork, discipline, leadership and good sportsmanship. The American Legion sponsors American Legion Baseball to give players an opportunity to develop their skills, personal fitness, leadership qualities and to have fun.




.