| | |
| --- | --- |
| Sponsor | |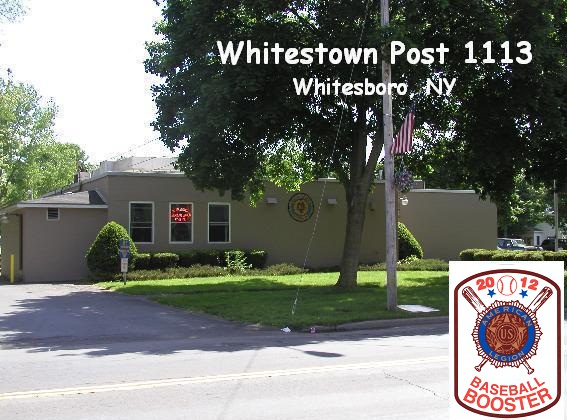 Whitestown Post 1113 American Legion
Click Here for the Whitestown Post 1113 Facebook Page
Whitestown Post 1113 American Legion
110 Main Street
Whitesboro, New York
13492


Whitestown American Legion Post 1113 is located in beautiful Whitesboro, New York... a suburb just to the west of Utica in Central New York State. Whitestown Post is currently the 3rd largest American Legion in Oneida County and the 9th largest in New York State. Post 1113 has proudly sponsored American Legion baseball for over 50 years and is very proud of the many accomplishments of the WP 1113 American Legion baseball teams over the years, specifically the Oneida County Championships in 1997 and 2000... the New York State District V Championships in 2007, 2011, 2012 and 2016... and especially the NEW YORK STATE CHAMPIONSHIP IN 2011!!! The 2011 team also finished as the Runner-Up team in the 2011 World Series Northeast Region Tournament in Old Orchard Beach, Maine... concluding the season as one of only 16 teams remaining in the world before being eliminated.

The players and coaches would like to express their gratitude and thanks to the members of Whitestown Post 1113 for their continued support! We would especially like to thank the following 2017-2018 legion officers:

Whitestown Post 1113 Officers
Commander: John Kulik
1st Vice: Ray Sylvester
2nd Vice: Phil Beck
3rd Vice: Pat Gubbins
Adjutant: Chris Dempsey
Finance: Gary Eckerson
Chaplain: Pat Gubbins
Historian: AJ O'Connor
Sargeant at Arms: Dean Grant
Service Officer: DJ Moylan
Judge Advocate: Ed Layton
Executive Committee: Jack Spraque, Dean Grant, Burt Coon, Jim Jones, and Chris Dempsey
Trustees: Pete Manno, Al Matys, Wes Bateson, Mike Witkowski, and Angelo Giacovelli
Steward: D.J. Moylan
Meetings: 2nd & 4th Monday of the Month at 7:00 PM

Sons of the Legion (S.A.L.) Officers
Commander: Gary Manzer
1st Vice: Gary Lawendowski
2nd Vice: Tom Billman
3rd Vice: DJ Moylan
Finance: Joe Lenhardt
Chaplain: Chad Jennings
Historian: Evan Pearl
Sargeant at Arms: Greg Beckman
Adjutant: Rich Abel
PR Man: Tom Furmanski
Meetings: 1st Thursday of the Month at 7:00 PM

Auxiliary Officers
President: Joanne Aughe
1st Vice: Sharon Wolanin
2nd Vice: Michele Wadas
Secretary: Linda Young
Treasurer: Darlene Hill
Chaplain: Carol Bishop
Historian: Michele Wadas
Sargeant at Arms: Camille Kresa
Membership: Michele Wadas
Meetings: 2nd Tuesday of the Month at 7:00 PM

Phone: 315-736-0108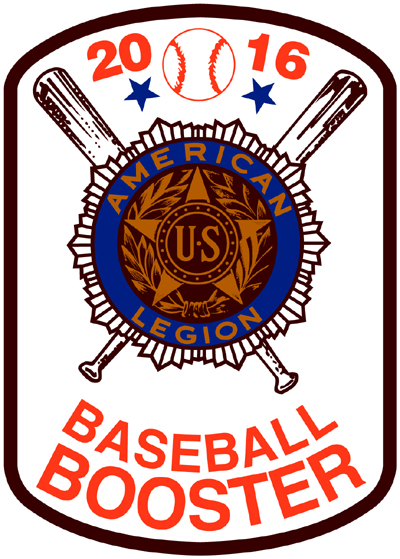 Baseball Boosters
| | |
| --- | --- |
| | Many thanks to our numerous baseball boosters over the years, particularly to our primary sponsor, Whitestown American Legion Post 1113. Thanks also to the numerous sponsors for our annual golf tournament fundraiser over the past nine summers. Your contributions are greatly appreciated by all of our coaches, players, parents, and fans! |

Oneida County American Legions
Oneida County has more American Legions (23) than any other county in New York State. Please support our fellow comrades:

Clark Mills Post #26
7683 Main Street
Clark Mills, NY 13321

Clonan Post #1000
3453 Oneida Street
Chadwicks, NY 13319

Fort Schuyler Post #1290
404 Kossuth Avenue
Utica, NY 13501

Fulmer Post #92
8083 State Route 20
Waterville, NY 13480

Hughes Post #890
Steuben Street
Remsen, NY 13438

Helmuth Ingalls Post #232
3625 State Route 12B
Clinton, NY 13323

Kelley Phillips Post #569
115 Madison Road
Oriskany Falls, NY 13425

Lee Legion Post #1794
9025 South Street
Lee Center, NY 13363

Love Post #66
124 Schuyler Street
Boonville, NY 13309

Meeker-O'Rourke Post #1309
9275 Main Street
Taberg, NY 13471

Moran Post #66
66 Moran Post Road
Camden, NY 13361

New Hartford Post #1376
8616 Clinton Street
New Hartford, NY 13413

Oriskany Post #1448
7908 State Route 69
Oriskany, NY 13424

Provost Post #1686
726 Washington Street
Utica, NY 13502

Roberts Post #161
9550 Depot Street
Holland Patent, NY 13354

Sherrill Post #230
168 East Seneca Street
Sherrill, NY 13461

Smith Post #24
325 Erie Boulevard West
Rome, NY 13440

Sylvan Beach Post #1153
703 Clifford Street
Sylvan Beach, NY 13157

Utica Post #229
409 Herkimer Road
Utica, NY 13502

Western Memorial Post #1846
9548 State Route 46
Westernville, NY 13486

Whitestown Post #1113
110 Main Street
Whitesboro, NY 13492

Wicks-Staley Post #231
2311 Main Street
Clayville, NY 13322

William Russell Post #104
208 West Seneca Street
Vernon, NY 13476

SINCE 1925 - "AN INVESTMENT IN AMERICA'S YOUTH"
American Legion Baseball is the oldest and largest nationwide teenage baseball program in America. American Legion Baseball became a national program in 1925. Since its inception, over ten million teenagers have played American Legion Baseball. In 2005, 5,400 teams registered for National tournament play. Since 1985 the number of registered Legion teams has increased by 27% as over 1,900 new teams have registered to play American Legion Baseball.

This season marks the 81st Anniversary of competition in American Legion Baseball. Over 100,000 players, ages 15 to 19, participated in 2005. Each year, 1,280 players and coaches on 64 teams compete at eight Regional Tournaments. All National Tournaments are double-elimination tournaments, held over a five-day period. Attendance averages 75,000 paid admissions for the eight Regional Tournament sites and 25,000 paid admissions at the World Series Tournament. The American Legion is the only amateur youth baseball program that funds 100 percent of the cost for hotels, transportation, meals, umpires and baseballs for our National tournaments.

The purpose continues to be in 2006 the same as was in 1925, "An investment in America's Youth." The history of American Legion Baseball has proven that America's youth receive on the baseball diamond a thorough understanding of the true value of sportsmanship, leadership and individual character building.

During the past seven decades, millions of young players have enjoyed playing American Legion baseball. The American Legion and their 2.7 million members have raised millions of dollars each year for players to learn the importance of teamwork, discipline, leadership and good sportsmanship. The American Legion sponsors American Legion Baseball to give players an opportunity to develop their skills, personal fitness, leadership qualities and to have fun.




.