Whitestown Post 1113 American Legion Baseball News



Thursday, December 28


Annual Awards Banquet


Thursday, December 28th - 6:00 PM

The Annual Whitestown Post 1113 American Legion Baseball Awards Banquet will be held on Thursday, December 28th. All Senior team players, coaches, parents, grandparents and other family members are invited to attend.

What: Annual Awards Banquet
Where: Whitestown American Legion
When: Thursday, December 28th
Time: 6:00 PM

Attire: Casual
Cost: Free

RELAX, REFLECT, RELOAD!!!





Whitestown Post 1113 Baseball is Family





As Easy As Your ABC's...




Always be on time
Be responsible for your actions
Come to the field ready to play
Dugouts will be kept clean at all times
Equipment will not be thrown or abused
Foul language will not be tolerated
Good sportsmanship
Hustle at all times... no slackers allowed
Instill self discipline
Just play the game
Keep your composure
Listen before speaking
Make baseball a priority
No excuses
Obey "Legion Code of Sportsmanship"
Preparation is to be taken seriously
Quality heads-up baseball
Run out all at bats
Stay focused
Turn off cell phones
Uniforms will be clean and worn correctly
Value doing things the right way... not the easy way
Wear only WP 1113 gear
XXX - no drugs/alcohol/tobacco
Your team comes first
Zip your mouth if in doubt





1-1-1-3 Spells Triple Play!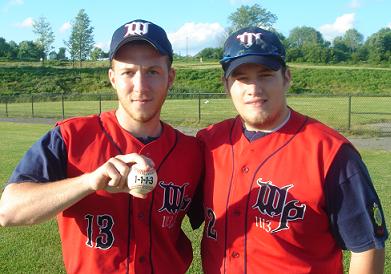 Dennis Spellman, Ryan McQueen, and the 1-1-1-3 Triple Play Ball

.
On Sunday morning June 18th, 2006 at the SUNY Institute of Technology in an American Legion baseball game between Whitestown Post 1113 and Rayson-Miller Post 899 of Rochester during the Annual Utica Post 229 Father's Day Classic, an extremely unusual triple play was executed by Whitestown Post 1113 in the middle of the game.

Whitestown relief pitcher Dennis Spellman entered the game in the top of the 4th inning with Post 1113 clinging to a 2-1 lead. Spellman quickly gave up back-to-back singles to put runners on the corners with no outs, unexpectedly setting the table for some heroics on the first pitch to the following batter. With both runners breaking on the pitch in an attempted suicide squeeze play, Rayson-Miller left fielder Mike Harvey bunted the ball in the air about ten feet in front of home plate on the third base side. Spellman instinctively took five steps towards the ball and dove for it, incredibly catching it three inches off the ground in the webbing of his glove. Quickly jumping to his feet, Spellman tried to assess the situation and was quickly alerted by Whitestown catcher Dave Ferrone to turn around and tag out the base runner who was attempting to score from third base and was already at the plate. After the easy tag for the second out, Spellman then alertly turned and threw the ball to Whitestown first baseman Ryan McQueen, who touched the bag and forced out the other Rayson-Miller base runner before he could return to first base, thus completing the improbable triple play!

But wait... the quirkiness of the play doesn't end there! If you stop and think a second about the scoring of the play, you'll realize that it exactly matches Whitestown Post's identification number... 1-1-1-3!!! In a game chocked full of numbers, this is quite simply and purely at the leading edge of the incredible. Another instance of the old baseball term, "just when you think you've seen it all!"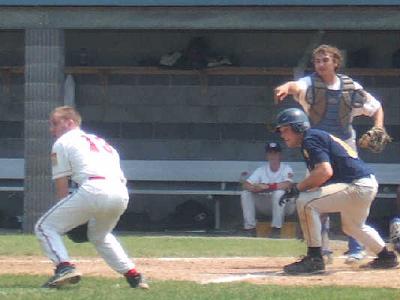 Dennis Spellman Jumps to His Feet After His Diving Catch



Dreams by Van Halen