West Norriton Little League: Welcome
WNLL Fields - Centennial Park in West Norriton Township: Burnside Avenue at Marshall Street, Norristown, Pennsylvania 19403
2014 West Norriton Minor League Champions - Marlins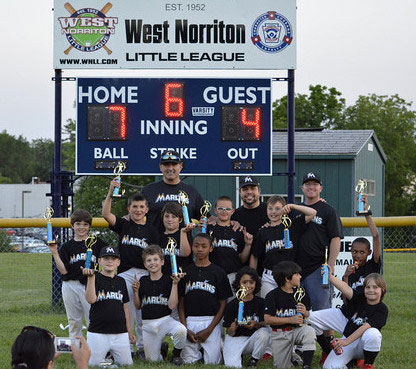 2014 West Norriton Major League Yankees - Colonial League Champions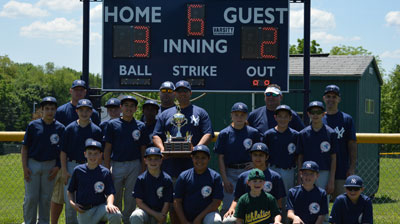 The WN Yankees concluded their season with a tremendous 3-2 win over a very talented team from Whitemarsh.
All year long the Yankees were led by strong pitching and it held up again as they held Whitemarsh to only two runs. The victory clinched the Colonial Cup Trophy and capped an amazing 14-2-1 season. WN competes in the Colonial Baseball league which has 30 teams representing 8 different township leagues. To win this league is a tremendous accomplishment and we are very proud of our kids!!



2014 West Norriton Juniors - Colonial League Champions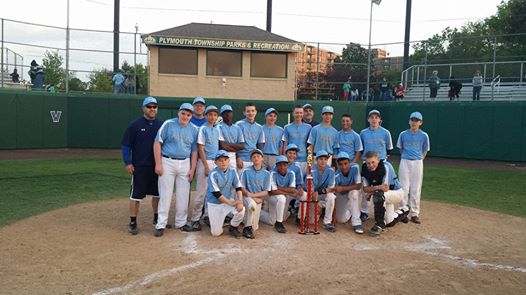 The 2014 West Norriton Junior League team defeated Plymouth 6-1 in the Colonial League Championship game.
The West Norriton Juniors (13-14 year olds) finished regular season play with 8-2-1 record in 3rd place. The team played 2nd place finisher Whitemarsh-3 in the Semi-Finals. Nick Edling pitched a 2-hit shutout with 10 strikeouts to lead West Norriton to a 12-0 victory and propel them into the CBL Championship Game. Edling helped his own cause with 2 hits. Tyler Pastella, Mason Hall and Ben Carty each had 2 hits also. The Championship Game was played at Villanova Stadium in Plymouth Township. West Norriton jumped out to a 5-0 lead and with the dominating pitching performance of Tyler Pastella, who surrendered only 2 hits and struck out 10 to stifle the powerful Plymouth bats, coasted to a 6-1 victory to win the CBL Championship for West Norriton. For West Norriton, Matt Hahn had two hits including a double and Kyle Wagner had two RBIs to lead the offense. Third basemen Gianni Cusumano and Center fielder Chris Grill made a couple of spectacular defensive plays to lead the West Norriton defense. Other players on the team and all making clutch contributions in some way throughout the season include: Brett Holmes, Danny McAuliffe, Matt Bates, Steve Depaul, Eli Smith, Bryon Johnson, Jimmy Dimitry, Jasper Jackson, Colt Narcisso and Patrick O'Brien.



View Larger Map